18 Awesome New NBA Stats We'd Love to See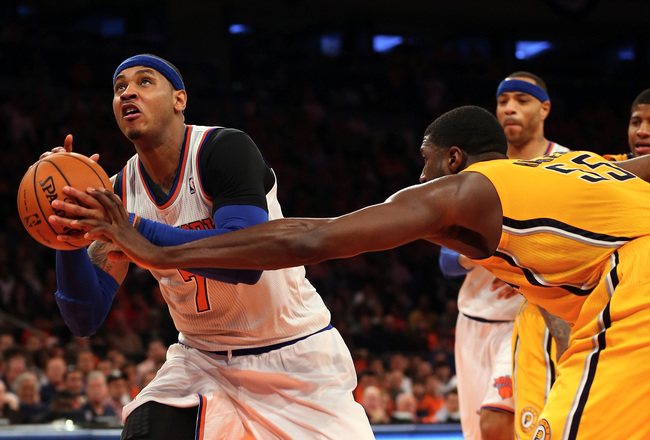 Elsa/Getty Images
The study of statistics in the NBA has progressed in a number of ways over the last decade, but there remains considerable room for growth. There are still many missing stats begging to be incorporated into the NBA mainstream.
Conventional statistical analysis has been controversial because while traditional stats tell us part of what happens, that part is very limited. There are many things that happen which aren't reflected in the stats.
When a player grabs a rebound, was another player trying for that same rebound or was he standing alone? When a player makes a shot, was he open, or was the shot challenged? If he was open, was it because of the work he did or what someone else did?
On defense, who prospers from the help of their teammates, and who gives their teammates the most help? Does giving up more points make a player a worse defender?
With many of these questions, the answer is obtainable in the sense that there's a measurable event, but that measure is not available because the event itself hasn't been documented.
For the first 21 years of NBA history, the NBA counted all rebounds the same. In the 1968-69 season, the NBA started distinguishing between offensive and defensive rebounds. Two new stats were born. Five years later steals and blocks were added. Two more new stats were born.
In both cases the "events" had always happened, they just weren't recorded. More events occur which could be recorded.
Here are some new statistics and metrics, which aren't used in the NBA, but should be. They are broken into categories, scoring, passing, rebounding and defense. They are put in a logical order that made it easiest to relay them, as some slides are predicated on previous slides.
Rebounding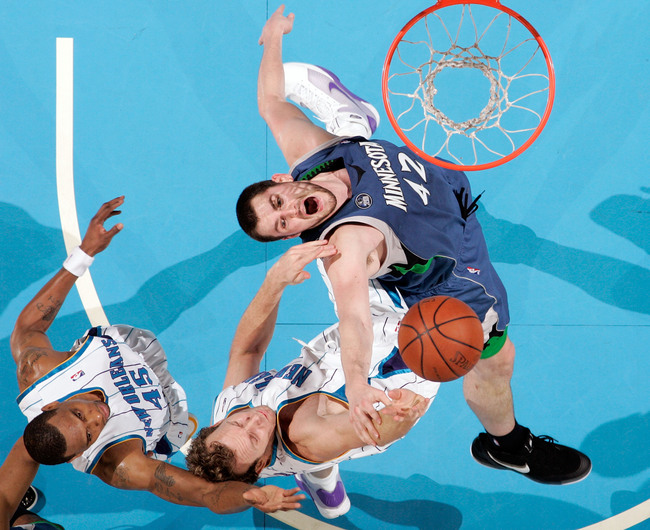 Chris Graythen/Getty Images
Let's start with the easiest thing—rebounding.
While basic rebounds are a worthwhile stat, they don't tell us as much as they could. Some players have more opportunities to rebound than others. They might be on an effective defense which forces a lot of missed shots, or they could be on a lousy offense which misses a lot of shots. Either way, the players have more chances to rebound.
Some players have better rebounding teammates, whom they must contest with for rebounds. Just as having two great scorers will reduce the scoring of both players, having two great rebounders will reduce the number of total rebounds for both players.
Finally, some teams have different strategies which affect rebounding. Some teams prefer to vie for the offensive rebound. Other teams, such as the Boston Celtics, prefer to race back on defense, so they don't push for the offensive rebound. As a result, those teams, as a whole, grab fewer offensive rebounds.
Total rebounds, as a stat, lumps alls those variables together, and makes a cookie-cutter category to compare disparate players in a variety of situations.
Rebound percentage, which looks at the percentage of available rebounds, addresses half the issues I mention, so I applaud that effort—with one hand.
Contested Rebounds and Contested Rebound Percentage
What we really need is a new statistic, "contested rebounds," which would specifically count rebounds which come where opponents are within reach of the ball, and making an attempt to rebound.
Every opportunity would be also be recorded. The percentage of times a player wins the rebound battle could be determined by the formula:
Percentage = Contested Rebounds/Contested Rebound Opportunities
Contested rebound percentage would give the best true way of determining who the best rebounders are.
How rebounding is registered should also be tweaked. If two players from the same team both touch the ball, they should each be awarded with half a rebound each, rather than one of them being awarded the whole rebound.
Adjusted Rebounds
Players who received uncontested rebounds would still get credit for them, just not as much credit as for contested rebounds. Adjusted rebounds would be an inclusive stat for both, with the formula:
Adjusted Rebounds = (Uncontested Rebounds * .5) + Contested Rebounds.
This could also be broken into adjusted offensive rebounds and adjusted defensive rebounds.
Passing: Created Assists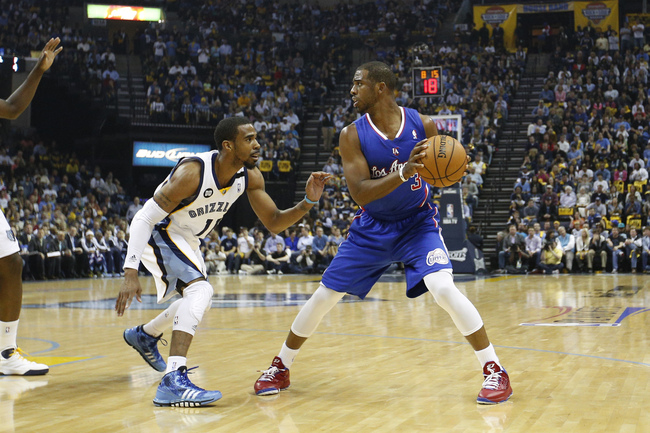 Joe Robbins/Getty Images
One area that is sadly in short of adequately showing what really happens is the passing game.
We have essentially one stat for passing, "assists." All that says is when a player makes a shot, he caught the ball before he did it.
Other than that, it tells us nothing about the passer or the shooter. There are a host of things that it doesn't tell us.
Did the passer dribble the ball into the lane, pulling away the shooter's defender, thereby creating an open shot for the shooter? Or, did the shooter run through two screens and lose his defender, creating an opportunity for the passer to hit him for an easy two?
In these two cases, the person responsible for creating the shot opportunity changes. In the first case, it was the ball-handler, in the second it was the shooter, but in both, cases the passer gets the same reward—an assist.
One way of rectifying this situation is by the NBA instituting, "Created Assists" as a new official stat. In recording the assist, the official score keeper would determine whether the passer or the scorer was responsible for creating the shot, or if they both did. The player responsible for the shot would be attributed one created assist. If it was shared, they would both get credited with one half.
Granted, there would be a degree of subjectivity involved here, but guidelines could be established to help eliminate confusion.
Players such as Derrick Rose, Russell Westbrook and LeBron James, who tend to drive lanes and collapse defenses effectively, would likely do well here.
Passing: Table-Sets and Adjusted Assists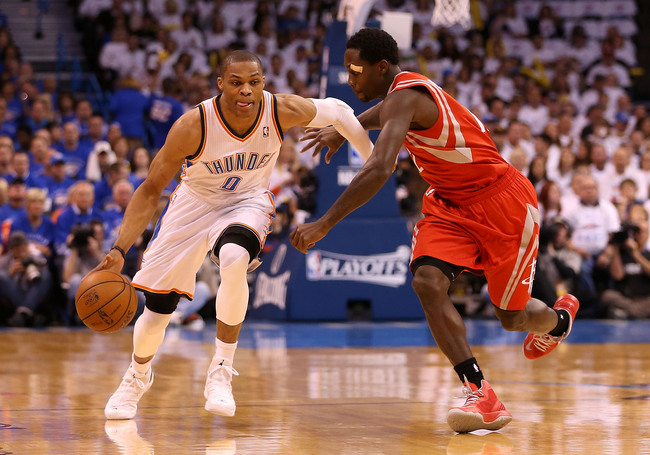 Christian Petersen/Getty Images
Table Sets and Adjusted Assists
Another thing that isn't factored into raw assists is who the shooter is. Last year, Russell Westbrook, Jameer Nelson and Goran Dragic all had the same number of 7.4 assists per game. Did they all have the same number of passes to create those assists though?
It's amazing when you start looking at who they were passing to, and how much an advantage Westbrook had. Here are each of the three passers, and the two shooters whom they most frequently assisted.
Based on the field goal percentage of each shooter, we can estimate how many passes to each player were required to obtain the assists with the formula:
Total Assists/ Teammates Field-Goal Percentage
From that we can derive passes per assist, or "table-sets" as well. Here are the results of the preliminary inquiry.
| | | | | | |
| --- | --- | --- | --- | --- | --- |
| Passer | Shooter | Assists | FG% | Passes | Pass/Asst |
| Jameer Nelson | Aaron Afflalo | 87 | .439 | 198.2 | 2.28 |
| Jameer Nelson | Nikola Vucevic | 81 | .519 | 156.1 | 1.93 |
| Russell Westbrook | | 214 | .510 | 449.61 | 1.96 |
| Russell Westbrook | | 169 | .573 | 294.9 | 1.75 |
| Goran Dragic | Luis Scola | 129 | .472 | 273.3 | 2.12 |
| Goran Dragic | Jared Dudley | 103 | .468 | 220.1 | 2.14 |
From the outset, it's pretty obvious that Westbrook has a pretty huge advantage. If you look at the fleshed out stats for all three players and their respective teams, the advantage Westbrook has is decisive. Not only are his top two shooters great shooters, they also combine to account for over 60 percent of Westbrook's total assists.
So let's look at it further, based on their entire teams.
The table below details how many passes per assist each player makes, their table-sets and the percentage of their assists which are to players who shoot over .500. Westbrook pretty clearly has an easier job than Groan Dragic.
| | | | |
| --- | --- | --- | --- |
| Player | Pass/Assist | Table-Sets | % Asts to .500 Shooters |
| Russell Westbrook | 1.95 | 14.4 | 69.2% |
| Jameer Nelson | 2.14 | 15.8 | 35.9% |
| Goran Dragic | 2.21 | 16.4 | 14.2% |
The league as a whole shot 43.5 percent from the field. If we neutralize their teammates by giving them all the same 2.21 pass to assist ratio, based on that field-goal percentage, we get a better look at how many assists each would have on the season if they all had only average shooting teammates, but set the table the same number of times.
Westbrook, Dragic and Nelson might be getting the same number of assists, but Dragic needs to set the table two more times, in large part because his shooters are horrible. Westbrook's are awesome.
Let's look at last year's top 10 in assists, and how they come out in terms of table-sets and adjusted assists. All the numbers were derived by the number of times the passer assisted on each of their teammates. Basketball-Reference's Event Finder was used to obtain this information.
| | | | | |
| --- | --- | --- | --- | --- |
| Player | Ast/G | Pass/Ast | Table-Sets | Adj Ast |
| | 7.7 | 2.27 | 17.5 | 7.9 |
| | 7.6 | 2.26 | 17.2 | 7.8 |
| Goran Dragic | 7.4 | 2.21 | 16.4 | 7.4 |
| Jrue Holiday | 8.0 | 2.20 | 17.6 | 8.0 |
| Greivis Vasquez | 9.0 | 2.15 | 19.4 | 8.8 |
| Jameer Nelson | 7.4 | 2.14 | 15.8 | 7.2 |
| Rajon Rondo | 11.1 | 2.13 | 23.6 | 10.7 |
| Tony Parker | 7.6 | 2.09 | 15.9 | 7.2 |
| Chris Paul | 9.8 | 2.07 | 20.3 | 9.2 |
| Russell Westbrook | 7.4 | 1.95 | 14.4 | 6.5 |
As you can see there are some players, such as Westbrook, Chris Paul, and Tony Parker, who benefit from efficient teammates much more than players like John Wall and Deron Williams. Williams teammates take three more shots to Westbrook just .5 more assists.
When we include information about the shooters, the assist numbers are more accurate.
Looking at table-sets and adjusted assists give us a more accurate view of what the passer does, but that alone can be deceptive too.
Total Impact Assists
One might argue that the reason a certain player's teammates do a better job of shooting is because he sets them up. Is Kevin Durant better because of Westbrook or is Westbrook better because of Durant? The two are not mutually exclusive. They can (and honestly do) benefit from each other.
That's where the previous created assists comes in. By adding created assists to adjusted assists we would be able to account for that symbiotic factor. We'll call this metric, "total impact assists" because it measures the total impact a passer has on the game.
Scoring: Adjusted Field Goals and Adjusted Points Per Game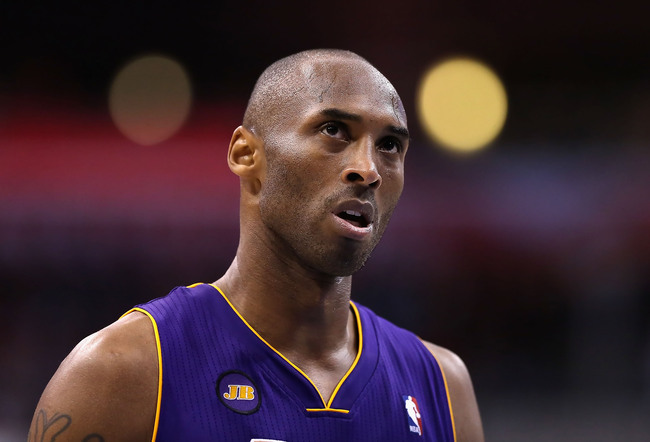 Christian Petersen/Getty Images
One area where advanced stats have helped is to look at how shooting varies by zone, which is tracked by NBA.com/STATS.
It's intuitively obvious that a shot made from inside three feet is more likely to go in than a shot taken from 50 feet.
What might not be so obvious is shots taken from inside the paint, but outside of the restricted area, are the least efficient shots in the game. They go in 38.89 percent of the time. Even the dreaded midrange shots are more likely to go in, 38.94 percent of the time.
While zone analysis is helpful, it can be overemphasized. It is true some areas of the court are more efficient than others, but ignoring any area of the court entirely makes the other areas more difficult to score from. Ergo, players who can hit efficiently in the inefficient areas have value because they are able to make the hardest shots in the game.
Looking at overall field-goal percentage can create a false impression. Players such as Kobe Bryant get devalued by that because they take a disproportionate number of field-goal attempts from the more difficult areas of the court.
Some complain that they shouldn't be taking those shots, but it's overly simplistic.
Because they are able to score from those areas, it forces defenses to them, thus making other areas of the court open up more for other players. It's sophistry to say, "if other players took those shots, they would be better used," because it ignores impact that the shooter's presence has on the game.
It's also true there are "volume shooters," such as Monta Ellis, who will shoot willy-nilly and legitimately waste field-goal opportunities for the team. How do you throw out the proverbial "bathwater" without including the infant?
One way of doing that is to adjust field-goal percentages based on where shooters shoot from. By taking their field-goal percentage from each zone and comparing it to the league average, we can see how many "extra" field goals players produce for their teams.
We can do that with the following formula:
Adjusted Field Goal Percentage = Field Goals Made - (Field Goals Attempted * Average Field-Goal percentage for each zone)

Zones being the restricted area, outside restricted area but inside the paint, mid-range and three point.

For the three-point range multiply by 1.5 to account for the difference in value of the shot.
By adding the "extra" field goals made for each zone we can get a comparison of what the "average" player would do with the same number of shots from the same locations on the court, or how many made field goals a player gets compared to an average shooter.
Let's just set aside the valid notion that an average player wouldn't be able to generate the same level of shots for now; it's true, but that's a rabbit hole I don't want to go down yet.
Applying that formula, here are the top 10 shooters in the league last year, and how many "extra" field goals they provided for their teams.
| | | |
| --- | --- | --- |
| Rank | Player | Adjusted Field Goals |
| 1 | LeBron James | 136.33 |
| 2 | Kevin Durant | 121.53 |
| 3 | | 99.62 |
| 4 | Serge Ibaka | 80.26 |
| 5 | | 75.81 |
| 6 | Jose Calderon | 73.10 |
| 7 | Kyle Korver | 67.30 |
| 8 | | 67.23 |
| 9 | | 55.71 |
| 10 | Tony Parker | 54.47 |
And here are your bottom 10.
| | | |
| --- | --- | --- |
| Rank | Player | Adjusted Field Goals |
| 460 | Alexey Shved | -41.28 |
| 461 | Corey Brewer | -41.77 |
| 462 | Dion Waiters | -42.9 |
| 463 | Tony Allen | -43.52 |
| 464 | Rodney Stuckey | -43.86 |
| 465 | Gerald Wallace | -45.38 |
| 466 | Alonzo Gee | -46.95 |
| 467 | Ricky Rubio | -51.23 |
| 468 | Ramon Sessions | -55.84 |
| 469 | Monta Ellis | -59.94 |
In case you're wondering, and I'm assuming about 60 percent of the people reading this are, Kobe Bryant was 24th with 40.39. Carmelo Anthony was 72nd with 18.21.
As you can see, this does a nice job of separating the wheat from the chaff. Players who are truly efficient shooters, even if they're just efficient from more difficult areas, seem to make it to the top of the list. Inefficient chuckers make the bottom.
And by utilizing this we can give you adjusted scoring too,the formula is simple:
Adjusted Scoring = ((Adjusted Field Goals * 2 )+ Points)/Games
Here are your adjusted points per game for the top 10 in the league.
| | | |
| --- | --- | --- |
| Rank | Player | ADJPTS/G |
| 1. | Kevin Durant | 30.7 |
| 2 | LeBron James | 30.4 |
| 3 | Carmelo Anthony | 29.2 |
| 4 | Kobe Bryant | 28.4 |
| 5 | | 25.6 |
| 6 | Stephen Curry | 25.5 |
| 8 | | 23.3 |
| 9 | | 22.6 |
| 10 | | 22.4 |
| 10 | Russell Westbrook | 23.05 |
Effective Screens, Screens and Effective Screen Percentage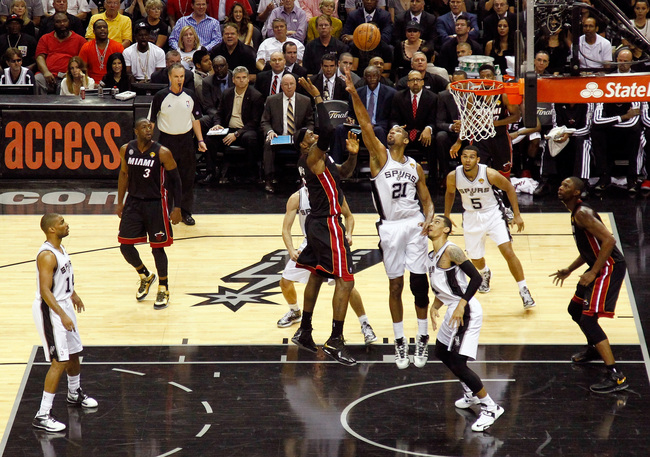 Mike Ehrmann/Getty Images
We've made some progress by looking at created shots, but we only look at them from the ball handler's perspective. There are three people who can essentially create the shot: the ball-handler, the shooter and the screen-setter.
Record scratch. The screen-setter?
The first two are covered with unassisted field goals and the assists created in the earlier slide, but the screen setter is totally ignored.
How is this is a "pick-and-roll league," yet we have almost no stats on who the pick-setters? Even Synergy doesn't track who sets the screen. All we look at is who keeps the ball. But which players are better at setting screens than others?
Based on Synergy data, roughly 30 percent of scores come off of screen, whether it's a pick-and-roll with the ball-handler keeping the ball or it goes to the roll man, or if it comes on a catch and shoot with a shooter coming off a screen. If a player sets a screen, which opens up a shooter, shouldn't he get some credit?
A simple stat would be to tally the total number of screens a player sets, whether that screen results in a score and the percentage of time that a screen results in a score. When a player sets a screen that leads to a score, he would get credited with an effective screen. His effective screen percentage would be what it sounds like, the percent of his screens which lead to scores.
We could go much deeper with this, by comparing shooting percentages for players depending who sets the screens, but let's start small. Let's just start, period. We need to start examining this crucial and utterly ignored aspect of the game.
Points Saved, Defensive Assists and Assisted Defenses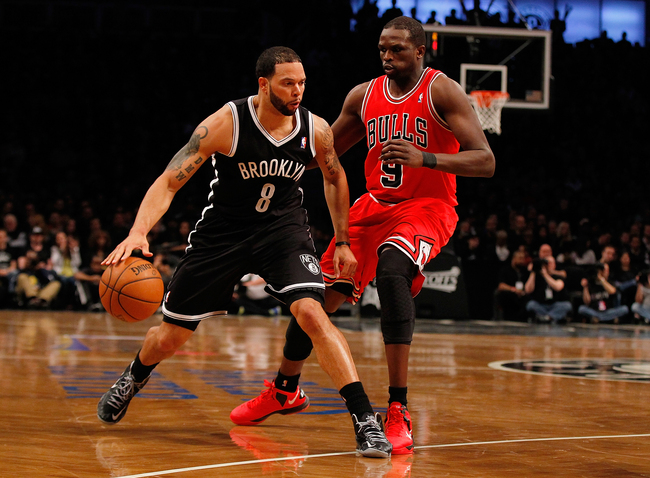 Mike Stobe/Getty Images
Points Saved
The entire defensive area is woefully short of meaningful statistical analysis, even when it comes down to the basic area of whom a player's primary responsibility is.
Part of the problem lies in the fact that the antithesis of "points per game," which would be "points per game against" isn't a fair representation of defense. The reason for that is the best defenders are going to guard the best players, who are going to score more points.
Giving up 15 points to LeBron James is a fantastic result. Giving up 14 points to Alonzo Gee is not. So how do you resolve the issue? One way would be look at points saved per game, which would be the difference between the number of points a player normally scores in a game compared to how many he actually scored against a particular defender.
That still isn't all that simple though, because players aren't always on the court at the same time as their counterpart's, nor are they always responsible for defending them.
However, between the new LLC tracking data and Synergy, we can get a pretty good estimate of how long each player is responsible for guarding each player, and we can deduce form that a "composite opponent," along with the total number of points "he" averages per game, and conversely, how many the defender gives up per minute.
For example, say Luol Deng plays 40 minutes, guarding LeBron James for 35 of those minutes and Shane Battier for five. James scores 25.5 points per 36 minutes and Battier scores 9.9. Deng's "composite" opponent would score 26.1 points.
If Deng gives up 23 points as the primary defender, he would be awarded 3.1 points saved. If he gave up 30 points, it would have cost his team 3.9 points more than average, so he'd have a -3.9.
This would be a big step towards recognizing whether a player had a positive or negative impact defensively. Players with a positive number have a positive impact. Players with a negative number have a negative impact.
Defensive Assists and Assisted Defenses
Another aspect of the problem with defensive assists is that it doesn't factor in team defense aspect. Sometimes a player gets past another player, but the "help" is there to stop them. On the few sites that even account for individual defense at all, there's no record of that "help" or need for help.
To account for that, there should be two new stats. Defensive assists would account for every time a player helps on defense; assisted defenses would account for every time a player needs help on defense.
Once again by combining the two one could determine whether a player is a net positive or negative on defense.
These could either be discerned at game time or they could be determined later with the LLC data.
Gamble Differential, Blocks Retained and Adjusted Blocks
Ronald Martinez/Getty Images
Gamble Differential
Most basketball aficionados know that steals can be deceptive. Players who anticipate passing lanes may gamble, and generate a high steal rate, but it doesn't mean good defense. If they lose the gamble, it can mean bad defense.
To account for this, there are two things that should be done. First, distinguish between the steals that come from shooting passing lanes and those that come off nabbing the dribble. Stealing the dribble tends to be a high-reward, low-risk option. Players such as Chris Paul are highly effective with that.
Then, track the results of what happens both ways with the gamble, similar to the way they track stolen bases compared to run expectancy in baseball to determine if steals are profitable. There is a gamble, and there can be a reward, but there can also be a penalty.
If the team scores off the gamble, the player gets two points. If the other team scores off his gamble, the player is penalized two points (or three in case of a three-pointer). Anything else is considered a neutral result.
Once again by adding the numbers together, we can determine the net value the player has on the team.
Blocks Retained and Adjusted Blocks
There has been some cursory investigation into the idea that all blocks are not the same, but the most interesting thing is that 71 percent of blocks are retained by the defensive team, which is lower than the defensive rebound percentage of 73.5 percent rebound percentage in general. That means the defense is less likely to keep the ball than if the shot is missed without being blocked.
There has also been some cursory research by "Imadoggydogg" on his blog which, although it's a couple of years old, and was for just a half a season, shows that there is can be a large disparity between different types of players in how often their respective teams recover their blocks.
Blocks retained should count more than blocks sent out of bounds or towards the opponent.
Blocks sent out of bounds, or that aren't recovered, still have value in that they at least prevented a chance for a shot to go in. The problem with comparing recovered blocks to defensive rebounds is that it assumes that all blocked shots would be misses, but 43.5 percent of all shots go in. So we can't discount those unrecovered blocks entirely.
Therefore, one point would be added for a block, and another for a block that is retained by a player's own team. The total would be called adjusted blocks
Total Player Rating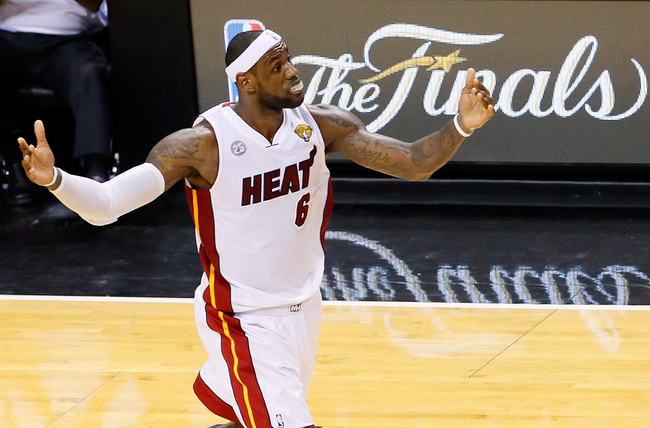 Kevin C. Cox/Getty Images
Since the world is all about one-stat metrics now, the nice thing about all of these stats is that by adding them together, you can come up with a simple number that gives you a total player rating that includes prowess in passing, rebound, scoring and defense.
The formula for Total Offensive Player Rating (TOPR) would be:
Adjusted Offensive Rebounds + Total Impact Assists + Unassisted Field Goals + Adjusted Points + Effective Screens
The formula for Total Defensive Player Rating (TDPR) would be:
Points Saved + Assisted Defenses + Defensive Assists – Assisted Defenses + Dribble Steals + Gamble Differential + Adjusted Blocks + Adjusted Defensive Rebounds
Then, by adding the TOPR and TDPR we have the total player rating, telling us everything we could possibly want to know about a player in one tidy number—except, of course, for all the things it doesn't tell us.
This system might not be perfect, but it would be a start to a new way of looking at the game. If you have suggestions of your own, please share them. The basketball world needs more discussion on this issue.
Keep Reading