Randy Orton's Heel Turn Will Bring out the Best in WWE Champion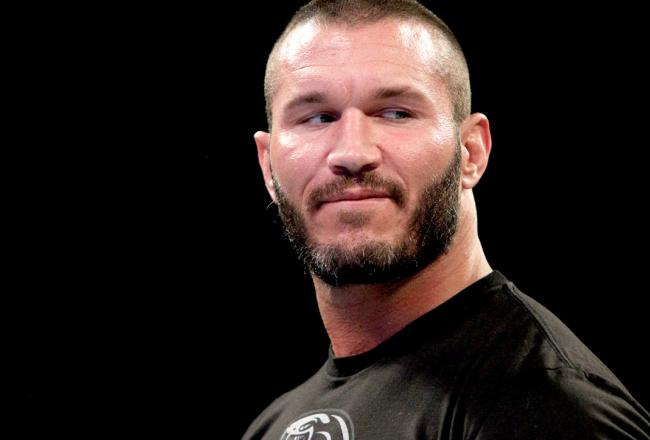 photo by wwe.com

Randy Orton was the centerpiece of what has to be one of the biggest angles we have seen from WWE in years. As we all know, Triple H delivered the Pedigree to newly crowned WWE champion Daniel Bryan, which opened the door for Orton, who cashed in his Money in the Bank contract. It all went down at SummerSlam, and since that night, Orton's WWE title has put him at the heart of the company.
It's also bringing out the best in him. And for his fans, this was exactly what they wanted from the very beginning.
Randy Orton the babyface versus Randy Orton the heel; for many of the WWE faithful there is just no comparison. Indeed, Orton's image and overall presence in the ring does not necessarily lend itself to that of a Superstar who only wants to make the fans happy.
The truth is that the arrogance has always been there. From his ring entrance when he climbs the turnbuckle and throws his arms up to the way he glares at his opponents, everything about him just screams heel.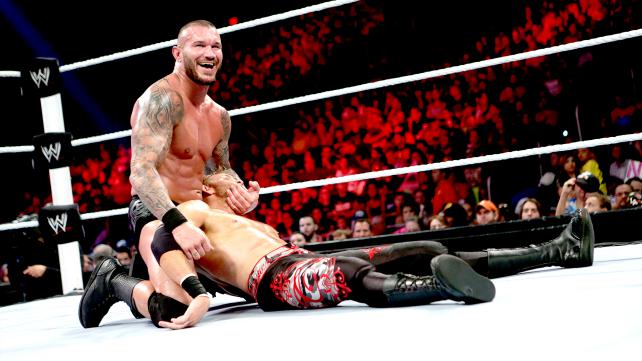 Yet he is fresh off a babyface run that saw him become one of the most popular talents in Vince McMahon's company. Fans loved Orton despite the fact that his is physically engineered to be a top heel.
But the call for him to make the turn began a long time ago, and at times the outcry from fans was incredibly loud. However, this was not because he was losing any ground in terms of popularity, as is often the case when the crowd believes a talent should change direction. His lack of great feuds may have been at the center of their reasoning, but for me the answer was very basic.
Randy is supposed to be a heel. Period.
And now that his character is back in that evil frame of mind, we will surely see the best come out in him. The angle he's involved in as the McMahon family-endorsed WWE champion is right down his alley. Even though he is not accustomed to taking orders from anyone, the truth is that Triple H has already spent quite a bit of time stroking his ego on TV.
In addition to publicly announcing Orton as the new face of WWE, Hunter has provided protection in the form of the Shield. Dean Ambrose, Roman Reigns and Seth Rollins have become allies of the Apex Predator since SummerSlam, and the NXT trio are suddenly very cozy as muscle for Orton and Triple H.
Then of course there is the Cadillac Escalade that Hunter presented to his new poster boy on the August 26 edition of Monday Night Raw. Even though Daniel Bryan defaced it later on in the program, the point is that, once again, Orton's ego was fed by the company who love him as their top guy.
And all of this hero worship combined with the easy victory thanks to Triple H is the perfect formula for a full heel turn from top to bottom.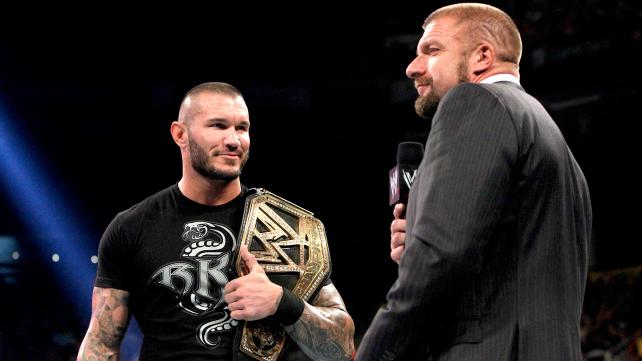 This is what Randy is supposed to be. He is at his best when he is the devious, cunning heel. He is cold, calculating and completely heartless. All he cares about is self preservation and will stop at nothing to keep the hunk of gold that once again rests around his waist.
When a talent is very comfortable in his own skin and extremely sure of himself, that is when he is able to make real magic in a storyline. This describes Randy Orton as a heel, and that is what we are already beginning to see.
And let's not forget about his ring work. Now that he is walking on the dark side once again, expect Randy's move set to become just as cold and brutal as he is. I would not be surprised if he began randomly working other lower-level Superstars and "injuring" them in the ring.
This would help firmly establish him as the dangerous heel that he has become and would also be a way to send a firm message to Daniel Bryan.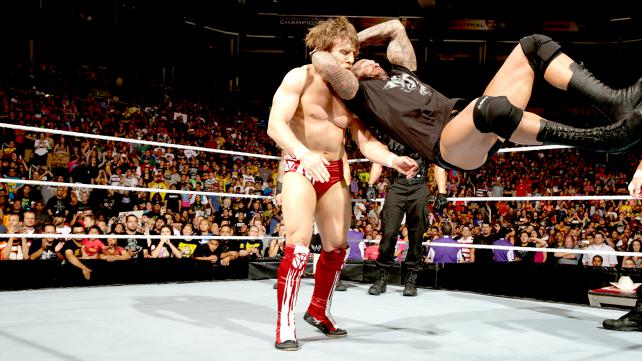 Bryan is the No. 1 contender to the WWE Championship and will be facing Orton at Night of Champions. This angle is as much for Bryan as it is for Orton, and the two Superstars are hopefully going to work a series of matches over the next few months.
And the stronger Orton is as WWE's newest top heel, the more over Daniel will become in the process. While Bryan may be in untested waters in terms of the main event spotlight, it is a position that Orton is very well accustomed to having.
And he will do nothing but excel with it.
Randy Orton is currently enjoying all of the benefits that go along with being the WWE champion. He is aligned with Triple H and has the full support of the entire McMahon family. Everything is going his way, and his stock has never been higher.
But without his all important heel turn, Orton would not be as effective. He is right at home with this new direction, and it is most certainly bringing out the best in him.
This article is
What is the duplicate article?
Why is this article offensive?
Where is this article plagiarized from?
Why is this article poorly edited?