Oakland Raiders vs. Seattle Seahawks Live Blog: Preview, Analysis, Reaction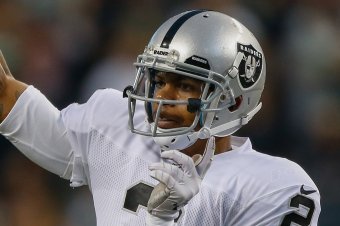 Otto Greule Jr/Getty Images
Allen knows who starting QB is but is not saying "for competitive reasons"

— Vic Tafur (@VicTafur) August 30, 2013
Dennis Allen isn't saying who his quarterback will be but the decision wasn't made any easier in Thursday night's 22-6 loss to Seattle in the Raiders preseason finale. Terrelle Pryor once again showed he can do some impressive things with his legs, but he also proved he's got a long ways to go as a passer.
The big question is, did Pryor do enough to convince the coaching staff he deserves to start Week 1 in Indianapolis? He completed just 3 of 8 throws for 31 yards in two quarters of work. Hardly the type of stuff his supporters were looking for, and nowhere near close to the type of performance the Raiders will have to get from Pryor if he is the starter.
Matt Flynn actually did something by sitting out that he couldn't do as a starter: He strengthened his job security, and, depending on which side of the fence Allen is on, may have even secured the starting position. Had Pryor played like he did against Chicago a week earlier, that might not have been the case. But because Pryor had his stumbles, Flynn can no longer be ruled out.
O-line or Woe-line?
Menelik Watson played just about as well as you'd expect from a guy who had never lined up at left tackle before Thursday. The Raiders second-round draft pick made his first start and made a few decent plays and a few not so decent ones. The good news? He was the best left tackle that played for Oakland against Seattle. The bad news? He was the best left tackle that played for Oakland against Seattle. Willie Smith was so bad he was pulled, and Alex Barron has already whiffed on his opportunity and didn't look much better against the Seahawks third string defense.
Elsewhere, Mike Brisiel played well into the second half at right guard and it seems clear he'll probably be the starter after missing big chunks of camp. Overall, the Raiders gave up four sacks and were lucky to get off with only that.
Sims City
Defensive tackle Pat Sims was a disruptive force in his first game of the preseason, and that is probably the best news that Oakland can take from this game. Sims missed nearly all of training camp and suffered a setback midway through the workouts, which really threw the Raiders defensive line into a semi state of chaos. It seemed logical he might need a few weeks to get caught up to speed but the veteran defensive lineman didn't look rusty at all. A run-stopper by trade, Sims cleanly shot through the gap on two occasions to force a hurried throw. That's a bonus as far as the Raiders are concerned.
No McFadden
Running back Darren McFadden suited up and was on the field for pre-game warmups but didn't play. Good and safe call by Allen on this one. McFadden would have gained nothing by playing, and given his history of injuries, shutting him down before the season opener makes all the sense in the world. It also gave the team an extended look at Rashad Jennings, who was also a bright spot in an otherwise forgettable day. Jennings rushed for 53 yards on six carries, 32 coming on one play. His style is similar to McFadden's in that they both are physical, punishing runners once they get going.
Hayden and the gang
First-round pick D.J. Hayden looked a lot more comfortable in his second game since getting cleared for contact. The Raiders rookie cornerback played well into the second half and did not make any glaring mistakes, holding down his side of the field fairly well for the most part. It still looks like Mike Jenkins and Tracy Porter will be the starters, while Hayden continues to get acclimated with the NFL game.
Mistakes and then some
Blown coverages in the secondary. Incredibly poor tackling at times by the defense. Foolish penalties. The ugly factor on this game was high, and that's something a team like Oakland cannot afford to have when the margin for error is already slim enough to begin win.
The good news? Preseason is over, and after Saturday's final cuts are announced (some may even come Friday), we can finally begin to set our sights on Indianapolis and the season opener.
Seahawks 22, Raiders 6 (Final score)
At last we can now watch football that counts. One final hurdle: Roster cutdown
Tyler Wilson with the ankle busters.

— DeMarcus Davis (@DeMarcusRFNET) August 30, 2013
Wilson isn't doing himself any favors. Just a tough spot all around for the kid. Raiders basically have no choice but to cut him and hope he doesn't get picked up, then bring him back on waivers. Blowing a 4th-round pick would not be a good look for GM Reggie McKenzie.
You can bet the Raiders will be all over the waiver wire looking for a LT. Any LT. Probably a RT as well. Veteran WR is also a possibility.
Wilson threw 3rd down pass far too low but Ford has to catch that. The rookie QB's mistake is understandable. Ford is a vet and has to make that play.
Doesn't speak well to the state of Alex Barron and Willie Smith when rookie Menelik Watson starts and plays better in his first game ever at LT. Watson only has played football for two years, no less.
Olawale has had a solid camp but Raiders probably won't keep two fullbacks. Reece is arguably best overall FB in the league.
Was that a whiff by Wilson?
Wilson in. Let's see what he can do. He better be Stabler good.
*Another* 50+ FG for Hauschka. We have a new Legatron, folks. #Seahawks

— Jon Humbert (@jonhumbert) August 30, 2013
Seahawks 22, Raiders 6 -- Hauschka field goal, what else?
Pretty safe to say whoever Oakland's starting QB is, it's not going to be pretty. And it could get downright ugly if the Raiders have to go to the backups.
Willie Smith at LT is no better than Willie Smith at RT
Seahawks 19, Raiders 6 (End of 3rd Qtr)
Will Tyler Wilson get his shot now? If he does, really, how much making up can he do at this point?
Hauschka FG, Seahawks 19, Raiders 6, 1:10 left 3rd Qtr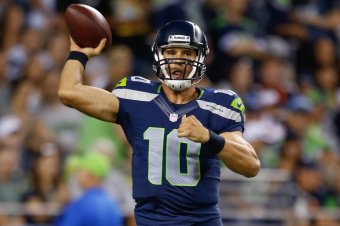 Otto Greule Jr/Getty Images
On two plays to Jermaine Kearse (33 and 17 yards), Brady Quinn has more passing yards than the Raiders have in net all night (42).

— Jerry McDonald (@Jerrymcd) August 30, 2013
As nice as throws as those were, Seahawks fans better pray they never hear these words: "Brady Quinn now in at quarterback."
Can't fault Adams except he jumped early. Otherwise solid coverage. Cornerback depth is much better overall for Raiders than it was in 2012.
Make no mistake, McGloin throws a very nice pass. Has for most of camp. The Raiders really want to try to find a way to keep him. Practice squad is risky since other teams can snatch him up before Oakland signs him to PS.
Considering how banged up the D-line has been since camp began, the Raiders have to be very encouraged by what they've seen tonight. Sims obviously makes a big difference in the middle. Big difference is backups Bilukidi and Robinson, even Bass.
Hayden still in. Smart move. He needs reps, needs to see offenses, needs to PLAY! Still no guarantee to start Week 1 but will be nickel back at worst/
McGloin at QB, Wilson still 4th on depth chart. I admit, I had him pegged to be starter at some point this season. Wilson that is. Lost his confidence early in camp and hasn't been the same since.
How Dennis Allen might do this: Line up Pryor as Week 1 starter, but say Flynn's injury is a factor & will compete again when healthy.

— Tim Kawakami (@timkawakami) August 30, 2013
Might this be the plan?
Raiders GM Reggie McKenzie on Charles Woodson: "He's a first ballot Hall of Famer."
Seahawks 16, Raiders 5 (Halftime)
Positives for the Raiders: Pryor got extended playing time. Rashad Jennings looks to be capable backup. DT Christo Bilukidi will be key member of D-line rotation. Justin Medlock's 2 FGs
Positives for Seahawks: Just about everything worked defensively. Very solid special teams.
Negatives for Raiders: Shoddy tackling, bonehead penalties, inconsistency along O-line and at QB.
Negatives for Seahawks: Running game not much of a factor.
Medlock FG, Seahawks 16, Raiders 6, 0:28 left 2nd Qtr
Pryor still in. Figured he'd get the entire 1st half. They ought to let him go 3 if he is going to be the starter. Needs to see as much on-field time as possible
Nice runs by Jennings has been a plus too. Runs as violently at times as McFadden
Another FG, Seahawks 16, Raiders 3, 3:59 left 2Q
Not a terrible series for Oakland. Just not consistent enough with pass rush. Figure to hear that a lot this season
This article is
What is the duplicate article?
Why is this article offensive?
Where is this article plagiarized from?
Why is this article poorly edited?