What You Need to Know About Brandon Thatch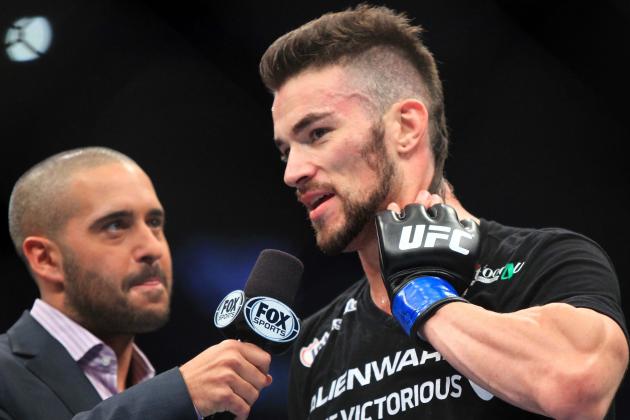 Pat Lovell-USA TODAY Sports

Not many fighters make an immediate impact when crossing over to the UFC.
Due in part to the big lights strewn around the Octagon, most newcomers crumble in the eyes of that pressure-filled moment—one which may in fact define entire professional careers.
But as rare as it is to see an accomplished outsider take his new home by storm, it happens. Brandon Thatch is the perfect example.
He nearly slaughtered the formidable Justin Edwards at UFC Fight Night 27 in Indianapolis this past Wednesday in what can only be considered a perfect divisional debut.
Capable of building off a mere 83 seconds of dominating pressure and precision, Thatch now has the UFC welterweight crop at his disposal.
Here's what you need to know about the towering dynamo.
Begin Slideshow

»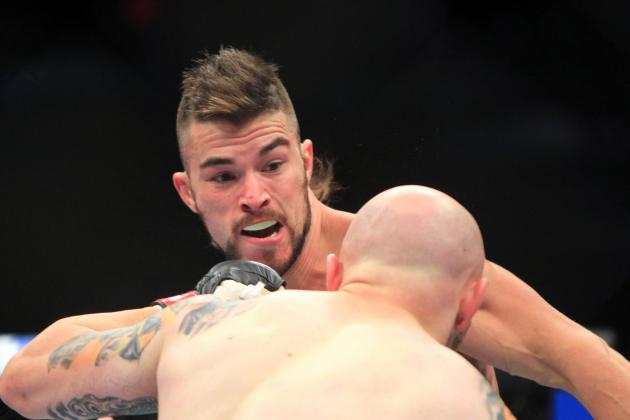 Pat Lovell-USA TODAY Sports

Standing at an intimidating 6'2", Thatch naturally possesses qualities that other welterweights simply cannot match.
Accompanied by sharp knees and long arms, he makes it very difficult for his opponents to land shots from any angle.
But as good as the 28-year-old is when his limbs are stretched to their maximum capability, he's just as good in the clinch. Chalk that up to a tremendous center of gravity, which allows Thatch to keep his footing and land penetrating knees up close.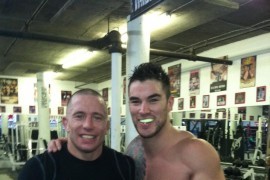 blogs.denverpost.com
While Thatch doesn't possess a decorated background in kickboxing, Muay Thai, jiu-jitsu or wrestling, he's as well-rounded as they come.
Throughout the years he's transformed into an outstanding striker, pairing rangy punches with excellent knee work. He's even trained alongside the likes of UFC welterweight champion Georges St-Pierre in order to mirror the style and physical demeanor of Nick Diaz.
Now, while Thatch isn't at Diaz's level as a striker yet, he's been able to combine solid takedown defense with precise offense to rack off nine straight victories.
That's not an easy feat for any fighter in today's MMA.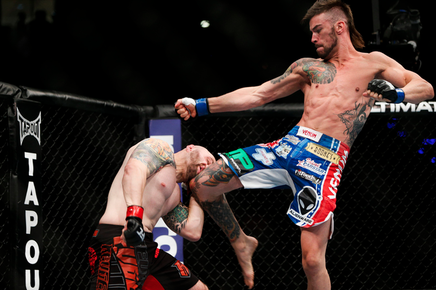 Esther Lin, MMA Fighting
Whether it's his nine-fight win streak, his track record of never being knocked out or the fact that he's finished every single one of his victories, Thatch has a lot to hang his hat on these days.
But beyond those impressive feats, Thatch has prolonged a much more unlikely streak. Believe it or not, the welterweight bruiser has finished each one of his last nine bouts in the first round.
Let me say that again: Not one single opponent since 2009 has been able to take Thatch to the second round.
During that span, he's racked up three knockouts, three submissions and three TKOs, not to mention that he's ended five of those bouts before the one-minute mark.
It's something that will surely get him attention moving forward, but it's more of a testament as to how effective and consistent he is early in a fight.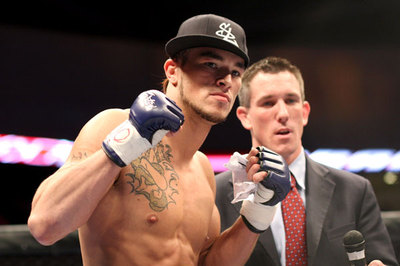 Pat Lovell-USA TODAY Sports
sherdog.com
It's really difficult to pinpoint a fighter's divisional potential after just one fight—let alone an 80-second knockout.
But what makes Thatch's case much easier to predict is the fact that his finish over Justin Edwards in his promotional debut was anything but unfamiliar.
Thatch is used to that type of success. He's used to standing his ground, slinging sharp strikes, imposing his will and finishing guys early.
With that, and the fact that he's already trained with the greatest welterweight in the world, it's safe to say that he's on his way to a top-10 spot by the end of next year.
Of course, flukes do exist.
For more UFC/MMA news and coverage, Follow @DHiergesell