Ranking Best Alley-Oop Combos in the NBA Entering 2013-14 Season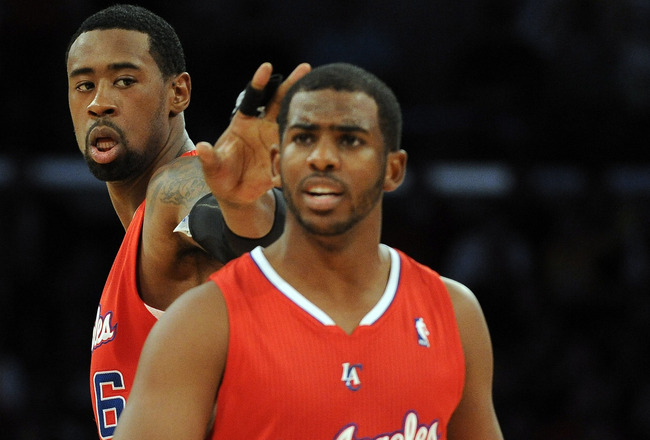 Harry How/Getty Images
We spend a lot of time around here celebrating the finer points of the NBA game—the five-guys-on-a-string defenses, the "pass before the pass" and the complicated strategic interplay between two teams that know what each other are going to do.
But sometimes, it's nice to put the analytics away and close the browser window dedicated solely to Synergy Sports. Sometimes, you just want to watch a bunch of superhuman athletes throwing down sweet lobs.
This is one of those times.
To keep things competitive, we ranked the top 10 alley-oop duos heading into the 2013-14 campaign. Some of them have extensively documented track records of lob excellence, while others cracked the list on a purely speculative basis.
The criteria are pretty simple: All that matters is the pair's ability to generate highlight-reel alley-oops.
These duos are out to prove that the buddy system is alive and well in the NBA.
No. 10: Kyle Lowry and Terrence Ross
We start things off with a pairing who made the list largely on potential. I'm sure you'll note that the man in the above clip who feeds Terrence Ross the long-distance lob is not Kyle Lowry. That's because there weren't really any jaw-droppers from that duo last season.
We can't really be sure if Lowry and Ross will turn out to be a good alley-oop pairing because Ross played just 17 minutes per game last season. That didn't provide a particularly good sample on which to judge the Toronto Raptors teammates.
But Ross has finished his share of lobs in his day, and let's not forget that he handily won the 2013 NBA Slam Dunk Contest.
Look, Lowry should be Toronto's primary ball-handler, and Ross figures to see much more time on the floor as he enters his second season. You do the math.
No. 9: Goran Dragic and Eric Bledsoe
The Phoenix Suns won't give their fans much to get excited about this season, but at least the desert faithful will get to watch Goran Dragic float nifty passes to the rocket-fueled mighty mite that is Eric Bledsoe.
Our second unproven alley-oop combo projects as a highlight factory, especially since the Suns figure to see more than their fair share of garbage time. When games get out of reach, big slams tend to follow.
Dragic is an exceptionally clever passer whose creativity could really shine with a guy like Bledsoe on the receiving end. We know that Jamal Crawford always enjoyed finding his former teammate above the rim when Bledsoe was a Clipper.
Expect Dragic to do the same now that he's got Bledsoe alongside him in the backcourt.
No. 8: Ricky Rubio and Derrick Williams
There's a chance that this pairing moves up the list if Derrick Williams finds a way to steal a few more minutes this season. That'll be a tough task with a healthy Kevin Love back in the starting lineup and a much deeper stable of talent on the wing.
Still, we know that if Williams can get on the court, Ricky Rubio will find him.
Usually, the recipient of the alley-oop is the one who imparts most of the style. But in this instance, it's Rubio who provides the flair.
Capable of finding teammates from the most improbable spots, Rubio is an ideal lob-thrower. All Williams has to do is get himself into space, elevate and complete the play. He did a nice job in that limited role last year, so there's no reason to expect anything different in 2013-14—if Williams can crack the rotation, of course.
No. 7: Stephen Curry and Harrison Barnes
Things we know:
Stephen Curry has ridiculous court vision and isn't afraid to fire up lobs from anywhere. Three years later, his three-quarter-court heave to Dorell Wright still stands as evidence of that fact.
Harrison Barnes is an athletic freak who is still just scratching the surface of his talent.
Compelling, right?
It's safe to assume that opponents will be more focused on Curry than ever this season, mostly because no team wants to be the one to get torched for 60. So as off-ball defenders take the occasional peek to see where the sharpshooter is on the floor, there'll be lots of opportunities for guys like Barnes to cut backdoor.
Transition chances will be there, too.
Optimism is practically overflowing in Golden State as it is. The delight generated by a few Curry-to-Barnes connections might just push things over the edge.
No. 6: Andre Miller and JaVale McGee
Even though the Denver Nuggets added Nate Robinson to the backcourt this past summer, here's hoping that Andre Miller can still get significant minutes behind Ty Lawson.
The fans—and JaVale McGee—would miss the ageless point guard's unparalleled lob-tossing abilities. It's a strange skill to quantify, but if there were a metric that measured pure alley-oop-throwing excellence, Miller would grade out among the all-time greats.
And McGee provides a pretty easy target to hit. With a wingspan that goes forever and a vertical leap that really isn't fair for a seven-footer, he can finish just about anything.
It's also a fun little irony that the best highlight connection on the Nuggets features the professor and the class clown.
No. 5: Brandon Jennings and Andre Drummond
Yet another speculative pick, the Brandon Jennings-Andre Drummond combo seems primed for nightly appearances on league-wide highlight shows.
Jennings is aggressive, creative and has a penchant for big plays. And Drummond is, well, huge and capable of cramming basketballs through rims really hard.
Sounds like a match made in heaven, huh?
Jennings is going to have to choose between Josh Smith and Drummond on most nights, and both are sure to get their share of lobs. But it just feels like we're going to see something special from Jennings and his man-child teammate this season.
No. 4: James Harden and Dwight Howard
We've all heard the talk about how new Houston Rocket Dwight Howard is finally going to embrace the pick-and-roll after years of stubborn refusal. If that finally happens, James Harden, one of the NBA's very best pick-and-roll maestros, is going to find Howard for a ton of alley-oops.
Assuming Howard is fully healthy after a season spent recovering in Los Angeles, he could comprise half of a duo that could easily lead the league in lobs.
From a tactical perspective, the Rockets could get a whole lot of high-efficiency production by building an offense around Harden spoon-feeding the big man. Nobody is better than the Beard at attacking when defenses sag toward the rolling big man, so defenses will have to pick their poison.
It's never a great idea to base a prediction on Howard maturing enough to recognize he has to change. But if he finally acknowledges that he should be rolling down the lane nonstop, there'll be alley-oops aplenty in Houston.
No. 3: Norris Cole and LeBron James
Dwyane Wade probably isn't happy about this, but there's just no denying that Norris Cole goes out of his way to set up LeBron James when they're on the break.
It's a smart move by Cole, who clearly understands the nuances of a monarchy. Keeping the King happy is always a good idea.
To an almost comical degree, Cole tries to set up his superstar teammate whenever the Miami Heat end up in transition. Usually, things work out very well...unless you're Jason Terry.
No. 2: Chris Paul and Blake Griffin
What's this? Chris Paul and Blake Griffin check in at No. 2? What's going on?
Everyone just relax. You'll understand why the league's best-known tandem couldn't top the rankings. For now, we should celebrate the bundle of incredible highlights these two have generated.
Paul is as precise a lob-tosser as there is in the league, and Griffin knows how to finish with power.
There's no such thing as an ordinary alley-oop when these two get involved. Lob City owes its name to these guys and their above-the-rim antics.
But they weren't quite good enough.
No. 1: Chris Paul and DeAndre Jordan
I guess Griffin is the only one who should be bummed out about his omission from the No. 1 spot. CP3 ended up making it thanks to being one half the most enduring highlight from the 2012-13 season.
The other half was, of course, DeAndre Jordan.
You know what? Maybe we should split the credit into thirds. This couldn't have happened without Brandon Knight's bold, ill-fated attempt to step in front of the train.
Remember, though, that this isn't about last year's dunks. So the fact that Paul and Jordan check in at No. 1 is something of a bet on their ability to carry their top-tier highlights into the coming season. Jordan should continue to grow (or so the Clips hope), and Paul is going to have a field day tossing lobs as defenses worry about L.A.'s newly refurbished wings.
Look out below.
Keep Reading