Chelsea stole the headlines by signing Samuel Eto'o from Anzhi Makhachkala, and they made the right decision by acquiring the star.
The move was confirmed by Chelsea's official website. Now the world has reacted to the news, and it has allowed Blues fans to celebrate.
Eto'o is a prolific scorer who will make an impact with Chelsea. He had 18 goals in 29 caps last season and already had two goals in six appearances with Anzhi this season.
When he was at his best, Eto'o was able to score 30 to 40 goals in a year. He has been one of the top scorers in the world for years, so Chelsea made the right move to bring in a good striker.
He is very good at getting by defenders and then finishing when he gets the opportunity.
Eto'o has led Cameroon in the Olympics and most recently captained the team in the 2010 World Cup. He has been able to be the leader of a team and succeed.
Chelsea is getting a good all-around player who has captained a couple of squads. Not only did he lead Cameroon, but Eto'o was also named captain of Anzhi.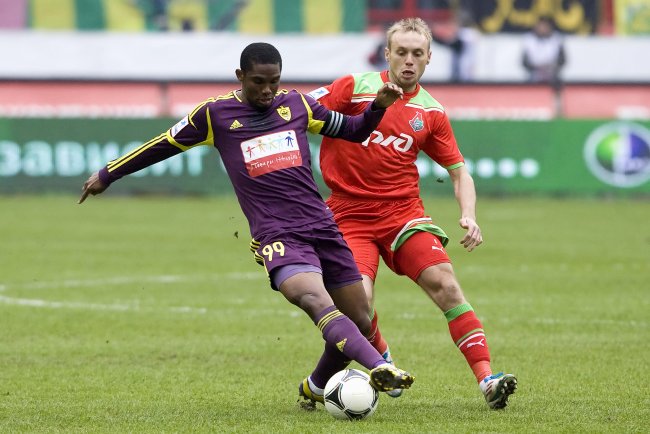 Dmitry Korotayev/Getty Images
He was entering his third season with Anzhi, but Chelsea saw a great opportunity.
It's low-risk, high-reward deal for the Blues. He is no longer the striker that he was with Barcelona five years ago, but he has still shown the ability to find the back of the net.
Even if his production drops, Chelsea are only on the hook for one year. The club's website reported the length of the deal, so this is a short-term addition.
Chelsea finished third in the EPL last season, and adding Eto'o could help them move up in the standings.
How would you rate Chelsea's signing of Eto'o?
At 32, the Blues don't know what to expect out of the striker. If he is able to score consistently with Chelsea, this could turn out to be a huge steal. Getting a player like Eto'o near the transfer deadline is a huge signing, and the club could see huge results.
One reason Chelsea went with a short-term deal is because they are going to let Romelu Lukaku develop. The 20-year-old looks like he could be a premier striker but hasn't really gotten a chance to show what he can do for Chelsea.
Signing Eto'o allowed the team to make a run at the EPL title and try to develop for the future. Eto'o gives the team a better chance to win now, and Lukaku looks like he is going to be the future.
Manager Jose Mourinho worked with Eto'o a couple years ago when the two were with Inter Milan. He knows how to best utilize the striker and should play to his strengths.

Chelsea made a big splash by signing Eto'o. It's a great deal for this season, and the Blues could see big results if the striker is able to be a strong finisher.
*All stats are courtesy of ESPNFC.com