Packers vs. Chiefs: Live Score, Highlights and Analysis for Green Bay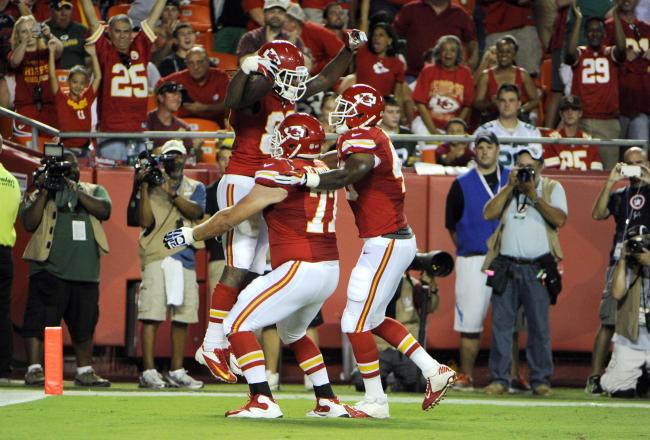 The Chiefs cruised to a 30-8 victory over Green Bay in the preseason finale.
John Rieger-USA TODAY Sports
With a 30-8 victory for the Kansas City Chiefs over the Green Bay Packers, the preseason has officially ended for both teams.
The game was close until quarterback Tyler Bray threw two second-half touchdowns to get some separation. Green Bay failed to score an offensive touchdown, settling for two field goals and an interception.
Overall, it was a strong performance for the Chiefs' backup players and a rather disappointing performance for Green Bay's backups. However, the best news of the night was that we are now less than a week away from the start of the 2013 NFL regular season.
And that's the game.
The Kansas City Chiefs came away with an easy win by a score of 30-8. The Packers failed to score an offensive touchdown in this game.
The MVP of this game was Tyler Bray, who threw for 169 yards, three touchdowns and an interception.
vince young and this offense could stay on the field nonstop for the next 24 hours and they wouldn't get 30 points. Brutal lack of talent.

— Packer Report (@PackerReport) August 30, 2013
This is unfortunately true for Green Bay.
Green Bay seems intent on dragging this game out for another 20 minutes by throwing incomplete passes.
Vince Young is 10 for 24 for 111 yards and a 56.1 passer rating tonight. #Packers

— Jason Wilde (@jasonjwilde) August 30, 2013
Not the type of performance the Packers wanted to see from Young tonight.
We are at the two-minute warning in the fourth quarter here.
Looks like the Chiefs will just run the clock out here to finish off the game.
The Packers fail to convert another third down with Young at quarterback.
#Chiefs with 30 points. That's their highest scoring output in preseason game since 2003.

— Adam Teicher (@adamteicher) August 30, 2013
Touchdown Chiefs.
Tyler Bray throws his third touchdown of the game, this time to Frankie Hammond.
Chiefs are driving. Inside the 10-yard line right now.
Another huge return from Frankie Hammond.
I think it's safe to say that Hammond has made a case to be a member of the regular season roster in Kansas City with his performance tonight.
You know it's a slow game when the broadcasters are pointing out funny looking hats on the Chiefs' sideline.
Chiefs extend lead to 23-8 on 48-yd FG by Succop w/12:19 left in 4th. 6 plays, 23 yds, 3:17. #GBvsKC

— Green Bay Packers (@packers) August 30, 2013
Yay! More field goals.
The fourth quarter is under way in Kansas City.
Looks like the Chiefs have this one wrapped up unless the Packers figure out how to play offense in the final 15 minutes here.
Gotta love the fact that Aaron Rodgers seems as bored with this game as the rest of us.
This looks like an air-bass to me instead of an air-guitar.
There's your big-ish return. 33 yards by Frankie Hammond

— Arrowhead Pride (@ArrowheadPride) August 30, 2013
A nice return for the Chiefs.
#Packers get safety on sack by LB Barrington. Score now 20-8 Chiefs w/1:44 left in 3rd. #GBvsKC

— Green Bay Packers (@packers) August 30, 2013
Big play from LB Sam Barrington.
Picks up the safety to cut the lead to 12.
If there were such a thing as preseason team MVP, Tim Masthay would be in the running. #notsayingmuch

— Packerpedia (@Packerpedia) August 30, 2013
This basically sums up how good the Packers have looked throughout the preseason.
#Chiefs LB Ridge Wilson gets the sack and forced the fumble, recovered by Green Bay. #GBvsKC

— Kansas City Chiefs (@KCChiefs) August 30, 2013
And things just keep getting worse for Young.
I've lost count on how many he's put on the ground. Good thing the Packers recovered.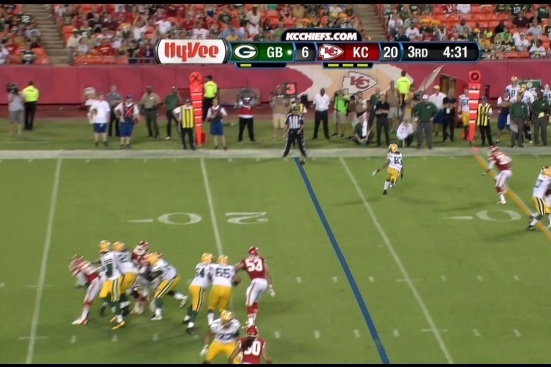 Young has definitely struggled in the second half.
As has the rest of the Packers' offense, but Young has not looked good here in quarter No. 3. This was a very poor pass.
Bray to Bellamy = TD! This time 43-yard pass from Bray to #Chiefs WR Josh Bellamy. KC 20 GB 6 #GBvsKC

— Kansas City Chiefs (@KCChiefs) August 30, 2013
Bray continues his strong play.
Bray picked up a first down with his feet then followed it up with a 43-yard touchdown pass.
Great play by Semaj, breaking up the deep pass by Vince Young. Frankie steps back to return the punt. #GBvsKC

— Reid Ferrin (@KCChiefs_Reid) August 30, 2013
How many more third downs will the Packers fail to convert?
My guess is eight. They are 2-for-10 tonight on converting third downs tonight.
Brandon Smith makes up for getting beat by a TD earlier in the game by grabbing an INT now.

— Brian Carriveau (@BrianCarriveau) August 30, 2013
Another interception for the Packers.
This time it was Brandon Smith who made the big play for Green Bay.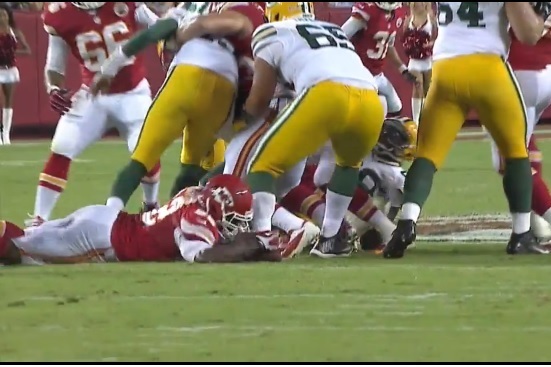 Here's a good look at Josh Martin's fumble recovery after his sack.
Martin is currently the No. 3 LOLB for Kansas City. This was a big play to keep his hopes alive to be on the final roster.
Near pick-six on a screen followed by a sack/fumble for Vince Young.

— Tyler Dunne (@TyDunne) August 30, 2013
Not a good series of events for Vince Young.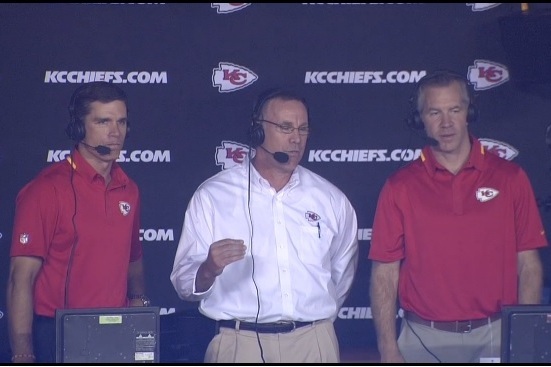 A good look at Chiefs' GM John Dorsey up in the booth for the start of the second half.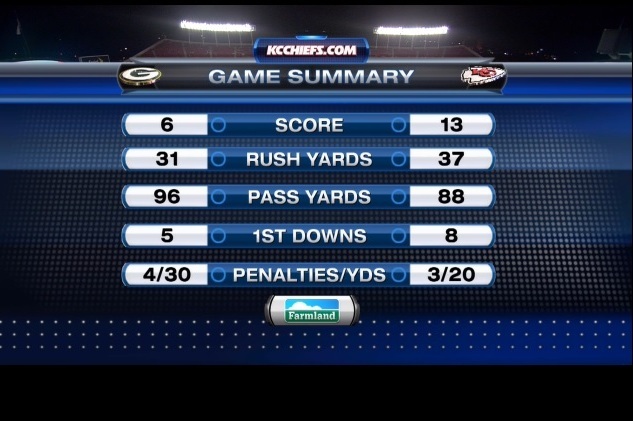 A few stats from the first half for both teams.
This article is
What is the duplicate article?
Why is this article offensive?
Where is this article plagiarized from?
Why is this article poorly edited?