7 Best Matches on WWE Programming in August 2013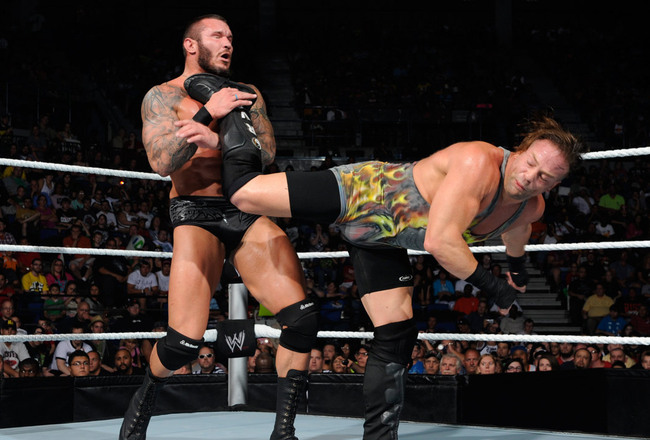 (Photo: WWE.com)

WWE's best matches seared on the screen in August.
SummerSlam delivered three great bouts and SmackDown, NXT and Raw had their fair share of compelling in-ring action as well. Of the seven best matches of this month, many feature the same names; a viper, a world champ and a Superstar who is one of a kind.
Will anything from the last SmackDown of the year earn a spot on here?
It's going to take some mighty good storytelling and wrestling to slide onto this list. The competition is as stiff as a Daniel Bryan corner dropkick.
Based on the level of drama, the height of the stakes, the excitement of the action between the ropes and the number of memorable moments, here are the seven best WWE matches of the month.
Honorable Mention
In addition to August's top seven matches, two of the battles from the Aug. 26 episode of Raw deserve a tip of the hat.
The first third of Daniel Bryan's gauntlet match against The Shield saw him impress against Seth Rollins. Those two Superstars' chemistry will eventually lead to them having a great singles feud and hopefully a clash at a future WrestleMania.
That same night, Bryan and Rollins found themselves outdone by Randy Orton vs. Christian.
Orton and Christian tapped into their compelling 2011 feud, working that same magic in the ring in a physical and dramatic showing.
Christian has also shown great chemistry opposite Alberto Del Rio. Of their many matches this month, the SmackDown showdown from Aug. 9 is second only to their pay-per-view bout. It seemed like they were giving away their best on TV, but ended up amping the drama and intensity come SummerSlam.
Bryan also had an excellent performance against Wade Barrett as those two fought inside a steel cage on the Aug. 23 episode of SmackDown.
The two foes ground against the steel and delivered memorable high-impact moves like Barrett landing an electric chair drop in the center of the ring.
7. Cody Rhodes vs. Alberto Del Rio: Main Event, Aug. 14
We've all seen the story of Alberto Del Rio softening up an opponent's arm so that he can finish him off with his cross armbreaker. Against Cody Rhodes, that simple story felt like theater.
Both men hunted momentum before their respective bouts at SummerSlam.
Rhodes sold his arm injury beautifully, writhing on the mat and having his pain beam from his face. He looked every bit the resilient hero as he hung on against Del Rio.
The drama and great ring work both men packed into this match lands them this on the list. However, had this been in the midst of an intense feud or had more on the line than momentum and pride, it would have ranked even higher.
6. Randy Orton vs. Rob Van Dam: SmackDown, Aug.9
Rob Van Dam continued to make his latest WWE run a memorable one by putting on a great show against Randy Orton.
Both men had lost to Christian for a chance at Alberto Del Rio's World Heavyweight Championship. They continued the great work from that Triple Threat match as they clobbered each other looking for a victory to soothe those wounds.
This bout had all the exciting Van Dam moves you expect, Orton pushing Van Dam from the top turnbuckle and Mr. Monday Night countering Orton's rope-hung DDT apron into a northern lights suplex.
Orton was the aggressor here, clamping his arm around Van Dam's neck like a python and pulling on his foe's hair with a sneer on his face.
It was a match brimming with memorable moments and the two veterans delivering top-notch action. As intense as these foes were, feuds burning hotter edged out this match on the rankings.
5. Alberto Del Rio vs. Christian: SummerSlam
Everything that has made past Christian and Alberto Del Rio matches great came into play again at SummerSlam.
This time around, Christian had more on the line than Del Rio's world title—his legacy was at stake. Earning a third world title, especially at this stage in his career, would have been huge.
Desperation soaked through the action as Christian battled valiantly.
He and Del Rio countered each other's moves and appeared to know the other's next step before it came. There weren't a ton of standout spots, just intense, well-worked action.
The image of Christian fighting to keep Del Rio from cranking back on the cross armbreaker was a dramatic one, a fitting end to a memorable clash.
4. Randy Orton vs. Christian vs. Rob Van Dam: SmackDown, Aug. 2
The winner would earn a world title shot against Alberto Del Rio at SummerSlam.
The way Randy Orton, Christian and Rob Van Dam fought for that right made it feel like a life-changing event. Each man fought intensely, especially Christian who seemed to shift into an extra aggressive gear.
He slammed Orton into the barricade and cracked Van Dam in the jaw as his strategy played out with "one last match" on the line.
Orton caught Van Dam as he attempted his rolling thunder move and hit a scintillating powerslam. The match featured a number of memorable spots like this, each opponent wowing the Houston crowd several times over.
3. Antonio Cesaro vs. Sami Zayn: NXT, Aug. 21
Trying to make an argument that NXT is often just as good or better than WWE Raw or SmackDown? Any of the Antonio Cesaro vs. Sami Zayn matches are evidence to prove that.
Their 2-out-of-3 Falls match topped all their previous efforts and capped off a rivalry that has received some well-deserved buzz.
Zayn began the match by diving out onto Cesaro, and he rarely let his foot off the pedal from that point. It was a match overloaded with stunning spots, but these were blended into the context of the match.
This was a realistic and dramatic bout that had the crowd chanting, "This is awesome!"
Zayn sold Cesaro's power moves excellently, at one point cringing after a powerbomb like his back was splintered. Cesaro hit a superplex with Zayn standing on the ring apron and Zayn showed off the breathtaking repertoire that fans of his work as "El Generico" are fully aware of.
Without a championship on the line, without being on a major show, the two foes made their match feel like one of the most important bouts of the year. Add to that, a spectacular finish involving Cesaro clubbing Zayn in midair and it takes two Match of the Year candidates to top it.
2. John Cena vs. Daniel Bryan: SummerSlam
It's hard to make the stakes of a match higher.
Not only was Daniel Bryan looking to win his first WWE Championship, but he was trying to knock off WWE's biggest star and prove all this critics wrong. His victory meant a victory for independent wrestling, for smaller guys and for the underdog.
Cena did his best to keep up with Bryan's mat wrestling, seemingly out to prove his own critics wrong as well.
It was a well-paced match that blended Cena and Bryan's disparate styles magnificently. It was the dragon sleeper versus the Attitude Adjustment, size versus skill, rising star versus established star. The night looked to be over as a bruised and reddened Cena couldn't get up from a flying knee.
The rain of confetti and the majesty of Bryan's win soon became an afterthought, thanks to Triple H and Randy Orton.
CM Punk vs. Brock Lesnar: SummerSlam
Topping all those matches is a tough task and one that Brock Lesnar and CM Punk accomplished by way of onscreen hatred, brutality and one of the best feuds of the year.
Paul Heyman and Punk's feud is uniquely personal. Heyman has taken Punk leaving him like a breakup, claiming that Punk broke his heart. He asked Lesnar to wield his wrath and punish Punk with it.
Anyone concerned that Punk and Lesnar's size difference would lead to an unrealistic match had those doubts washed away by a stellar performance by both men. Lesnar dominated and Punk survived.
Lesnar threw Punk over tables and bent a steel chair over Punk's back.
Punk managed to stun the beast with shots to the head from time to time, but even when he got a momentary advantage, Punk found himself so blind with rage against Heyman that he couldn't focus.
He played Captain Ahab, destroyed by his desire for revenge and Lesnar played the whale, responsible for Punk's shipwreck.
The power of that story propels to the top spot here as well as how physical the two foes got and how well they told that story through suplexes, steel chairs and submissions.
Keep Reading