Lions vs. Bills: Live Score, Highlights and Analysis
The Detroit Lions head to Buffalo for their fourth and final preseason contest. While the last preseason game is typically dogged by many for being completely irrelevant, there are several strong reasons to watch. Foremost among those are settling positional battles and securing the final roster spots.
Among the positions still up for grabs for Detroit:
Right Tackle: Jason Fox, Corey Hilliard and undrafted rookie LaAdrian Waddle are all still hoping to lay claim to the starting gig. All three figure to play extensively, including at left tackle.
Right Guard: What was presumed to be third-round pick Larry Warford's coronation as the starter has been paused. It's partially because Warford has struggled with speed, but veteran Jake Scott has been excellent in the last two preseason games. Dylan Gandy and even Leroy Harris are also still hoping to earn the role.
Return Specialist: Steven Miller and Micheal Spurlock are in a dead heat to win the return jobs. Miller is a running back and Spurlock a wideout.
It's also a chance to watch recently acquired LB Chris White for the first time. He was traded from Buffalo earlier this week for quarterback Thaddeus Lewis, who will also see the field for the Bills.
Look for only token appearances from the starters like Matthew Stafford, Jason Jones and Chris Houston. This one is all about the bottom of the roster. Expect the competition to be fierce and intense as many players fight for their livelihoods. Don't tell them this game means nothing!
Stay right here for up-to-the-minute breakdowns, tidbits, observations and reactions.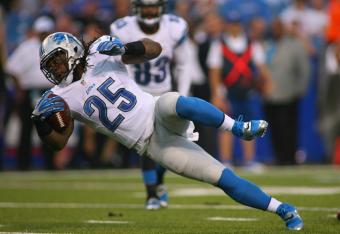 Game Over. Lions win 35-13 after absolutely destroying the Bills in the first half.
Final Thoughts:
-I said it earlier but I'm more certain of it the more I ponder the concept: Mikel Leshoure has no place on this team. He offers nothing that Theo Riddick and/or Joique Bell can't offer. In a related note, I saw that Giants backup RB Andre Brown broke his leg. Let's put these two hands together, Mr. Mayhew!
-Larry Warford did enough to earn the starting RG spot. I thought Jake Scott played well once again but he's a one-year bandage. Warford is the future, and the future is now. I'd try to auction off Scott to a needy team like San Diego or Arizona as he clearly still has something to offer.
-Matt Willis and Patrick Edwards locked up the fourth and fifth wideout spots. I expect the Lions to rotate their depth wideouts into more important game action this season, and Willis in particular has shown he can rise to the challenge.
-I counted just one personal foul penalty, called on Raiola on the early INT. That is progress. Build on that.
-The depth looks so much better than any of the three AFC East teams the Lions played in preseason. A lot of fans give Martin Mayhew and the player personnel department a lot of flak, but there is real and viable depth far beyond what many other rosters have right now.
-Martvaius Neloms went down with an ankle injury and I can see the Lions converting him to IR as an injury stash. He's shown enough in limited action to merit a longer look but isn't ready for prime time. I suspect Michael Williams will also be an IR stash as a rookie.
1:13 left and the Lions get the ball. As much as I'd like to see more OL play, just take a knee fellas...
For tonight's final music selection, I give you the fantastic Finnish folk metal of Turisas. This is the first single off their upcoming album "Turisas 2013". I will be dressed as Warlord Nygard for Halloween.
Mentioned this in my chat Wednesday, but #Lions have used that 6 OL package some tonight. Dusting it off in case they IR Michael Williams

— Dave Birkett (@davebirkett) August 30, 2013
Anyone else more than a little reminded of Aaron Brown when watching Steven Miller? That raw speed around the edge but very straight-linish and propensity to try and turn every run into a touchdown look awfully familiar.
CB Chris Greenwood just beat on a 79-yard TD. Guy ran right by him. #DETvsBUF

— Tim Twentyman (@ttwentyman) August 30, 2013
Greenwood has his feet in cement once again and gets torched by the Bills over the top for a long TD. Lewis hits Easley in stride and Greenwood misses the diving tackle attempt, safety help is late.
Lions 35, Bills 13.
The long throw to Willis was incomplete but Kellen Moore put some mustard on it. I'm pleasantly impressed with his increased arm strength. Still don't like him as more than a seldom-used backup but that's a lot more than I ever thought I'd say about Kellen Moore. Good for him.
Marcus Easley quickly ate Chris Greenwood's cushion there and ran past him over the top. Greenwood appeared overly concerned about the shorter route and broke very tentatively in chase mode. He desperately needs a season on the practice squad, his naivete showing repeatedly. No way he legitimately makes the final 53.
Waddle and Warford still in against the Bills scrubs. Both have made strong cases for starting jobs tonight. This is the best Warford has looked all preseason, level of competition notwithstanding.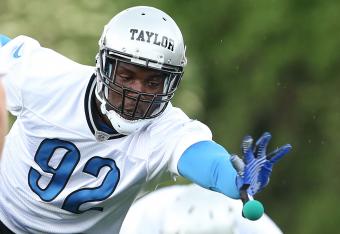 "@DetroitLionsNFL: #Bills go for it on 4th down and lose a yard. #Lions take over on downs with 13:48 remaining. #DETvsBUF"

— StillWatersRunDeep (@IcBlueVengeance) August 30, 2013
Devin Taylor making a play to force Lewis to the sideline. Taylor wasn't in great position but his sheer length got him in the way and altered the play. That's something to work with right there.
I was at Woodstock '99 and it was awesome. We left before the fires and chaos broke loose on the final night.
That is Megadeth's worst song, FYI...
LaAdrian Waddle is absolutely destroying it in run blocking. Consistently producing major movement on every snap. This kid wants it...which reminds me of another song that encapsulates Waddle's mantra: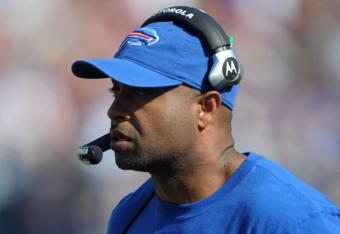 As they are highlighting on the Lions broadcast, there's a lot of cross-pollination between these two teams. Lions RB Coach Curtis Modkins was in Buffalo last year, while Bills DB coach Donnie Henderson was a Defensive Coordinator in Detroit during the Dark Times, better known as the Millen era.
I spent some time talking to Modkins right after he was hired, he's a good fit for the guys here.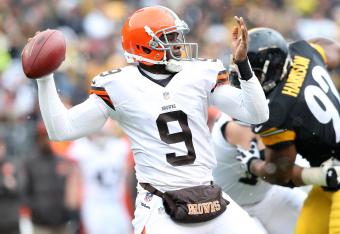 I feel for Thad Lewis here. He's had two practices with the Bills and the Lions defense is already very familiar with what he can and cannot do. I still like him as a potential backup in the NFL but the Lions made the right decision to go with Kellen Moore.
Steven Miller interrupts an awkward interview with Shack Harris with a nifty run that shows his speed and balance.
People forget what Shack Harris did and went through as a black QB back in the day. His story deserves to be told to a wider audience.
Apparently the Bills kicked a field goal. Lions 35, Bills 6. I'll admit it: I went for some snacks and a refill on the water.
Tahir Whitehead in coverage is just wretched. It's the football version of this audio trainwreck:
Excellent knifing tackle by Jimmy Saddler-McQueen. I said it in my preview over on DetroitLionsDraft but this is an important game for him. He's not apt to make the Lions but he's shown more than enough this preseason to merit a roster spot with another team.
@DetroitLionsNFL are playing #Madden on Rookie Mode #DETvsBUF

— Lions Insider (@DetLionsInsider) August 30, 2013
Halftime score: Lions 35, Bills 3
5 quick thoughts:
1. Rashean Mathis has shone at corner but also showed he can play some safety as well. Invaluable and immense upgrade to the combo of Erik Coleman and Drayton Florence we suffered through last year.
2. Kellen Moore not resting on his laurels; he looks good once again. Shaun Hill looked fantastic. The Lions third string QB is better than the Bills starter, the second AFC East team that's been true for this preseason.
3. Theo Riddick over Mikel Leshoure. I'm sold on it.
4. Patrick Edwards was very up and down, but I like that he was consistently wide open both down the field and on comeback and sideline routes.
5. Bill Bentley was phenomenal. He was consistently in the perfect spot in zone coverage but also showed his closing speed in trail man position to break up a pass.
Moore finds Riddick again from the shotgun spread at the 5 that completely befuddles the Bills defense. Chiapas was also wide open in the end zone.
Big night out for Riddick, reminds me of this song, which is PG-13 by the way...
#Lions punt muffed by Nickell Robey, recovered by DET. Lions take over at the #Bills 10 #DETvsBUF

— Buffalo Bills (@buffalobills) August 30, 2013
Micheal Spurlock helps his cause with the recovery of the badly fumbled punt. Makes up for his ugly drop that preceded the punt.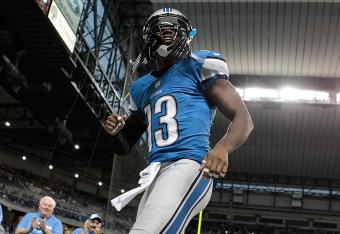 Thinking out loud here: what has Nate Burleson done this preseason or training camp to merit starting ahead of either Patrick Edwards or Matt Willis?
I know the Lions aren't going to cut Mr. LionBlood, but he's not been one of the Lions' four best wideouts this summer and hasn't really been close to that status.
INJURY UPDATE: LB Jon Morgan with a shoulder injury, return questionable. #DETvsBUF

— Detroit Lions (@DetroitLionsNFL) August 30, 2013
Since the DirecTV feed just cut from live action to self-promoting commercials, here's an injury update:
This article is
What is the duplicate article?
Why is this article offensive?
Where is this article plagiarized from?
Why is this article poorly edited?

Detroit Lions: Like this team?