Washington Redskins vs. Tampa Bay Buccaneers: Score, Analysis for Washington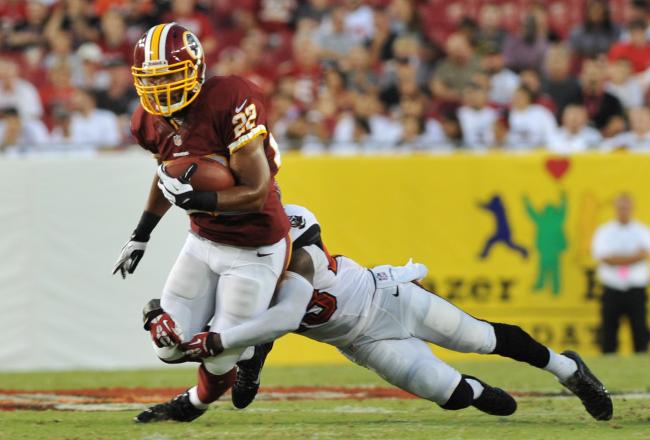 Al Messerschmidt/Getty Images
The Washington Redskins put the seal on a flawless preseason with a comfortable 30-12 road win over the Tampa Bay Buccaneers.
Running backs Evan Royster and Chris Thompson led the way. The duo took their opportunities to push for a roster berth and have given themselves a great chance of surviving the final cuts.
On defense, it was another good outing for a pass rush that pressured Tampa quarterbacks all game. Veteran rush end Darryl Tapp is beginning to look like a real steal.
All screen shots courtesy of NFL.com Gamepass.
The Redskins run the clock out to win 30-12. That concludes a perfect preseason for Shanahan's team. Once again the coach will have been wowed by the potential of this rushing attack.
He will be particularly impressed by how Royster and Thompson responded to the challenge of securing a roster spot. Thompson also proved he can be a key figure on special teams.
Having a scoring threat in the return game, or at least the ability to give an already prolific offense short fields, could be critical.
Defensively, the pass rush has a really imposing look about it. The Redskins are mixing up the alignments, but any time they shift Tapp inside he is a real force.
Being able to control the clock on the ground and pressure the quarterback is a natural winning combination that bodes very well for the Redskins this season.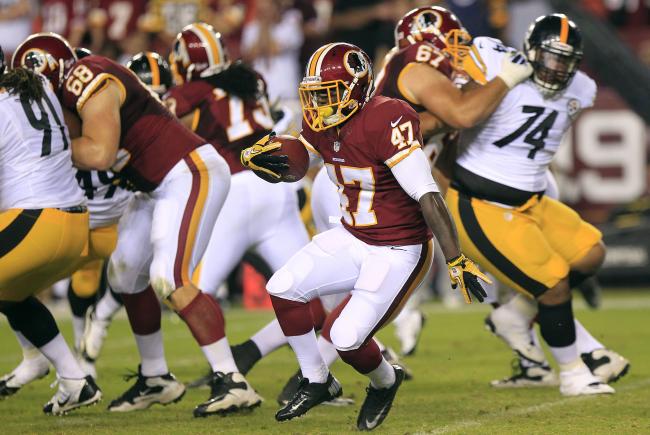 One troubling thing is noticeable about Jamison's running style. He usually makes a good initial cut, but tends to hesitate once he reaches the hole, rather than darting through it.
That could really hurt him, given the quickness and the power possessed by the other runners in the rotation.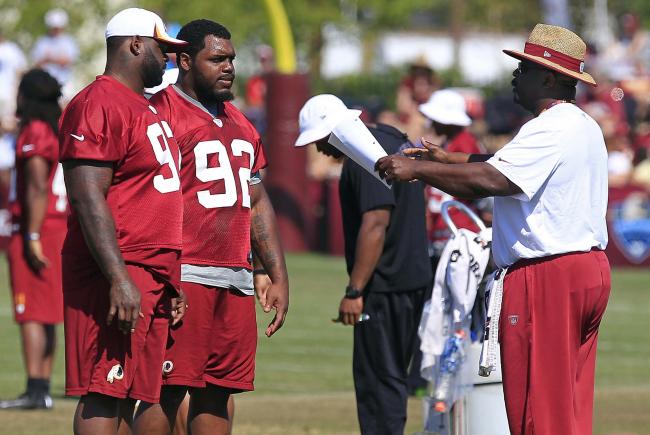 Ron Brace also made some nice plays anchoring the middle. He offers the most size in the nose tackle rotation and has invaluable 3-4 experience from his days with the New England Patriots.
Those attributes might be enough to push him ahead of Chris Neild and Baker as Barry Cofield's main deputy.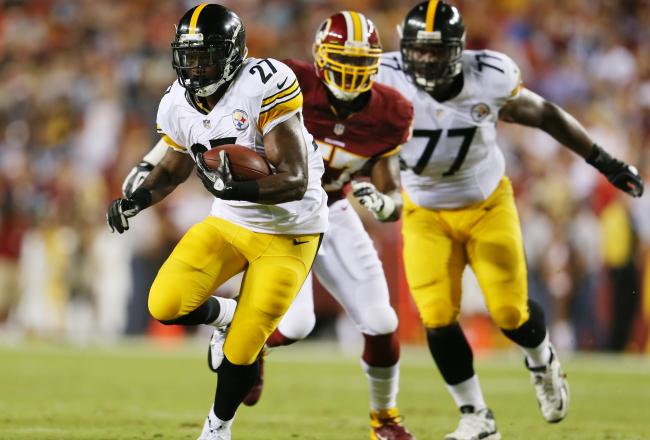 Brandon Jenkins has experienced a mixed drive. He has stood up his blocker on three separate occasions against the run, but he has also given up a personal foul penalty.
Jenkins may need more than just rush skills to make the roster. He is demonstrating real strength at the point of attack.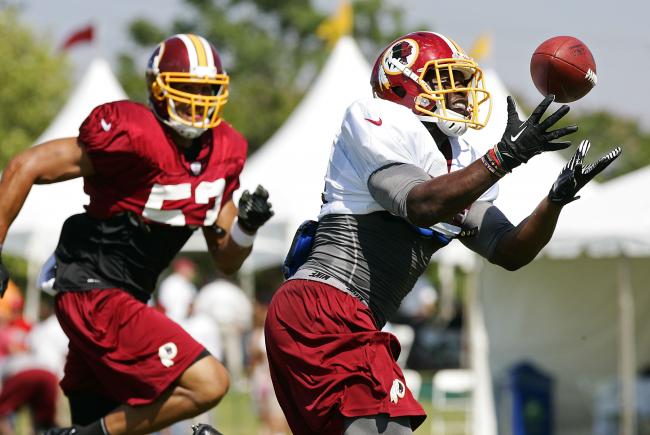 The fringe defense was a little sloppy on that drive. Chase Minnifield gave away a substantial pass interference penalty on third down.
He has already faced an uphill battle to make it in the pros and can't afford that kind of costly error.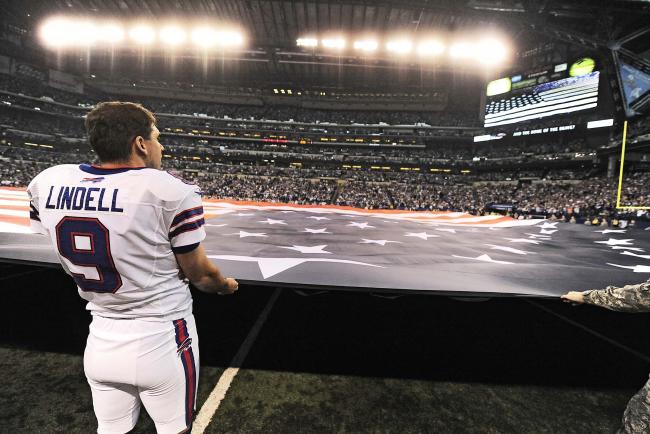 Field goal Tampa Bay as Rian Lindell booms a 50-yarder. Redskins still lead though, 30-12.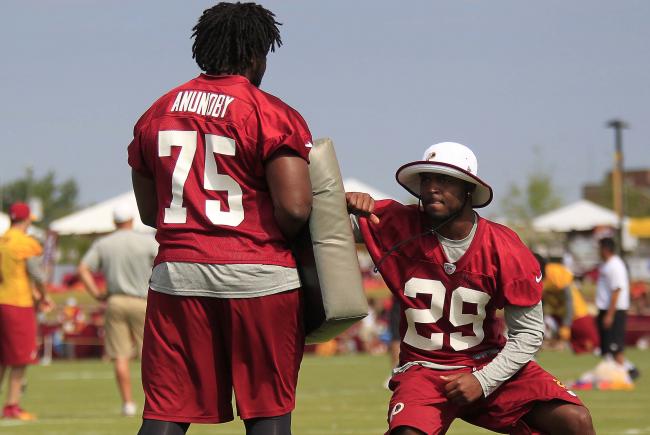 Backup nose tackle Chigbo Anunoby just rejected wide receiver Jordan Underwood's attempts to play running back. Tampa Bay are really thin in the backfield.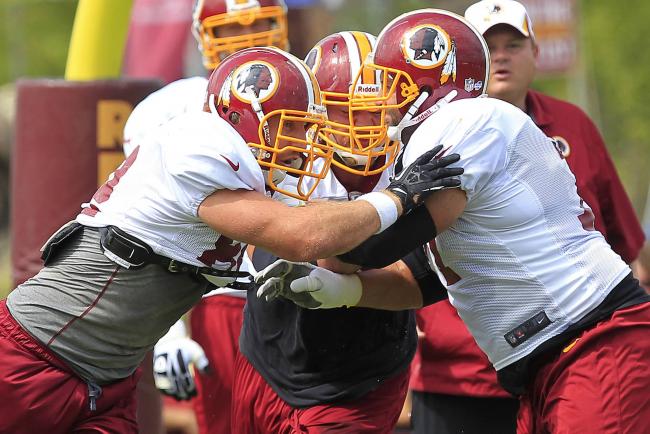 I has been easy to be impressed by the backup offensive linemen. The Buccaneers brought a few blitzes in the first half, but didn't get near White. They have also failed to clog any rushing lanes.
The right side has been particularly proficient, with veteran Tony Pashos at tackle and youngster Adam Gettis at guard. It says a lot when the Redskins can still dominate on the ground, with different people leading the blocking.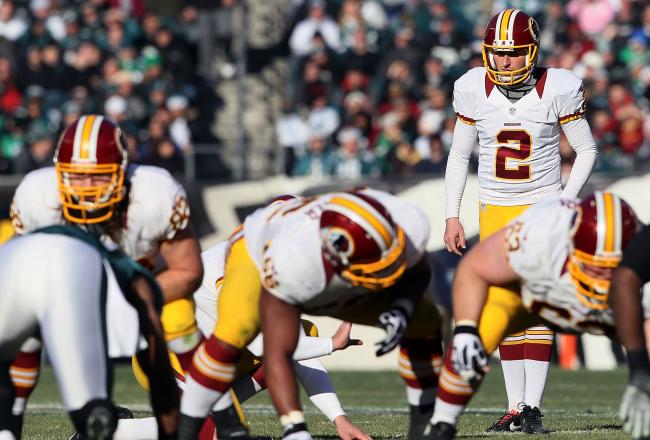 Kai Forbath accurate as ever. This time he cooly converts a 47-yard field goal to increased the lead for the Redskins at 30-9.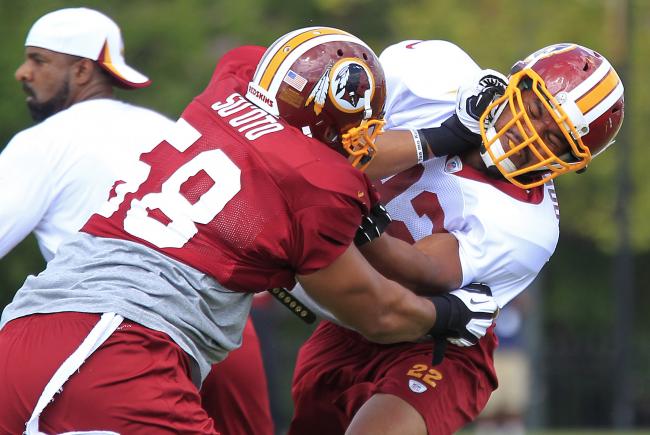 Young outside linebacker Vic So'oto was really quick off the snap more than once on that last series. These are the drives fringe players have to do something to get noticed.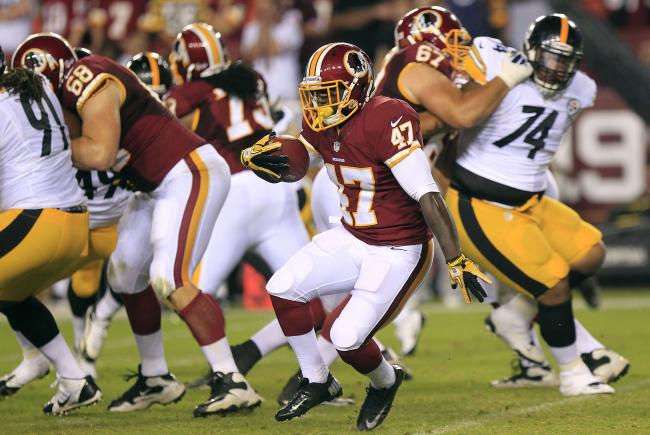 Jamison is making a series of nice one-cut runs here and showing workhorse capability.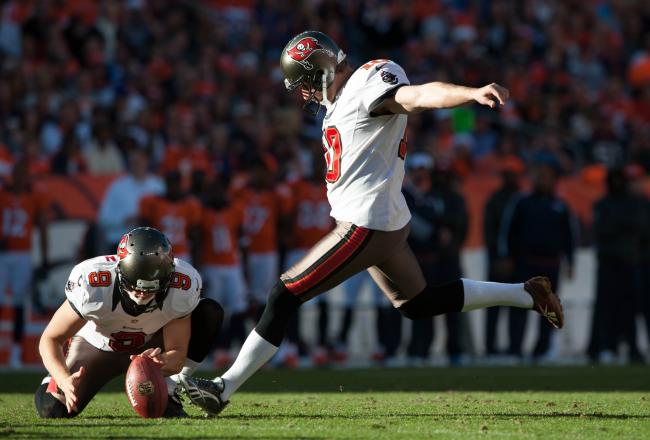 Connor Barth kicks a field goal to put the Bucs within 18. 27-9. Both teams were down to bare bones in terms of personnel on that drive.
Tampa had a backup cornerback carrying the load at running back, after Hillis left the field.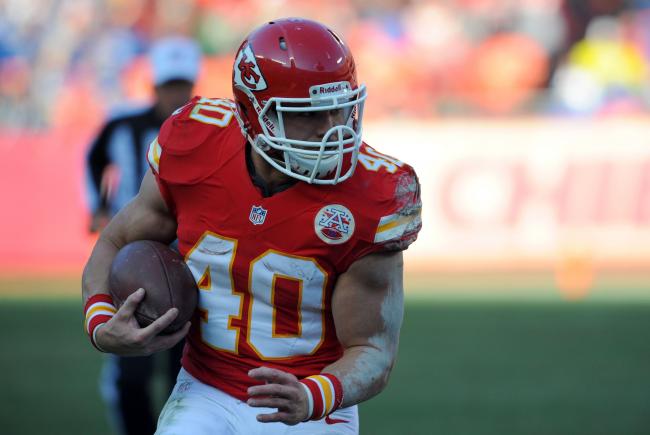 It has to be a concern how easily veteran retread Peyton Hillis is bouncing off run defenders. The run defense was stout last season, but has looked worryingly soft in exhibition games.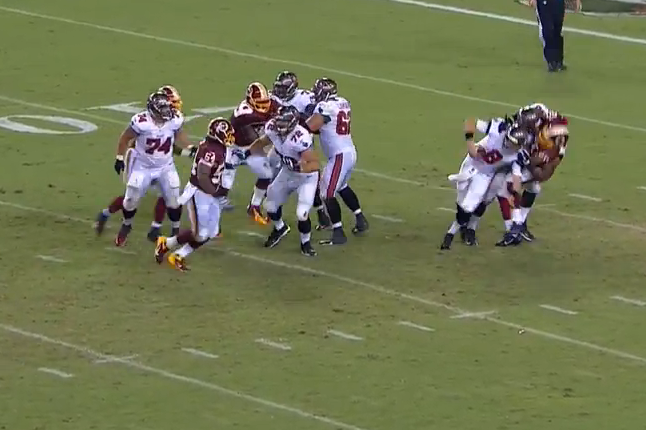 The pass rush again dominates to close out the half with a crushing sack. Washington boasting a commanding 21-point advantage at the half.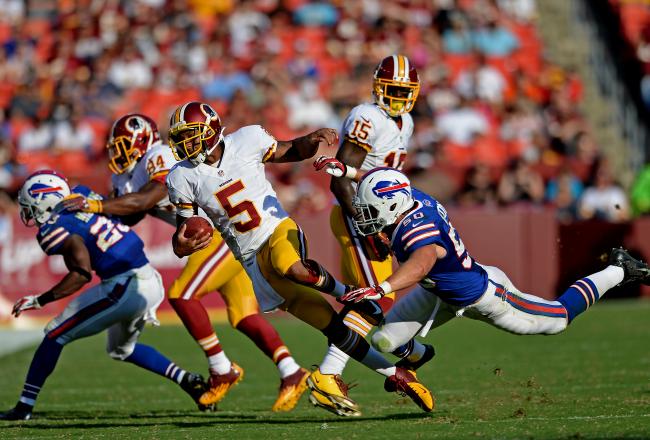 Touchdown. Redskins now 27-6 ahead. He has experienced a horrible night throwing the ball, but White has made some exceptional plays with his feet.
He hesitated in the pocket, but then made two would-be tacklers miss and dove in for six. The rushing skills White offers give him an edge over Grossman for the read option.
But his shaky throwing mechanics could still doom his chances.
Top rookie David Amerson just made a nice opportunistic interception. It was a leaping catch and decent return, putting the Redskins in scoring position.
Amerson showed ball hawk skills in college and that is what this defensive backfield needs.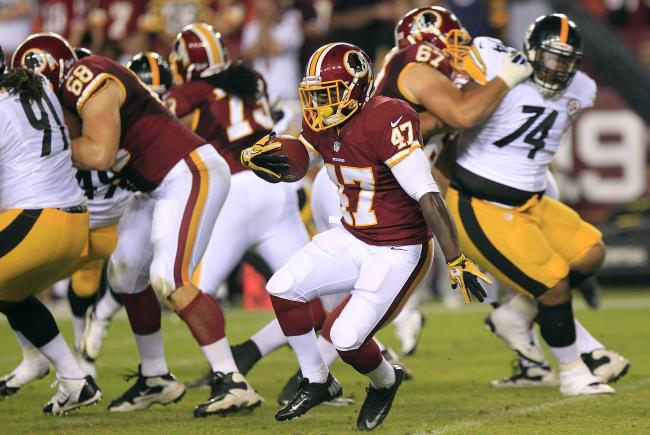 Seventh-round pick might get some second half carries now, as Keiland Williams succumbs to injury. After impressive work from both Royster and Thompson, Jamison has a lot to do.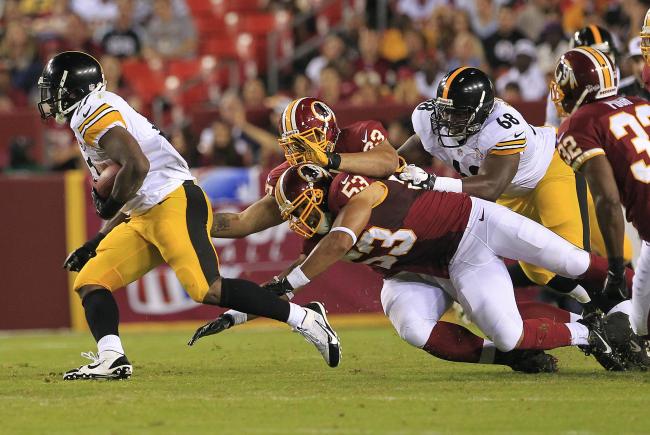 That drive was created by a Glennon fumble, caused by Tapp again crushing the pocket from the inside. Reserve end Phillip Merling made the recovery.
It has been a great night for the pass rush so far and the Redskins are continuing to mix their fronts.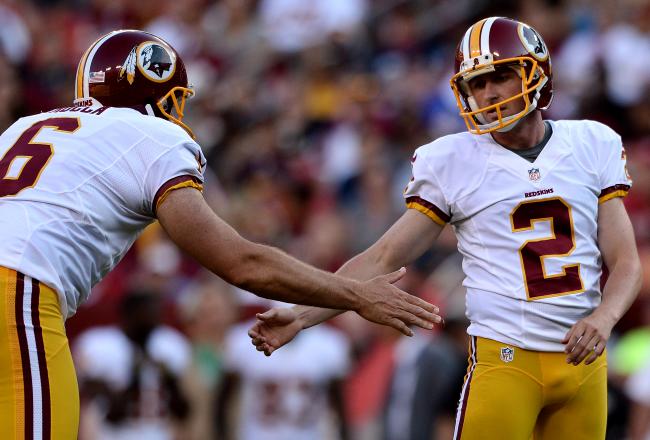 Field goal from Forbath, 30 yards. Redskins 20-6 in front.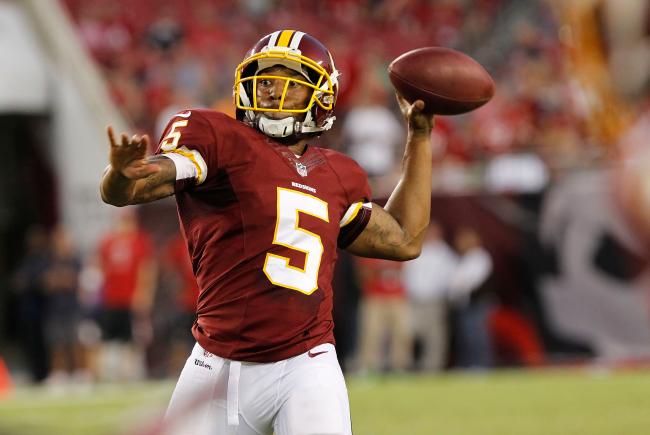 White ignored Thomspon on a screen, despite the rookie back being uncovered. White was then pressured into a throw into the ground. It rates as another poor decision.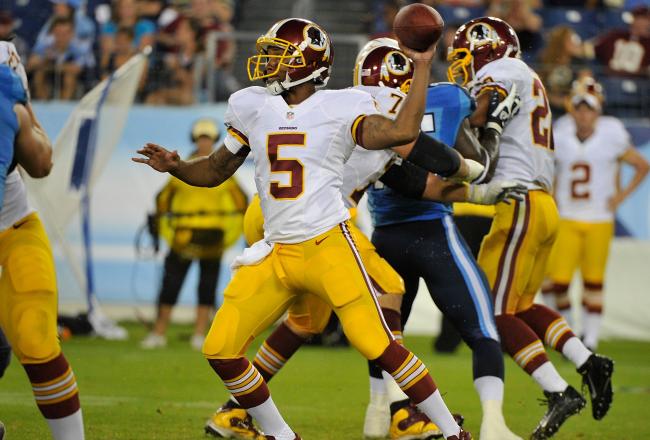 White really is suffering at the moment. He just dropped a snap destroying a drive. White cannot endure many more blunders this early.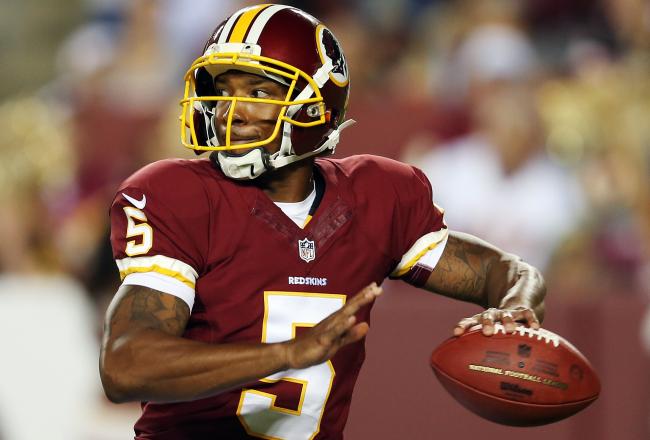 Touchdown Bucs, 17-6. White's poor reads strike again. He telegraphed an errant pass straight to linebacker Najee Goode who ran it in.
White may not escape a benching here as every pass has been a treacherous adventure.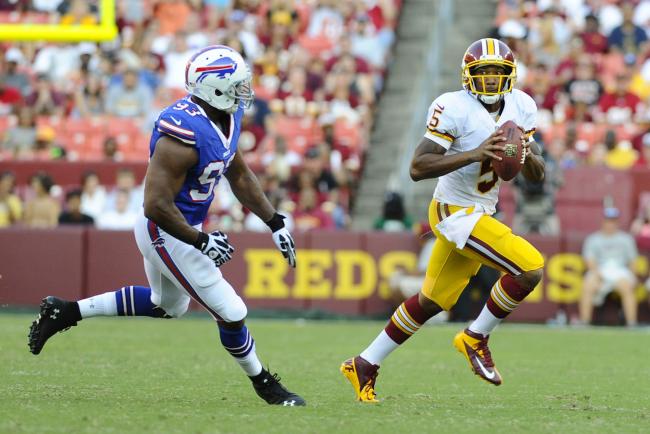 White has made some abysmal throws so far. He was easily fooled by a simple zone exchange underneath. Rex Grossman may yet survive the cuts again.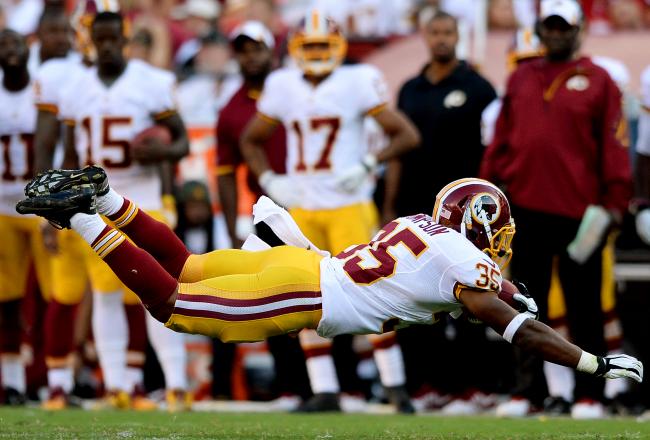 Special team coordinator Keith Burns will be pleased with Thompson's return. His unit needs to make more of an impact this season.
True contenders have big play ability in all three phases.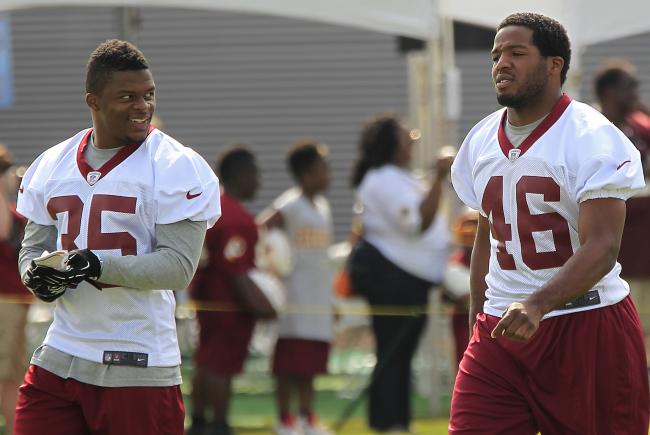 Touchdown Redskins. 17-0. Thompson may have just sealed his roster spot with a stunning 69-yard punt return for the score. His little burst of pace to escape the pile was stunning.
The Redskins have a real weapon here, provided they can teach him to be more disciplined with the ball. Over to you Bobby Turner.
This article is
What is the duplicate article?
Why is this article offensive?
Where is this article plagiarized from?
Why is this article poorly edited?

Washington Redskins: Like this team?