Tennessee senior running back Rajion Neal offered a terse response when asked by reporters this week about the notion that the Volunteers are devoid of playmakers.
"Bull," he said.
After a brief pause, the 5'11", 212-pound starting tailback elaborated on his belief that UT has plenty of weapons to deploy when Austin Peay comes to Neyland Stadium at 6 p.m. ET Saturday. They may not be proven, but the ability is there.

I feel like we've got a bunch of players out here that have a lot of talent. I don't think you make it here or in this conference by mistake. We've got guys who are going to come out here and show something on Saturday.
Some prime candidates to fill that vital role for new UT coach Butch Jones are Neal and fellow backfield mate Marlin Lane, as well as sophomore wide receiver Alton "Pig" Howard and the freshmen receiving duo of Marquez North and Josh Smith.
North, in particular, is a star in the making. The 6'4", 215-pound target burst onto the scene in Knoxville after a high school career where he was a universal 4-star prospect and a top-200 player, according to 247Sports. He will line up as a day one starter for the Vols, and that surprises nobody who has seen him practice and in film rooms.
The Charlotte product already has earned the respect of his teammates, and he is the most obvious choice as the heir to "Wide Receiver U" that was most recently upheld by 2013 NFL first-round pick Cordarrelle Patterson and second-round pick Justin Hunter.
Who Will Be Tennessee's Best Offensive Playmaker This Season?
Said Vols senior offensive tackle Ja'Wuan James:
You can just tell a difference between his maturity level and some of the other freshmen. That's why he's getting this opportunity, and we need for him to step up right now. But he's done a good job of asking questions if he needs something and really buying in.
North has the skills to break through, but he isn't the only unproven receiver Tennessee needs to shine. Howard has the kind of quick-twitch, make-you-miss mojo in space that the Vols have been lacking. After a quiet freshman season and a mistake-filled spring, he emerged the past month as one of the most dependable pieces of the wide receiver picture.
Smith is an unheralded wild card from Knoxville who was hardly recruited but could turn out to be one of the jewels of the 2013 recruiting class. He is bracketed with redshirt freshman Jason Croom as a starting receiver for the season opener, and how long he stays there will depend on his ability to stay consistent.
Playing time is certainly up for grabs, indeed. The Vols return fewer than 20 percent of last year's total receiving yards, and only 338 of the team's 3,787 receiving yards from last season came from wide receivers still remaining on the roster.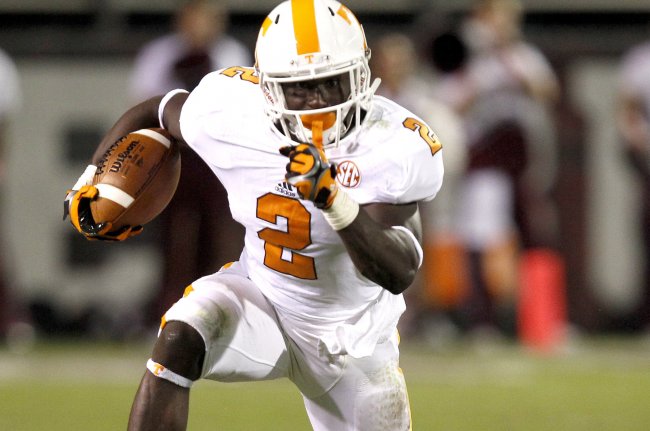 Butch Dill/Getty Images
Said UT receivers coach Zach Azzanni, simply: "We need playmakers."
The running back position boasts a pair of proven players, but each is waiting for a breakout performance. Neal was on his way to a stellar season in 2012 before an injury slowed him. According to the Associated Press, he was second in the Southeastern Conference with 460 rushing yards five weeks into the year before being sidelined. With the size and speed of a prototypical NFL running back, Neal is being counted on heavily in Knoxville.
He never has been able to break enough tackles or showcase enough vision to seize the feature back role for an extended period of time. His backfield mate Lane took over after Neal's injury last year and rushed for 658 yards on a 5.5 yards-per-carry average.
Though neither will contend for All-SEC honors, they will be leaned on heavily this year and should be able to produce numbers with Tennessee's vaunted offensive line paving the path.
Neal welcomes the challenge.
"I think it kind of comes with the territory being an older guy," he said. "I kind of do take pride in that, and I think it is a little more pressure on me, but at the end of the day, that's what I signed up for."
With the Vols needing stars to emerge right now, the search begins with these five. Consistent production from those players would turn a rebuilding season into one where UT could be dangerous.
All quotes used in this story were transcribed from press conference and practice videos posted on UTsports.com.