New York Giants vs. New England Patriots: Live Score, Highlights and Analysis.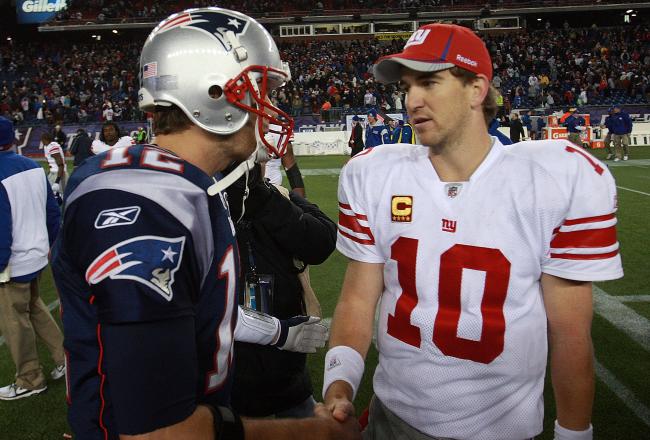 Jim Rogash/Getty Images
The New England Patriots topped the New York Giants, 28-20, in the 2013 preseason finale, which included a devastating injury to Giants running back Andre Brown and two touchdown passes by Tim Tebow.
The Giants open up the regular season next week against the Dallas Cowboys, while the Patriots take on the Buffalo Bills.
Nassib comes in to take the final knee.
That's your final. Patriots 28, Giants 20.
Painter sacked twice on the Giants' last drive, as the third-team O-line looks completely inept trying to stop the Patriots rush.
And Tebow throws an unneeded touchdown pass with six seconds left for the icing on the cake. The score is now 28-20 in favor of the Patriots, and a final kickoff should do it.
Let the regular season begin.
Never mind. Giants force the Patriots to punt, so New York will get one last shot with Painter under center.
Just over a minute to play.
Patriots send pressure and swarm Curtis Painter, who came in for Carr at the two-minute warining, on fourth down. That pretty much raps up this game if Tebow and the Pats can run out the clock.
Back-to-back circus catches from Carr to Marcus Harris, then Larry Donnell. Down by a point, the Giants are driving with the two-minute warning looming.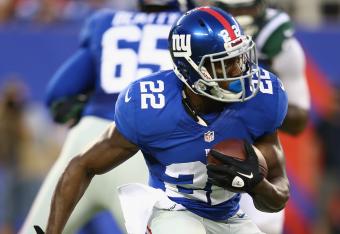 Michael Cox hasn't found any room to run tonight.
Da'Rel Scott had a big night tonight with an impressive touchdown, but does he leap Cox and Torain on the depth chart? Torain has come up big in recent weeks, especially in pass protection. Fullback Henry Hynoski projects to be back Week 1. So many questions to address, starting with the timetable on Brown's return.
One thing is for certain. David Wilson's role will increase. He may be forced to become an every down back, which could end up working to his benefit.
I'm just thinking out loud here.
10 days until Tom Brady. #WooSah

— James Christensen (@NEPatriotsDraft) August 30, 2013
Time winding down in this one...
NFL Network: X-ray on TE Adrien Robinson's leg came back negative.
Trumaine McBride picks off Tebow. #Giants come back out with David Carr at QB. Brandon Myers is still in. So is Pascoe.

— Conor Orr (@ConorTOrr) August 30, 2013
Strange that the first-team tight ends are getting this much action late in the game. Aren't the Giants worried about recent injuries? It would be devastating to lose either one.
Watching Patriots starters on the sideline react to that Tebow touchdown felt like watching "Rudy."

— Mary Paoletti (@Mary_Paoletti) August 30, 2013
Not sure if compliment, or insult.
Tumaine McBride picks off Tebow deep down the left sideline.
Charles James, a player on the roster bubble, has proved his worth tonight on special teams. With Jayron Hosley out, James has seen extensive work on punt returns. He has done quite well, and he just made a nice stick on punt coverage. His value at cornerback is undetermined, but the Giants – and most other NFL teams – can always use depth at that position.
Cool night for the Carr family: Both David (Giants) and Derek (Fresno State) playing.

— Matt Miller (@nfldraftscout) August 30, 2013
David Carr's younger brother is the starting QB at Fresno State, David's alma mater.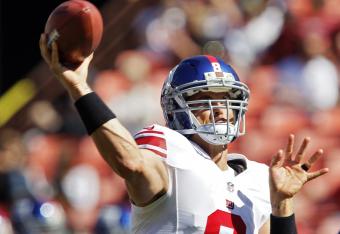 David Carr now back in the game with the last-stringers. He holds the upper-hand in the battle for backup QB with Curtis Painter, but his play in the preseason has not exactly painted that picture. Carr knows the playbook well enough, so he is someone the Giants would be comfortable inserting into the game in spot duty.
But let's be honest, the Giants are doomed if Eli goes down.
And that 53-yard TD strike marks the longest pass play of the preseason for the Patriots, passing Mallett's 40-yarder earlier.

— Mike Petraglia (@Trags) August 30, 2013
Meet your new record-holder.
One play after the Te-Boos begin ringing in Gillette Stadium, the lefty hits rookie receiver Quentin Sims for a 52-yard touchdown.
Patriots take a one-point fourth-quarter lead. The pressure is on.
Coughlin said Tuesday he'd err toward "safety" in PT in this game. Brown was out there well after rest of "starters" were done.

— Ebenezer Samuel (@ebenezersamuel) August 30, 2013
On Brown injury, running back's identity as "starter" is hazy.
Patriots take over on downs. Tebow + fourth quarter + six-point deficit = ???
Nassib's first draft of the second half is rough, but its prolonged by a muffed punt. There haven't been many bright spots in the rookie's preseason, so an extended drive is a stroke of luck for Nassib. He faces third-and-long after a personal foul on Julian Talley, though.
Start of the fourth quarter.
Rookie WR Kenbrell Thompkins is getting veteran treatment in 2nd half, watching from sideline. Draft picks Aaron Dobson/Josh Boyce play on.

— Mike Reiss (@MikeReiss) August 30, 2013
Thompkins has deserved it so far.
damn my dog @drebrown35 has a broken leg,

Both Browns injured now.
Giants defensive end Adrian Tracy, who the team once referred to as "Young Osi," looked the part on that offsides call. Tracy gets a nice jump on the ball, but, boy, is it dangerous.
Michael Cox will now likely be the backup. Ryan Torain and Da'Rel Scott have a chance to make team.

— Ohm Youngmisuk (@NotoriousOHM) August 30, 2013
A follow up from Ohm.
Andre Brown is out with a broken leg. Ugh.

— Ohm Youngmisuk (@NotoriousOHM) August 30, 2013
Ouch.
Scott fights through traffic to get that delayed touchdown. That's a big play that puts the Giants back on top. Could he find his way onto the roster now that Brown has a broken leg?
With all this Ryan Torain/Michael Cox talk, Da'Rel Scott busts through for a pair of nice runs. The second one is called a touchdown on the field, but it was overturned upon review. Still, very impressive for the young speedster who is struggling to make the team.
Tebow stares down his targets, is almost intercepted and is brought down in the backfield on his second drive. #TebowTime
This article is
What is the duplicate article?
Why is this article offensive?
Where is this article plagiarized from?
Why is this article poorly edited?