NFL Preseason: Live Score, Highlights, and Analysis for Steelers vs. Panthers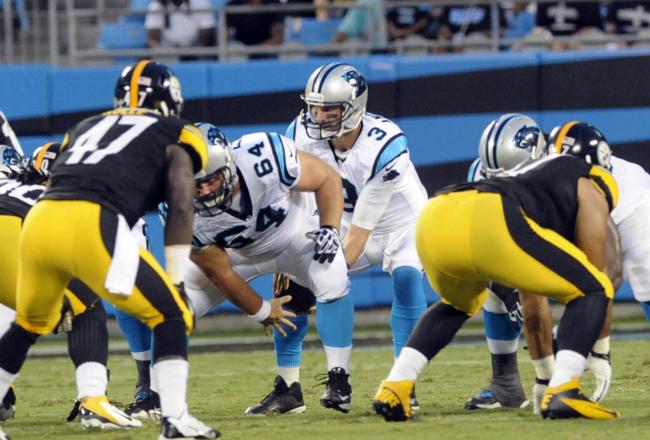 Sam Sharpe-USA TODAY Sports
The 2013 NFL preseason has come to an end for the Pittsburgh Steelers as they fall to the Carolina Panthers 25-10 in what was some ugly play, especially by the Steelers offense.
The Panthers jumped out on top in the first half and never really looked back. The Steelers did a nice job holding serve initially, but in the second half everything started to unravel. Quarterback Landry Jones, who played the entire game for the Steelers, threw two very ugly interceptions on consecutive drives, which the Panthers turned into six points. But more than that it sapped all the momentum and energy out of the Steelers reserves.
Good news for the Steelers is that the defense player pretty well overall. The reserves played particularly well, holding the Panthers on short fields on multiple occasions to just field goals. The Steelers coaching staff are going to have some tough decisions to make.
The Panthers played very conservative on both sides of the ball, lacking their top weapon in quarterback Cam Newton. Backup quarterback Derek Anderson played pretty well in his place, making several nice throws.
At this point both of these teams have two days to trim their rosters to 53 and get ready for the regular season. The Steelers haven't gone 0-4 in the preseason since 2006, which for the record was another season where they missed the playoffs.
Panthers 25, Steelers 10
Part of doing this blog is to search Twitter for the best. I have been shocked how many Steelers and Panthers fans aren't aware this game doesn't count.
I disagree with the sentiment that Dunn "had" to try and return that punt. Coaches want smart players. That decision was dumb.
Panthers offense was moving well in the first half. Really stalled out now. Using short fields to get field goals.
Of all the youngsters on the Steelers roster, the defensive side of the ball has far outplayed the offense.
Reggie Dunn likely played his way off the roster with that decision.

— Matt Maisel (@Matt_Maisel) August 30, 2013
I was about to say Reggie Dunn might have earned himself a roster spot, but he might have just cost himself one with that return. Safety for the Panthers and they now lead 25-10.
Curtis Brown might actually be looking for work tomorrow. Horrible at corner. Great at special teams. Let man run right by him. #Steelers

— David Todd (@DavidMTodd) August 30, 2013
The Panthers tack on another field goal and now lead 23-10.
That was a really nice fade stop throw by Clausen. Perfect position on the throw. Where's that been his entire career?
Last time @Steelers were winless in a preseason was 2006. Didn't make the playoffs that year. Just sayin'.

— Bob Labriola (@BobLabriola) August 30, 2013
At the end of the third quarter, the Panthers lead the Steelers 20-10.
Another Landry Jones interception. If you are a Sooner fans like me, you sort of expected this. Jones often followed one bad play with one much worse.
My detailed analysis of Panthers defensive tackle Case Walker is he is massive.
Panthers now lead 20-10 on the Steelers, taking advantage of the interception.
Josh Norman with a huge interception of Landry Jones. Only Steelers receiver Derek Moye never quits on the play and catches him from behind.
Tauren Poole is a good RB. Still flying under the radar. Never seen a quality RB stay under the radar this long.

— Draft Panthers (@DraftPanthers) August 30, 2013
Chris Carter is playing like a guy who doesn't want to be unemployed.
Thomas and Baxter converge with the big hit. Al Woods slow getting up.
Backups for both teams playing hard. Playing for their lives so to speak.
Felix Jones getting an extended look. With Dwyer's poor play, could Jones make the team and Dwyer get cut?
This article is
What is the duplicate article?
Why is this article offensive?
Where is this article plagiarized from?
Why is this article poorly edited?