Power Ranking the Top 10 International Basketball Teams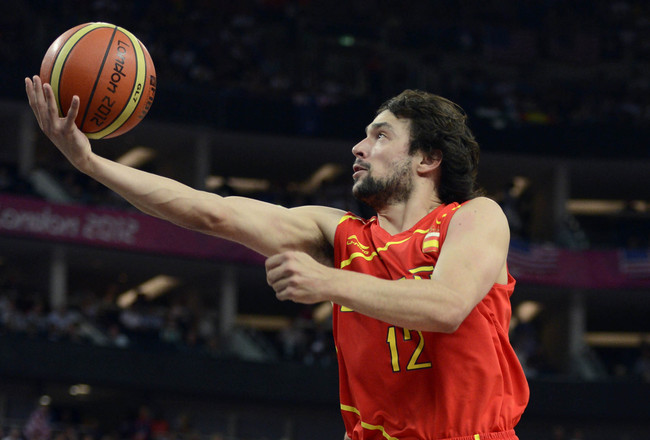 Bob Donnan-USA TODAY Sports
As dozens of international basketball programs begin to gear up for a chance to play in the 2016 Olympics at Rio de Janeiro, it's time to unveil our rankings of the top 10 teams.
With the 2013 FIBA Americas tournament tipping off, shortly followed by EuroBasket 2013, most of the upper-tier squads are in action the next couple weeks.
Some teams aren't quite at full Olympic strength, so we ranked them according to how they will fare in the near future.
Where do the South American powers such as Brazil and Argentina rank? What about 2012 bronze medal winner Russia? Who represents the Caribbean on this list?
Find out as we break down the best teams on the planet!
10. Australia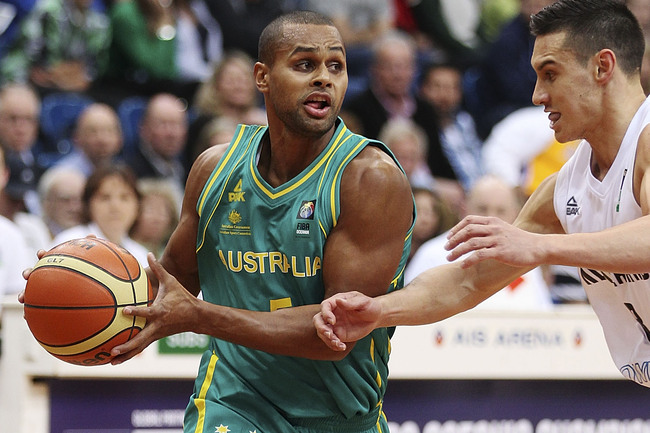 Stefan Postles/Getty Images
Key Players: Patty Mills (PG), Joe Ingles (F), Matthew Dellavedova (G)
Even without Andrew Bogut for 2013, the Australia Boomers are one of the best teams in the world.
The 2013 FIBA Oceania champions are led by dynamic guard Patty Mills, whose ability to create offense in flurries makes it hard to believe he's a benchwarmer in the NBA. He's a chore to guard in international play, as he shoots, penetrates and passes his way to big numbers every night.
At forward, 6'8" southpaw Joe Ingles can also fill up the hoop. He uses an impeccable sense of timing and an ultra-smooth jumper to light up the scoreboard.
When David Andersen and Luke Nevill establish themselves in the paint and take care of business on the glass, this team can compete with anyone.
Can it advance past the quarterfinals in the 2014 FIBA World Cup or 2016 Olympics? If Bogut can somehow return, the medal round is a realistic goal.
9. Brazil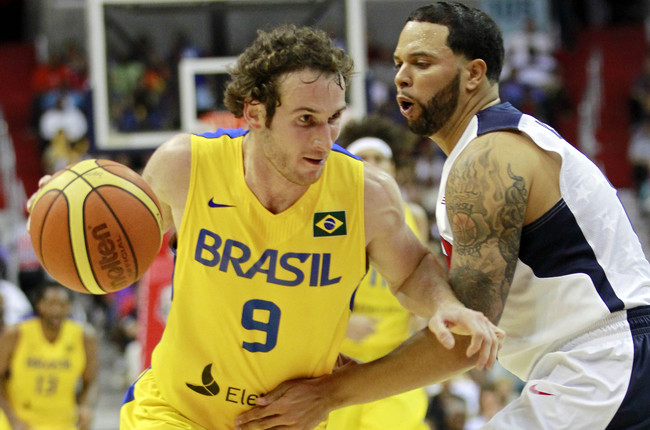 Geoff Burke-USA TODAY Sports
Key Players: Marcelinho Huertas (PG), Rafael Hettsheimer (PF), Larry Taylor (PG)
Without the likes of Nene, Tiago Splitter and Anderson Varejao, the Brazilian national team will rely heavily on the playmaking and direction of point guard Marcelinho Huertas, who has NBA-level skills as floor general and passer.
Brazil's attack will be more guard-oriented, as it is well-stocked with shooters. Vitor Benite, Arthur Silva and Guilherme Giovannoni will pepper foes with triples for all 40 minutes, sending opposing defenses scrambling.
The green and yellow attack won't be without a post presence, however. Rafael Hettsheimer and Joao Paulo Batista are both ready for extensive minutes and will make opponents pay if they catch the ball deep in the paint.
Keep an eye on young gun Raul Neto, who has an unorthodox cadence to his game but finds shots for his teammates. His energy as a distributor off the bench could make Brazil that much more dynamic the next couple years.
Once this group learns how to play together, the talent will take care of itself and the medal chase will be on.
8. Turkey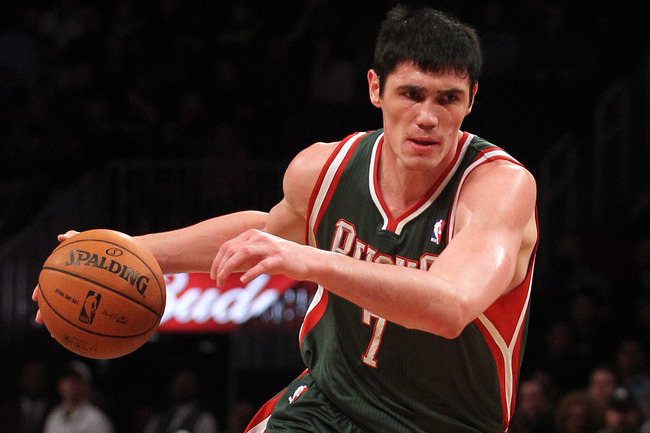 Brad Penner-USA TODAY Sports
Key Players: Ersan Ilyasova (G), Hedo Turkoglu (F), Omer Asik (C)
A country known for producing several successful frontcourt stars, Turkey will count on NBA standout Hedo Turkoglu to mentor Ersan Ilyasova, Ilkan Kamaran and Omer Asik as the squad embarks on its quest for 2016 Olympic placement.
Whereas Ilyasova is a skilled power forward who can score inside and out, Asik is less polished but makes up for it with piles upon piles of rebounds.
Kamaran represents the new wave of athleticism on the team, as he can slash to the rim, finish alley-oops and make incredible plays in the open floor.
Turkey hopes that similar on-the-job training can happen in the backcourt. Veteran Ender Arslan is nearing his final years with the national team, so he must groom Dogus Balbay as a floor general on the big stage.
Once this club gets Utah Jazz center Enes Kanter back, it will be an absolute force.
7. Puerto Rico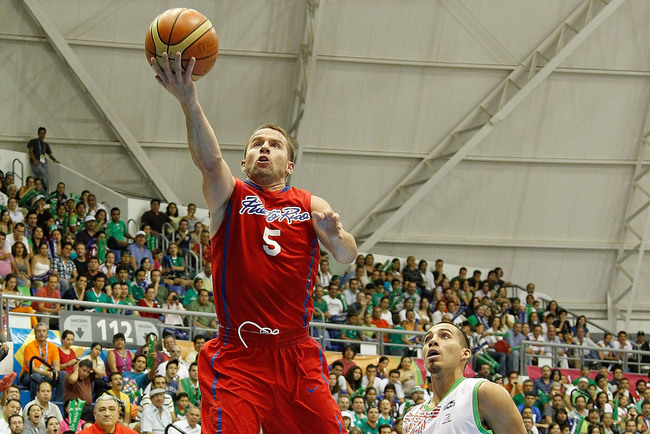 Mike Ehrmann/Getty Images
Key Players: J.J. Barea (PG), Carlos Arroyo (SG), Ricky Sanchez (F)
Although it failed to qualify for the past two Olympics, Puerto Rico finds itself back in the global discussion after its Jenaro "Tuto" Marchand Continental Cup championship.
J.J. Barea has proven to be one of the most uncontainable guards in international play, as he's a threat to shoot, drive or dish the rock on any given play. He scored 18.3 points and dropped 7.8 dimes per contest during the Tuto Cup run, thereby earning MVP honors.
His co-MVP and backcourt comrade Carlos Arroyo makes life difficult on opponents as well, and shooting forward Ricky Sanchez can be unstoppable when he catches fire from deep.
Then Puerto Rico has John Holland filling the lane and making plays in the open floor, while Renaldo Balkman uses his strength and energy to haul in rebounds and give the squad extra possessions.
Was the Tuto Cup the extent of Puerto Rico's glory this summer, or can the club extend its winning ways to the FIBA Americas tournament? Expect them to contend in Caracas and mix things up next summer at the FIBA World Cup.
6. Russia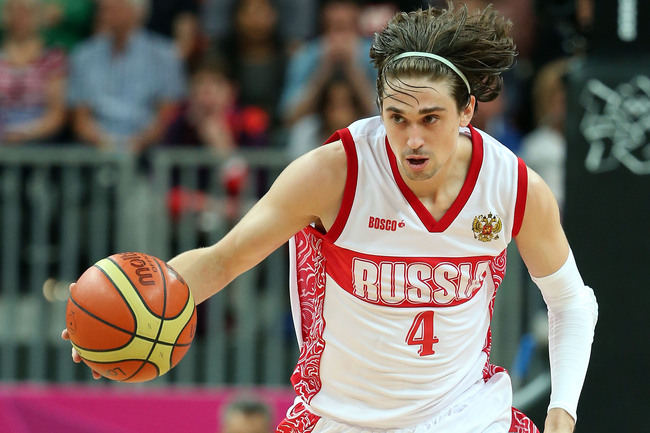 Christian Petersen/Getty Images
Key Players: Alexey Shved (G), Sergey Karasev (F), Vitaly Fridzon (G)
The 2012 London Olympics were an exciting showcase for Russia's Alexey Shved as he helped Andrei Kirilenko win the bronze medal.
Now Shved seeks to add more medals to his trophy case as the Russian national team approaches EuroBasket 2013, the 2014 FIBA World Cup and the 2016 Olympics.
The Minnesota Timberwolves guard is the catalyst for the offense, as his ball-handling and footwork create opportunities for everyone. Aiding him in the backcourt is Vitaly Fridzon, who played a key role in the 2012 medal run and will thrive as an accurate shooter in EuroBasket.
Keep an eye on the development of youngster Sergey Karasev, who's 19 years old but already has exceptional court awareness and shooting touch. He'll see a bump in playing time and usage because Kirilenko is no longer around, but also because he needs experience leading up to future tournaments.
Overall, Russia will present a terrific blend of experience and youth for the rest of this Olympic training cycle.
5. Argentina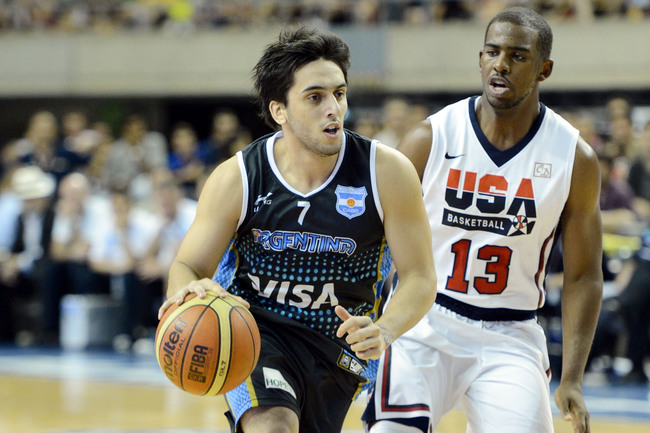 Jerry Lai-USA TODAY Sports
Key Players: Luis Scola (PF), Facundo Campazzo (PG), Juan Gutierrez (F)
The next Olympic run for Argentina will feature a different-looking roster, so now is the time for support players to become stars. Luis Scola can't do everything on his own, so others must step up.
Luckily, point guard Facundo Campazzo seems ready to pick up where Pablo Prigioni left off, even if he's just 22 years old. The connection between he and Scola is crucial to Argentina's survival in the FIBA Americas tournament and future competition.
Among the cast of shooters at coach Julio Cesar Lamas' disposal is power forward Leo Mainoldi, who serves as a stretch four. If he can keep defenses honest, the squad is tricky to defend.
Helping out Scola in the post is Juan Gutierrez, who knows how to get position deep in the post and score with a soft touch.
When all the parts are working together, this new-look unit will make the old Argentinian bunch proud.
4. Lithuania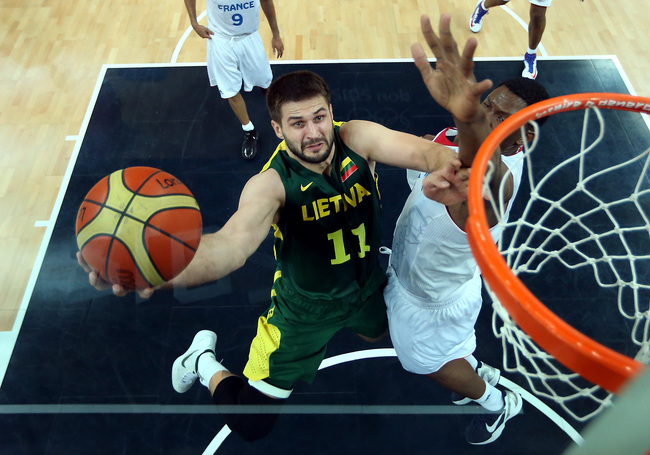 Christian Petersen/Getty Images
Key Players: Jonas Valanciunas (C), Donatas Motiejunas (PF), Lineas Kleiza (SF)
One of the best international sets of twin towers resides in Lithuania, where Toronto Raptors big man Jonas Valanciunas teams with fellow NBA rookie and Houston Rockets power forward Donatas Motiejunas.
Although extremely young, this duo doesn't lack for confidence or aggression. Both developed nicely in their rookie seasons, and they'll look to build on the late-season (and summer league) momentum entering 2013-14.
As frightening as this pair might be for future foes, one of the current Lithuanian stars is just as nerve-wracking for adversaries: Lineas Kleiza.
Kleiza uses his sweet outside jumper to light up international challengers, and uses his strength when the going gets tough.
Lithuania has been a basketball power for years, and that's not going to change. It understands how to attack these tournaments, and it's not afraid to go toe-to-toe with upper-echelon countries.
3. France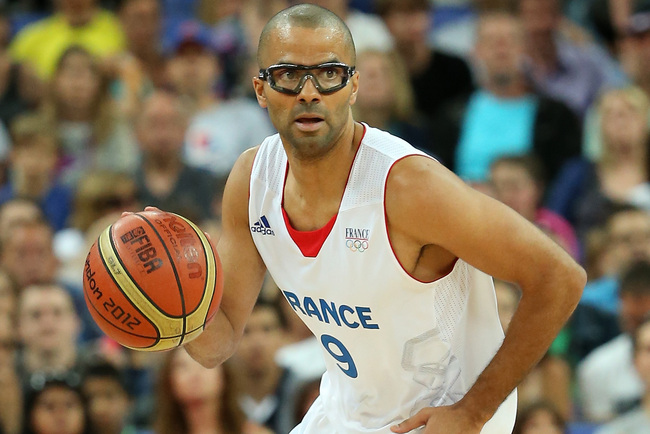 Christian Petersen/Getty Images
Key Players: Tony Parker (PG), Nicolas Batum (SF), Boris Diaw (F)
With Tony Parker committed through the 2016 Olympics, the French national team is assured of an elite quarterback running the operation.
Aside from Parker's smooth and speedy play at the point, France has multidimensional forwards like Nicolas Batum and Boris Diaw. Batum is always all over the floor, and he's entering the prime of his career. Diaw, on the other hand, is well beyond his prime, yet he makes an impact with rebounding, high-post passing and excellent defense.
Head coach Vincent Collett knows that this club can make an outside run at a medal in any international tournament, provided Parker is fine-tuned and there is enough rebounding behind him.
France's squads have usually owned an impressive pairing of athleticism and skill, and the next couple years should be no different.
2. Spain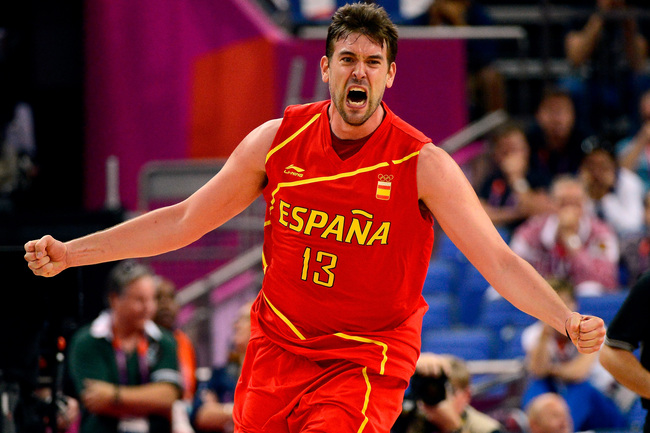 Ronald Martinez/Getty Images
Key Players: Ricky Rubio (PG), Marc Gasol (C), Jose Calderon (PG)
Since Pau Gasol's future with the Spanish national team in 2014 and beyond is undecided, the torch is essentially being passed to his brother Marc.
And it's in good hands.
The younger Gasol brother leads a formidable unit that is easily the second-best squad in the world. A healthy Ricky Rubio and a savvy Jose Calderon ensure that the team is never without a prolific passer. Returners Sergio Llull and Rudy Fernandez will be vital role players.
Serge Ibaka is resting this summer to get back to full strength for the Oklahoma City Thunder, but if he's assured an increased role in 2014, he will he a valuable asset on both ends of the floor.
Spain can play a variety of styles of basketball, which is part of the reason it's such an elite club. Having a polished, fundamental anchor like Gasol makes this possible.
Anything less than a gold medal at EuroBasket 2013 is a failure, and you can bet they want to dethrone Team USA in the 2014 FIBA World Cup and 2016 Olympics.
1. United States of America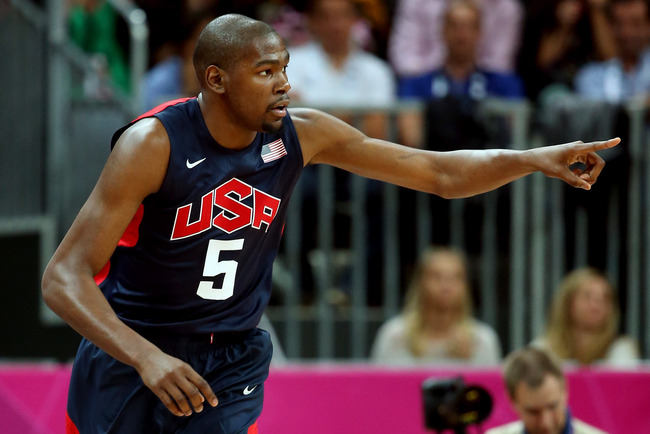 Christian Petersen/Getty Images
Key Players: Kevin Durant (F), Chris Paul (PG), Russell Westbrook (G)
Even if legends like Kobe Bryant and LeBron James are no longer a part of Team USA, the Americans are still top in the world by virtue of their athleticism and versatility.
Mike Krzyzewski is entering his third Olympic cycle at the helm, and he will put players like Kevin Durant and Kyrie Irving in prime position to excel.
While the rosters for 2014 and 2016 aren't set, we know the backcourt will be loaded no matter what. Veteran Chris Paul might be back, and if so, he would be a superb mentor for up-and-coming floor generals such as Irving and Damian Lillard.
The U.S. forwards will also terrorize the world, as Durant will be accompanied by two-way standouts like Paul George and Kawhi Leonard. In the post, Coach K might not be as deep, but if DeMarcus Cousins, Andre Drummond and Blake Griffin are healthy, Team USA will be just fine.
There's simply too much explosiveness on both sides of the ball to consider anyone else No. 1. Spain and other challengers do have a chance to pull off upsets, but Team USA remains the clear favorite.
Keep Reading