Analyzing Where Randy Orton's Title Win Ranks Among Money in the Bank Cash-Ins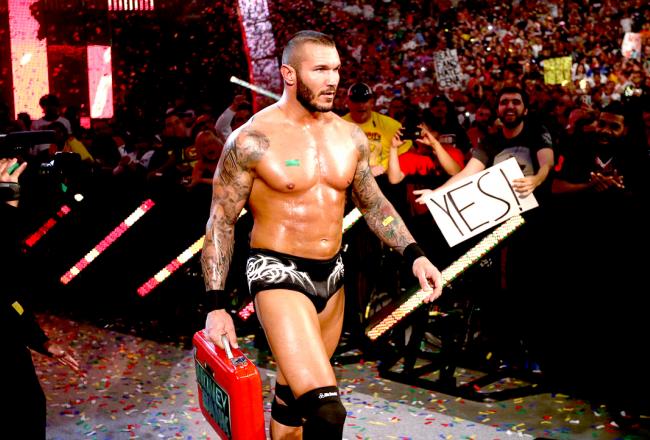 (Photo: WWE)

Randy Orton's snakelike attack on Daniel Bryan will reverberate for a long time to come.
Orton punctuated the biggest moment of the summer via a surprise pedigree from Triple H and his recently won Money in the Bank contract. That moment may not have the novelty of the first-ever cash-in or the magnitude of the face of ECW overcoming the face of WWE, but it ranks highly on the all-time most exciting Money in the Bank cash-ins.
What it lacked in shock value, it made up for in emotional power.
Bryan had just knocked off WWE's biggest star with an indisputable, clean victory. Confetti rained down. The immensely popular underdog had climbed to the mountaintop.
Orton promptly threw him off of it.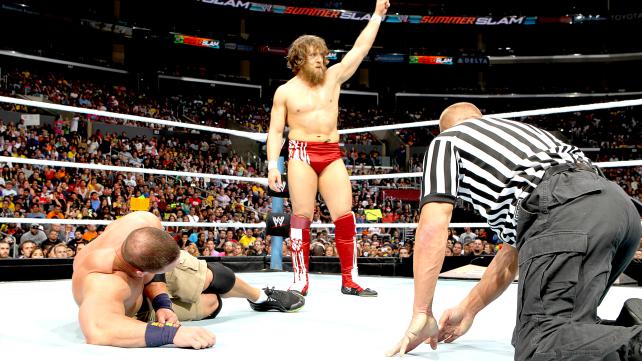 Of the 13 cash-ins in WWE history, the very best surprised us, used perfect timing and either saw a villain undercut a hero or a fan favorite take down a hated heel. Orton gutting Bryan's dreams was fantastic theater but can't touch the top spot.
The First, The Best
No one will ever top Edge's cash-in against John Cena. It's a case where the many sequels can't live up to the original.
Edge won the inaugural Money in the Bank ladder match at WrestleMania 21 and carried his contract-laden briefcase around, a dangerous weapon just waiting to be unsheathed. That briefcase seemed to become an extension of his opportunistic ways.
It took 280 days for him to find the perfect opening.
Cena had just survived an Elimination Chamber match, outlasting Carlito, Kurt Angle, Shawn Michaels, Kane and Chris Masters. He stumbled around the ring with blood pasted across his forehead.
Edge cashed in and charged at his weakened foe. Having Cena kick out of one spear to delay the inevitable added to the moment.
The newness of the concept and the perfection of the timing set the bar incredibly high for every subsequent cash-in. For Orton's moment to surpass it, it would have to be so dramatic that it overcame the power of novelty.
Bryan was not as vulnerable and Orton didn't come off as much of a scavenger as Edge did that night. Still, the SummerSlam 2013 cash-in isn't all that far behind the New Year's Revolution 2006's version.
The Rest of The Top Five
Rob Van Dam's cash-in offered no surprise. He announced his intentions and had an actual match rather than picking the bones of an already felled foe.
The power of his moment came from an ECW-favoring crowd rooting for him and against Cena, the symbol for the slick, corporate product that is WWE.
One Night Stand was a night for ECW fans to relive when that promotion was a looming threat to the big boys in the industry, to when the fans and the ECW stars were a part of wrestling history. They stood in David's corner as he battled WWE's Goliath.
The emotion of that crowd and of Van Dam pinning Cena to Paul Heyman's count has it in just about everybody's top five cash-in moments.
CM Punk taking advantage of Jeff Hardy ranks highly as well.
Hardy had just defeated Edge in a hard-fought ladder match to become world champ. The championship belt straddled his prone body, the crowd celebrated with him and then Punk's music hit.
Add Dolph Ziggler's moment to that group as well.
Say what you want about Ziggler's time as champion, the way he won it was magnificent. The post-WrestleMania crowd seemed to shake the arena with cheering as Ziggler rushed into the ring.
Alberto Del Rio writhed in the corner, his ankle demolished by Jack Swagger's hands.
Ziggler, a hardworking guy whom many fans rooted for despite his heel status, was about to earn a spot atop WWE's ladder. Del Rio's refusal to make the cash-in instantaneous added to the suspense.
At one point, Del Rio locked Ziggler in his cross armbreaker and appeared poised to escape Ziggler's cash-in with his championship status intact. Ziggler took hold of Del Rio's foot and cranked it back. That was enough for him to get out of the hold and deliver one last blow to Del Rio.
Order those three anyway you wish, it's hard to argue against Orton's cash-in not squeezing somewhere in the top five.
It had the emotion of Punk defeating Hardy and a deeper impact on the audience than Ziggler's. As much as Ziggler's fans love him, Bryan's fanbase is a massive, vocal group that had their hearts broken courtesy of Orton.
Those Below Orton's
Watch a collection of Money in the Bank cash-ins and one is bound to say, "Oh yeah, I forget about that one" at some point.
With the two men winning the Money in the Bank contract every year since 2010, the moment is harder to make special. Some are simply forgettable.
Jack Swagger taking advantage of Chris Jericho and his taped ribs wasn't nearly as shocking or powerful as the best cash-ins. The same goes for Del Rio stealing Punk's WWE title in 2011 or Punk beating Edge in 2008.
It was harder to invest in these, either because the stars weren't as big or the victory didn't mean as much.
When Bryan beat Big Show at TLC: Tables, Ladders & Chairs 2011, few fans had a real connection with Bryan. That goes double for The Miz, who attacked Orton's injured knee to become WWE champ in 2010.
Kane's cash-in on Rey Mysterio on the same night he won the briefcase was a good moment.
Kane getting another run with the world title was a smart act of respect for the veteran, but it didn't grab the audience with the same authority as Van Dam, Punk's second time or Orton's cash-ins did.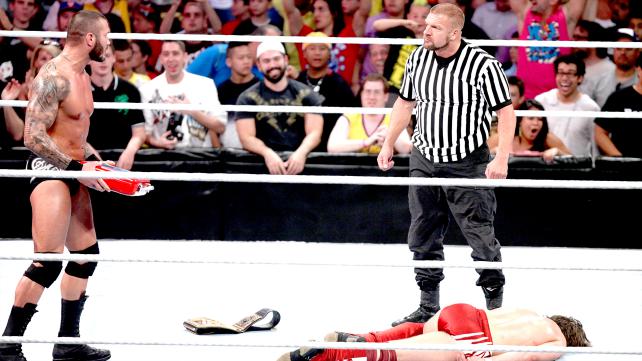 Seeing Bryan's victory parade get set ablaze to end SummerSlam tops all of these moments. Many saw it coming, but few guessed just how it would occur. Triple H slid back into his heel role and followed his impartial performance as referee with a pedigree that set forth a potentially incredible feud.
When Damien Sandow gets his shot to turn briefcase into gold, he'll be following a massively memorable moment. He's the act who has to come on after someone else tore the house down.
This article is
What is the duplicate article?
Why is this article offensive?
Where is this article plagiarized from?
Why is this article poorly edited?