Madden 25 Review: Analyzing Best Aspects of Connected Franchise Mode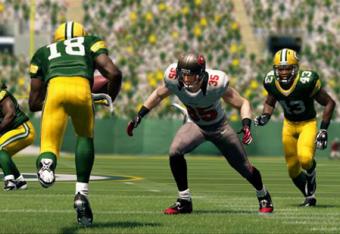 EA Sports

With the release of EA Sports' Madden 25 captivating the gaming world's attention at the moment, the easiest way to "review" the latest iteration is to compare it to the other offerings across the sports world.
I don't think it's talking out of school to say the sports gaming community is spoiled. From the NBA2K franchise to MLB: The Show and all down the line through EA Sports' strong stable of games, there is a great game released on almost a monthly basis. Being a sports gamer is almost like being an RPG fan, only with a Call of Duty coming down the pike every 30 days.
The debate about which of those sports franchises is the "best" is a yearly rabbit hole we won't be delving into today. But it's hard to argue that any game gives its fans a better variety of ways to enjoy the product than Madden.
Equipped with arguably the sports gaming world's best servers, Madden 25 is the latest to provide a 24/7 chance to take on anyone across the world. Ultimate Team has been a massive moneymaker for EA across all its gaming platforms, and the All-25 Team was a nice wrinkle to commemorate the game's unheard of 25th anniversary.
But this year, the buzz seems largely focused on Connected Franchise—and for good reason. Madden 13 saw the introduction of Connected Careers, which essentially combined Superstar and Franchise modes into one overarching umbrella. After some initial confusion from gamers about where their "favorite" mode had gone, Connected Careers went on to become a rousing success due to its depth.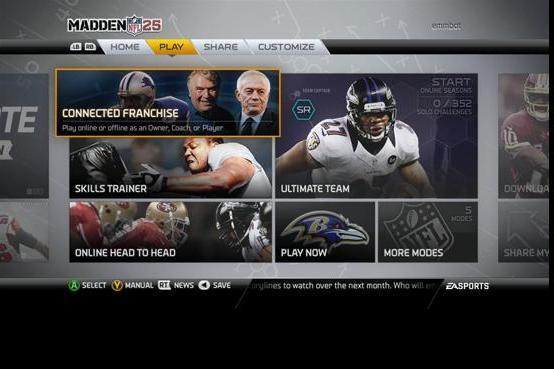 In Madden 25, the developers have taken the mode to the next level. Rebranded again to Connected Franchise, the team at EA Sports made a clear emphasis on making this game the most in-depth franchise-type mode in history. With three different options—head coach, owner, player—gamers can get in the game (sorry) in just about any fashion they so choose.
With that in mind, let's take a look deep into Connected Franchise and point out a couple cool things that should keep you playing for months to come.
The Return of Owner Mode
In a cycle where a majority of the changes from Madden 13 are found on the football field—the fluidity of the running game this year is fantastic—it's notable that the tweak that's gotten the most publication comes from inside Connected Franchise.
Yes, I speak of the oft clamored-for return of owner mode to the Madden umbrella. Taken out when gamers moved away from the Xbox and PS2 phases of their life into the current generation, fans have often lamented the loss of what had become a favorite over the years.
But don't worry. Owner mode is back. And it's better than ever.
Laid out in the same guise as the head coach and player options—those who played Madden 13 should be familiar with those already—the owner option allows you to choose a particular "path" for the way you want to run your team.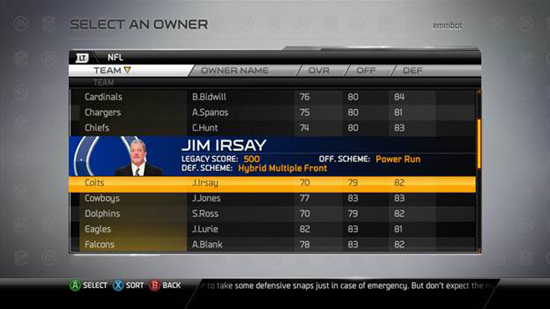 The choices come well before you even start your first game. Upon choosing the team you want to play with in the mode, you'll be given the opportunity to ride with that franchise's current owner or send them on a trip to Belize and take over as a fictional owner. Want to set foot in Jerry Jones shoes? Go right ahead. Want to throw a 10-gallon hat atop his head and send him packing back to the family ranch, hostile-takeover style?
Both are within your rights in Connected Franchise.
If you choose the fictional route—which I suggest because, well, I'm sure as hell never becoming a multibillionaire—you'll again be presented with a crossroads. Just which type of NFL owner do you want to be? Do you want to be the Paris Hilton of the NFL, using your family's exorbitant riches to purchase a new toy? Are you a lifelong fan who just happened upon a billion-dollar check walking down Main Street?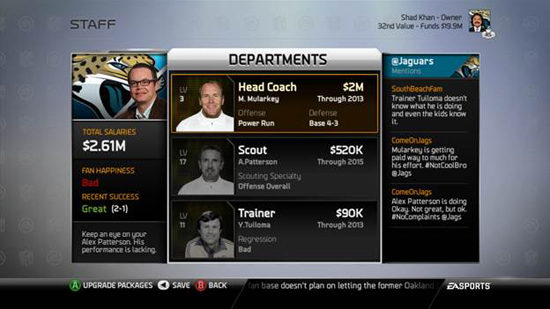 Both are options within the mode. Just choose wisely. You won't enjoy being Joe Fan too much when your team needs a new stadium upgrade and you can barely afford player salaries. And being uber-rich isn't going to ingratiate anyone with your franchise if you lack a passion for the game. Each option has its strengths and pitfalls, just as every fan would likely say about their favorite team's money supplier.
After that, a majority of the options found within owner mode should be familiar to old fans. You can set ticket prices, choose memorabilia available in stadiums and completely unload your coaching staff as you see fit. The option to relocate is also on the table—both for you and the CPU franchises—and there are 17 different cities from which to choose. There is even the option to bring back now-defunct franchises like the Houston Oilers.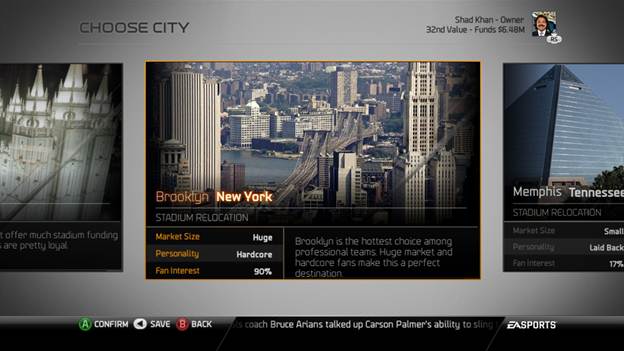 Outside of the familiar options, you'll also be forced into giving media statements multiple times per season. The frequency of those statements depends on the franchise circumstances, which is just another sign that every choice in this game matters.
Welcome to Depth City, folks. Go crazy.
Options for Gamers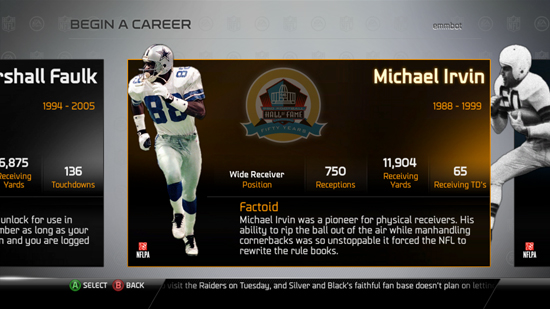 When owner mode was first introduced in Madden 2004, it was met with the same type of widespread glee you'll see across message boards at the moment. Fans dug deep into every aspect of controlling their franchise, and the mode remained a staple until the current-gen systems flooded the market.
The problem—if you're going to call it that—was that without choosing the owner option in Connected Franchise, it almost felt empty. There are some people (a group to which I do not belong) who find setting ticket prices and choosing food items tedious. But the "full" Madden experience really only came when you opted into everything that owner mode entails.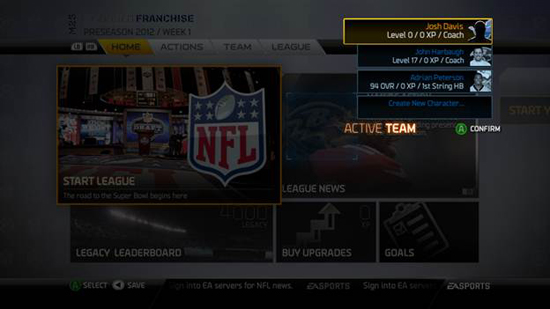 The best thing about Connected Franchise is that it caters to each sect of the gaming community without losing the depth. If you don't want to put the poor Jacksonville Jaguars out of their misery and finally bring football back to Los Angeles, you don't have to. No one is forcing you to deal with fan complaints, concession items and the countless other pieces of depth offered in owner mode.
How will you play in Connected Franchise?
If you feel more Bill Walsh than Mark Cuban, that's your prerogative. The head coach career path remains an option, where you will find a mode that feels mostly familiar to its predecessor. Key additions like the ability to import rosters from NCAA Football 14 and do fantasy drafts before starting your Connected Franchise have been added, however, which should lead to a lot of smiling faces on sofas across the nation.
You could be the next Peyton Manning, the next Vince Lombardi or the next Dan Snyder. The options are basically limitless within the confines of this mode. What's important is that the folks at EA Sports have given you the freedom to decide which path you'll take—or if you'll just decide to take all three. (If that's the case, though, you might want to get a divorce lawyer on speed dial, stat.)
Follow Tyler Conway on Twitter:
This article is
What is the duplicate article?
Why is this article offensive?
Where is this article plagiarized from?
Why is this article poorly edited?