T.J. Yeldon: Heisman Odds and Season Outlook for Alabama's Star RB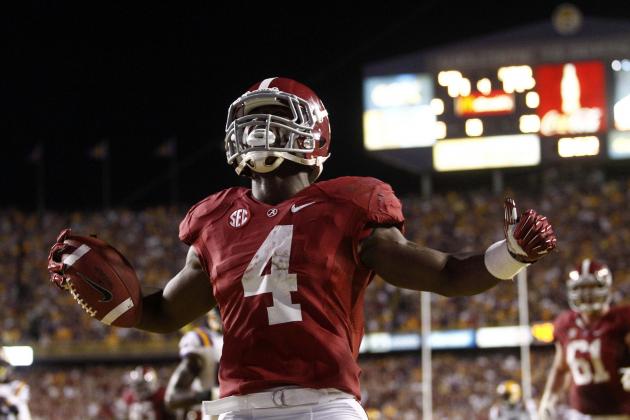 Crystal Logiudice-USA TODAY Sports

T.J. Yeldon burst onto the scene during his freshman year in 2012, putting together one of the best seasons in Alabama history for a freshman running back.
The Daphne, Ala., native rushed for 1,108 yards—the first Alabama true freshman to crack the 1,000-yard mark—and 12 touchdowns, spelling starter Eddie Lacy for the season.
This year, however, Yeldon will be the feature back. There is no solid No. 2 back like Alabama has had in years past, meaning Yeldon won't be splitting as many carries as previous starting backs have.
Given his success as a true freshman, and a featured role in the offense, Yeldon certainly has a chance to become Alabama's second ever Heisman Trophy winner.
Begin Slideshow

»
Height: 6'2"
Weight: 218 pounds
Position: Running back
Year: Sophomore
Award/Watch Lists for 2013: Doak Walker Award, Maxwell Award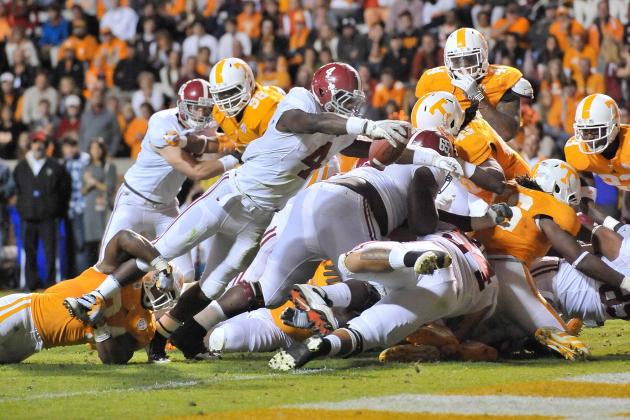 Jim Brown-USA TODAY Sports

The biggest reason will be his increased role in the offense. He broke the 1,000-yard mark as a freshman getting a little less than 50 percent of the carries in Alabama's offense. This year, he will be the No. 1 back and will get a much larger chunk of the carries than last year's starter Eddie Lacy did.
Yeldon carries the name recognition that comes with playing running back at Alabama. Mark Ingram took home the program's first Heisman in 2009 and since then, Alabama has had a reputation for producing top-notch running backs.
Alabama should also be in the thick of the title hunt all year long, giving Yeldon the amount of exposure needed to garner Heisman votes. Most of Alabama's games will be played on big stages and on prime-time TV.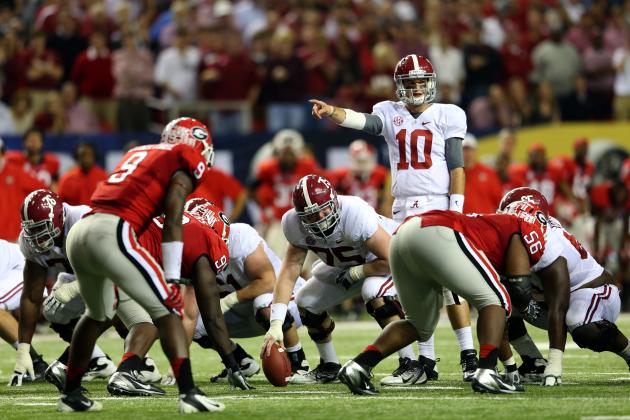 Mike Ehrmann/Getty Images

Simply put, it will be the rest of the offense.
Two-time national champion AJ McCarron is back for his senior year at quarterback and has more weapons at wide receiver than Alabama has had in a long time.
Alabama coach Nick Saban and offensive coordinator Doug Nussmeier stress balance in their offense, and it won't be any different in 2013. The Crimson Tide do not have to lean on their run game to succeed and will boast a downright scary passing attack to complement it.
Yeldon will be a star, but there will be plenty of others on offense as well.
Crystal Logiudice-USA TODAY Sports

Sept. 14 at Texas A&M: Yeldon rushed for just 29 yards and a touchdown on 10 carries in the Crimson Tide's only loss of the season last year. The Alabama offense struggled overall to get going, and Yeldon was no exception. Yeldon will have the biggest stage of the college football season to kick off his Heisman campaign early on.
Nov. 9 vs. LSU: There's no question who was the star of the show last year in Baton Rouge. If the country didn't already know Yeldon's name, they learned it that night, when he took a screen pass for a touchdown late in the fourth quarter for the game-winning score. He will have a chance to make a similar impact in another one of the biggest games of the year.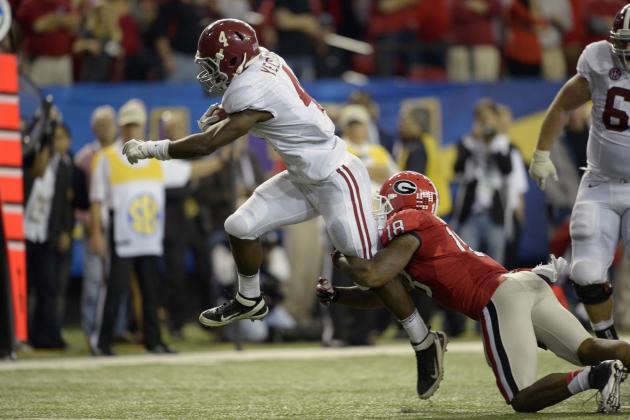 USA TODAY Sports

Yeldon has all of the physical and mental tools required to be an elite running back in the physical SEC.
He can break a long run for a touchdown, run over a linebacker between the tackles or shove it in on the goal line when needed.
Yeldon proved last year he can compete with the best of the best and did it only as a true freshman. With a featured role in the offense and another year of experience under his belt, he may be the best running back in the country.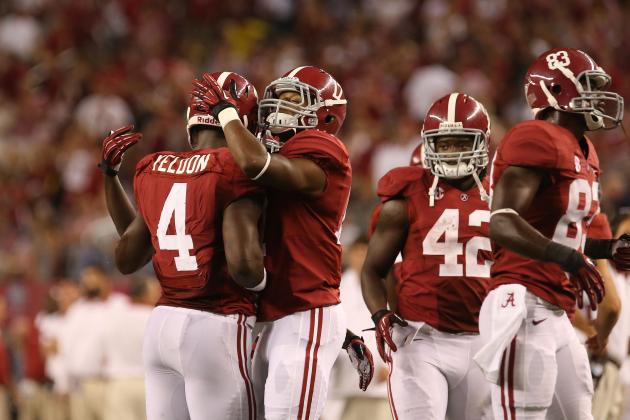 Kevin Jairaj-USA TODAY Sports

"I'm just a pretty quiet guy and I've never been a big fan of talking to the media. I like to keep to myself, keep a low profile and then just do my thing on the field." — Yeldon, to Sports Illustrated's Lars Anderson about his quiet demeanor.

"It was wild to see him have so much success early but really gain his confidence throughout the year. Now he comes in this season knowing that he's going to be the guy. The sky's the limit." — Eddie George, to al.com's Andrew Gribble.
"When you see T.J., he was that five-star recruit and now he's a Heisman candidate but he'd just as soon sit in the back of the locker room and talk to his teammates and do what kids do. He'd rather somebody else get the limelight and the camera. He didn't beat his own chest. He didn't walk around celebrating that he was a four-star or five-star recruit." — Yeldon's high school coach Glenn Vicker to the Associated Press, via The Washington Post.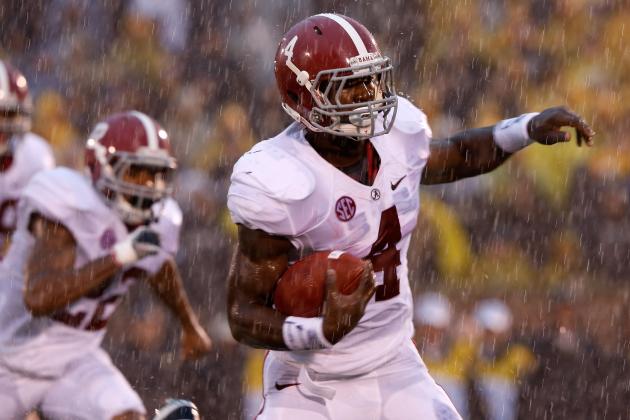 Jamie Squire/Getty Images

2013 Stat Projections: 265 carries, 1,654 yards, 17 TDs
Ingram had similar numbers when he won the Heisman in 2009, and Yeldon should have a similar year. However, Yeldon won't quite have the year this year than Ingram did then because of the surrounding cast.
In 2009, then-quarterback Greg McElroy had Julio Jones to throw to, but that was about it. This year, McCarron has a star-studded cast around him.
However, because of Yeldon's increased role in the offense, he will rack up the statistics. Even Ingram split time with Trent Richardson in 2009 when Richardson was a true freshman.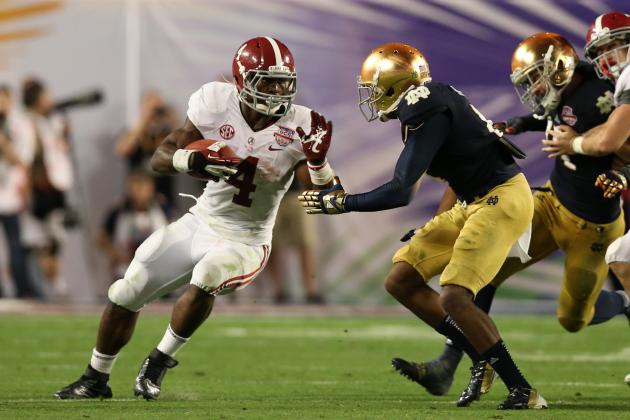 Matthew Emmons-USA TODAY Sports

Predicted Heisman Finish: 10th
Between his talent level and role in the run game, Yeldon will certainly shine in 2013. But Alabama's balance on offense will keep him from being a significant player for the Heisman Trophy.
Players like Louisville's Teddy Bridgewater, Clemson's Tajh Boyd and Ohio State's Braxton Miller will be relied upon very heavily for their respective teams. Yeldon, meanwhile, will be just another cog—albeit a very key one—in the Crimson Tide's offensive machine.
And if Alabama fans had to choose between another BCS National Championship or a Heisman Trophy, the choice would be pretty easy.