Burning Questions for the Atlanta Falcons' 2013-14 Season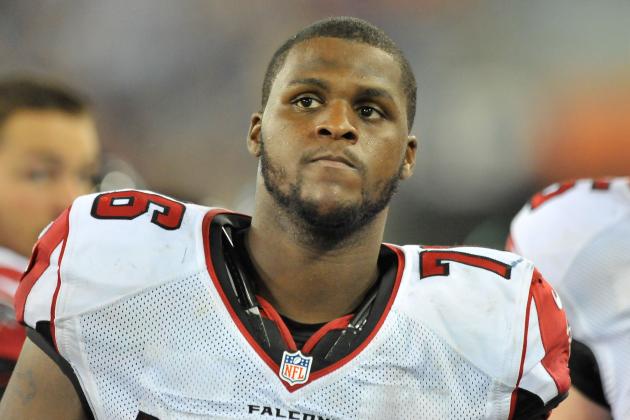 Jim Brown-USA TODAY Sports

After over seven months of anticipation, we'll finally find out what these 2013 Atlanta Falcons are about in less than two weeks when they make their regular-season debut at the Superdome against the New Orleans Saints.
For a team coming off an NFC Championship Game appearance, the Falcons face plenty of serious questions entering this campaign.
Veterans such as Tyson Clabo, Todd McClure, Dunta Robinson, John Abraham and Brent Grimes are gone. In addition, the team's 2013 schedule boasts matchups with some of the best quarterbacks in the league.
Moreover, other than the 49ers last year, no NFC team has advanced to the Super Bowl following a loss in the NFC Title game the previous season since the 2004 Philadelphia Eagles.
Nevertheless, this group of Falcons enters 2013 with lofty expectations. Here are the 10 burning questions facing the 2013 Atlanta Falcons as they begin their quest to win the team's first Lombardi Trophy.
Begin Slideshow

»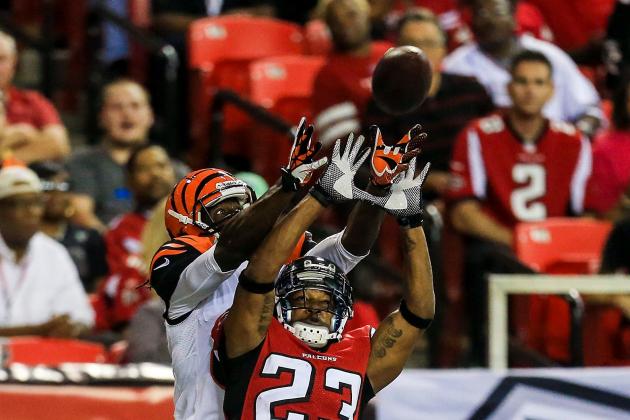 Daniel Shirey-USA TODAY Sports

The NFL schedule-makers didn't do the Falcons any favors. The Falcons open up on the road against Drew Brees and the Saints in a crucial NFC South game. That's not exactly the ideal matchup for an Atlanta team that's breaking in two rookie corners like Robert Alford and Desmond Trufant.
Desmond Trufant and Robert Alford took their respective lumps in the preseason, but both players also flashed some playmaking ability. The Falcons will certainly need more playmaking and less lump-taking from their young cornerbacks if they want open the 2013 season with a big divisional win.
Beyond Week 1, the Falcons face games against Tom Brady, Aaron Rodgers, Cam Newton (twice), Colin Kaepernick, Russell Wilson and Drews Brees (again).
Desmond Trufant and Robert Alford are going to have to adjust to the speed of the NFL game quickly if Atlanta's defense is going to become the kind of urgent unit that the Falcons have been seeking to build throughout the Thomas Dimitroff/Mike Smith era.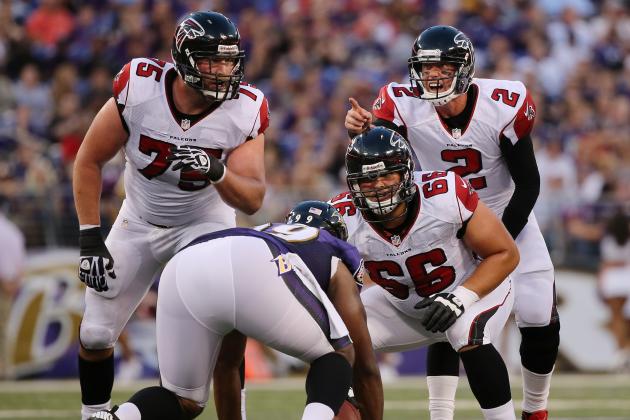 Rob Carr/Getty Images

Atlanta's cache of skill position talent won't mean much if Matt Ryan doesn't have time to throw the ball and Steven Jackson/Jacquizz Rodgers don't have room to run.
Many Falcons fans may have placed Lamar Holmes under the proverbial microscope long before Mike Johnson went down with a season-ending ankle injury in camp. Indeed, Lamar Holmes was Thomas Dimitroff's annual "who is that, and why did he take him there?" pick in 2012.
After taking the NFL's equivalent of a redshirt year last season, Holmes' performance during the 2013 preseason hasn't done a lot to inspire confidence in his ability to be an adequate replacement for Tyson Clabo at right tackle.
If Lamar Holmes is able to flip a switch and become the mammoth, athletic tackle that the Falcons are hoping for then so be it. If not, Atlanta's only current replacement for him is undrafted free-agent tackle Ryan Schraeder.
With over $100 million invested in Matt Ryan, don't expect the team to take this issue lightly.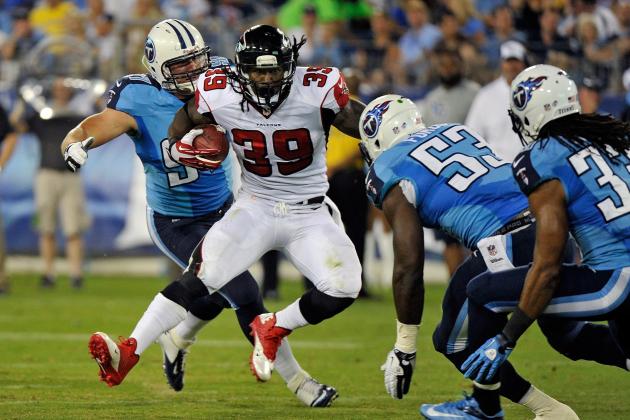 Frederick Breedon/Getty Images

Steven Jackson was impressive against Baltimore and Tennessee, and he should almost certainly provide an upgrade over Michael Turner because of his ability to catch the ball out of the backfield and run downhill with authority.
Even still, Jackson did turn 30 in July. If Atlanta gets back to the playoffs, will Jackson be any more effective than Michael Turner was last year after going through the gauntlet that is the Falcons' 2013 schedule?
Look for the Falcons to use Jacquizz Rodgers and Jason Snelling when they can in order to keep Jackson fresh for the stretch run.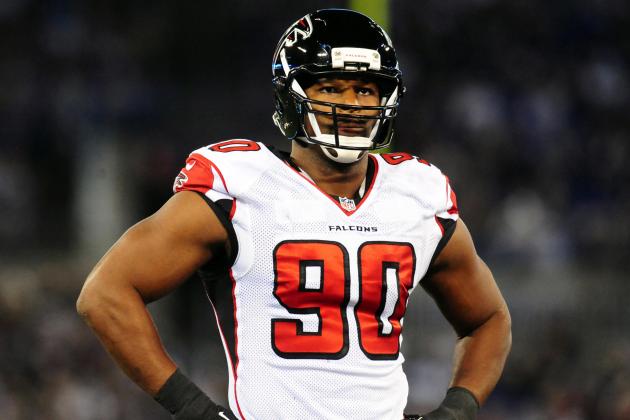 Evan Habeeb-USA TODAY Sports

The Falcons released John Abraham and replaced him with ex-Giants defensive end Osi Umenyiora. While Umenyiora is a battle-hardened rusher who's more than capable of putting up Abraham-like sack numbers, the Falcons are hoping that another consistent rusher emerges from the group of defensive ends behind him.
Kroy Biermann had a strong preseason, but Atlanta will need a player like Jonathan Massaquoi to also be a factor in the pass rush if it wants to help its young cornerbacks out.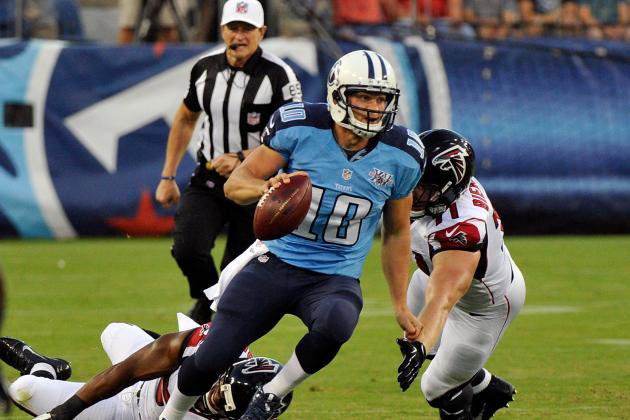 Frederick Breedon/Getty Images

The Falcons will play over a quarter of their games against mobile quarterbacks in 2013 (CAR, SF, SEA and WAS). If the Falcons expect to reach double-digit wins again this season they're probably going to need to win at least three of those games.
Falcons defensive coordinator Mike Nolan devised schemes that forced Peyton Manning, Drew Brees and Eli Manning into poor games at the Georgia Dome last year, but his defense struggled against mobile quarterbacks.
We'll find out what adjustments Nolan has made when Atlanta travels to Charlotte to play the Panthers in Week 9.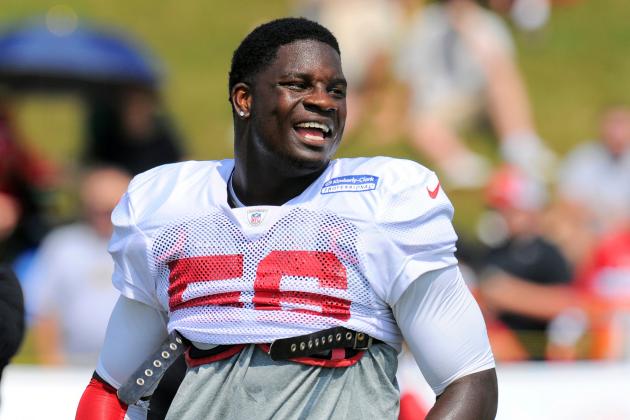 Dale Zanine-USA TODAY Sports

Much like his team, Sean Weatherspoon has been knocking on the door of elite status for the past two seasons. The Falcons desperately need a Julio Jones-type playmaker on their defense, and the loquacious Sean Weatherspoon is the logical pick for the job since he rarely leaves the field on defense.
Thomas DeCoud and William Moore crashed the Pro Bowl last season. Is this the year Sean Weatherspoon does the same?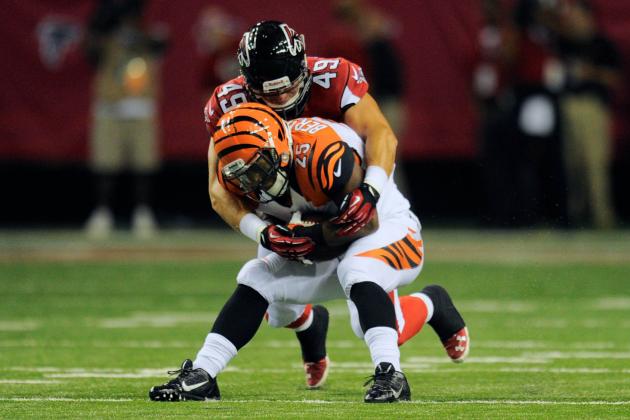 Dale Zanine-USA TODAY Sports

Sean Weatherspoon, Akeem Dent and Stephen Nicholas are virtual locks at linebacker, but the competition behind them has been one of the more interesting subplots throughout training camp.
Undrafted free agents Joplo Bartu and Paul Worrilow have been pleasant surprises, each having made his own case as to why he belongs on the final 53-man roster. Moreover, Robert James finished the preseason with a strong outing against Jacksonville, and he has proven himself to be a solid special teams player in the past.
In addition, the camp's feel-good story, Brian Banks and Pat Schiller, are both still holding out hope of making it through this weekend's cuts.
UPDATE: D. Orlando Ledbetter of the Atlanta Journal-Constitution reports (via Jay Glazer of Fox Sports) that Brian Banks has been released. In addition, Ledbetter reports that Pat Schiller has also been let go.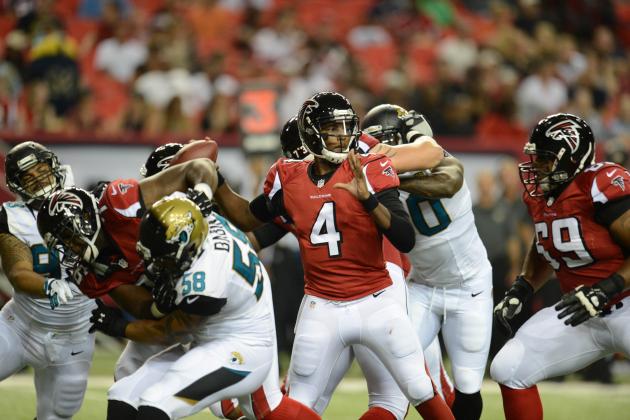 Dale Zanine-USA TODAY Sports

Let's be clear. If Matt Ryan is injured for an extended period of time (three or more game weeks), it's highly unlikely that any backup quarterback would be able to do enough to get this team back to the postseason.
However, the question that the Falcons' brass needs to ask themselves is whether Dominique Davis is good enough play and win in the short-term if Ryan has to miss a half or if he misses two games like he did in 2009 (the only non-playoff year under Dimitroff and Smith).
The team gave Davis every opportunity to seize the backup job, but he hasn't run with the opportunity. Should Atlanta take a serious look at the free-agent quarterback market after this weekend's cuts?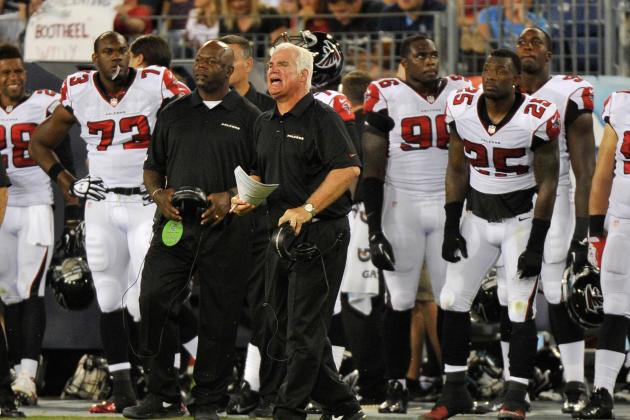 Frederick Breedon/Getty Images

The last time the Falcons were coming off a 13-3 season, they opened the following year with a 30-12 loss to the Bears, which is still probably one of the worst losses the team has experienced under Mike Smith. That loss set the tone for a rather lukewarm 10-6 campaign in 2011.
After last season's 13-3 finish and trip to the NFC Championship Game, Mike Smith has focused on keeping his team from the kind of opening day letdown it had in 2011. The question is, will the team buy in?
While there are some high-profile veterans on this Atlanta team, there are still plenty of young players who may not yet grasp how difficult it is to win in the NFL.
Can Mike Smith keep his players on track?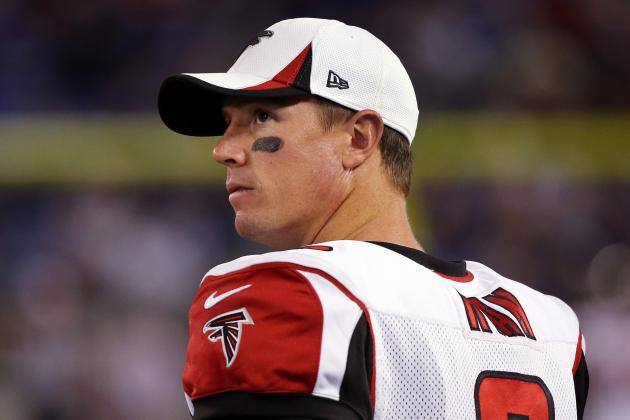 Rob Carr/Getty Images

As Matt Ryan enters his sixth year in the league, he's probably aware that all eyes are on him to produce the championship that Falcons owner Arthur Black has been chasing since he bought the team in the early part of the last decade.
Ryan has been phenomenal in the regular season during his time in Atlanta, but his 1-4 playoff record still raises questions about whether or not he was worth the extension he signed over the summer.
The only way Ryan can quiet those critics is by winning and winning big—the way Joe Flacco did last year.