2014 College Football Recruits Who Are Raw Athletes That Need Sculpting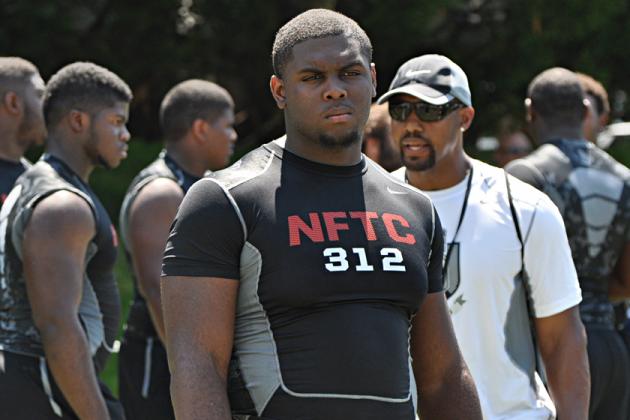 247Sports
The 2014 class has several elite prospects who are better athletes than pure players at this point, as they will need some sculpting in college.
A recruit can lack technique, but chances are that if he's a good athlete, college coaches will still offer him a scholarship based on their thinking he can be seasoned and developed under their tutelage.
A cornerback has world-class athletic ability, but needs to develop better cover technique. A quarterback has good size and arm strength, but needs to have a coach clean up his footwork. Also, an offensive tackle has great agility and balance, but limited experience.
Player evaluations are based on review of tape at Scout.com, Rivals, 247Sports and ESPNU.
Begin Slideshow

»
Stephen Collier is a 3-star dual-threat quarterback with a raw set of skills. He has great size at 6'4", weighs 208 pounds and if he commits himself to improving, he could develop into a good starter at Ohio State.
Collier displays quick feet in his drops, can see over the rush and has the arm strength to push the ball to all levels of the field. However, he his mechanics can be sloppy, he doesn't always work through his progressions and he can choose to run out of the pocket too soon.
Look for the Buckeyes' offensive staff to spend extensive time developing Collier. He's a low-risk/high-reward prospect.
Although he is a 5-star prospect, Speedy Noil needs sculpting at the receiver position. He has spent most of his high school career playing quarterback for Edna Karr High School in New Orleans, but he will be on the perimeter in college.
At 5'10.5" and 176 pounds, Noil has rare speed, athleticism and explosiveness with the ball. He's sensational to watch, has great run-after-catch skills and can play running back in a pinch.
However, he needs to improve his sharpness when running routes, sinking his hips lower at junction points and keep improving his ability to read coverages. The sky is the limit for Noil, he just needs to continue getting reps at receiver.
LSU and Texas A&M are his main leaders, shows 247Sports.
A 4-star defensive tackle from New York, Thomas Holley has been on a fast track to stardom since last year. He is a former basketball player who has made the transition to the gridiron, as 2012 was his first year of organized football.
Holley, who is 6'4" and 285 pounds, displays raw strength, power and explosiveness in the trenches. Yet, a college defensive line coach will have to work with him on how to use his hands better, playing with better leverage and developing more awareness.
Holley has a chance to become a good defensive tackle in a 4-3 defense, as well as a 5-technique defensive end in a 3-4 scheme.
Notre Dame, Penn State and Ohio State are schools to watch, says 247Sports.
Blessed with natural talent, Brandon Dawkins is a 3-star quarterback who attends California powerhouse Oaks Christian.
He passes the hoof test easily when one sees his thick 6'3", 206-pound frame. Dawkins has fantastic arm strength, can attack every level of the field and delivers strikes with velocity.
However, he needs to quicken his mechanics and become a far more accurate passer. Dawkins likely will spend his initial year at Arizona redshirting and refining his technique in the pocket. If he cleans up a few parts of his game, the Wildcats may have a gem.
Anytime a college coach can get his hands on an offensive lineman who possesses the potential to be an excellent left tackle, they seize the opportunity.
That is why David Sharpe is such a coveted prospect on the recruiting trail. A 4-star blocker, Sharpe, who is from Florida, is 6'6" and 288 pounds.
He has a limited background in football, as Sharpe has spent most of his athletic career playing basketball. However, his agility, balance, quick feet and ability to dance with rushers in space make him a great left tackle prospect.
Sharpe will need to refine his hand placement and ability to recognize stunts and twists. Improving his footwork will also have to be an objective early in his college career.
Florida, Georgia and Alabama are his leaders, per 247Sports.
Adoree' Jackson is perhaps the best athlete in the country. The 5-star recruit has excellent speed, quick-twitch athleticism and even displays wiry strength.
He is an accomplished sprinter and long jumper on the track and field circuit. Jackson could be an Olympian in a few years, but his focus likely will still be on football.
As a cornerback, Jackson possesses loose hips, outstanding agility and a great burst out of transition. He even has great instincts.
However, he needs sculpting due to a lack of solid technique. Jackson can play too high, get sloppy with his footwork and must continue learning the nuances of the cornerback position.
He will sign with USC or Florida, according to the experts at 247Sports.
Several athletic prospects who need sculpting are also located on the 2014 Bleacher Report College Football Recruiting Heat Map.
This is a mobile-ready tool that allows recruiting fans to see exactly where the top talent is during the 2014 recruiting cycle!
Edwin Weathersby is the College Football Recruiting Analyst for Bleacher Report. He has worked in scouting/player personnel departments for three professional football teams, including the New York Giants and Cleveland Browns.