Power Ranking Football's Best Players on Their Cars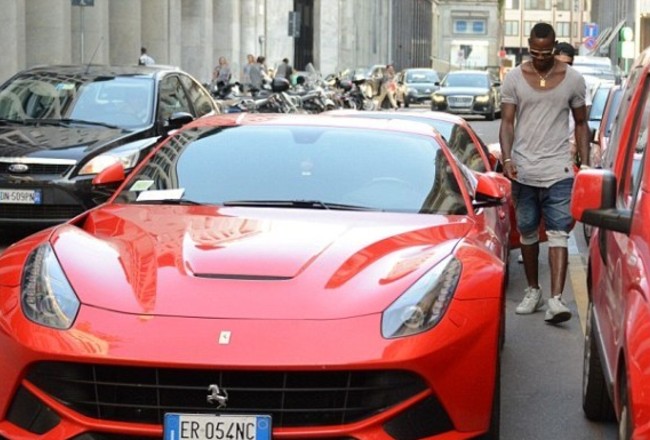 (celebritycarsblog.com)

If there's one thing professional footballers love more than video games, nightclubs and, well, football, it's fast cars.
With such high disposable incomes, there are plenty of stunning machines being driven by world football's elite—but who has the best car? And does it correlate to their status on the field?
Here are B/R's footballer power rankings based on their wheels. Stephen Ireland need not apply...
10. Robin van Persie's Audi A5 Sportback
Manchester United striker Robin van Persie has owned a Ferrari and a Cadillac Escalade during his time in England, but his most recent motor appears to be a reasonably modest Audi A5 Sportback. Perhaps the Dutchman couldn't quite stretch his wages to an S5 or RS 5 model.
As reported by Digital Spy, RVP got into trouble last season when he left the German motor parked in a disabled space for two days while he flew to Portugal for a Champions League tie.
9. Steven Gerrard's Jaguar XKR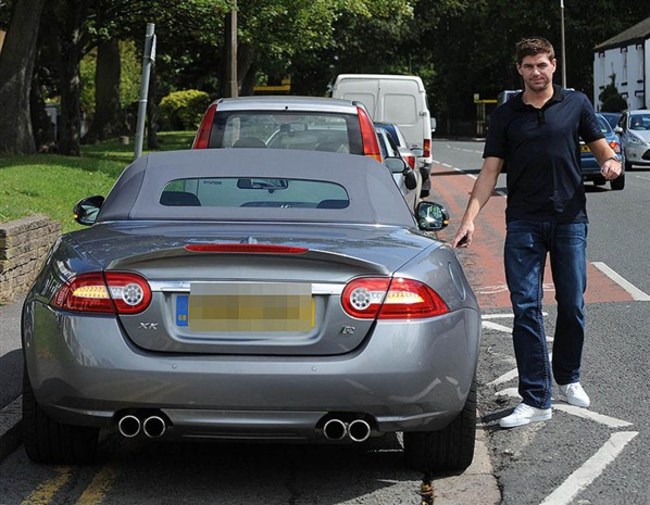 (cars.msn.com)

Like every other Premiership footballer, Steven Gerrard has owned at least one customised Range Rover Sport. But these days the Liverpool captain is flying the flag for Jag.
During the four or five days per year when the weather is good enough in northern England, Stevie can bask in the rays with the top down in his convertible Jaguar XKR.
8. Emmanuel Adebayor's Fisker Karma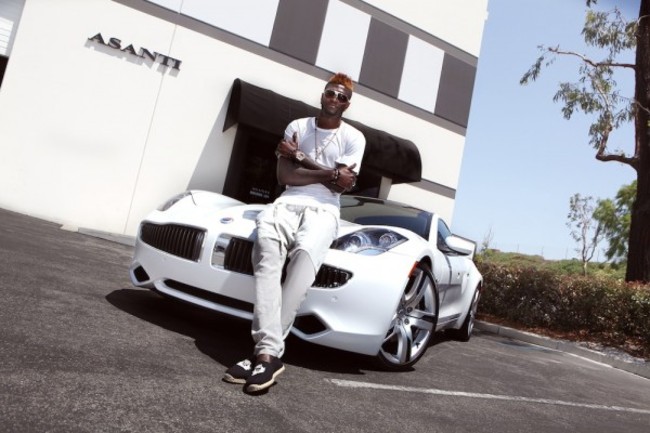 (celebritycarsblog.com)

Tottenham's Emmanuel Adebayor is the proud owner of a beautiful Aston Martin DBS, but he will kill far fewer polar bears with his eco-friendly Fisker Karma.
The Fisker won't beat his Aston in a drag race, but the plug-in hybrid will help the Togolese star avoid the petrol station by delivering up to 62 miles per gallon.
7. Gareth Bale's Audi R8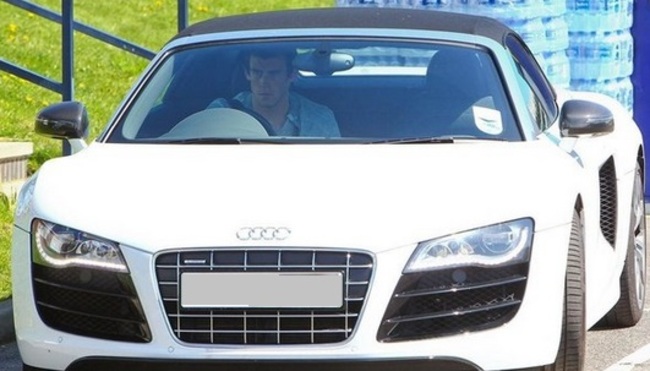 (sportrichlist.com)

Welsh superstar Gareth Bale made his way to Spurs Lodge and back each day in a convertible Audi R8. However, since the left winger looks set to become a Real Madrid galactico any second now, his right-hand drive mid-engined German supercar might not be much use to him anymore.
Thankfully, Los Blancos are sponsored by Audi, so he shouldn't have too much trouble picking up a new one in Spain.
6. Lionel Messi's Maserati GranTurismo MC Stradale
The world's best player isn't known for his extravagant lifestyle, but Leo Messi isn't left in the slow lane when it comes to cars.
The Argentinean currently drives one of the best cars Maserati have ever produced, the V8-powered GranTurismo MC Stradale. It's a special-edition model, which is lighter, smaller and faster than its peers—which is also quite a good description for Messi himself.
5. Samuel Eto'o's Aston Martin One-77
It's easier to buy a unicorn at Tesco than an Aston Martin One-77, with the world's richest supercar lovers snapping up the limited run of 77 models for around £1 million each.
New Chelsea signing Samuel Eto'o was lucky enough to get his hands on one, but he'll only bring it with him to Stamford Bridge if he can get it to start...
4. Cristiano Ronaldo's Lamborghini Aventador LP 700-4
Name a supercar, and Cristiano Ronaldo has owned it. Some of them he has even written off.
Currently, the tricky winger zips around Madrid in a matte black Lamborghini Aventador LP 700-4, which has a base price of $441,000.
The 6.5l V12 engine in this wedge of stunning Italian ridiculousness can reach 60 mph in just 2.9 seconds, so C-Ron is even quicker on the roads than he is on the pitch.
3. Mario Balotelli's Ferrari F12berlinetta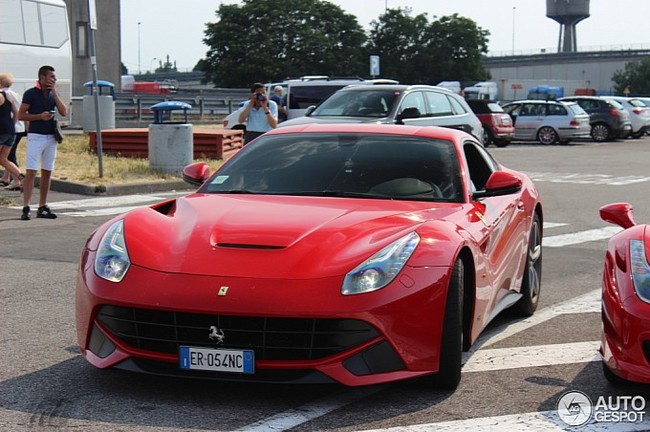 (autoevolution.com)

While in England, Mario Balotelli famously drove a Bentley Continental GT wrapped in camouflage. Since returning to his homeland, however, the striker has given that motor to a former teammate and picked up a gorgeous Ferrari F12berlinetta.
The Milan star's new ride features a 6.3l V12 that generates 730 horsepower, capable of reaching 60 mph in 3.1 seconds.
Good luck catching that, Italian paparazzos.
Super Mario's exquisite taste is echoed by Top Gear Magazine, who voted the F12berlinetta their "Supercar of the Year" in 2012.
2. Zlatan Ibrahimovic's Enzo Ferrari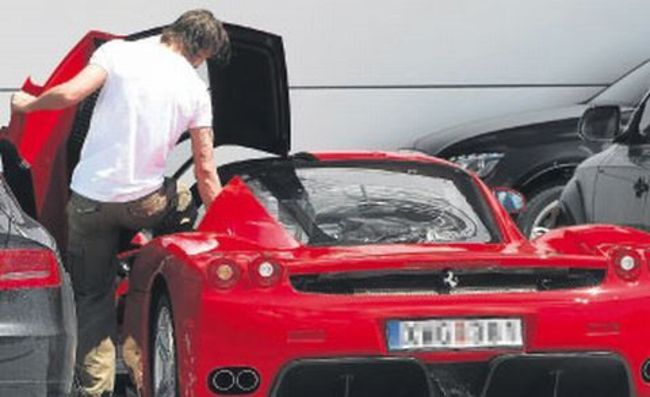 (blaugranas.com)

One would imagine that no single car could contain The Mighty Zlatan, but the powerful Swede is the proud owner of an Enzo Ferrari, which will typically cost upwards of £1 million.
Mario Balotelli's Ferrari is, in many people's opinion, more beautiful than an Enzo, but we wouldn't want to upset Zlatan any more after what the Italian said this week to Sky Italia (via Enis Koylu of Goal.com).
1. Andres Iniesta's Bugatti Veyron Super Sport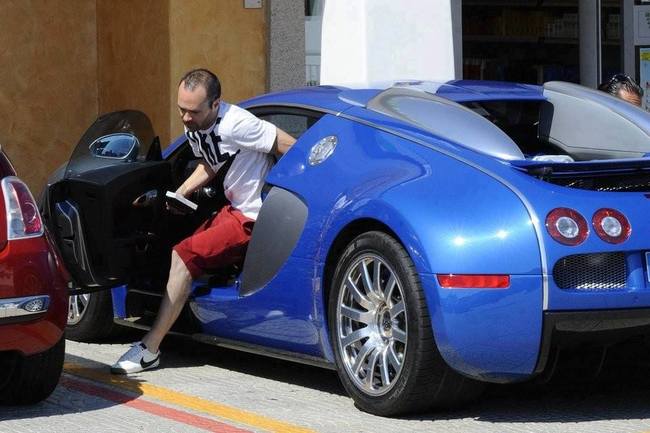 (footballnewshd.com)

Bugatti's parent company Volkswagen lose money on every single Veyron they produce, but they still charged Barcelona star Andres Iniesta €2 million for the one he currently drives.
The Ballon d'Or nominee was spotted in his 16-cylinder beast while on holiday in Sardinia this summer.
It's the fastest street-legal car in production, so that makes it the best, right?
Keep Reading