NBA Trade Candidates Who Could Be Dealt Before 2013-14 Season
Jonathan Daniel/Getty Images

With a scorching summer of NBA player movement nearly done, you might think that the declining temperatures of fall would mean a similar cool down on the trade market.
Think again.
Per Sam Amick of USA Today, the Phoenix Suns just shipped out Caron Butler for next to nothing, which proves there's still plenty of time for preseason moves.
There are still two full months before the 2013-14 campaign begins, and teams are going to use that time to assess whether or not they've got the rosters they want to field when the games actually count. Perhaps after training camp and a few practices, the Houston Rockets will decide that they don't like the way their frontcourt duo works.
Similarly, the Minnesota Timberwolves could find an optimistic buyer for Derrick Williams if it turns out he can't crack the frontcourt rotation ahead of the team's new additions.
And the Indiana Pacers might conclude that they'll get more value by trading a certain former All-Star right now. You know, before he misses the first 40 regular season games with knee tendinosis.
Tanking teams might want to offload a few veterans as well. That could mean more moves for the Suns, or even the Boston Celtics, before the season starts.
Begin Slideshow

»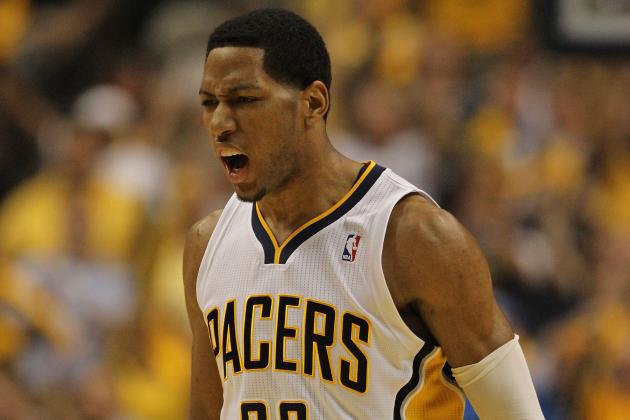 Jonathan Daniel/Getty Images

Pacers head coach Frank Vogel told ESPN 1070 The Fan that Granger's recovery is on schedule and that the team hopes to have its former alpha dog at full strength this season.
If it turns out that Granger is able to play at a level that resembles the one he reached three years ago, the Pacers would be insane to trade him. His value as a starter or as a second-unit leader would be immense.
Plus, Indy can simply let him walk away at the end of the season as an unrestricted free agent, which would only make paying Paul George $80 million easier to stomach.
But what if Granger doesn't look like the player he once was? We've seen him struggle to get on the floor for two seasons now, and regardless of what Vogel and the Pacers might hope, there's a real possibility that the former All-Star's knees simply never allow him to return to form.
It would be a huge risk to trade him before the season, but if the Pacers wait until Granger proves he can't play (for the third year in a row), they'll never be able to get anything in return for him.
Personally, the risk of giving up Granger and watching him play well for another team would keep me from pulling the trigger. But Indiana has to at least consider the possibility of selling while his value is relatively high.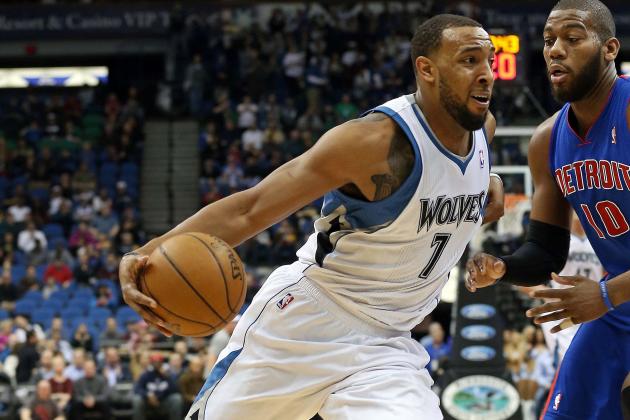 USA TODAY Sports

During the first two years of his career, it became clear that Derrick Williams didn't really have a position. Too small to play as a conventional 4, but too streaky as a shooter to play the 3, he couldn't find a spot in the Minnesota Timberwolves' rotation.
Now, it seems like he might also have a hard time finding minutes.
With Kevin Love healthy and much more depth on the wings, the Wolves might only give Williams minutes as a backup power forward. Even then, Ronny Turiaf figures to challenge him for the few scraps of playing time that will be available behind Love.
But as a former No. 2 overall pick, Williams would represent an intriguing value to a lottery team looking to stockpile assets.
Minnesota flirted with moving Williams last season, but has made it clear that it won't just give him away for nothing. If the Timberwolves could get solid big man that wouldn't tie up any long-term dollars, they'd almost certainly move Williams.
Which brings us to...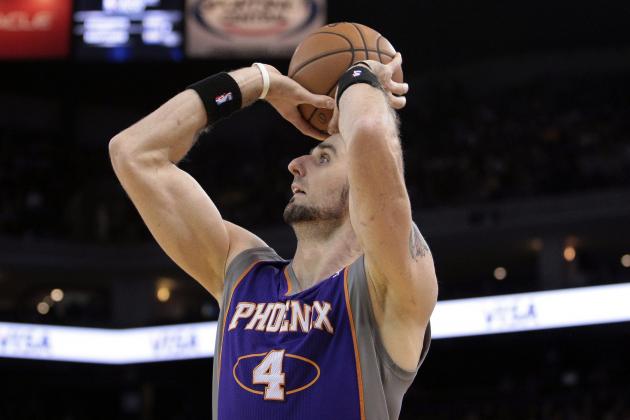 USA TODAY Sports

Gortat will help the Suns win games this season, and as a franchise gunning as hard as any for the No.1 pick in the 2014 NBA draft, Jeff Hornacek's team has no reason to keep the big man.
The Suns have already offloaded Caron Butler, and Michael Beasley seems to be mere seconds away from a date with the waiver wire, so perhaps Phoenix should offer up Gortat to the Wolves for Williams.
Gortat could provide insurance for Nikola Pekovic in Minnesota, play spot minutes as an oversized 4 and generally give the Wolves the frontcourt depth that they lack. Best of all, the Suns need young assets. For all of his flaws, Williams qualifies as one of those.
Why wouldn't Phoenix be interested in a player like Williams, who they'd control on a rookie deal for a couple more years? He'd get every opportunity to spread his wings on a go-nowhere team, and the Suns would save a couple million bucks in the exchange this year.
There's no reason to wait on this one. It's too sensible to pass up.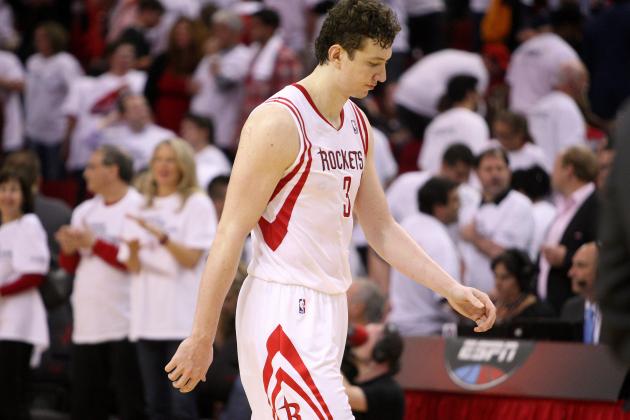 Troy Taormina-USA TODAY Sports

It didn't take long for Omer Asik to formally demand a trade after the Houston Rockets signed Dwight Howard. Despite a handful of reassurances from Houston's front office that the team would find a way to play the two big men together, the fact that Asik asked to be moved is still hanging over the Rockets.
With Houston geared up for a title run, it can't afford to get halfway through the season before admitting that the Asik-Howard tandem can't work.
In theory, it's not a bad thing to have two excellent defensive centers. But the Rockets are a team that could really benefit from a floor-stretching power forward.
Maybe Donatas Motiejunas fills that role. Or perhaps Chandler Parsons can spend longer stretches as an undersized 4.
But trading Asik for an offensive-minded power forward could solve a lot of problems for Houston.
Expect coach Kevin McHale and general manager Daryl Morey to watch things very closely during training camp and throughout the preseason. If it appears as though Asik is disinterested or simply can't find a way to fit alongside Howard, a deal could materialize quickly.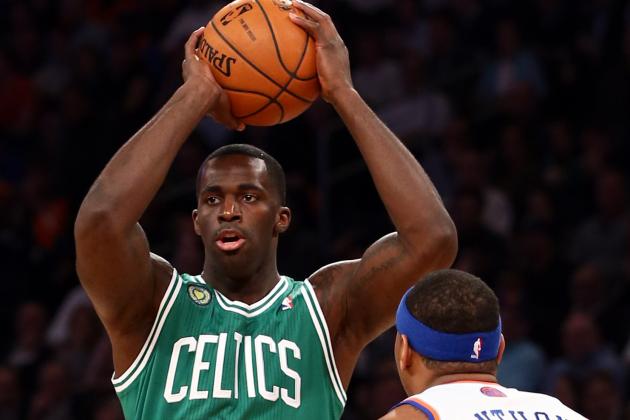 USA TODAY Sports

Brandon Bass, Courtney Lee, Gerald Wallace and Kris Humphries are all on borrowed time in Boston.
Much like the Suns, the Celtics really don't have any incentive to win games this season. So, virtually any player who doesn't fall into the category of being a "young, cheap asset" has no place on the team.
In that sense, the aforementioned quartet are all in the same boat: They're veterans who could be useful pieces of a contending team, but they just aren't the guys Boston needs right now.
Bass in particular would be appealing as a trade chip. He can hit a mid-range jumper, works hard on the glass and he's only owed a little over $13 million over the next two seasons.
Wallace might be a hard sell because of his busted jumper and massive contract, and Humphries' deal expires at the end of the season which means he's more likely to move at the trade deadline in February.
But make no mistake; Boston would love to move all of them before the season starts.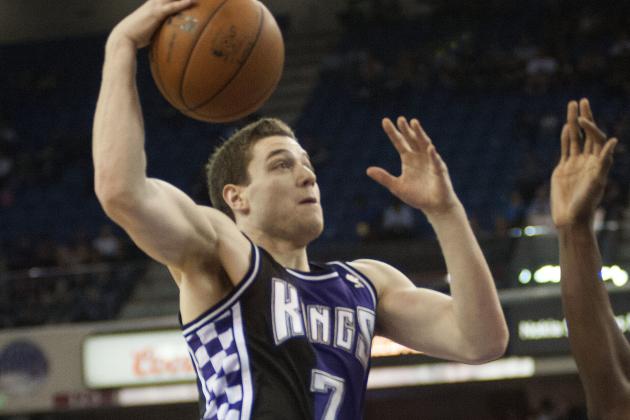 Ed Szczepanski-USA TODAY Sports

There are no fewer than four guards—Isaiah Thomas, Greivis Vasquez, Ben McLemore and Marcus Thornton—ahead of Jimmer Fredette on the Sacramento Kings' depth chart. Even John Salmons and rookie Ray McCallum might push him for minutes.
And after two disappointing seasons spent between the bench and the fringes of rotation play, Fredette hasn't done much to prove he's worth keeping around as a last-resort backcourt option.
The Kings and their rebuilt front office seem to want to take a long look at the roster before making any moves. After all, the poisonous culture of the previous regime may have been more responsible for the team's poor performance than a lack of talent.
But as training camp gets going, the Kings should entertain the idea of shipping Fredette out. He still has some value to other teams, and in some cases (think Utah Jazz), he'd be an extremely hot commodity.
Sacramento has to decide whether or not to pick up Fredette's fourth-year option by Oct. 30, but it's possible that he's on the move before then.
For what it's worth, Kings beat writer Jason Jones told Tom Kirkland of KSL.com that Sacramento will move Fredette if the right offer comes along.
Sounds like a trade candidate to me.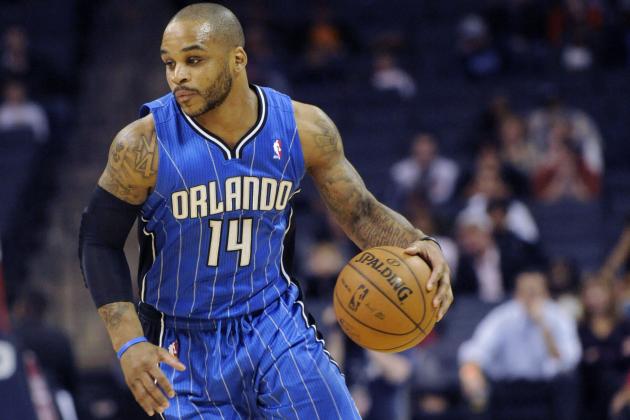 USA TODAY Sports

If the Orlando Magic are serious about letting rookie Victor Oladipo try his hand at the point guard position, there's really no reason to keep Jameer Nelson and his $8.6 million salary around.
There's nothing wrong with Nelson; he's a perfectly average NBA point guard. But with the Magic looking toward the future, he's really of more value to the franchise as a trade piece that could bring back a young asset to add to the team's ever-growing pile of inexpensive youth.
If Oladipo flops at the point, it won't be a big deal to the Magic. E'Twaun Moore and Ronnie Price could man the position in a pinch.
Plus, the Magic shouldn't want a capable veteran like Nelson to run the show. His presence in the rotation might cause the team to crack the 30-win mark, which would go completely against the team's goal of maximizing its lottery position.
Nelson could help another team, and if a contender loses a point guard to injury before the season starts, the Magic will be the first club to receive a call.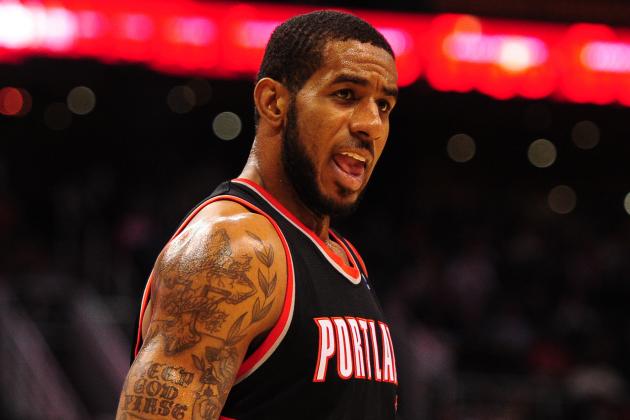 Mark J. Rebilas-USA TODAY Sports

I know, I know: The Portland Trail Blazers are vehemently denying that they have any intention of shipping out occasionally disgruntled big man LaMarcus Aldridge.
According to Grantland's Zach Lowe, Blazers GM Neil Olshey swears that an Aldridge deal is the furthest thing from the team's collective mind.
But this is a case in which there's been so much smoke that there has to have been a fire at some point. All summer, there have been rumors floating around about Aldridge's discontent and the Blazers' quiet interest in cutting a deal.
It might not take much to rekindle the discussion in training camp.