7 NXT Prospects Who Would Shine on WWE Main Roster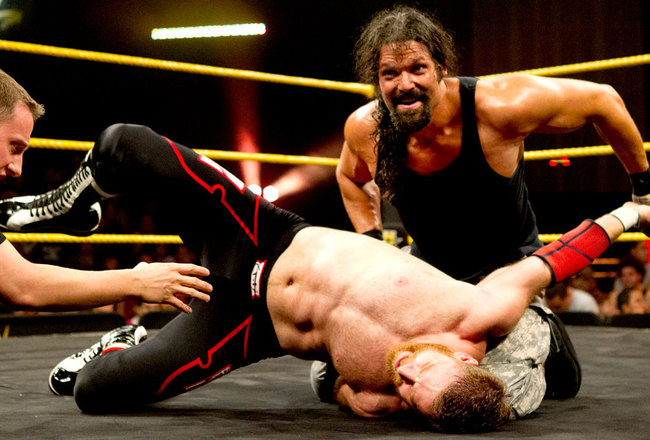 (Photo: WWE)

NXT fans know full well how bright WWE's future is.
Dynamic prospects await a move to the main roster, from high-flyers to brawlers, from an anti-diva to the "realest guy in the room."
With Bray Wyatt and his brothers now wrecking havoc on Monday and Friday nights, fans have to wonder who will follow them onto the big stage. WWE has a number of great options to choose from depending on what direction the company wants to go.
Does it want more thrilling aerial masters or another dose of creepy? NXT has prospects that fulfill those needs and more.
From a Canadian who used to pretend to be Mexican to a South African whose prime is running out, here are seven NXT prospects who would flourish on the main roster.
Sami Zayn
After making the transformation from El Generico to Sami Zayn, he has proved to be more than just a gimmick.
Without his mask, without speaking butchered Spanish, Zayn has gained popularity by way of his breathtaking in-ring skills. The speedster has especially impressed in his series of matches against Antonio Cesaro.
These bouts are more than good enough to be on WWE Raw or SmackDown.
His offense is unique and exciting and Zayn does well to blend big spots into the natural flow of a match. WWE may want him to add muscle to his wiry frame, but his ring work and the charisma during funny segments as El Generico like this one make him one of NXT's top prospects.
Like many fans, Arda Ocal from the Baltimore Sun sees big things in Zayn's future. When asked which NXT prospect had the best chance at being world champ, he tweeted this:
@JJFTweets Sami Zayn. Count on it. Bet now.

— Arda Ocal (@arda_ocal) August 16, 2013
Paige
Paige is destined to improve the WWE Divas division in a major way.
In the match against Alicia Fox above, she brings out Fox's best. It's not often that we've seen a match like this involving Fox. Paige's blend of power, mat skills and energy are sure to have the same effect against the other Divas on the main roster as well.
The first-ever NXT women's champ has a compelling aggression that is reminiscent of William Regal. Add to that her unique look, both pretty and intimidating, and WWE has a young, can't-miss prospect ready to rocket upward.
Pitting her against AJ Lee, Kaitlyn or Natayla is going to produce some great work and give the division a chance to be much improved.
Jim Ross wrote on his blog that "she will have a successful run on RAW or Smackdown some day soon."
Kassius Ohno
Despite being the most complete in-ring worker in NXT, Kassius Ohno hasn't found a way to make it to the big leagues.
Continued tension regarding his physique has led to reported backstage heat. Lack of definition in his torso has him at odds with WWE officials and may keep him from showing his skills as Chris Hero on the big stage.
Ohno is fluid in the ring, powerful and agile with a long list of moves he excels at performing. Given a shot on the main roster, he'd provide the company with exciting and realistic matches.
Imagine him rekindling his feud with CM Punk, leading to matches like this one.
Dustin Rhodes (Goldust) has a high opinion of Ohno.
"@MC3King55: @DUSTIN_RHODES1 what are your thoughts on Kassius Ohno aka Chris Hero in @WWENXT ?"awesome talent

— GOLDUST (@DUSTIN_RHODES1) August 29, 2013
Corey Graves
His tattoos and size will earn him comparisons to CM Punk, but Corey Graves is his own man.
The dark, gritty competitor has an interesting blend of speed, aggression and mat skills. He can thrive in fast-paced matches or in brawls. Knowing what to do with such a unique talent is going to require some creativity, but once that happens, expect a star to be born.
His crazed energy and bad-boy sex appeal is going to get him a lot of attention early on.
Jim Ross compared him to a former WWE champ.
"@WWE_Graves: @jrsbbq What are ur Thoughts about Corey graves. Getting better each week. Reminds me a little of young @JEFFHARDYBRAND.

— Jim Ross (@JRsBBQ) May 24, 2013
Adrian Neville
Corey Graves' tag team partner is an even more exciting prospect.
He may not have Graves' charisma, but Adrian Neville's in-ring ability is going to more than make up for that. Possessing dizzying speed, elite athleticism and leaping ability, Neville is going to be everything WWE wanted Sin Cara to be.
Pair him with up with Kofi Kingston to create Air Boom 2.0 or else have him impress singles matches, shooting toward a midcard title.
As stunning as his ring work is, it won't take long for fans to gravitate toward "The Man Who Gravity Forgot."
Enzo Amore
We haven't seen all that much of him in the ring yet, but Enzo Amore's character will make him a highly entertaining manager at the very least.
Like Damien Sandow, Amore is a standout, grating heel who can make his mark with a microphone. Overstocked with catchphrases, Amore's humor, energy and strange charisma make him a top prospect, even if there are better wrestlers on the roster.
In NXT, Amore paired with the bigger, more intimidating Colin Cassady. WWE could use a similar formula and have him team with someone who can do all the heavy lifting while he does all the entertaining.
Since Amore's debut, fans have been saying things like the following quite often:
Enzo Amore is the greatest thing going in NXT today

— Luki (@lukiorweriot) August 29, 2013
Leo Kruger
At 34 years old, Leo Kruger doesn't qualify as a prospect who is the future of the WWE.
He is however, a valuable asset for the here and now. The muscular South African is a good brawler with solid overall in-ring skills.
His standout skill is how convincingly he plays an evil character. WWE may be overloaded with darkness thanks to the Wyatt Family, but should the company want another creepy wrestler on the roster or to expand that family, Kruger is a smart addition.
Not every NXT prospect has to be a world champion in the waiting. Kruger is a superstar who would better the product with hard-hitting matches and unsettling promo work right away.
Keep Reading