Predicting All 2013 MLB Award Winners with 1 Month to Go
Mike McGinnis/Getty Images

With one month to go in the 2013 MLB regular season, there is still a lot to be decided between now and the start of the postseason.
As teams look to make their final push toward the playoffs, the awards picture will also start to take better shape. How top players perform down the stretch will go a long way in determining where they finish in the voting for major awards.
So with one month to play, here is a look at my predicted top five in voting for each league's Manager of the Year, Comeback Player of the Year, Rookie of the Year, Cy Young and MVP.
To clarify, this is not necessarily how things would play out if the season ended today, but instead how I feel things will look when the season comes to an end.
Begin Slideshow

»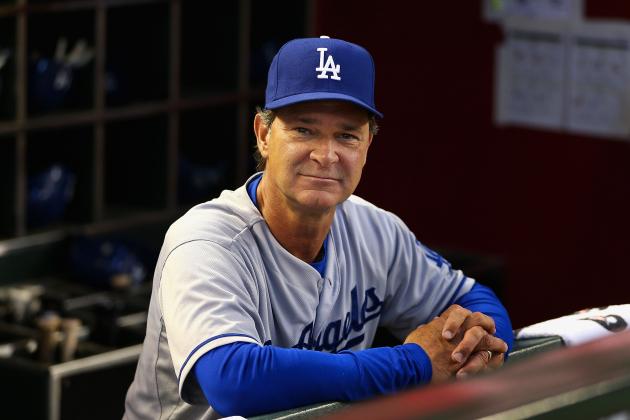 Christian Petersen/Getty Images

Predicted Top Five in Voting
| Rank | Name | Team's '12 Record | Team's '13 Record |
| --- | --- | --- | --- |
| 1 | Don Mattingly, LAD | 86-76 (.531) | 78-55 (.586) |
| 2 | Clint Hurdle, PIT | 79-83 (.488) | 77-56 (.579) |
| 3 | Fredi Gonzalez, ATL | 94-68 (.580) | 81-52 (.609) |
| 4 | Mike Matheny, STL | 88-74 (.543) | 78-55 (.586) |
| 5 | Walt Weiss, COL | 64-98 (.395) | 63-72 (.467) |
Candidate Overview
On the hot seat to the point that he was likely a loss or two from being fired when the team struggled earlier this season, Don Mattingly has done as good a job righting the ship as any manager in baseball history. He's had to deal with a myriad of injuries, and the constant distraction that is Yasiel Puig, but the team has emerged as one of the NL's best through it all.
Clint Hurdle not only had 20 years of losing seasons staring him in the face, but he had also suffered through back-to-back second-half collapses. The Pirates have kept it together this year, though, and Hurdle has done a great job implementing the team's young talent alongside the veterans that were already in place.
The Braves were expected to battle the Nationals for the NL East title this year, and while the Nationals' struggles are a big reason why that has not happened, the Braves also seized that opportunity and ran away with the division title very early in the season. Injuries have not derailed them, and Fredi Gonzalez has kept the players level while they've suffered through some ups and downs.
Mike Matheny took the helm in St. Louis last season and led a good inherited team back to the postseason. This season, however, he's had a lot to overcome with Kyle Lohse, Chris Carpenter and Jaime Garcia all gone from the rotation. He's made some questionable decisions late in games, but as a whole he's done a great job keeping the Cardinals among the NL's best.
First-time manager Walt Weiss had the Rockies as the biggest surprise team in baseball during the first half. While they have fallen out of contention since, they are still a team headed in the right direction and vastly improved over last season.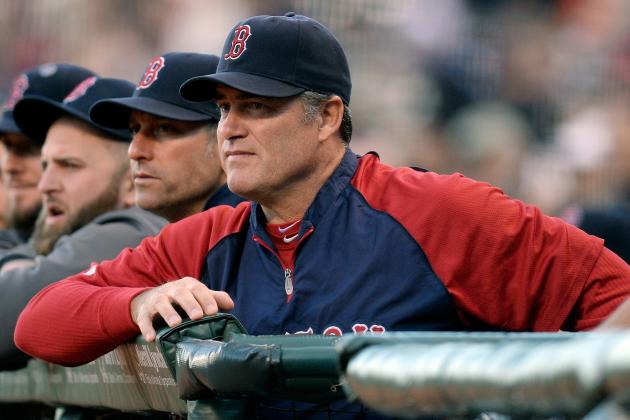 Thearon W. Henderson/Getty Images

Predicted Top Five in Voting
| Rank | Name | Team's '12 Record | Team's '13 Record |
| --- | --- | --- | --- |
| 1 | John Farrell, BOS | 69-93 (.426) | 79-56 (.585) |
| 2 | Terry Francona, CLE | 68-94 (.420) | 71-62 (.534) |
| 3 | Ron Washington, TEX | 93-69 (.574) | 78-55 (.586) |
| 4 | Jim Leyland, DET | 88-74 (.543) | 78-56 (.582) |
| 5 | Ned Yost, KC | 72-90 (.444) | 69-64 (.519) |
Candidate Overview
Coming off the franchise's worst season since 1965, the Red Sox used the payroll they unloaded in their August trade with the Dodgers to completely rework their roster. At the helm for the new-look Red Sox is John Farrell, who has brought a level-headed presence to a team that was divided with Bobby Valentine in charge last year.
This is likely a two-horse race, with Terry Francona very much in the running for the honor as well. After spending 2012 in the broadcast booth, the Indians lured Francona back to the field to help transition their team after a disappointing season. Expected by many to begin rebuilding, the Indians have instead been legitimate contenders this year. If they wind up making the postseason, the award goes to Francona.
The Rangers were expected to take a step back this season after losing a good deal in free agency, and they have been hit with as many injuries this year as any team in baseball. Through it all, they still sit atop the AL West standings and have a shot at the best record in the AL. Not everyone loves his managing style, but it's hard to argue with Washington's results.
Jim Leyland has kept the Tigers on track after they were absolutely dominated in the World Series by the Giants last year. They have as much talent as any team in baseball from a roster standpoint, but Leyland has kept them focused on the ultimate goal and again has them in a position to contend for the AL pennant.
Finally, there is Royals manager Ned Yost, who has overcome a shaky first half to pull the Royals into contention here down the stretch. Pitching was the offseason focus, but the offense struggled mightily early on, and the team struggled as a result. A second-half turnaround has them positioned to at the very least finish with a winning record.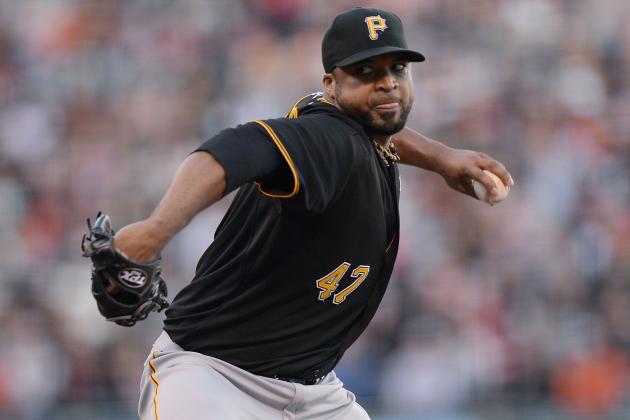 Thearon W. Henderson/Getty Images

Predicted Top Five in Voting
| Rank | Name | Stats |
| --- | --- | --- |
| 1 | SP Francisco Liriano, PIT | 20 GS, 14-6, 2.74 ERA, 129 K, 125 IP |
| 2 | SS Troy Tulowitzki, COL | 101 G, .318/.391/.567, 22 HR, 68 RBI, 59 R |
| 3 | RP Mark Melancon, PIT | 60 G, 9-of-11 SV, 0.91 ERA, 8.7 K/9 |
| 4 | RF Marlon Byrd, PIT | 119 G, .284/.329/.520, 22 HR, 74 RBI, 62 R |
| 5 | SP Jorge De La Rosa, COL | 27 GS, 14-6, 3.28 ERA, 104 K, 153.2 IP |
Candidate Overview
Most times, the Comeback Player of the Year goes to someone who missed significant time the previous season with an injury. Troy Tulowitzki fits the bill after playing just 47 games last year and then returning to elite form this season.
However, left-hander Francisco Liriano is the top candidate right now in my opinion, as he has played a major role in the Pirates' push toward a postseason berth. After going just 6-12 with a 5.34 ERA in 34 games (28 starts) last season for the White Sox and Twins, he signed a one-year, $1 million deal with the Pirates and has emerged as the ace of their staff.
Fellow Pirate Mark Melancon was arguably the best setup reliever in baseball this season after coming over from the Red Sox in the Joel Hanrahan trade, and he's done a nice job as closer since Jason Grilli went down. After closing for the Astros in 2011 and putting up solid numbers, his ERA ballooned to 6.20 in 41 games for Boston last year, but he's been nothing short of phenomenal this year.
Marlon Byrd didn't see major league action after being released by the Red Sox on June 12, and he finished 2012 with a .210/.243/.245 line in 143 at-bats. He signed a minor league deal with the Mets in the offseason and has been as big a surprise as anyone in baseball this year with the best power numbers of his career.
Finally, Jorge De La Rosa has bounced back after making just three starts in 2012, justifying the $11 million option the Rockies picked up prior to the season and setting himself up to be a steal at $11 million once again next season.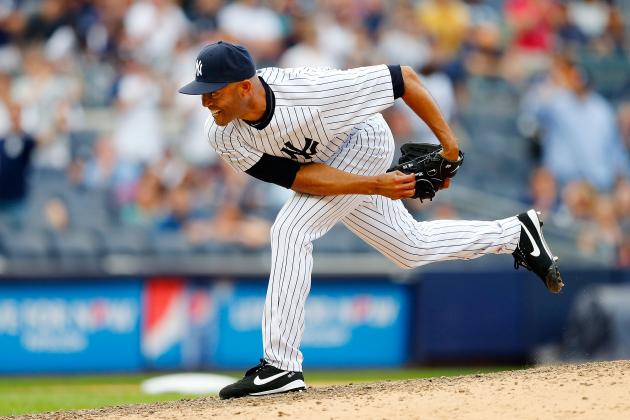 Jim McIsaac/Getty Images

Predicted Top Five in Voting
| Rank | Name | Stats |
| --- | --- | --- |
| 1 | RP Mariano Rivera, NYY | 52 G, 38-of-43 SV, 2.20 ERA, 8.1 K/9 |
| 2 | SP John Lackey, BOS | 24 GS, 8-11, 3.19 ERA, 134 K, 155 IP |
| 3 | DH Victor Martinez, DET | 132 G, .297/.349/.417, 11 HR, 71 RBI, 57 R |
| 4 | CF Jacoby Ellsbury, BOS | 125 G, .299/.357/.422, 7 HR, 83 R, 50 SB |
| 5 | 1B James Loney, TB | 127 G, .301/.350/.423, 10 HR, 58 RBI, 43 R |
Candidate Overview
There are a number of good candidates for Comeback Player honors in the American League this year, but it's hard to imagine anyone but Yankees great Mariano Rivera getting the nod. After tearing his ACL early last season, he announced he'd retire at the end of the season this spring, and he's returned to the ranks of the game's elite closers in his final season.
The Red Sox signed John Lackey to a five-year, $82.5 million deal back in 2010, and after going 26-23 with a 5.26 ERA in his first two seasons, he missed all of 2012 with Tommy John surgery. His 8-11 record does not reflect it, but he's been a big addition to the Red Sox rotation and is having his best season since 2007.
Victor Martinez also missed all of the 2012 season after suffering a torn ACL, and after hitting .330/.380/.470 with 12 home runs and 103 RBI in his first season with the Tigers in 2011, he's again playing at a high level in a loaded Tigers offense.
A .321/.376/.552 line with 32 home runs and 39 steals made Jacoby Ellsbury an MVP candidate in 2011, but a shoulder injury last year limited him to just 74 games. He hit just .271/.313/.370 with four home runs and 14 steals when he was on the field. His power still has not returned, but he's once again an elite table-setter, leading the AL with eight triples and 50 steals.
James Loney was not significantly injured last season, but hit just .249/.293/.336 in what was his worst season as a pro. That led to little interest in Loney as a free agent in the offseason, and he settled on a one-year, $2 million deal to join the Rays. Much like Casey Kotchman in 2011, he's benefited greatly from the move to Tampa and change of scenery, and he's one of the major reasons for the Rays' offensive turnaround.
Thearon W. Henderson/Getty Images

Predicted Top Five in Voting
| Rank | Name | Stats |
| --- | --- | --- |
| 1 | SP Shelby Miller, STL | 25 GS, 12-8, 2.90 ERA, 151 K, 139.2 IP |
| 2 | SP Jose Fernandez, MIA | 25 GS, 10-5, 2.30 ERA, 165 K, 152.2 IP |
| 3 | RF Yasiel Puig, LAD | 76 G, .346/.406/.557, 13 HR, 30 RBI, 53 R |
| 4 | SP Julio Teheran, ATL | 25 GS, 10-7, 3.08 ERA, 140 K, 155 IP |
| 5 | SP Hyun-Jin Ryu, LAD | 25 GS, 12-5, 3.08 ERA, 133 K, 160.2 IP |
Candidate Overview
If the season ended today, 21-year-old Marlins ace Jose Fernandez would be the choice for NL Rookie of the Year honors, but chances are he'll be shut down within the next couple of starts he makes. That will be enough for him to fall out of the top spot when all is said and done.
Instead, it will be Shelby Miller who takes home the honor. He's being relied on to serve as the Cardinals' No. 2 starter behind Adam Wainwright for the stretch run and should be able to separate himself from Fernandez with a strong final month.
Cuban native Yasiel Puig has taken the baseball world by storm and helped spark the Dodgers turnaround, but his numbers are down since the All-Star break. As the league continues to figure him out, his stats will likely continue to decline down the stretch.
The Braves took a chance counting on Julio Teheran to lock down a rotation spot this year after he struggled in his second go-around in Triple-A last year, and he stumbled out of the gate with a 5.08 ERA through his first five starts. He's 9-7 with a 2.63 ERA in 20 starts since, though, and has been huge for the streaking Braves.
Finally, there is Korean native Hyun-Jin Ryu, who signed a six-year, $36 million deal in the offseason and has been terrific in the No. 3 starter spot for the Dodgers. He'll likely throw more innings and could very well win more games than any other rookie starter this year, but his peripherals aren't quite as dominant.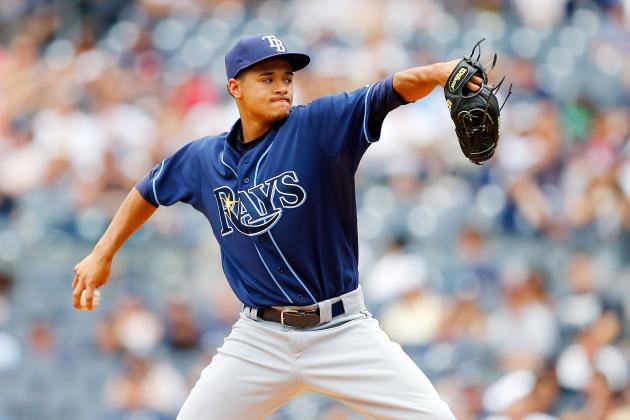 Jim McIsaac/Getty Images

Predicted Top Five in Voting
| Rank | Name | Stats |
| --- | --- | --- |
| 1 | SP Chris Archer, TB | 17 GS, 8-5, 2.81 ERA, 71 K, 102.1 IP |
| 2 | RF Wil Myers, TB | 59 G, .286/.352/.446, 9 HR, 39 RBI, 30 R |
| 3 | SP Dan Straily, OAK | 22 GS, 7-7, 4.41 ERA, 98 K, 122.1 IP |
| 4 | SS Jose Iglesias, DET | 88 G, .313/.361/.388, 2 HR, 23 RBI, 34 R |
| 5 | RP Cody Allen, CLE | 60 G, 5-1, 2.17 ERA, 73 K, 58 IP |
Candidate Overview
A hot July had Rays outfielder Wil Myers looking like the front-runner in a thin AL rookie crop, but he's slumped to .210/.301/.309 with just two home runs in August and no longer looks like the favorite as a result.
Instead, teammate Chris Archer looks like the best candidate, as he's given the Rays a reliable arm for much of the season while the rest of the rotation has battled injuries and inconsistent play. He'll play a big role down the stretch as the team looks to catch the Red Sox for the AL East title.
Dan Straily does not have the overwhelming numbers of some of the other rookie pitchers out there this season, but he's been a part of the A's rotation for most of the season. If not for a pair of rough early-season starts in which he allowed 12 runs in 9.2 innings, his numbers would look much better.
There were questions whether slick-fielding shortstop Jose Iglesias would ever hit enough to be an everyday player, but he's turned in a terrific offensive season, albeit a lucky one (.364 BABIP). The Tigers acquired him at the deadline, and he's been a valuable insurance policy for the suspended Jhonny Peralta.
Reliever Cody Allen rounds out the top five here, and with his 11.3 K/9 mark and terrific ERA, he looks like a future closer candidate in Cleveland. He's been the team's most reliable bullpen arm this season.
*Note: Leonys Martin (TEX) and Yan Gomes (CLE) are not rookie-eligible after spending too many days on the active roster last season.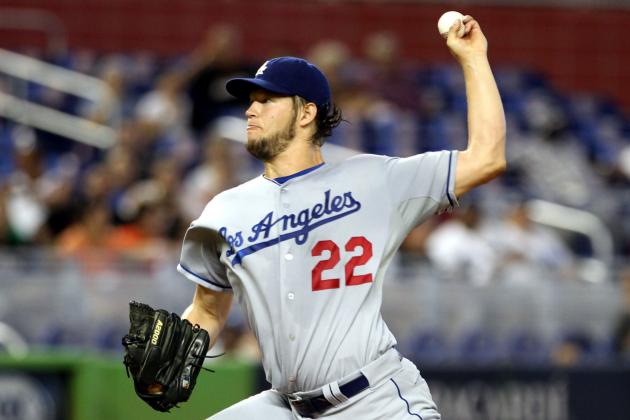 Marc Serota/Getty Images

Predicted Top Five in Voting
| Rank | Name | Stats |
| --- | --- | --- |
| 1 | SP Clayton Kershaw, LAD | 28 GS, 13-8, 1.72 ERA, 197 K, 204 IP |
| 2 | SP Adam Wainwright, STL | 28 GS, 15-8, 2.96 ERA, 184 K, 200.2 IP |
| 3 | RP Craig Kimbrel, ATL | 55 G, 43-of-46 SV, 0.97 ERA, 12.9 K/9 |
| 4 | SP Patrick Corbin, ARI | 26 GS, 13-4, 2.79 ERA, 154 K, 177.2 IP |
| 5 | SP Matt Harvey, NYM | 26 GS, 9-5, 2.27 ERA, 191 K, 178.1 IP |
Candidate Overview
With Matt Harvey likely done for the season following a partial UCL tear, Clayton Kershaw will run away with the NL Cy Young honors now, barring a massive final-month collapse. He's in line to win his third straight ERA title, and despite his subpar record, he's having the best season of his career from a peripheral standpoint.
Adam Wainwright has proven he's back to where he was pre-Tommy John surgery, and even after getting shelled for nine earned runs in two innings of work his last time out, he's still having a fantastic season. He's the leader of an inexperienced Cardinals staff and will be leaned on as heavily as any pitcher in baseball down the stretch.
Flame-throwing closer Craig Kimbrel has been the game's premier reliever once again this season. If you remove a pair of poor outings in early May in which he blew two saves in the same week and allowed three earned runs in 1.2 innings, he has just one blown save and a 0.50 ERA the rest of the season.
Patrick Corbin entered camp competing for the No. 5 starter spot in the Diamondbacks rotation and quickly emerged as the team's ace. Unlike fellow breakout starter Jeff Locke, Corbin has avoided a second-half letdown and looks like the real deal as he continues to pitch at an elite level.
Finally, despite the fact he likely won't be pitching for the final month of the year, Harvey should still garner some Cy Young attention for what he was able to accomplish to this point. Josh Johnson had a similar season in 2010, winning the NL ERA title but making just one September start and finishing fifth in voting as well.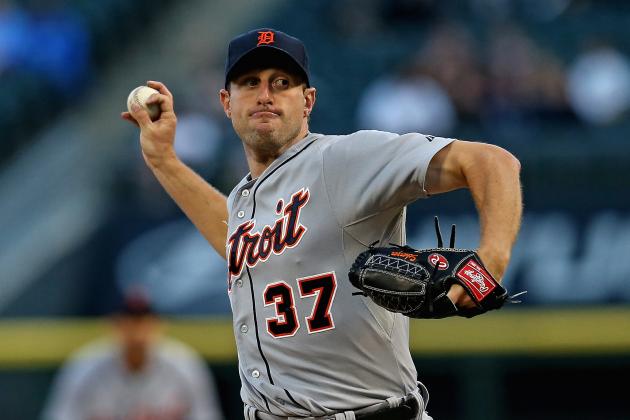 Jonathan Daniel/Getty Images

Predicted Top Five in Voting
| Rank | Name | Stats |
| --- | --- | --- |
| 1 | SP Max Scherzer, DET | 27 GS, 19-1, 2.90 ERA, 201 K, 183.1 IP |
| 2 | SP Yu Darvish, TEX | 25 GS, 12-5, 2.68 ERA, 225 K, 168 IP |
| 3 | SP Felix Hernandez, SEA | 28 GS, 12-8, 2.97 ERA, 194 K, 187.2 IP |
| 4 | SP Chris Sale, CWS | 25 GS, 10-12, 2.99 ERA, 193 K, 180.1 IP |
| 5 | SP Justin Masterson, CLE | 28 GS, 14-9, 3.49 ERA, 188 K, 188.1 IP |
Candidate Overview
It took a walk-off home run from Torii Hunter last time out for Max Scherzer to avoid picking up loss No. 2, but by all accounts he's been the best pitcher in the AL this season. Win-loss record does not carry the same weight it once did, but he has the peripheral numbers to back it up, and he could wind up a unanimous choice if he finishes strong.
Yu Darvish has followed up a solid rookie season by emerging as a bona fide staff ace this year. He leads all of baseball in strikeouts and is second to Anibal Sanchez in ERA among AL starters. The Rangers spent a ton to sign him last year, and it looks like he's worth every penny so far.
The Mariners have had arguably the best starting pitching duo in baseball this season with Felix Hernandez and Hisashi Iwakuma, and Hernandez has lived up to the lofty expectations that came with the seven-year, $175 million extension he signed in the offseason.
Chris Sale has been one of the few bright spots for a bad White Sox team this season, and despite a losing record to this point, he should still receive plenty of Cy Young consideration. He's likely a notch below the first three guys as far as his candidacy is concerned, but a top-five finish seems likely.
The fifth spot could got to a handful of guys, including A's veteran Bartolo Colon if he bounces back strong from his injury, but Justin Masterson has put together a terrific season and will get the respect he deserves. He's tied with Colon for the MLB lead with three shutouts and has given the Indians the staff ace they desperately needed.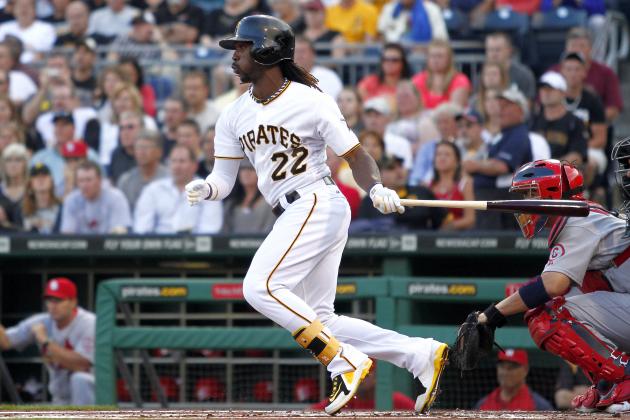 Justin K. Aller/Getty Images

Predicted Top Five in Voting
| Rank | Name | Stats |
| --- | --- | --- |
| 1 | CF Andrew McCutchen, PIT | 129 G, .323/.401/.511, 17 HR, 74 RBI, 81 R |
| 2 | C Yadier Molina, STL | 109 G, .333/.373/.498, 10 HR, 60 RBI, 55 R |
| 3 | SP Clayton Kershaw, LAD | 28 GS, 13-8, 1.72 ERA, 197 K, 204 IP |
| 4 | 1B Paul Goldschmidt, ARI | 130 G, .300/.401/.551, 31 HR, 104 RBI, 88 R |
| 5 | 1B Joey Votto, CIN | 134 G, .312/.435/.504, 20 HR, 61 RBI, 88 R |
Candidate Overview
Before missing time with a knee injury last month, Yadier Molina looked like the odds-on favorite for NL MVP honors. He's still leading the league in hitting and is no doubt the most valuable player on the Cardinals roster, but he no longer looks like the front-runner.
With a .372/.456/.607 line in the second half, Andrew McCutchen has stormed to the front of the pack as he continues to be the driving force behind the Pirates' offensive attack. He has 27 steals to go along with his above-mentioned numbers, and he plays one of the best defensive center fields in the league as a true five-tool talent.
Where pitchers fall in the MVP discussion is always a touchy subject, but Dodgers ace Clayton Kershaw has been so much better than every other pitcher in baseball this season, it's hard to not count him among the league's top players.
If the Diamondbacks reach the postseason, Paul Goldschmidt will climb up this list, but seeing as Baseball Prospectus puts their playoff odds at 2.8 percent, that seems like a long shot to say the least. He's the top run-producer in the NL right now, and the five-year, $32 million extension he signed in the offseason looks like an absolute steal.
Rounding things out is Reds star Joey Votto, who has not put up prolific power numbers this year, but he is in line to lead the NL in on-base percentage for the fourth straight season and walks for the third straight year.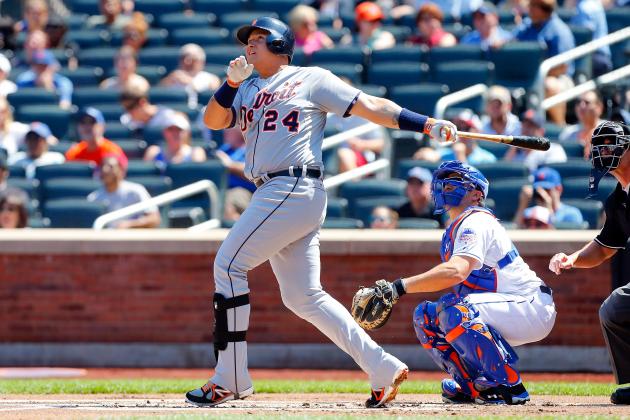 Jim McIsaac/Getty Images

Predicted Top Five in Voting
| Rank | Name | Stats |
| --- | --- | --- |
| 1 | 3B Miguel Cabrera, DET | 126 G, .359/.450/.683, 43 HR, 130 RBI, 95 R |
| 2 | 1B Chris Davis, BAL | 131 G, .303/.384/.679, 47 HR, 121 RBI, 95 R |
| 3 | CF Mike Trout, LAA | 128 G, .331/.428/.572, 23 HR, 81 RBI, 91 R |
| 4 | 1B Edwin Encarnacion, TOR | 131 G, .271/.366/.532, 34 HR, 99 RBI, 81 R |
| 5 | DH David Ortiz, BOS | 111 G, .310/.390/.557, 24 HR, 79 RBI, 61 R |
Candidate Overview
All due respect to the fantastic season that Chris Davis is having, but Miguel Cabrera is going to run away with the AL MVP honors, regardless of whether or not he repeats as the Triple Crown winner. He's the best hitter on the planet right now, and a serious injury is all that could keep him from taking home the MVP.
As for Davis, he's a lock to eclipse 50 home runs and could make a run at Roger Maris' 61 mark if he can put together one of his hot streaks down the stretch. Many still consider that to be the legitimate home run record, and passing the mark would be big for the breakout star.
Mike Trout has actually put up better triple-slash numbers across the board in his sophomore campaign, and he's added 34 doubles, eight triples and 29 steals to his above-mentioned numbers to go along with an AL-high 78 walks. He's the real deal, and he should contend for the award for years to come.
The Blue Jays have been a big disappointment this year, but slugger Edwin Encarnacion has managed to put together a terrific season in the middle of the lineup. He looks poised to top his 42-home run, 110-RBI performance last season and will be one of the few positive takeaways from the 2013 Blue Jays season.
A number of Red Sox players could be considered MVP candidates, but veteran David Ortiz has once again put up elite run-production numbers—and he's done it after missing time early while recovering from last year's Achilles injury. It's hard to believe the 37-year-old was essentially written off just a couple of years ago.