Austria Olympic Hockey Team 2014: Projecting 25-Man Roster for Sochi Games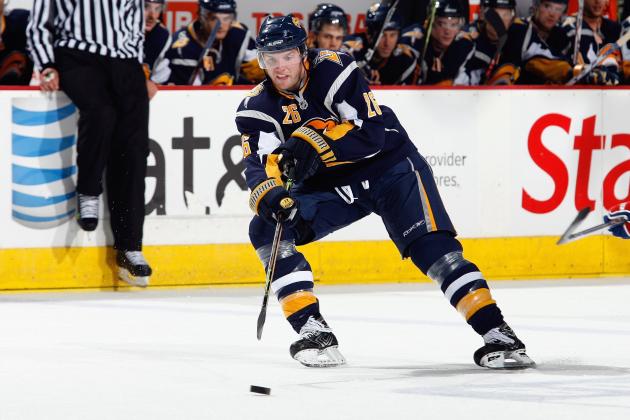 Rick Stewart/Getty Images
Thomas Vanek
The Olympic ice hockey tournament is one of the top international sports competitions because of the depth of talent that exists in so many countries.
While there may be as many as seven teams who have reason to be hopeful about making a medal round in the tournament, Austria does not appear to be one of them.
The Austrians are making their first appearance in the sport since 2002 when they finished 12th in the Salt Lake City Games. It seems that another double-digit finish in Sochi is quite likely.
Still, there is some decent talent on the team; otherwise, it would not have qualified. Remember, the Austrians are in and the Germans are out, so that means they are capable of playing well on occasion and causing headaches for any team that looks past them.
Begin Slideshow

»
Unlike many of the other nations that will be competing in Sochi, Austria has not released a preliminary roster of Olympic candidates. Here's a look at the projected final roster for the Austrian team.
Position Player Team
D Florian Iberer EC KAC
D Robert Lukas EHC Black Wings Linz
D Andre Lakos Vienna Capitals
D Johannes Reichel Austria EC KAC
D Thomas Pöck Lake Erie Monsters
D Martin Schumig EC KAC
D Mario Altmann EC VSV
D Sven Klimbacher Austria Vienna Capitals
F Gerhard Unterluggauer EC VSV
F Daniel Oberkofler EHC Black Wings Linz
F Michael Raffl Leksands IF
F Manuel Latusa EC Red Bull Salzburg
F Thomas Koch EC KAC
F Daniel Welser EC Red Bull Salzburg
F Michael Grabner New York Islanders
F Thomas Vanek Buffalo Sabres
F Thomas Hundertpfund Austria EC KAC
F Markus Peintner EC VSV
F Andreas Kristler EC Red Bull Salzburg
F David Schuller EC KAC
F Gregor Baumgartner EHC Black Wings Linz
F Andreas Nodl Carolina Hurricanes
G Mathias Lange SC Bietigheim-Bissingen
G Bernhard Starkbaum Modo Hockey
G Rene Swette EC KAC
Projected Starter: Bernhard Starkbaum
Starkbaum gave a solid account of himself at the 2013 World Championships. He has climbed the ladder steadily in his professional career.
After playing in Austria for five seasons, Starkbaum moved on to the Swedish Elite League and compiled a 2.06 goals-against average with a .933 save percentage.
Projected backups: Mathias Lange and Renne Swette
The 28-year-old Lange has played in seven different leagues over the course of his career. He played college hockey at RPI and he had his best season in 2011-12, when he had a 1.48 GAA while playing in Germany.
Swette has played for Klagenfurt in the Austrian league for the last five years. He earned a spot on the Austrian team that played in the World Championships last year, but he did not see any action.
Projected Defensive Pairings
| | | |
| --- | --- | --- |
| Pairing | Player | Player |
| 1 | Thomas Pöck | Robert Lukas |
| 2 | Florian Iberer | Martin Schumig |
| 3 | Andre Lakos | Mario Altmann |
The Austrian defense consists of players who are going to have to show dramatic improvement if they are going to stop the best international forwards.
The standard of play in Austria was strong enough to help them earn a spot in the Olympics, but the Austrians are going to be challenged at a much higher level than they have ever been at before.
Pock played five seasons in the NHL, including 44 games with the New York Rangers 2006-07 and 59 games with the New York Islanders in 2008-09. The Austrians are going to lean heavily on him for his high-level experience, but he is merely an ordinary player.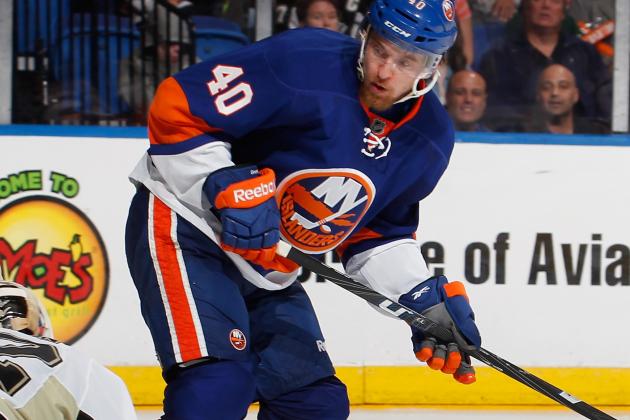 Paul Bereswill/Getty Images

Projected Forwards Lines
| | | | |
| --- | --- | --- | --- |
| Line | | | |
| 1 | Thomas Vanek | Thomas Hundertpfund | Michael Grabner |
| 2 | Daniel Oberkofler | Michael Raffl | Andreas Nodl |
| 3 | Manuel Latusa | Thomas Koch | Daniel Welser |
| 4 | Markus Peintner | Andreas Kristle | David Schuller |
Vanek and Grabner are the two best players on the Austrian Olympic hockey team by a wide margin. Vanek can be an explosive goal scorer when he gets on a hot streak. He could easily score two or more goals in a game, but he has been a streaky player who has been troubled by injuries.
Grabner has plenty of speed and had a 34-goal season in 2010-11. When Grabner turns the corner, he can get to the net and get off a quick, dangerous shot.
Nodl had 11 goals and 11 assists in 2010-11 for the Philadelphia Flyers, and that remains his most productive NHL season. Hundertpfund had a decent showing in the 2013 World Championships. He is a solid passer.
Strengths
Offensive talent: The Austrians should be able to score a few goals in the Olympic tournament. Perhaps not enough to win games, but enough to scare some of their opponents if they don't respect players like Thomas Vanek, Michael Grabner and Thomas Hundertpfund.
Those three should play on Austria's first line and are capable of scoring against anyone. However, they are not likely to dominate, just hold their own.
Weaknesses
Defense: The Austrians don't have the experience or talent to play with the second-tier teams in the Olympics, let alone the best teams. This is likely to be their undoing in the tournament. Bernhard Starkbaum is a decent international goaltender, but he would need a lot of help from the defense for the Austrians to have a chance at competing.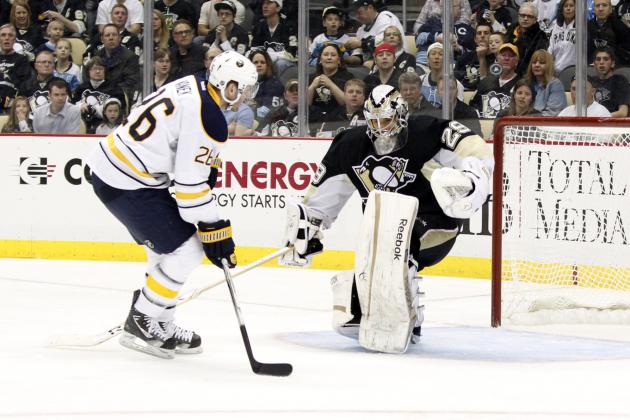 USA TODAY Sports

Thomas Vanek
If the Austrians are going to have a chance at any success in the Olympics, it's going to be as a result of Vanek's ability to put the puck in the net. Vanek got out of the gate with 11 goals and 12 assists in his first 11 games last year and finished the 2013 season with 20 goals and 21 assists. Vanek has scored 30 or more goals four times in his NHL career.
Michael Grabner
Grabner is one of the fastest skaters in the NHL and when he turns the corner, he has the ability to cause big problems for the defense. He has a strong shot and is capable of putting the puck in the top corner.
Bernhard Starkbaum
It's quite unlikely that the Austrians are going to threaten Canada or Finland in Pool B of the Olympic hockey tournament, but if they are going to give either of those teams a headache, it's because Starkbaum stands on his head and makes critical saves throughout the game. A strong game by Starkbaum could give the Austrians a win over Norway, the fourth team in Pool B.
It's likely to be a very painful run at the Olympics for Austria, which earned its spot in the Olympics at the expense of the Germans.
The Austrians will have to face Finland in the opening round, a nation that has a plethora of Olympic talent. It's a bad matchup because the Austrians are going to depend on their best goal scorers like Thomas Vanek and Michael Grabner to lead the way, but the Finnish team can choose from a number of top-level goaltenders like Antti Niemi, Pekka Rinne and Tuukka Rask to shut down the Austrian goal scorers.
It's not going to get any better when the Austrians face Canada in the second game. Canada is probably the deepest and most talented team in the tournament, and the Canadians are likely to overwhelm Austria. However, if Thomas Vanek can score a couple of early goals against Canada's shaky goaltending, the Austrians will cause headaches for Mike Babcock's team.
Could the Austrians beat Norway in their third Pool B game? Certainly, but it's also likely to be Norway's only chance at a win. This game will be for the pride of getting a win in the Olympics.
Prediction: Look for two blowout defeats against Finland and Canada and a close loss to Norway. It will be an 0-3 record at the Olympics.