New York Jets 2013 Team Roster: Report Card Grades for Every Position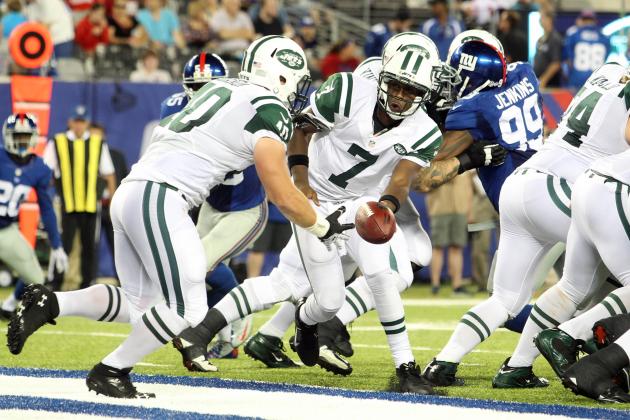 Brad Penner-USA TODAY Sports

After a month of training camp and preseason games, the Jets' final list of 53 players has finally taken form after the last round of cuts.
Still, no player whose position was even slightly in question should feel much relief of job security. Rebuilding teams like the Jets tend to do a lot of tinkering with the bottom of their roster as the season goes on, adding players who were not good enough to make stronger teams but are better than what lesser teams like the Jets have to offer.
Outside of a few minor surprises, there were not many shocks from the Jets on cut day. The Jets will continue to make changes as other players become available and players return from injury or suspension.
Here is a final breakdown of every position on the Jets and how they grade out entering the 2013 season.
Begin Slideshow

»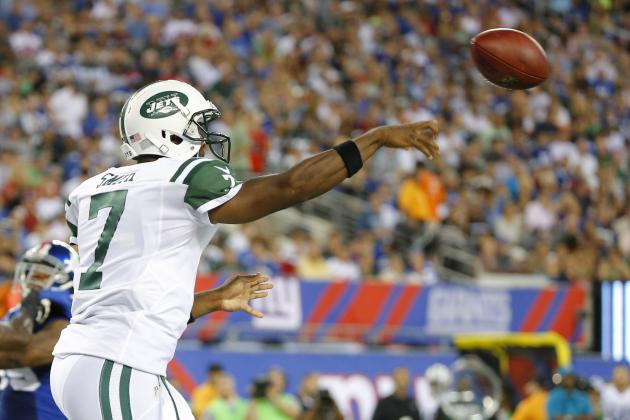 Jim O'Connor-USA TODAY Sports

| | |
| --- | --- |
| Depth | Player |
| 1 | Geno Smith |
| 2 | |
| 3 | Matt Simms |
| 4 | |
No position on the team is as murky and unclear as the quarterback position.
If all players were healthy, Mark Sanchez would likely be the starter on opening day against the Buccaneers. Despite getting the nod in the all-important third preseason game, Geno Smith failed to seize the job, throwing three interceptions in less than a full game.
Smith's performance was not as bad as some of the headlines made it seem, but last Saturday night did show that perhaps another month of learning on the bench would be best for him.
Manish Mehta of the New York Daily News reports that Sanchez will not be able to start versus the Buccaneers, which makes Smith the winner by default.
While it has certainly not generated the same type of media attention, the battle for the third quarterback job has been just as fierce. Matt Simms was able to ultimately win the job because of his powerful arm and potential to develop into a starter.
Simms lost this battle last year, but he showed a tremendous improvement in his accuracy in the preseason finale, completing 33 of 44 passes for 285 yards.
GRADE: C-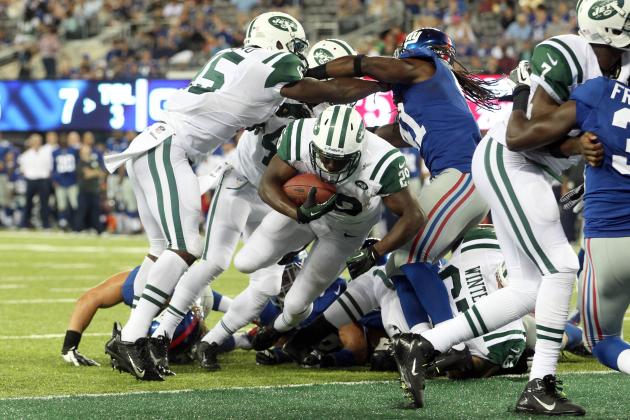 Brad Penner-USA TODAY Sports

| | |
| --- | --- |
| Depth | Player |
| 1 | Bilal Powell |
| 2 | Chris Ivory |
| 3 | Alex Green |
| 4 | Tommy Bohanon (FB) |
Most would have expected Chris Ivory to have seized the starting job by now, but Bilal Powell's strong camp combined with Ivory's hamstring problems out of the gate leaves Powell at the top of the depth chart—for now.
Ivory's skill set makes him a logical candidate to be the bell-cow runner and eventually get the bulk of the carries, but the Jets clearly trust Powell more to give him the heavier workload. When Ivory becomes more comfortable in the offense, his role could certainly increase.
Mike Goodson will give this unit a boost when he returns from his four-game suspension. Bohanon, the only fullback on the roster, becomes an immediate starter at his position.
GRADE: B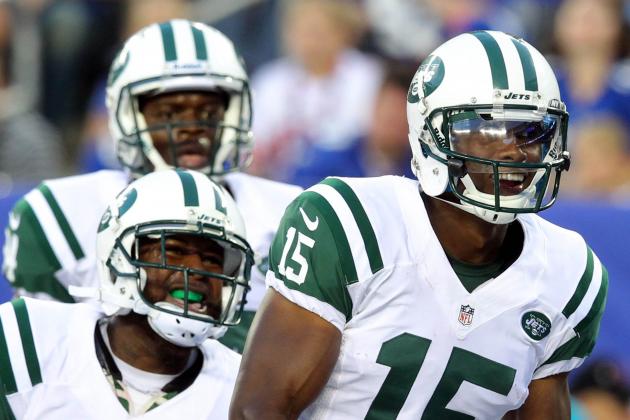 Brad Penner-USA TODAY Sports

| | |
| --- | --- |
| Depth | Player |
| 1 | Santonio Holmes |
| 2 | Stephen Hill |
| 3 | Jeremy Kerley |
| 4 | Clyde Gates |
| 5 | Ryan Spadola |
The issue with the Jets receiving corps has never been talent. Injuries and inadequate depth (coupled with poor quarterback play) have made this unit look a lot worse than it really is.
There is no telling exactly when Santonio Holmes will return to the lineup, but he is still a tremendously talented player when fully healthy. Stephen Hill's struggles as a rookie are well-documented, but he too has tremendous raw ability and should only improve in his second season.
Meanwhile, Jeremy Kerley, the team's top receiver from 2012, should continue his effectiveness in the slot.
The story of the preseason has been undrafted Lehigh sensation Ryan Spadola, who has drawn comparisons to Wayne Chrebet with his toughness. If nothing else, Spadola provides valuable depth that was missing from last year's team in case injuries pop up again.
This position has a lot of uncertainty surrounding it, but it could wind up as one of the most improved units in football if they can avoid the injury bug.
GRADE: B-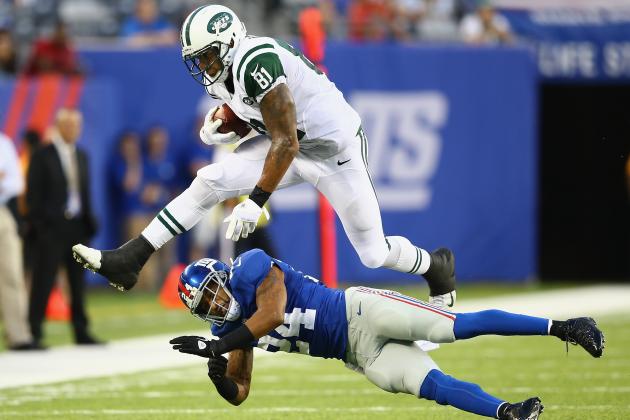 Al Bello/Getty Images

| | |
| --- | --- |
| Depth | Player |
| No. 1 | Jeff Cumberland |
| No. 2 | Kellen Winslow |
| No. 3 | Konrad Reuland |
This group of tight ends may just be the weakest offensive unit in football.
Jeff Cumberland has already surpassed expectations as a former undrafted free agent, but he has below-average blocking skills that make him a one-dimensional player. While a solid receiver, he is not exactly going to force defense to draw extra coverage in his direction.
Kellen Winslow could wind up as a valuable late-spring pickup if he can stay healthy, but he is a shell of his younger self after enduring a slew of knee and leg injuries throughout his career.
Konrad Reuland is a useful H-back and contributor on special teams, but don't count on him to morph into the next Rob Gronkowski anytime soon.
Unless Cumberland really outplays his pedigree or Winslow finds the fountain of youth, the Jets are going to struggle at this position in 2013.
GRADE: D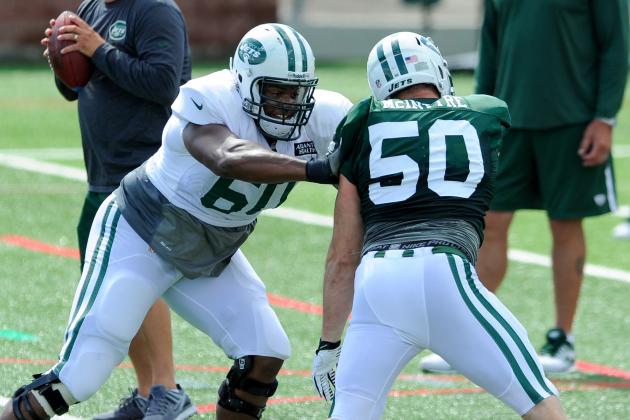 Rich Barnes-USA TODAY Sports

| | |
| --- | --- |
| Depth | Player |
| No. 1 | D'Brickashaw Ferguson |
| No. 2 | Austin Howard |
| No. 3 | Ben Ijalana |
| No. 3 | Oday Aboushi |
D'Brickshaw Ferguson should continue to live up to his reputation as one of the best pass-protectors in football. He is one of the few known commodities on the offensive line.
Austin Howard had a breakout season in 2012 at right tackle after he took Wayne Hunter's job in the preseason, grading out as one of the best 32 tackles in football in ProFootballFocus' rankings. Still, he will have to prove that last year was not a fluke to earn a long-term extension. Howard is a bit slow-footed but is a powerful run blocker who can at least "get by" in pass protection on the right side.
Oday Aboushi has been a bit of a disappointment in training camp so far. Even more slow-footed than Howard, Aboushi may be a better fit at guard in the NFL, although he will provide depth at the tackle position this year because of his experience playing the position in college.
Grade: B+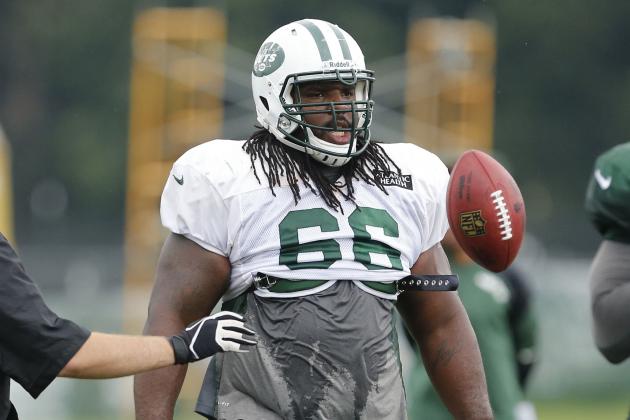 The Star-Ledger-USA TODAY Sports

| | |
| --- | --- |
| Depth | Player |
| No. 1 | Willie Colon |
| No. 2 | Vladimir Ducasse |
| No. 3 | Brian Winters |
| No. 4 | William Campbell |
The Jets will feature new starters at both guard positions, although only the right guard position has been locked up by veteran Willie Colon. Colon was an effective tackle and guard for the Steelers in 2010 and 2011, but lingering injuries led to his release. If Colon can stay healthy, he could wind up as one of the best bargain buys of the offseason.
The left guard situation is much more cloudy. Neither Vladimir Ducasse nor third-round pick Brian Winters has been able to seize the job, although Ducasse was solid in his preseason start against the Giants. Perhaps the former second-round bust has finally turned the corner to become at least a serviceable NFL starter.
One of the biggest surprises of cut day was sixth-round pick William Campbell making the roster. Very little was said about him as he tried to make the conversion to his college position at defensive tackle to guard, but it appears as if the Jets are willing to give him more time to learn a new position.
More to the point, John Idzik probably wasn't thrilled about the idea of cutting one of his draft picks in his first year as general manager.
GRADE: C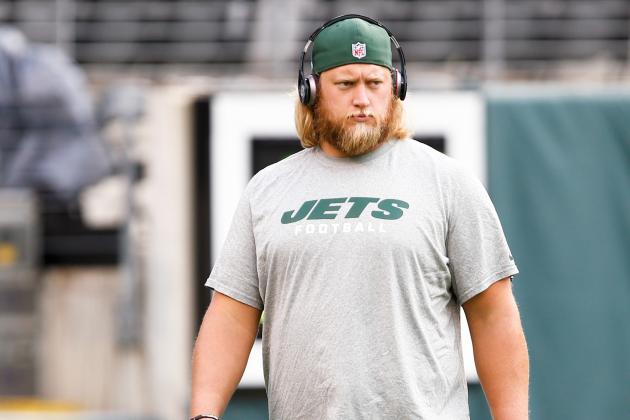 Debby Wong-USA TODAY Sports

| | |
| --- | --- |
| Depth | Player |
| No. 1 | Nick Mangold |
| No. 2 | Caleb Schlauderhaff |
The Jets have enjoyed excellence and stability at the center position over the last six years with Nick Mangold, who is showing no signs of slowing down. Breaking in two new guards is not going to be an easy process, but Mangold's presence should easy the process as well as any center could.
Caleb Schlauderhaff has been able to stick around because of his experience at center, but there is no depth behind him in case both Mangold and Schlauderhaff get hurt.
Grade: A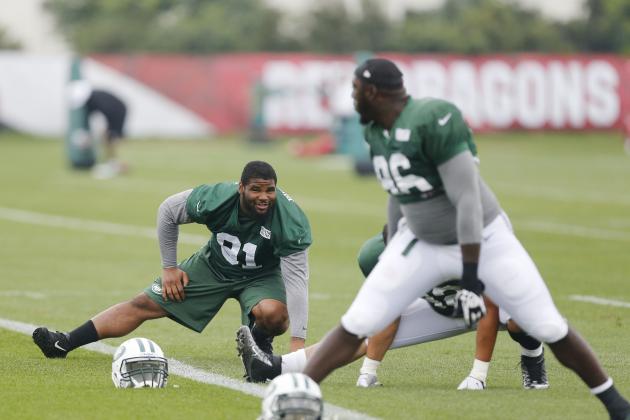 The Star-Ledger-USA TODAY Sports

| | |
| --- | --- |
| Depth | Player |
| No. 1 | Muhammad Wilkerson |
| No. 2 | Sheldon Richardson |
| No. 3 | Leger Douzable |
What was once a position occupied by slow, aging veterans has become the cornerstone of a rebuilt defense.
Muhammad Wilkerson was the most dominant 3-4 defensive end in football last year not named J.J. Watt, and he should only continue to improve entering just his third season. Wilkerson has always been a dominant run defender, but he has slowly improved his prowess as a pass-rusher, notching five sacks in 2012.
The Jets are hoping they can improve their interior pass rush with first-round pick Sheldon Richardson. With the movement ability of a 250-pound linebacker, Richardson oozes athletic gifts and should take advantage of the double teams Wilkerson is bound to get.
One of the biggest surprises of training camp was Leger Douzable, who had a sack in each of his last two games. His play made veteran Antonio Garay disposable.
This unit has the potential to be among the best in football, but they will need a rookie in Richardson to produce right off the bat.
GRADE: A-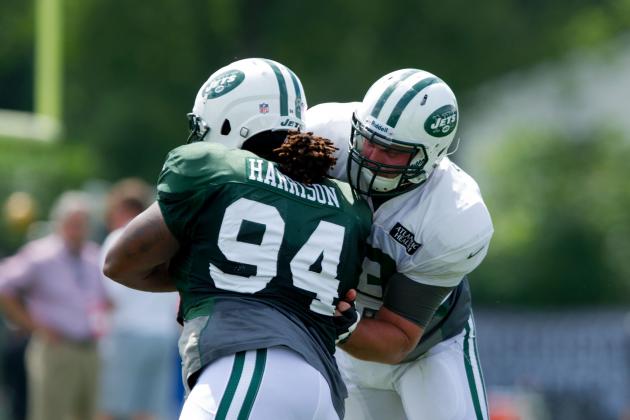 Rich Barnes-USA TODAY Sports

| | |
| --- | --- |
| Depth | Player |
| No. 1 | Kenrick Ellis |
| No. 2 | Damon Harrison |
Entering his third season and his first as the assumed starter, Kenrick Ellis will be under the spotlight after spending the last two years either sitting behind Sione Pouha or battling injuries. A talented physical specimen out of a small program at Hampton, Eillis has had plenty of time to adjust to the professional ranks.
Meanwhile, Damon Harrison has beaten the odds as a former undrafted free agent in 2012 to be one of the players deemed to valuable to play in the preseason finale. Not only does Harrison provide valuable depth behind the oft-injured Ellis—he would potentially push him for playing time.
This position is reliant on a lot of untapped potential, but this duo could be one of the best nose tackle groups in football.
GRADE: B+
The Star-Ledger-USA TODAY Sports

| | |
| --- | --- |
| Depth | Player |
| No. 1 | David Harris |
| No. 2 | Demario Davis |
| No. 3 | Josh Mauga |
| No. 4 | Nick Bellore |
Keeping five inside linebackers is a bit on the high side, but all of these players have earned a spot on roster.
Despite being a former All-Pro player, David Harris is as much of a question mark as anyone else. He graded out as the worst Jets defender last year, according to ProFootballFocus.com. Harris was never stout in coverage, but he was uncharacteristically dreadful against the run in 2012.
The Jets have lost one of their emotional leaders in Bart Scott, but what they lost in experience they make up for in coverage ability with the young, athletic Demario Davis. Davis was eased into the starting role last season, which should prepare him for a full 16-game slate as a starter in 2013.
Josh Mauga and Nick Bellore played consistently well on both defense and special teams that warrant keeping so many inside linebackers. Besides, with a new full-time starter in Davis, adding some extra depth is not a bad idea.
Grade: B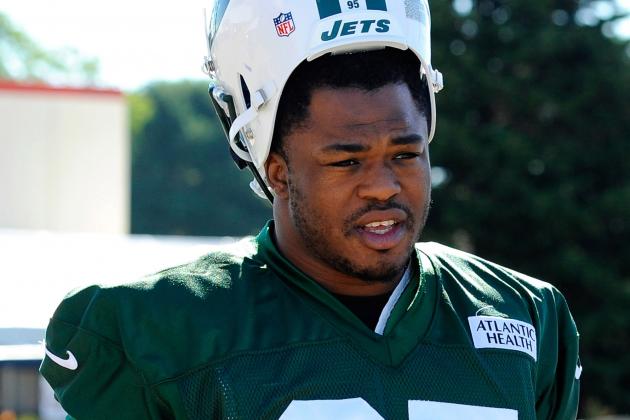 Rich Barnes-USA TODAY Sports

| | |
| --- | --- |
| Depth | Player |
| No. 1 | Calvin Pace |
| No. 2 | Quinton Coples |
| No. 3 | Antwan Barnes |
| No. 4 | Garrett McIntyre |
| No. 5 | Ricky Sapp |
| No. 6 | Scott Solomon |
What will make or break this positional group this year will be how quickly Quinton Coples adapts to his new position at rush linebacker. However, his growth in his new position will be stunted after he fractured his ankle earlier in the preseason.
The question for Coples will not be whether or not he can be an effective pass-rusher. Rather, he will have to prove that he can learn to play out in space—something he never did at North Carolina.
Meanwhile, Calvin Pace won't embarrass himself setting the edge in the run game going into his 10th season, but he won't explode into being an effective pass-rusher either. The Jets are hoping Antwan Barnes, two years removed from an 11-sack season, will pick up the slack rushing off the edge.
Garrett McIntyre is a serviceable backup who can rush the passer better than one would expect. Ricky Sapp has managed to hang on to his roster spot with a solid performance in the preseason finale and provides solid depth, but he has failed to prove that he can produce against starters.
Grade: C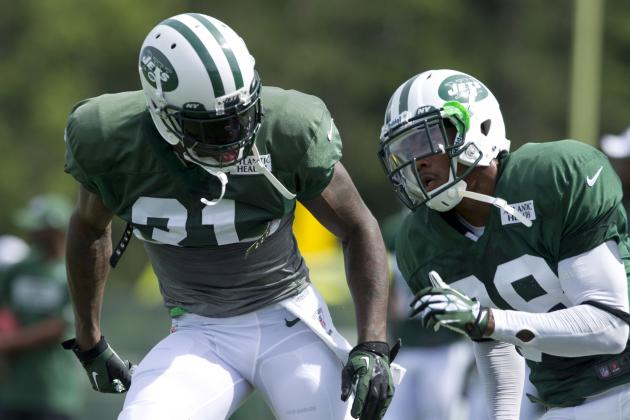 Rich Barnes-USA TODAY Sports

| | |
| --- | --- |
| Depth | Player |
| No. 1 | Antonio Cromartie |
| No. 2 | Dee Milliner |
| No. 3 | Kyle Wilson |
| No. 4 | Darrin Walls |
| No. 5 | Ellis Lankster |
| No. 6 | Isaiah Trufant |
While he performed admirably in Darrelle Revis' absence last year, the Jets are putting a lot of trust that Antonio Cromartie will be able to repeat his dominant 2012 campaign.
No team gets better after parting ways with a player like Revis, but this position group is about as deep as it has ever been under Rex Ryan's watch, mostly thanks to the emergence of former undrafted free agent Darrin Walls.
A midseason pickup from last year, Walls has played well enough to warrant a starting job opposite Cromartie. If the Jets are truly committed to "fair and open" competition, they should give Walls the starting nod over first-round pick Dee Milliner.
Milliner, on the other hand, has had a disappointing preseason. Not only did he suffer a calf injury, his lackluster preseason debut drew public criticism from Rex Ryan and Antonio Cromartie.
If Milliner is able to turn the corner (no pun intended) in his development, the Jets should field one of the top cornerback units in the NFL.
GRADE: A-
Jim O'Connor-USA TODAY Sports

| | |
| --- | --- |
| Depth | Player |
| No. 1 | Dawan Landry |
| No. 2 | Antonio Allen |
| No. 3 | Jaiquawn Jarrett |
| No. 4 | Josh Bush |
This group is the defensive version of the Jets' tight ends: heavily reliant on unproven players with run-of-the-mill veterans occupying the empty space.
Dawan Landry is a serviceable in-the-box safety who won't make many spectacular, game-changing plays like his brother is famous for. Landry will do for this year, but he is the type of player a team will always be looking to move on from.
The real battle to watch is at the free safety position, where neither Antonio Allen nor Jaiquawn Jarrett has been able to separate themselves. Not only are both players inexperienced, they are both better suited to play up in the box as strong safeties.
There is some potential between Jarrett and Allen, but there will be plenty of growing pains as the Jets try to force them into a position they are not comfortable in.
GRADE: C-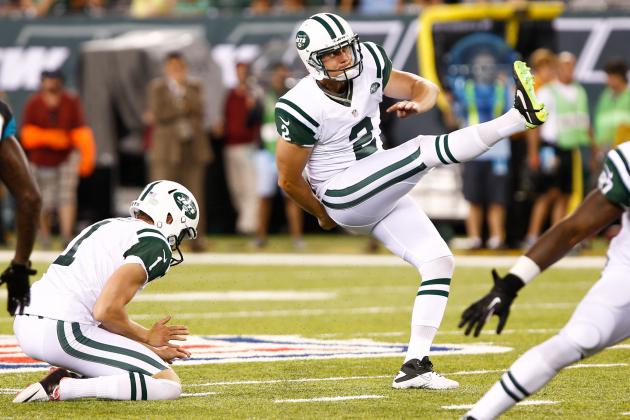 Debby Wong-USA TODAY Sports

| | |
| --- | --- |
| Position | Player |
| Kicker | Nick Folk |
| Punter | Robert Malone |
| Long Snapper | Tanner Purdum |
| Kick Returner | Clyde Gates |
| Punt Returner | Jeremy Kerley |
Nick Folk wins himself yet another kicking competition to secure his job for one more season, beating out both Billy Cundiff and Dan Carpenter. Every year, the Jets bring in heavy competition for Folk's job, but he has risen to the occasion over and over.
Meanwhile, Robert Malone was able to hold off Ryan Quigley to keep his punting gig.
After releasing Joe McKnight, the Jets will have a new kick returner. Effective as the primary returner in the second and third preseason game, it appears as if the speedy Clyde Gates will assume McKnight's duties on kickoffs.
GRADE: B
Advanced stats provided by ProFootballFocus.com (subscription required).