The NFL preseason is almost in the books, which in turn means the somewhat boring action with mostly backup players will give way to the regular season.
Week 4 of the preseason is generally the one most skip-worthy for fans, but it's the most critical for players and coaching staffs, as teams must cut down from 75 to 53 players by Saturday, Aug. 31.
The extensive time will give coaches plenty of film to work with to meet the limit.
Here is the full slate of games on tap, with predictions and analysis to follow.
NFL Preseason Schedule Week 4

| | | | | |
| --- | --- | --- | --- | --- |
| THU, AUG 29 | TIME (ET) | TV | LOCATION | PREDICTED WINNER |
| Detroit at Buffalo | 7 p.m. | | Ralph Wilson Stadium | Bills |
| Philadelphia at N.Y. Jets | 7 p.m. | | MetLife Stadium | Eagles |
| Indianapolis at Cincinnati | 7 p.m. | | Paul Brown Stadium | Bengals |
| New Orleans at Miami | 7:30 p.m. | | Sun Life Stadium | Saints |
| Jacksonville at Atlanta | 7:30 p.m. | | Georgia Dome | Falcons |
| Pittsburgh at Carolina | 7:30 p.m. | | Bank of America Stadium | Steelers |
| Washington at Tampa Bay | 7:30 p.m. | | Raymond James Stadium | Redskins |
| N.Y. Giants at New England | 7:30 p.m. | NFL Network | Gillette Stadium | Giants |
| Tennessee at Minnesota | 8 p.m. | | Mall of America Field | Vikings |
| Green Bay at Kansas City | 8 p.m. | | Arrowhead Stadium | Packers |
| Houston at Dallas | 8 p.m. | | AT&T Stadium | Texans |
| Cleveland at Chicago | 8 p.m. | | Soldier Field | Bears |
| Baltimore at St. Louis | 8 p.m. | | Edward Jones Dome | Rams |
| Arizona at Denver | 9 p.m. | | Sports Authority Field | Broncos |
| San Francisco at San Diego | 10 p.m. | NFL Network | Qualcomm Stadium | 49ers |
| Oakland at Seattle | 10 p.m. | | CenturyLink Field | Seahawks |
CBSSports.com
Detroit Lions at Buffalo Bills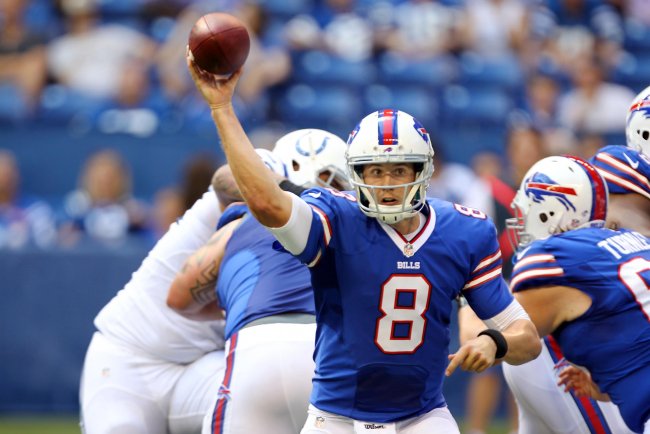 Brian Spurlock-USA TODAY Sports
This is the game to watch for all the wrong reasons thanks to Buffalo's serious woes at the quarterback position.
Rookie EJ Manuel is steadily recovering from a minor knee injury but won't play, while veteran Kevin Kolb is suffering from a concussion that could threaten his career, per Tim Graham of the Buffalo News:
Source tells me Bills concerned Kevin Kolb's concussion may be career-ending and they're proceeding with that in mind.

— Tim Graham (@ByTimGraham) August 25, 2013
That leaves undrafted rookie Jeff Tuel as the front-runner ahead of newly acquired Matt Leinart and Thad Lewis. Graham has also said Tuel will enter Week 1 as the starter if Manuel is not fit to play:
Doug Marrone says plan is for Jeff Tuel to start against Patriots on opening day.

— Tim Graham (@ByTimGraham) August 26, 2013
Now, the tough decision is what to do with Tuel against the Lions. Should the team play him and hope its third-string quarterback does not get hurt? Or does the team take a risk and play him for most of the game in the hope he can continue to improve on his way to making his first NFL start?
For Detroit, things are much simpler. Backup quarterback Kellen Moore has been one of the main focal points this preseason, and he'll fight for a spot on the final 53-man roster against Buffalo. He threw for 150 yards and two scores against the Patriots in Week 3 to make his case so far.
It's not exactly a contest full of elite quarterback play, but one to watch nonetheless with so many jobs on the line.
Philadelphia Eagles at New York Jets
The quarterback competition in Philadelphia is over, with head coach Chip Kelly naming Michael Vick the starter, but the defense is still adapting to a new scheme, and jobs will be won or lost based on the performance against the hapless Jets.
Speaking of the Jets, that's the team to watch this week. Starting quarterback Mark Sanchez is dealing with a bruised shoulder, per ESPN's Adam Schefter:
Jets QB Mark Sanchez has a bruised right shoulder joint, per league source.

— Adam Schefter (@AdamSchefter) August 26, 2013
Sanchez was inexplicably placed in the game last week and suffered the injury as a result, which has placed head coach Rex Ryan under a large amount of scrutiny.
To make matters worse, rookie quarterback Geno Smith had a horrendous start in the same game and managed not only to toss three interceptions, but also to step out of the back of the end zone under his own power for a safety.
Manish Mehta of the New York Daily News had suggested before the game the starting job was Smith's unless he could not take care of the ball. So much for that:
Geno Smith's first career start is over: 12 drives. 16 for 30, 199 yards, 1 TD, 3 INT, safety, 45.7 QB rating. #nyj

— Manish Mehta (@MMehtaNYDN) August 25, 2013
Now the Jets have a ridiculous (and entertaining) situation going down at the quarterback position with one game to go. Enjoy the ride.
Tennessee Titans at Minnesota Vikings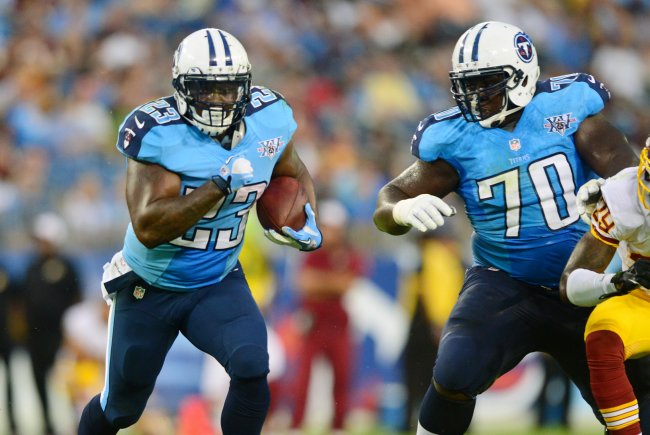 Don McPeak-USA TODAY Sports
Chris Johnson of the Tennessee Titans is experiencing a bit of a career resurgence this preseason thanks to the excellent run-blocking line headed up by rookie Chance Warmack and free-agent acquisition Andy Levitre.
CJ2K has managed to tally 165 yards on the ground in limited action. While he may not see the field against the Vikings, the offensive line will still be a treat to watch. The line has made Shonn Greene look competent, as he has totaled 78 yards and a score—not bad for a man who averaged just 3.9 yards per carry last season.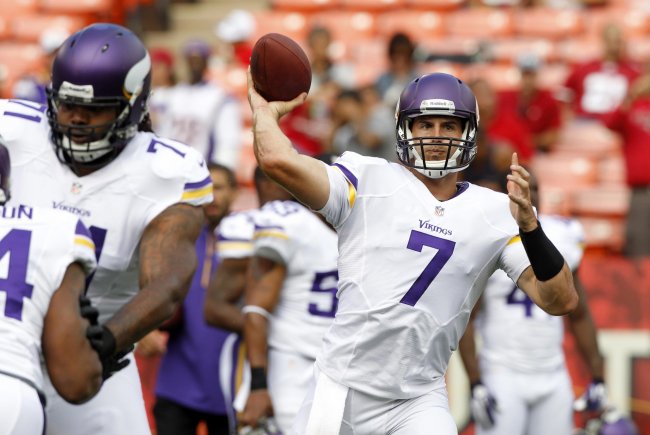 Cary Edmondson-USA TODAY Sports
Minnesota is an intriguing team to watch too. The quarterback situation is not as secure as some would think. Through three games, Christian Ponder has done little to instill confidence with his 62 completion percentage, 184 yards and two touchdowns and interceptions.
Many of the starters may not see the field overall, but there are plenty of intriguing storylines such as fullback Jerome Felton, otherwise known as Adrian Peterson's best friend, being suspended the first three games, per NFL Network's Ian Rapoport:
NFL: #Vikings FB Jerome Felton, Adrian Peterson's escort, suspended 3 games for violating the NFL Policy & Program for Substances of Abuse

— Ian Rapoport (@RapSheet) August 26, 2013
The door is open in Minnesota for plenty of talent to step up. Cutting down to 53 won't be an easy task for either squad, but the contest between the two will make things a bit easier.
Watch to see who steps up with limited playing time.
Follow B/R's Chris Roling on Twitter for more news and analysis @Chris_Roling