Why Fans Want to See Carlos Condit Get Another Crack at UFC Gold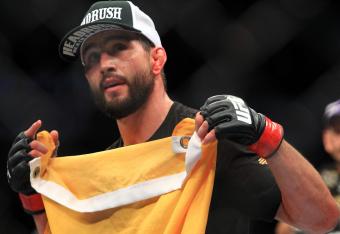 Pat Lovell-USA TODAY Sports
He received $120,000 in "Fight of the Night" bonuses from UFC 154 and UFC 158, collectively, but Carlos Condit still came up painfully short in his pursuit to best the world's top two welterweights.
Condit seemingly regained his footing and showed a slightly refined wrestling game with a TKO win over Martin Kampmann in their main-event bout at UFC Fight Night 27 on Wednesday.
The win will help Condit dilute the memories of disappointing setbacks to Georges St-Pierre and Johny Hendricks, who scored a combined 19 takedowns in eight rounds in his previous two outings.
Condit's victory will also give his fans leverage in their argument to see him score another welterweight title tilt in the near future.
"The Natural Born Killer" will certainly need continued support from his ravenous fan base if he intends to secure another shot at welterweight gold. After all, he proved at the UFC Fight Night 27 post-fight press conference that he's no Chael Sonnen when it comes to self promotion.
"I think that I solidified myself as a contender," a modest Condit said. "Yeah, I think that I'm still maybe a fight away from another title shot. I hope."
Longtime welterweight champ St-Pierre and the top-ranked Hendricks each narrowly nipped Condit, and they did so on the strength of their wrestling prowess.
Both men utilized grind-it-out, wrestle-heavy approaches that yielded success in the form of takedowns. But like Kampmann, both St-Pierre and Hendricks struggled with Condit's non-stop striking repertoire.
Unlike Kampmann, though, neither St-Pierre nor Hendricks ran out of gas in the face of "The Natural Born Killer's" relentless standup barrages.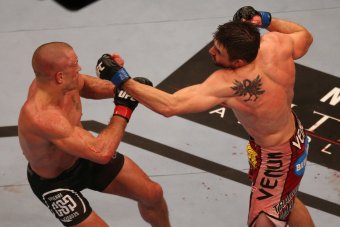 Tom Szczerbowski-USA TODAY Sports
At UFC 154, Condit outstruck St-Pierre 190-172. And although GSP landed 71 significant strikes to Condit's 36, "The Natural Born Killer" dropped the Canadian and nearly polished him off with a surprising head kick and follow-up ground-and-pound early in the third round.
Still, St-Pierre amazingly regained his composure to retain his title for a seventh straight time, earning a 49-46, 50-45, 50-45, unanimous decision.
Against Hendricks, who's slated to fight St-Pierre for the belt at UFC 167, Condit landed 94 strikes to "Bigg Rigg's" 69. "The Natural Born Killer" also delivered 42 significant strikes to Hendricks' 30.
When the curtain fell at UFC 158, however, Hendricks' blend of wrestling and power punching propelled him to a 29-28, 29-28, 29-28, unanimous decision.
Before his rematch with Kampmann, Condit finally decided to address his issue with defensive wrestling. He explained how he did so by saying:
Martin is a very well-rounded fighter. He's a good striker, but he's also good all around, so I knew that [wrestling] was something that I'd have to work on quite a bit. I worked with Izzy Martinez. I worked with Ricky Lundell, and I worked with Jake Herbert, who was a 2012 Olympian, on my wrestling. I was able to defend some takedowns that I most likely wouldn't have been able to had I not worked with those guys, so a lot of thanks [and] a lot of gratitude towards them.
Condit could undoubtedly challenge either man in a rematch, but does the UFC have better options for the winner of the St-Pierre-Hendricks bout?
At this point, Condit seems correct in his assumption that he'll have to pick up another high-profile win before getting another shot at UFC gold. Truth be told, other than Condit, the only other current world-ranked fighters that St-Pierre and Hendricks have beaten are Nick Diaz and Kampmann, respectively.
All stats gathered via Fightmetric.com.
This article is
What is the duplicate article?
Why is this article offensive?
Where is this article plagiarized from?
Why is this article poorly edited?