Texas A&M Aggies vs. Rice Owls Complete Game Preview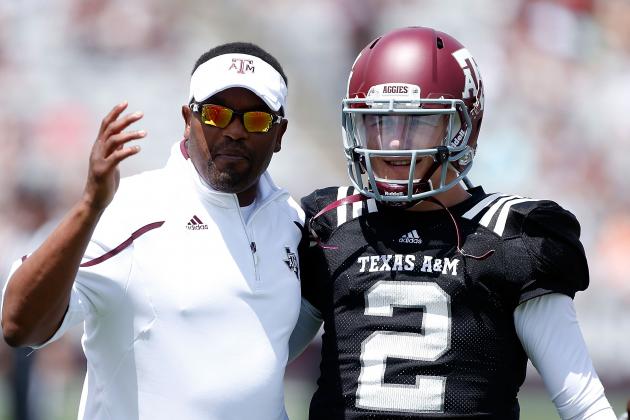 Scott Halleran/Getty Images

Following the Aggies' unforeseen 11-2 finish last season—capped-off by a dominant Cotton Bowl victory over Oklahoma—Texas A&M has reloaded with the intention of building upon last year's results. And it all starts Saturday against former Southwest Conference rival Rice.
The Owls enter the hostile environment of Kyle Field fresh off last season's five game win-streak, which concluded with an unprecedented bowl victory over Air Force in the Bell Helicopter Armed Forces Bowl.
However, all focus will be on A&M superstar and defending Heisman Trophy winner Johnny Manziel, who received a half-game suspension on Wednesday following an agreement between the university and the NCAA to end the investigation regarding the alleged autograph scandal swirling around the 20-year-old (h/t ESPN.com).
As for the game, though, here's all you need to know:
Time: 1:00 p.m. ET
Place: Kyle Field, College Station, Texas
TV: ESPN
Radio: Texas A&M Sports Network
Spread: Texas A&M by 27-28 points, per vegasinsider.com
*Unless otherwise noted, all quotes obtained firsthand
Begin Slideshow

»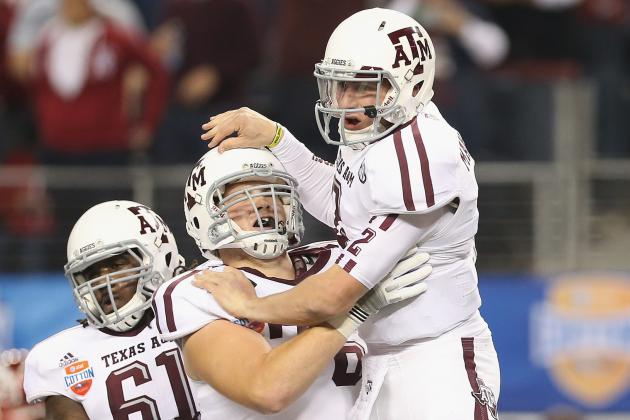 Ronald Martinez/Getty Images

Barring the Aggies fail to show up on Saturday, Texas A&M has enough reserve talent on its roster to dominate Rice. Despite the Owls' veteran roots, A&M holds an edge at every position across the board, and expect that factor to show considerably throughout the game.
Rely on Offensive Weapons
Behind head coach Kevin Sumlin's high-flying, air-raid offensive system, this squad has the potential to score, no matter who is under center. Due to Manziel's first-half suspension, though, either junior back-up Matt Joeckel or true freshman Kenny Hill will make the start at quarterback. With the Aggies' stable of running backs and top shelf wide receivers, however, the quarterback position should have a minimal effect on the game during the first half.
Defensive Aggression
While giant question marks continue to pop up all around A&M's defense, the Aggies have shown a certain aggression throughout spring and fall camp. If defensive coordinator Mark Snyder is able to harness that aggressiveness and unleash it periodically during the game, Rice's offense will have trouble maintaining drives and scoring down the stretch.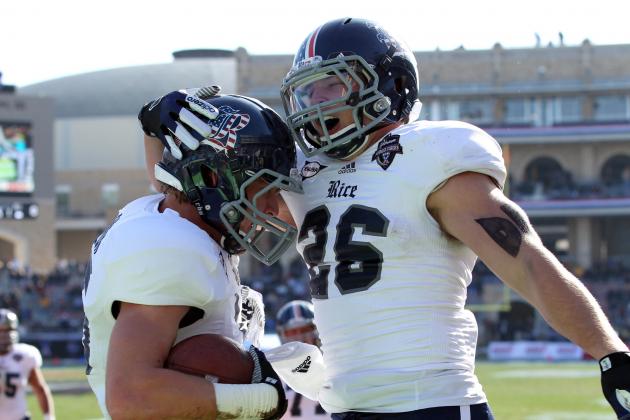 USA TODAY Sports

No matter from where one looks at it, Rice has matchup issues against Texas A&M. The Aggies' SEC speed showed through last season, and a build up of many of the nation's top recruits only added to that stable of talent this year. The only quality the Owls have on their side, though, is experience, a factor the veteran squad need to take early advantage of to have a chance at winning.
Take Advantage of Manziel's Absence
The first half of this game will be crucial to Rice. With Manziel benched and one of two backups on the field running the complex offense, head coach David Bailiff needs to throw every coverage scheme and blitz package he has up his sleeve at the Aggies. An excessive amount of turnovers combined with a incredible lead stands as the only possibility to hold off a talent like Manziel come the second half.
Attack a Young Defense
Texas A&M graduated or lost a heavy majority of its defensive leaders last offseason, meaning the Aggies are without veteran players at multiple key positions. According to defensive coordinator Mark Snyder (per Sam Khan Jr. of ESPN), A&M will play as many as 12 true freshmen come Saturday, a massive number. Rice's veteran offense run under fifth-year senior Taylor McHarque has the advantage in terms of experience, and it needs to use that quality early before adjustments can be made by A&M.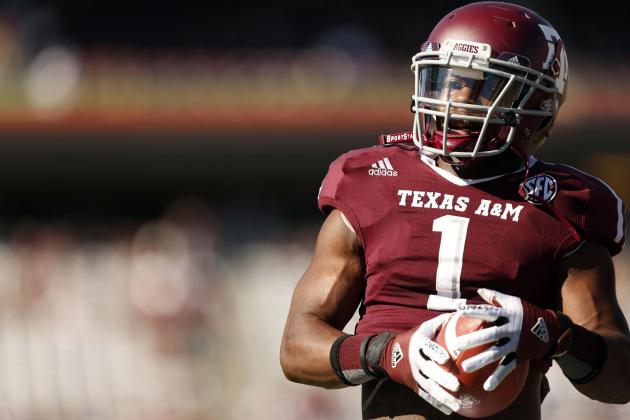 Thomas Campbell-USA TODAY Sports

Running Backs
Texas A&M enters the contest boasting arguably the best tailback corps in the nation. With four Division I-caliber backs—including senior Ben Malena and sophomores Trey Williams, Brandon Williams and Tra Carson—the Aggies almost have no reason to pass the ball against the Owls. Behind what might be A&M's most dominant offensive line to date, the Aggie rushing attack should prove deadly.
Wide Receivers
Despite losing Ryan Swope, Kenric McNeal and Uzoma Nwachukwu to graduation following last season, A&M returned 6'5" target Mike Evans while adding a stable of some of the nation's best talent to the unit—including, but not limited to, Ricky Seals-Jones, Sebastian LaRue and Laquvionte Gonzalez. Throw in veteran wideouts Sabian Holmes, Malcome Kennedy and Derel Walker, and A&M is beyond loaded at the postion.
Johnny Manziel
Let's be honest, Manziel is the reason anyone is airing this game on national TV in the first place. The defending Heisman Trophy winner may be benched for the first half, but a quick turnaround, a few touchdowns and some elusiveness will have the young quarterback right back where he left off last season come the third quarter.
Defensive Line
Down the stretch this season, A&M's defensive front will provide the key to success for the Aggies as a whole, particularly against SEC opponents. Keep an eye out for their performance against Rice's veteran offensive line, which should provide a solid challenge for the young unit.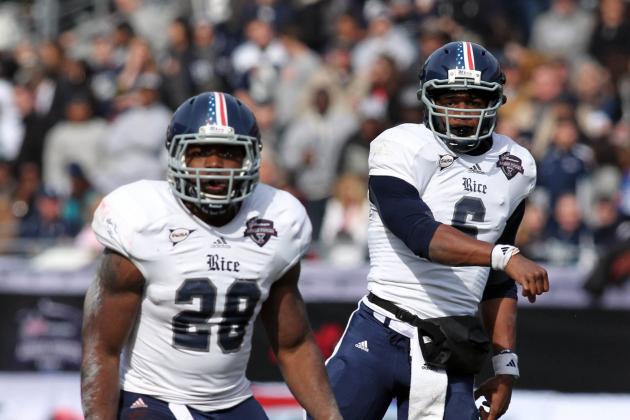 USA TODAY Sports

Taylor McHarque
Entering this season as a fifth-year senior, McHarque provides Rice with a veteran option at quarterback unlike most anywhere else in the nation. Under Bailiff's offense, the strong-armed quarterback has performed at an extremely high level and offers a deadly passing option when necessary.
Charles Ross
As last year's leading rusher for the Owls, Ross gained over 800 yards with five touchdowns, both solid numbers for a decent running back. With this season looming, though, expect Ross' contribution to increase significantly, especially as McHarque dominates opponent's gameplans.
Jordan Taylor
Another returning starter from last season's squad, Taylor adds his team-leading 57 catches for 826 yards to the mix for the Owls. With the potential to evolve into McHarque's favorite receiver for the second year in a row, expect Taylor to attack the A&M secondary with the hopes of creating a big play early on.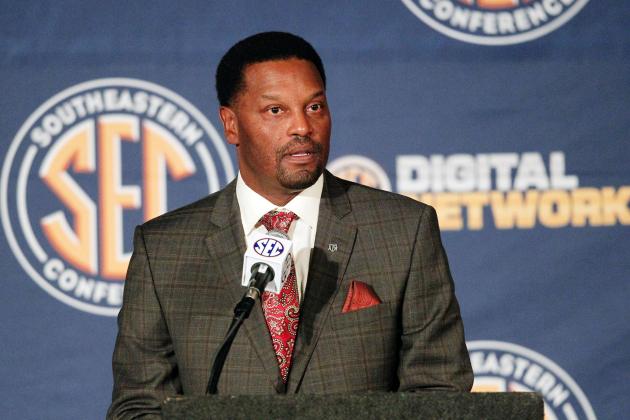 Marvin Gentry-USA TODAY Sports

Texas A&M unofficially opened the 2013 season Tuesday afternoon with its first of many weekly press conferences, as head coach Sumlin, his coordinators and four upperclassmen athletes broke down Rice and their offseason training regiment.
Looking forward into the season, Sumlin discussed the youth infused onto his roster over the course of the offseason as well as his plan to utilize their excessive amounts of talent (per KBTX.com):
We've got 31 newcomers on this roster which means more than a third of our football team is brand new. We didn't bring these guys here to stand next to me.
Additionally, Sumlin compared A&M to the experienced Rice team A&M will be facing this Saturday:
[Rice is] a veteran football team. They're really just the opposite of our team. They have all the pieces in place. We're still trying to find out who we are with some of these young guys in positions. We have a very talented group of young guys.We're going to have more answers about our team after the game on Saturday night.
As for the heavy amount of media exposure and attention A&M has been receiving as of late, senior defensive back Toney Hurd, Jr. added his thoughts on the team's mindset:
I feel like the team has embraced all the media. The positive issues bring more attention to our program. As for the major stuff, the coaches and all the right people are handling it in the right way. We love the attention and we love being No. 6 in preseason polls but we are fighting to be No. 1 in the country.
Scott Halleran/Getty Images

Final Score Prediction: Texas A&M 56, Rice 17
The combination of Texas A&M's talent, Kyle Field's hostility and the overall relevance of the game will prove too much for a solid, but out-matched, Rice squad.
Even behind their backup quarterback, the Aggies will surge to a commanding lead before Manziel's short, but still dominant, second-half performance shuts the door on the Owls.
Texas A&M will begin to gear for next Saturday's home contest against Division II opponent Sam Houston State, and Rice will begin preparations for its home opener versus Kansas two weeks from Saturday.