UFC Fight Night 27 Results: Top Ten Welterweights in the UFC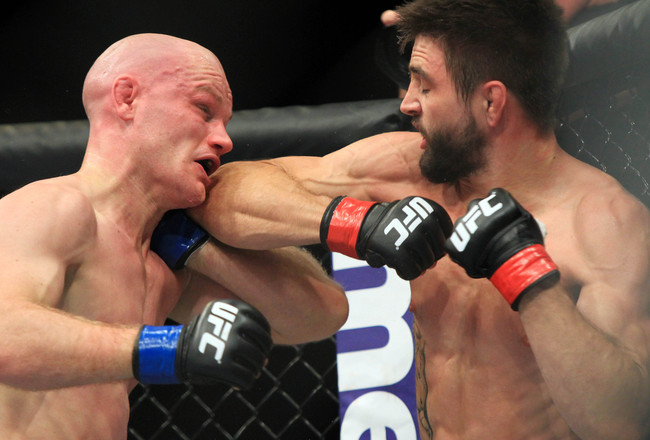 Pat Lovell-USA TODAY Sports
UFC Fight Night 27 was capped off by a top-10 welterweight clash between Carlos Condit and Martin Kampmann.
Entering the evening, Condit was ranked no. 2 and Kampmann wasn't far behind at No. 6.
Kampmann controlled the first round with his wrestling. Multiple takedowns prevented Condit from finding any success in the striking department. However, Kampmann would not find success on the mat again. Condit touched him up on the feet and eventually finished early in the fourth.
Now the welterweight ranks will have a small shuffle following the bout.
Here is a look at the top 10 welterweights in the world following UFC Fight Night 27.
No. 10: Robbie Lawler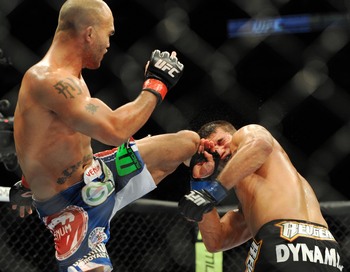 Jayne Kamin-Oncea-USA TODAY Spor
Robbie Lawler re-joined the UFC roster as a welterweight when he returned in February. That move paid off right away with a TKO win over Josh Koscheck.
That win instantly put him into the UFC's top 10 rankings, where he currently sits No. 9.
Lawler followed up that fantastic performance with a knockout of Bobby Voelker. He looked very sharp on his feet, and Voelker had no answer for his power. Lawler was instantly tapped as Rory MacDonald's next opponent, and that fight is set for UFC 167.
He will enter the bout as a sizable underdog, but a win could earn him a title shot. That would be an amazing story for the longtime veteran.
No. 9: Martin Kampmann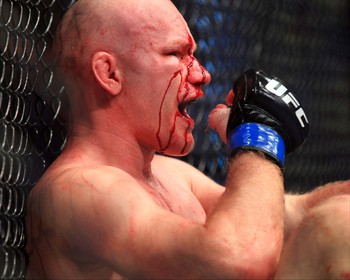 Pat Lovell-USA TODAY Sports
Martin Kampmann has now dropped two in a row, but those two are Carlos Condit and Johny Hendricks—the No. 2 and No. 1 ranked contenders respectively. So, Kampmann won't drop out of the top 10 in spite of his disappointing performance.
At UFC Fight Night 27, things started off very well for The Hitman. The takedowns were effective, but it quickly tired him out in a five-round bout. Condit was able to defend his takedown attempts in subsequent rounds and pick him apart on the feet.
Kampmann is a quality welterweight, but he may never reach the peak. There's nothing wrong with that, but it looks as though he is just a step behind the title contenders of the division.
The Hitman is well-rounded and could definitely prove me wrong, but he will need a win streak over some stiff competition to do so.
No. 8: Nick Diaz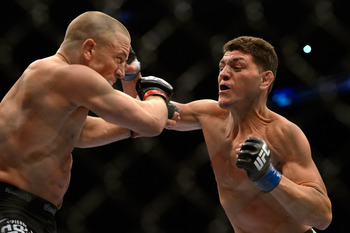 Eric Bolte-USA TODAY Sports
Nick Diaz lost in his bid to capture the UFC Welterweight Championship, and then he promptly retired. Sort of.
Diaz is already being talked about for a return trip to the Octagon, but it may be at middleweight. Until that happens, he is still a welterweight and deserves to be ranked as such. He truly is one of the 10 best in this division.
The polarizing figure generates significant interest from fans and haters alike, but one thing all can see is his talent. Diaz has excellent jiu-jitsu to go along with his unique brand of boxing. He is a dangerous foe for anyone in the division.
We will see if Diaz comes back and in which division, but the Stockton native should earn a marquee fight right away.
No. 7: Jake Ellenberger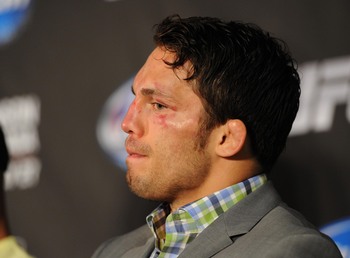 Jayne Kamin-Oncea-USA TODAY Spor
With back-to-back wins over Jay Hieron and Nate Marquardt, Jake Ellenberger was placed into a big-time showdown with Rory MacDonald at UFC on Fox 8.
That fight did not go as planned.
Ellenberger was stymied by MacDonald's jab, and he did not find success until a third-round takedown. Coming a little too late for the hard-hitting welterweight, it was a significant setback for Ellenberger.
His raw abilities make him a threat to everyone in the division. Including GSP. He brings incredible striking power to go along with his wrestling base. He has found a lot of success with his tools. When he steps through the cage door for his next fight he will be looking for his 30th career victory.
No. 6: Matt Brown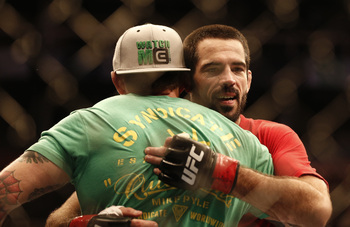 Winslow Townson-USA TODAY Sports
Matt Brown being this high on the list may surprise some folks, but it is hard to argue with what the welterweight brawler is doing.
In the UFC's deepest division it is hard to put together a streak of any significance. A six-fight win streak is incredibly impressive. More impressive? Finishing five of those six bouts by TKO or KO. That is exactly what Brown has done.
In his last three wins Brown has knocked out Mike Swick, rising prospect Jordan Mein and grizzled veteran Mike Pyle. Pyle himself entered that fight with a four-fight win streak.
With six straight wins Brown deserves respect and to be ranked about some of his welterweight counterparts. His next fight should be a top-tier opponent with a potential title shot hanging in the balance. He's earned the right for such a bout.
It would be hard to deny him a title shot with seven straight.
No. 5: Demian Maia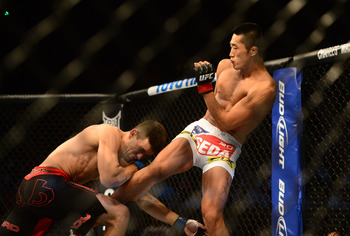 Mark J. Rebilas-USA TODAY Sports
Demian Maia is 3-0 since dropping to welterweight. That is excellent in itself, but Maia has looked very impressive in each of those bouts.
He has been downright scary.
His welterweight debut was quick. A takedown on Dong-Hyun Kim resulted in an injury to Kim. Maia followed that up with a blood-spurting submission of Rick Story in just 2:30 of action. In February, Maia was pitted against longtime top contender Jon Fitch.
Maia was supposed to be tested by Fitch, but instead he dominated him like only one person had ever done before—GSP.
Maia will go up against Jake Shields in October to try and continue his welterweight win streak en route to a potential title shot.
No. 4: Carlos Condit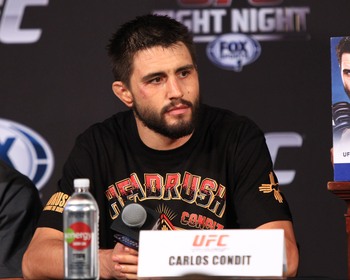 Pat Lovell-USA TODAY Sports
Carlos Condit took it to Martin Kampmann in the rematch. He avenged his UFC debut defeat and proved he is one of the elite welterweights in the world.
His only two other defeats inside the UFC came at the hands of the UFC 167 main event. Georges St-Pierre and Johny Hendricks.
The win puts him back on the winning sides of things. Condit now can rejoin the talks for receiving the next title shot. He will likely need another win, but there will be plenty of opportunities in the deepest division in the UFC.
Condit is an exciting fighter. He is a finisher. That bodes well for him getting a title shot before some of his other counterparts.
No. 3: Rory MacDonald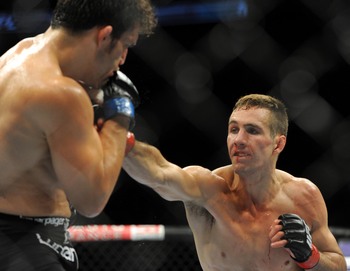 Jayne Kamin-Oncea-USA TODAY Spor
Rory MacDonald is a phenomenal fighter. His lone loss comes at the hands of Carlos Condit.
In that fight, MacDonald dominated Condit for two rounds before tiring. Then, Condit took over and finished with just seven seconds to spare. A narrow escape for Condit, but a learning experience for the youngster.
Since that time, MacDonald has reeled off five straight wins. Nate Diaz, Mike Pyle, Che Mills, BJ Penn and Jake Ellenberger have all failed in figuring out the Canadian's weakness. MacDonald has dominated each of those bouts.
Robbie Lawler is next for MacDonald.
An impressive performance could earn him a title shot. That could set him up against training partner GSP, and, if so, UFC president Dana White is confident that fight will happen.
No. 2: Johny Hendricks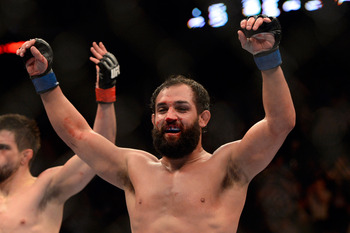 Eric Bolte-USA TODAY Sports
Johny Hendricks started off his UFC career with four straight wins. He ran his career tally to 9-0 prior to a setback to Rick Story in 2010.
Hendricks rebounded in 2011 with three wins. That included two knockout performances over TJ Waldburger and Jon Fitch. He also holds a KO over Martin Kampmann in November of 2012. In his last outing, Hendricks earned a title shot with a decision win over Carlos Condit.
Hendricks poses an interesting challenge to GSP. The two will meet at UFC 167 for the UFC Welterweight Championship.
The champ has fought hard-throwing wrestlers before, but there is something different about Hendricks. We will find out if the result will be different this fall.
No. 1: Georges St-Pierre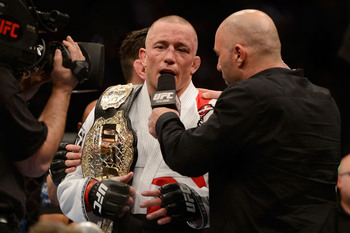 Eric Bolte-USA TODAY Sports
When GSP takes on Johny Hendricks he will be looking for his ninth straight title defense.
He has been criticized for his six straight decision wins but has dominated each of those fights. The champ has only been in trouble against Carlos Condit when he ate a head kick. However, the resolve of the champion was on display as he came back in that fight.
GSP is arguably the best pound-for-pound fighter today. Fantastic boxing, incredible wrestling and solid jiu-jitsu are all a part of his game. He can beat fighters at their own game or simply remove their strongest facet from their game plan.
There is no reason to beat a dead horse. GSP is the greatest welterweight in the world. Period.
Keep Reading