If you're a fan of the Philadelphia 76ers, Orlando Magic, Phoenix Suns or Utah Jazz, chances are you don't give a whit about the 2013-14 NBA season.
Actually, we can probably add fans of the Charlotte Bobcats, Sacramento Kings and Boston Celtics to the list of people whose only meaningful moment of the upcoming season will be the draft lottery, a day that's still nine months away.
These seven franchises have positioned themselves—blatantly in some cases—to lose as many games as possible in order to improve their odds at landing a top pick in the most loaded draft in recent years.
Over the past decade we've seen a shift in NBA front office staffs. Former players are running fewer organizations as "analytics" guys become more prevalent in general manager and player personnel roles.
This new wave of executive has realized that there are only two places you want to be as a franchise. Either near the top of the standings or at the very bottom.
If you don't have a shot at a title, the best course of action is to bottom out and hope you luck into drafting a franchise cornerstone.
Some call it the "Thunder Model," in reference to the Sam Presti-helmed Oklahoma City Thunder, who, you may recall, built a perennial contender by hitting home runs on top-four picks in three consecutive drafts from 2007-09.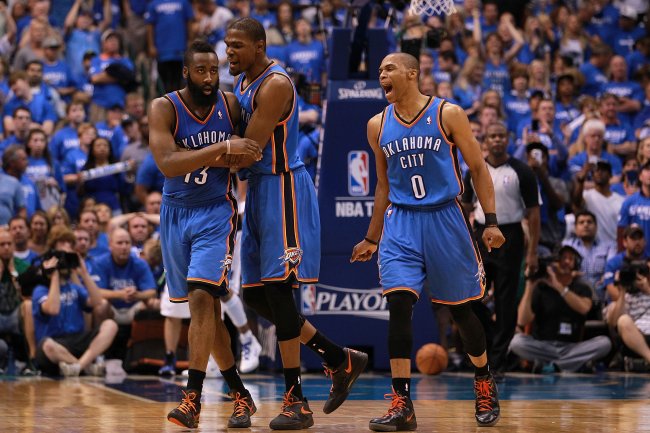 Ronald Martinez/Getty Images
But what it really is, pure and simple, is tanking.
Given the current rules, it's just about impossible to argue against the strategy. Tanking is like flopping; it's an unseemly act, but a necessary one to give your team a competitive edge.
None of us became basketball fans to root for our favorite teams to lose, but sadly that's just what many of us have come around to doing.
In fact, fans of teams like the Los Angeles Lakers, Dallas Mavericks and Milwaukee Bucks are actually angry at their teams for not throwing in the towel on the 2014 season and joining the Riggin' for Wiggins race.
Reversing the Odds
I'll spare you the spiel about why tanking is bad for the game. If you want a thoughtful, eloquent discussion on the detriments of tanking, I highly recommend checking out this insightful piece written by our very own Simon Cherin-Gordon earlier this month.
Suffice it to say that as NBA fans, we want a competitive league where everyone strives to win because that provides us with the most entertainment value and the greatest return on the time and hard-earned money we invest in the game.
This then, is a proposed solution to the widespread epidemic of throwing games—and now whole seasons—away.
The way the current lottery system is structured gives teams an incentive to lose because, obviously, the worse your record is the better odds you get at landing a top-three selection.
Now, what if we reverse that?
What if the better your record is, the better your odds are? It's a simple concept that instantly puts the emphasis on, you know, actually winning basketball games.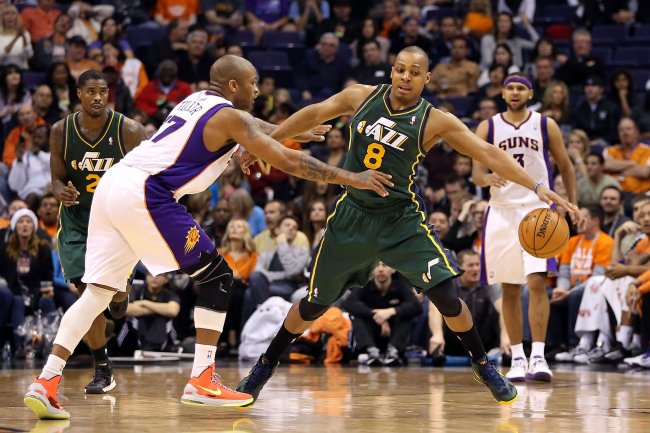 Christian Petersen/Getty Images
In this system, the non-playoff team with the best record gets the best chance at securing the No. 1 pick, and so on down the line. It's a method that has been bandied about plenty of times by plenty of people.
But it's still not quite right.
Let me put it to you through this hypothetical scenario that could have played out just a few months ago.
Imagine you're running the Lakers. It's Friday April 12, 2013. It's the 80th game of the season and you're locked in a heated battle with the Golden State Warriors.
With three minutes and eight seconds left in the game, Kobe Bryant goes down with an apparent injury. And it looks bad. He sinks his pair of free-throws like a boss before limping off the court, tying the game at 109 apiece.
Your team has been tenaciously chasing down the Utah Jazz in pursuit of the final playoff spot out West for weeks now. As a matter of fact you've just recently passed them and came into the night holding a one game edge in the standings.
You glance at your phone or iPad and see that Utah has already won tonight, pulling them to within a half game of you with two left to play.
Steve Nash is out of the lineup. Has been for two weeks. Metta World Peace just rushed back from freaking knee surgery three days ago to suit up for the stretch run because you have zero depth. And now it looks like your superduperstar just blew his Achilles (which anyone who saw that play live knew right away).
If the lottery system were such that the best non-playoff team got the best draft odds, wouldn't you immediately send word down to Mike D'Antoni to find a way to lose this game and the next two to let Utah slide in and set yourself up with the best shot at the top pick?
I mean, let's face it, the alternative is to gut out the final two games, get to the postseason, then get hacked to pieces by the buzz saw that is the Oklahoma City Thunder or the San Antonio Spurs, while also pushing your draft pick outside lottery territory.
That's what happened in real life, as the Lakers were unceremoniously swept by the Spurs in the first round.
Now, in the Lakers' case, they didn't own their first-round pick this year, but if they did and the lottery were structured thus, this is the dilemma they would have faced.
And we all know what choice we would have made if we were in charge.
We'd tank the end of the season.
Heck, if you were running the Jazz in that situation, and you were fading down the stretch and watched the Lakers pass you late in the year for the final playoff slot, you'd probably maneuver for the ninth seed instead of being postseason road kill.
Because bottom seeds are just playoff fodder for contenders in Round 1, you'd see scenarios like the hypothetical I just described play out every year. We'd get to the end of the season and teams would mini-tank to avoid a first-round beat down and snag a top lottery pick.
Stephen Dunn/Getty Images
It's not as bad as throwing an entire season down the drain, but it's still not the pure competition we're looking for.
Reward Teams Who Strive to Make the Postseason
That's why I propose we expand the lottery to include the bottom two seeds (No. 7 and No. 8) from each conference and reward those four teams with the best odds at winning a top pick.
The reasoning behind this is to give teams an extra incentive to make the playoffs. That's what we want as fans—for our teams to get into the dance and make some noise, even if we know they can't realistically win a title. Now we're giving them extra motivation to do so.
Why include the seventh seed as well when just giving the eighth seed the best lottery odds would serve to incentivize a playoff push?
For the sake of fairness.
In the 30 years since the NBA expanded the playoffs to the current 16-team format, eight seeds have won a total of 82 postseason games. Seven seeds? They've won 86.
In fact, eight seeds have actually won more playoff series than seven seeds have (seven to six).
| | |
| --- | --- |
| Seed | Playoff Games Won Since 1984 |
| 5 | 208 |
| 6 | 146 |
| 7 | 86 |
| 8 | 82 |
Running the numbers through a quick statistical test shows that the difference in average playoff games won per year between seven and eight seeds is not statistically significant.
However, that difference does become statistically significant when you compare seven and eight seeds to six seeds, who have won nearly twice as many games (146) over that 30-year span than their lower-seeded counterparts have.
The 1995 Houston Rockets won the NBA championship as a six seed, the lowest-seeded team ever to pull off that feat.
So if you're sixth or better, you can be competitive in the postseason and possibly make a run at a title. It's appears then that the cutoff point between going for it and maneuvering for draft position is the seventh seed in each conference.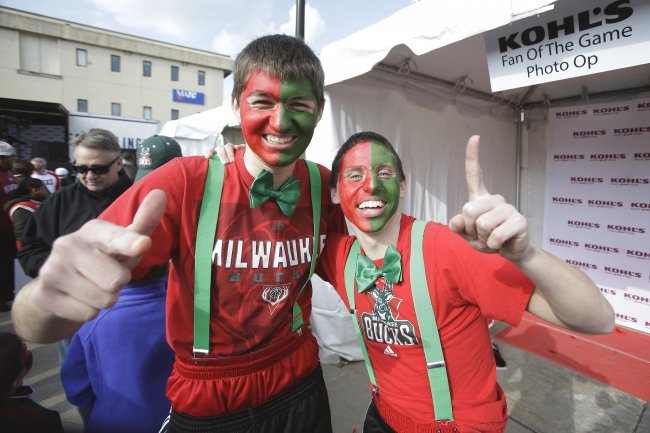 Mike McGinnis/Getty Images
Speed up the Rebuilding Process
One of the most frustrating things to endure as a fan is your favorite team going through a rebuilding phase.
Very rarely does rebuilding a team happen quickly and in the linear fashion we come to expect. More often than not your team misses on a draft pick or can't sign a top free agent the year it has cap space, pushing the timetable on becoming a contender back infinitely.
Ask any Toronto Raptors or Minnesota Timberwolves fan how it feels to hear the word "rebuild" year after year.
Even good teams with smart management have a hard time staying clear of the pitfalls of rebuilding.
Just look at what's happened to the Dallas Mavericks over the past couple of years.
After a breakthrough 2011 campaign brought a championship to Big D, the Mavs decided to strip down their title-winner in hopes of remodeling a new, longer-lasting contender around Dirk Nowitzki as he entered the twilight of his illustrious career.
We're talking about a championship team with a bona fide superstar playing in a big market for a progressive owner who's willing to spend.
Yet they struck out in successive offseasons on signing Deron Williams, Dwight Howard or Chris Paul and look to be mired in mediocrity for the rest of Dirk's tenure.
A key point in favor of this revised system is that it's much easier to build a title contender when the top draft picks go to teams that are already decent instead of to bottom-feeders floundering in perennial rebuilding projects.
Sure, you can strike it rich and become the Thunder. But you're more likely to end up like the Cleveland Cavaliers or Washington Wizards.
Cleveland has had the benefit of four top-four picks in the past three drafts. Washington has picked in the top six in each of the past four drafts. Both teams have had a No. 1 overall selection in that time as well (with Cleveland remarkably lucking into it twice).
Are those teams anywhere near title contention? Sure, they're still very young, but projecting forward can you really foresee either one of them growing into a dominant franchise?
Neither were in the top quarter of ESPN's latest edition of Future Power Rankings.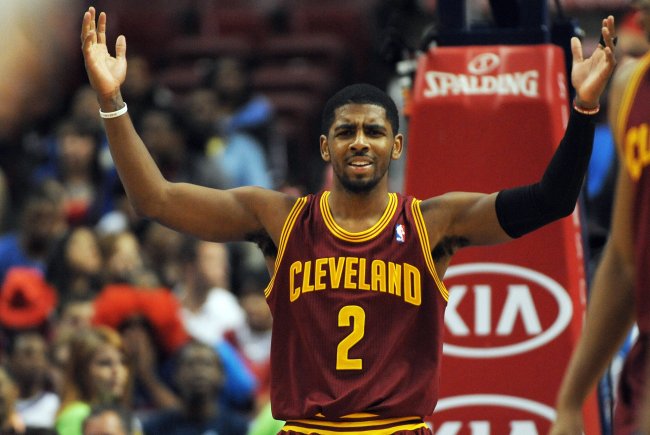 Eric Hartline-USA TODAY Sports
But imagine if Kyrie Irving was drafted by the Indiana Pacers (the eighth seed in the East in 2011). Considering how close the Pacers came to a title as presently constructed, it's possible that they may have even been the favorites last season with Irving on the roster.
Or what if the Boston Celtics (the seventh seed in the East in 2013) got the No. 1 pick in this year's draft, then flipped that pick and Paul Pierce to the Lakers for Dwight Howard, hanging on to Doc Rivers in the process. How different would the outlook for those two franchises be heading into 2014?
In this system, new juggernauts could emerge much more rapidly, leading to more competitive balance and turnover at the top of the league over the long haul.
It could be great for the careers of the players in question as well—the fragile 19 and 20-year-olds who are unfairly burdened with becoming franchise saviors.
If DeMarcus Cousins was selected by the San Antonio Spurs (the seventh seed in the West in 2010) instead of the train wreck that is the Sacramento Kings, would he be an All-NBA performer by now?
Would he be on his way to becoming one of the 10 best power forwards of all time if he were learning from the greatest ever at the position on a daily basis?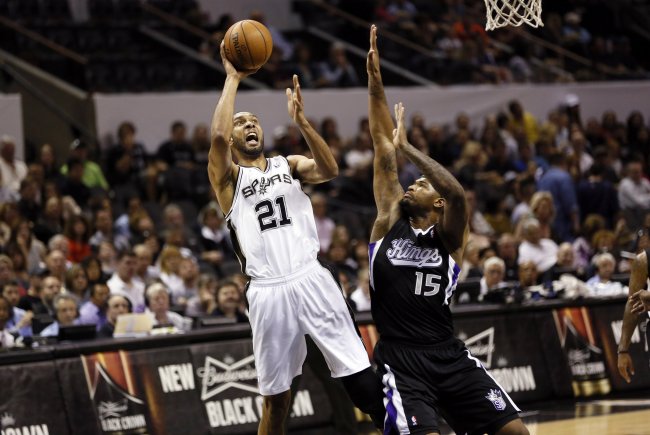 USA TODAY Sports
And would San Antonio be the two-time defending champions right now instead of the Heat?
The Issue of Parity
Now, you may be thinking that this new system would divide the league even further into the haves and have-nots, but assembling a playoff squad isn't as difficult as you might think.
Take the Charlotte Bobcats. We all think of the 'Cats as the epitome of a failed franchise, an organization that will never achieve success because they've never tasted it.
But we're only three years removed from Charlotte being in the playoffs. (No, really, it's true. Look it up.)
That same year the Phoenix Suns, another organization that seems like it has no idea what it's doing, came within two wins of the NBA Finals.
Point being that even the most poorly run franchises can reach the postseason and grab those favorable lottery tickets. All it takes is a little effort and the aspiration to win.
With the new luxury tax rules in place, even the richest teams are now forced to curb their outrageous spending habits (except for, apparently, the Brooklyn Nets). Bad teams with a lot of cap space can sign good free agents because teams near the luxury tax threshold may not be able to afford them.
That's how you wind up with Paul Millsap only getting a two-year, $19 million deal.
You're telling me the Sixers couldn't have offered him more if they were actually trying to compete next year? Or that they couldn't have thrown a massive offer sheet at Nikola Pekovic?
They were the ninth seed in the East last season. It wouldn't have taken much at all for them to put together a roster capable of leapfrogging one or two teams in front of them. Instead, they're the front-runners in the battle for worst record.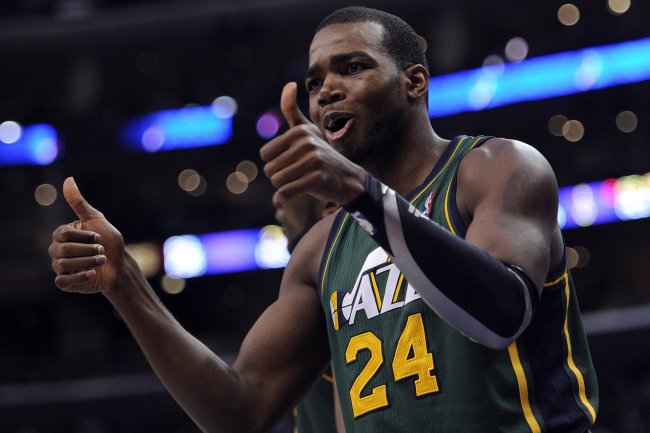 Harry How/Getty Images
These organizations are consciously deciding not to get better. They hoard their cap room for future star free agents who never come and bank on draft prospects who don't always pan out.
More times than not, the team winds up getting stuck in an endless cycle of rebuilding, always trying to sell their fans on a future that's nothing more than a mirage.
Let's motivate these franchises to actually use their resources and compete every year. Let's reward teams like the Detroit Pistons who make moves to improve their roster, strive to reach the postseason and actually keep their fans engaged.
The only tweak I would make to add a little more parity to the equation would be to change the lottery odds and distribute them more evenly among all the lottery teams.
Under the current system, the team with the worst record has a 25 percent chance of landing the top pick, while the team with the best record has just a 0.5 percent shot.
Evening the odds out more over the (now 18) lottery teams would allow some of the cellar-dwellers to occasionally cash in on those lottery tickets.
Bad teams would still have a reasonable chance to add top-tier talent and attempt to climb their way up the standings, and we'd keep the impetus on competing and trying to get into the playoffs.
In Conclusion
So, to recap, the new proposed lottery structure includes the seventh and eighth seeds from each conference. Those teams get the best odds at acquiring a top pick, with equal odds among the four teams.
Should the NBA re-structure its lottery system?
From there, the lottery chances go in order from best record to worst record, but the odds are distributed more evenly among all the lottery teams.
The upshot is an emphasis on winning basketball games, an incentive for teams to make smart decisions and improve their rosters regardless of where they are in the standings, incredibly compelling playoff races in both conferences, quicker and more effective rebuilds, more competitive balance over the long haul, more favorable team dynamics for rookies and a guarantee to actually root for your favorite team to succeed.
Say goodbye to tanking and hello to truly competitive basketball.