2013 NFL Preseason: Who Are the Most Important Players to Watch in Week 4?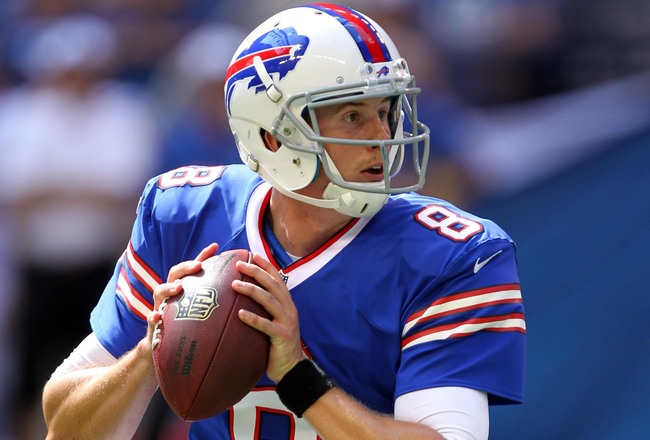 Brian Spurlock-USA TODAY Sports
Pairing the words "important" and "preseason" in one sentence can often be considered an oxymoron in the lexicon of professional football. Yet sometimes the actions of a single player in a "meaningless" preseason game can actually reshape the landscape of the entire NFL—and sometimes that special moment paves the way for change, opening the door for history to be made.
Week 4 of the NFL preseason will feature stories about: a certain player holding sway over a lost legend's legacy, a forgotten star's future, no-name rookies on the verge of making history and unproven commodities catapulted into pivotal roles.
Will they rise to the challenge during their final and most important auditions, or will the spotlight and pressure of the moment devour their unworthy souls?
Terrelle Pryor, QB, Oakland Raiders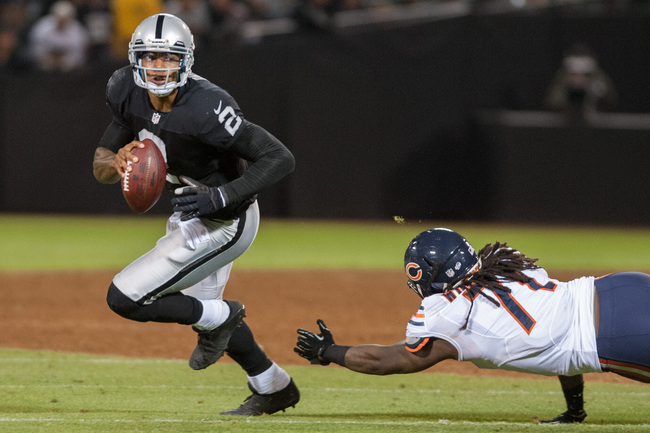 Ed Szczepanski-USA TODAY Sports
A Thursday night in Seattle is an all-too familiar setting for one last preseason game before the regular season. This is where I last suited up in an Oakland Raiders' uniform, and this could also be the last time Raiders fans get to see Terrelle Pryor throw a football this season.
For Pryor, this has to be the biggest game of his relatively short professional career. Not only is this game and his performance critical for himself but also for the entire Raiders organization as well.
Why you ask? Well, it's simple.
This team needs some authentic voodoo magic if they're to have any hope of making the season remotely exciting. One thing we do know about the last player ever drafted by Al Davis is that he is indeed an exciting player.
There's no telling what can happen when the ball is in Pryor's hands—for better or worse, unfortunately.
Come Thursday night, he needs to prove to Dennis Allen that he can play smart and reliable football without turning the ball over, especially during critical moments of the game. If he can do this while making positive plays and moving the chains, the Oakland Raiders may have themselves a starting quarterback who is finally capable of making "Raider Nation" relevant once again.
They need Pryor to be their starting quarterback, we need something to cheer for, defenses need someone to fear, and Matt Flynn needs someone to backup.
If this opportunity does goes south under the haunting Seattle moon, the entire Raiders' organization may go with it, adding one final blemish to the legacy of the late Al Davis.
In Oakland, hope wears the No. 2 on his chest and carries the fingerprints of a legend on his back.
Caesar Rayford, LB, Indianapolis Colts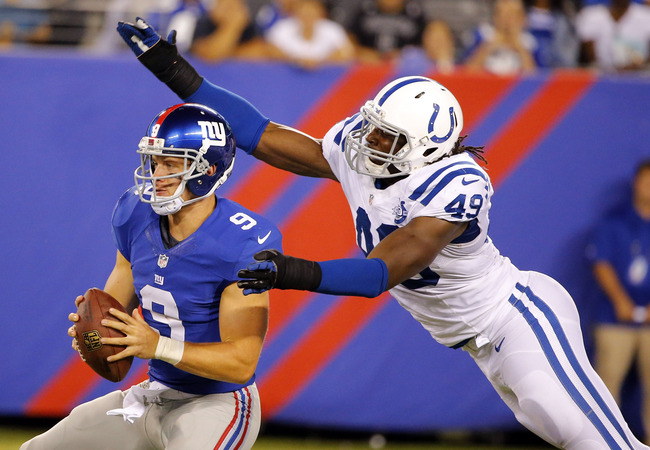 Jim O'Connor-USA TODAY Sports
Who in the heck is Caesar Rayford?
Well, to start with, this rookie is no young kid, as the former Washington Husky is already 27 years old. He's been polishing his craft for the past five years while bouncing around the NFL's default minor league systems, better known as the CFL and the AFL.
During his most recent stint with the Utah Blaze, Rayford finally began to get comfortable with his massive 6'7" frame on his way to racking up 29.5 sacks in 55 games. It must be a daunting task trying to coordinate so much length and limb into succinct football moves, techniques and leverage, but once that is accomplished, the results can be breathtaking.
Could it be that he finally has it down to a science?
This is the very reason why you must catch a glimpse of this rare specimen rising out of the darkness, desperately fighting to see an NFL dream finally realized.
Nobody has put in more work or wants it more than Caesar Rayford, and it shows in every play he's fortunate enough to make while wearing a Colts uniform.
Whether the Colts decide to keep him or not, he should be able to find an NFL home for the 2013 season, one way or another. He has proven too much in his first three preseason games this year not to. After all, he leads the league in sacks with five as well as forced fumbles with two.
The Colts may have found the next Cameron Wake. They'd be smart not to let him slip through their fingers, especially considering that playmakers on that defense are in short supply at the moment. He could be a diamond in the rough.
Quinton Patton, WR, San Francisco 49ers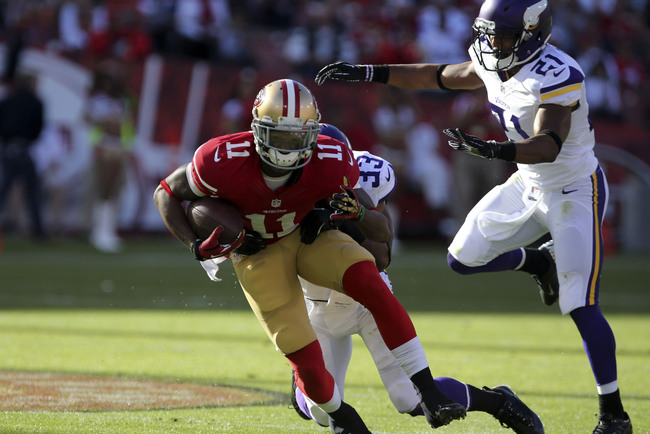 Kelley L Cox-USA TODAY Sports
The San Francisco 49ers kicked off their offseason with the bitter taste of Super Bowl defeat on their tongue. Now, the once whispered sentiments of a promising future have since turned into vibrant proclamations of NFL dominance.
So quickly do things change—especially in the NFL. So too do we forget that the marginalized may rise up with little warning. However, on the other hand, holding onto one's place of privilege in the NFL is an exercise rarely met with success.
This is what the 49ers are up against. Not only must they hold off the rising tide of a much improved NFC West, but also the tides of an entire league of elite professionals—each one looking to sit atop the mountain in solitude.
Perhaps no other position is in greater need of a savior in San Francisco than the wide receiver spot. This unit, above all others, may determine the hierarchy of the NFL's elite.
We know what Anquan Boldin can do, and he will assume the role of No. 1 receiver during the absence of Michael Crabtree. Mario Manningham and Kyle Williams are still recovering from knee injuries from a season ago, and first-round bust A.J. Jenkins has been sent packing.
So who must rise to the occasion under the weight of so much pressure?
Rookie Quinton Patton came into this organization as an eager rookie this April, and it's going to take every ounce of that youthful vigor in order to make this receiving corps viable.
He alone possesses the potential—which was finally displayed in Week 3—to propel this offense into NFL dominance.
That is not to say that he needs to be the Rookie of the Year, but he must at least be able to provide Colin Kaepernick with another reliable target on the outside with the ability to make plays in space.
With such a small sample size of his work up to this point, it's critical to see what the 49ers do indeed have with Patton come Thursday night in San Diego.
If he fails to make a splash in the team's final exhibition game, the season of high hopes in San Francisco may be short lived.
Peyton Hillis, RB, Tampa Bay Buccaneers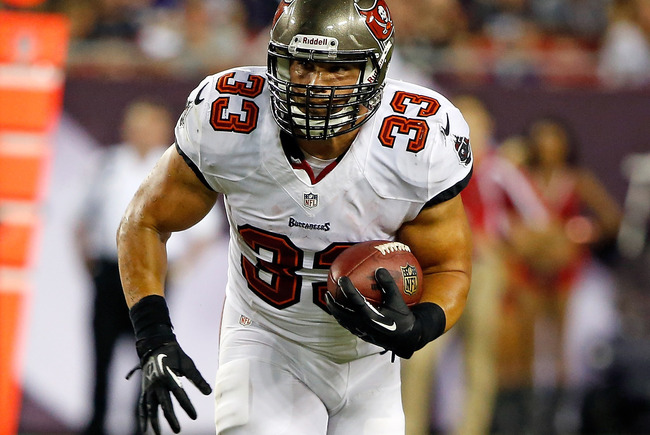 J. Meric/Getty Images
It wasn't long ago that running back Peyton Hillis pounded his way into our hearts like a bulldozer, inspiring a Cleveland fan base that was desperate for someone to get behind. And his meteoric rise to fame was capped off by a gig on the cover of the top-selling video game, Madden 2012.
Since this time, though, his play has looked uninspired, while his career has descended into little more than mediocrity.
For those of us who enjoyed watching Peyton Hillis bombard his way through defenders and into the end zone, Thursday night might be the last time we ever get an opportunity to see it happen.
The window is clearly closing fast for Hillis, and he seems to understand the urgency. So far this preseason, he has shown flashes of the man who once earned the coveted Madden cover, and his ability to break tackles and deliver punishment to the punishers has not gone completely vapid.
When he suits up to play Washington on Thursday night, he will be doing so with bad intentions.
This performance will be an all-out attempt to salvage a sinking career by rediscovering what once made him an instant star.
Ryan Spadola, WR, New York Jets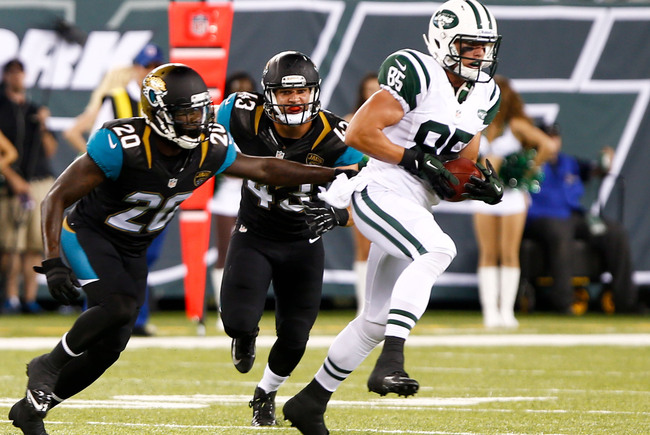 Debby Wong-USA TODAY Sports
No team is in greater need of offensive weapons than the New York Jets, and there is one unlikely hero currently with Gang Green who seems to be conjuring up memories of a once beloved name among Jets faithful.
Could it be that Ryan Spadola is the next Wayne Chrebet?
If so, the Jets could sure use him right about now.
There was little to no expectations for this undrafted rookie out of Lehigh College. However, Spadola has caught the eye of many around the organization this summer, and he could now find himself in serious contention for a spot on the 53-man roster.
This may just be the start of many remarkable things to come from the young wide out. But before we get ahead of ourselves, he must first make himself nearly impossible to cut by playing inspired football in the Jets' final exhibition game.
He can be the weapon the Jets never knew they wanted yet absolutely needed. Last week, Spadola had 110 receiving yards on three receptions, including one for a touchdown. It's definitely time to see what else this undervalued kid can do.
Who knows, he may even help save Rex Ryan's job.
Kevin Minter, LB, Arizona Cardinals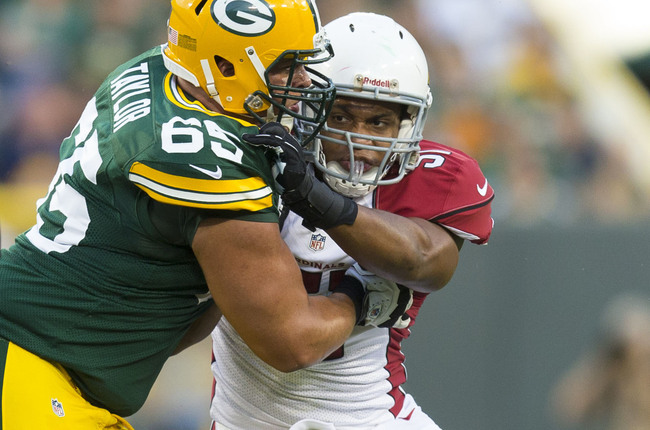 Jeff Hanisch-USA TODAY Sports
One thing that has been missing from the Arizona Cardinals talented defense is a mentality that says we will hit you in the mouth if you even think about running up the middle.
Yet that is exactly how 2013 second-round draft pick Kevin Minter plays the game. Why else do you think he was drafted so high?
His college stats were not amazing. He isn't very big, nor is he that fast. Yet somehow Minter managed to be my favorite middle linebacker in this year's draft. This former LSU Tiger is a load of fun to watch on tape, and it is apparent that he carries a big stick wherever he goes.
Minter may not be the starter at inside linebacker just yet, but watch the way he takes on blocks and how hard he hits people during the Cardinals' final preseason game, and you'll quickly understand why he needs to be.
He rarely misses a tackle, and when he does tackle you, you can feel it deep in your bones.
If Arizona wants to take that next step in the NFC West, they would be better off leaving Jasper Brinkley on the bench and letting a real middle linebacker, like Minter, strike fear into the hearts of any who dare enter the center of that defense.
That type of production transcends box scores and highlights, and it also inspires teammates. Minter's presence and non-stop motor may be exactly what the Cardinals need to compete in the toughest division in the NFL.
Jeff Tuel, QB, Buffalo Bills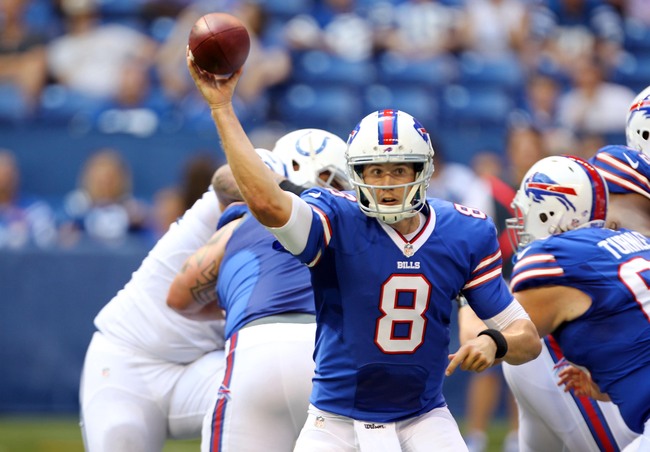 Brian Spurlock-USA TODAY Sports
Jeff Tuel has gotten very familiar with running for his life while at Washington State, and it is something he happens to do well.
Now, for the first time in his career, he's been afforded a chance to sit in a pocket that won't collapse like a soggy pizza before you can put it in your mouth.
His opportunity to start the final preseason game has unfortunately come by means of tragedy for Kevin Kolb—a man whose career now hangs in the balance. Yet, even through such tragedy, an undrafted rookie quarterback has been suddenly thrust into the role of a lifetime.
What he manages to prove against Detroit on Thursday could determine whether or not the Bills are comfortable doing what we never thought possible in Buffalo.
Jeff Tuel starting Week 1 of the regular season while rookie first-round quarterback EJ Manuel holds a clipboard is no longer some far-fetched fantasy carved out of the imagination of someone void of any NFL understanding.
But let us not get carried away with labels like "undrafted rookie" and make it seem like this kid has done nothing. Tuel has played remarkably well so far this preseason and has earned this rare opportunity on merit as much as anything. He needs to continue this impressive display of poise and accuracy as he continues to gain the trust and respect of his coaches and teammates.
For those with any stake in the Bills future, you must keep an eye on this tough, young rookie who is set to make history while leading this team on the rise toward better days.
Ryan Mundy, S, New York Giants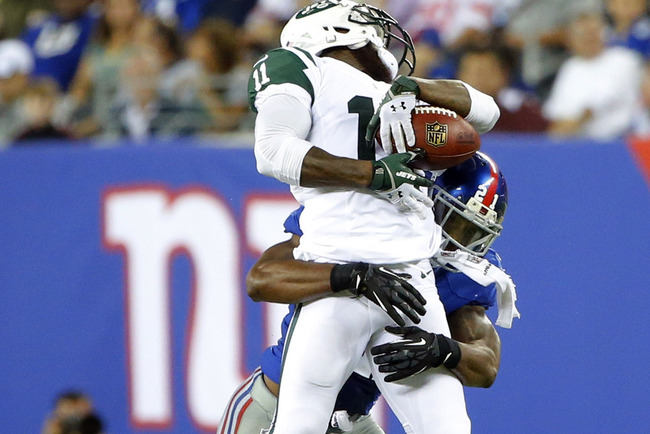 Jim O'Connor-USA TODAY Sports
The New York Giants have fallen considerably short of becoming a team primed for a Super Bowl run so far this preseason. To make matters worse, they lost their standout free safety Stevie Brown for the season this week with a torn ACL.
Brown himself rose to stardom only a year ago after filling in for the oft-injured Kenny Phillips and racking up eight interceptions in only 11 starts.
Enter Ryan Mundy, a former backup for the Pittsburgh Steelers who has only started five games over a four-year period.
His brief stint in the Big Apple has yielded positive results so far. Now, the heat has been turned up as he looks to make the most of this starting opportunity. New chances in the NFL don't often come twice for players approaching the ripe age of 30.
For the Giants, they look to Thursday's game as an audition of sorts. His performance may determine their actions, or lack thereof, on the waiver wire in the days to follow. Furthermore, any compromise in centerfield could devastate a defense that's forced to face two divisional foes (Washington and Philadelphia) that are gearing up for read-option madness.
Keep an eye on Mundy's ability to diagnose plays quickly and react.
Can he prevent the big play? Will the Giants be exposed down the middle of the field all season long?
We may find out on Thursday night.
Keep Reading