What the San Francisco Giants Can Learn from the Remaining Regular-Season Games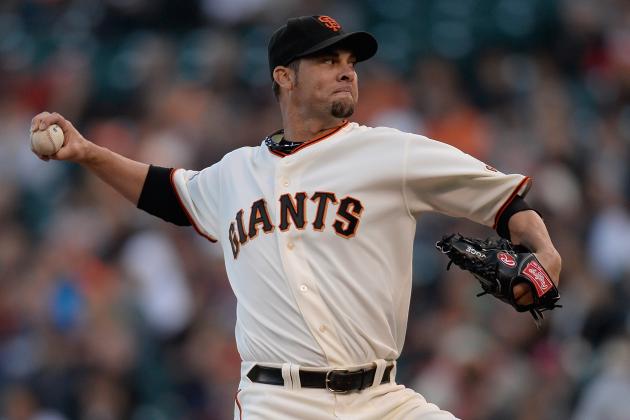 Thearon W. Henderson/Getty Images
The Giants must exercise the option on Ryan Vogelsong.
The 2013 season has been a disaster for the San Francisco Giants and their fans. Following the Giants' second world championship in the past three years, hopes were soaring for this season.
Unfortunately, injuries and poor performances have doomed the Giants' chances, and they are hopelessly out of the playoff chase.
As we approach the beginning of September, when rosters can be expanded, it will be important for the Giants to look at some players and determine if they are a part of the team's future.
One such player is Ryan Vogelsong. Following his return from injury, the Giants have seen several positives from Vogelsong. He has pitched well, and this warrants the Giants exercising the option they have on him. Vogelsong will be part of the Giants' starting rotation in 2014.
The Giants have some other things they can learn as we head into the final month of the season. Let's take a look at five of these question marks.
All stats are courtesy of baseball-reference.com.
Begin Slideshow

»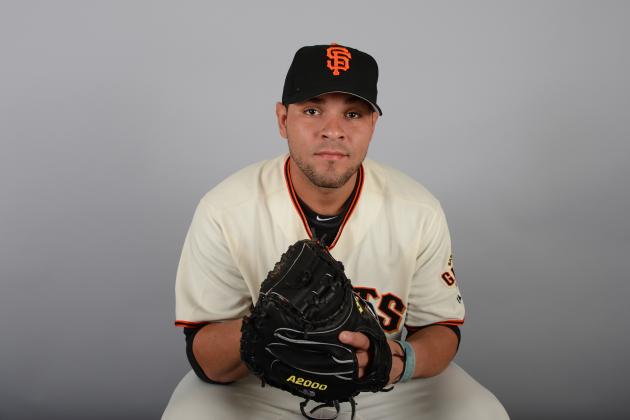 Kyle Terada-USA TODAY Sports
Johnny Monell has hit 20 home runs this year.
Johnny Monell has progressed slowly through the Giants' system. Playing at Triple-A Fresno, Monell, at the age of 28, is having a fine year.
Monell is currently hitting .281, with 20 home runs and 62 RBI, in 398 at-bats. Monell's OBP is a very strong .370, and his OPS is outstanding, at .880.
The Giants should call Monell up to the majors when rosters expand on September 1. He should also get plenty of opportunities to play.
The Giants will need to determine if Monell is a potential option behind the plate as a backup to Buster Posey. If so, he adds tremendous value to the organization.
Although Monell throws from the right side, he is a left-handed-hitting catcher, which is also somewhat rare. If he shows that he can handle the big leagues, both from an offensive and defensive standpoint, it will give Giants' GM Brian Sabean a great deal of flexibility.
Posey will be the Giants' catcher for the foreseeable future, but the Giants will also have three other good, young prospects. Hector Sanchez is the Giants' current backup, with Monell and Andrew Susac not far behind.
The Giants will have no need for four major league catchers. Sabean will have some trade flexibility with Sanchez, Monell and Susac. Moving one of them could help the Giants strengthen another area.
Good catchers are a valuable commodity, and the Giants have been blessed with several good prospects. Posey will be a Giant for many years, but a trade involving one of the others could be very beneficial.
In 2012, it was catching prospect Tommy Joseph, along with outfielder Nate Schierholtz, who were traded to the Phillies for Hunter Pence. Joseph was the key to the deal, and it ultimately played a huge role in the Giants' 2012 World Series title.
The better Monell plays now, the more the likelihood of a trade is enhanced. Look for a possible deal involving Sanchez, Monell or Susac before the 2014 trade deadline.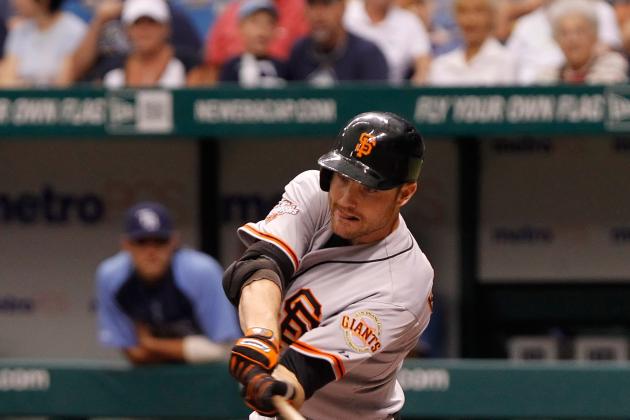 Kim Klement-USA TODAY Sports
Roger Kieschnick is getting a chance to show if he belongs in the Majors.
Roger Kieschnick has been getting a chance to play left field for the San Francisco Giants.
After an injury-plagued year in 2012, Kieschnick was playing solid baseball this year. In Fresno, the Giants' Triple-A affiliate. Kieschnick was hitting .273 with 13 home runs and 56 RBI, in 374 at-bats. Kieschnick had an OBP of .339 and OPS of .836.
Kieschnick earned a promotion to San Francisco in late July. He has played in 24 games, logging 71 at-bats. He is hitting only .225, but the most alarming issue is the lack of punch he has shown. Kieschnick has no home runs and only one extra-base hit for the Giants.
The Giants will need to make a decision whether Kieschnick can be their regular left fielder or if he can fit in as a fourth or fifth outfielder.
Up to now, Kieschnick has not proven that he is a starting outfielder in the majors. He is also not a fourth or fifth outfielder, as he is only an average defensive outfielder and will need to see regular at-bats to stay sharp.
The Giants should give Kieschnick a good, long look now, which will help them determine his value in 2014. Kieschnick does not look like he is ready for the big leagues, but it will be important for Sabean and the Giants to get as much data as possible in order to make that decision.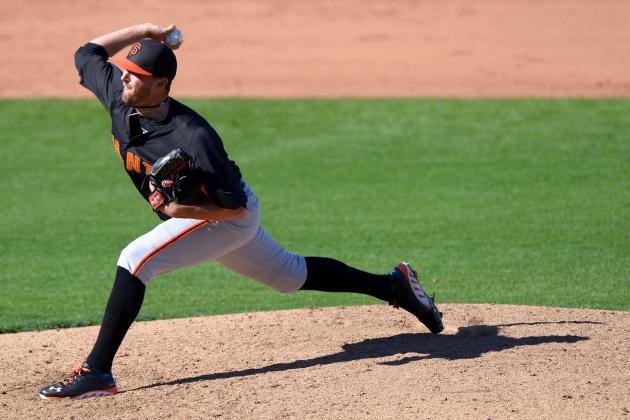 Jake Roth-USA TODAY Sports
Heath Hembree was expected to be ready before this.
At one point not long ago, Heath Hembree was expected to be the next closer for the San Francisco Giants.
Unfortunately, due to arm trouble and mediocre performance, he has still not made the jump to the majors. The Giants will need to improve their bullpen in 2014, so now is a good time to see if Hembree is a viable candidate for a right-handed relief role.
Hembree was outstanding at the Single-A and Double-A levels, but has not dominated in his two seasons at Triple-A. In 2013, pitching for the Fresno Grizzlies, Hembree has thrown 53.1 innings and allowed 53 hits and 16 walks while striking out 61.
Hembree has 30 saves, but his ERA of 4.22 and WHIP of 1.294 are too high.
Hembree has a power arm and his fastball is in the mid-90s. He needs to improve the location of his fastball and also his command of his secondary pitches.
The Giants have been waiting for Hembree to make the jump to the majors for the past couple of years. Now is a good chance for them to see how he handles the big league stage. If Hembree proves he belongs, that will help fill a void in the Giants' bullpen.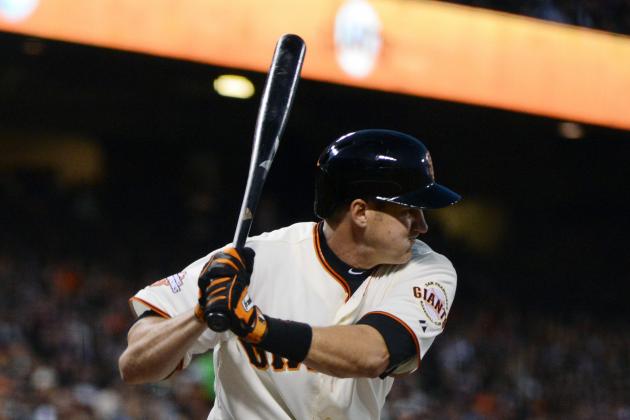 Kyle Terada-USA TODAY Sports
Brett Pill has hit well at every level of the minors.
Over the past three seasons, Brett Pill has shuffled back and forth from Fresno to San Francisco on several occasions. The Giants should have included a life-long bus pass in his contract.
Pill has hit at every level in the minors. This season, while splitting time between Fresno and San Francisco, Pill hit .344 in Triple-A, with an OBP of .379 and a tremendous OPS of 1.010. In 276 at-bats, Pill hit 18 home runs, with 79 RBI.
However, Pill has never received consistent playing time in the majors, which has diminished his productivity. In 2013, Pill has 62 at-bats and is hitting .242. His career major league average is only .241, which is low because he has never had regular at-bats.
The Giants must give Pill a chance to see regular playing time and determine whether he can be a starting left fielder or a fourth or fifth outfielder.
The problem with Pill is that he is mainly a first baseman, which is Brandon Belt's position. Any extra at-bats at first base will usually go to Buster Posey, also.
In addition to first base, Pill has played left field as well as second and third base. He is a below-average outfielder, which is why he is not a good fit as a fourth or fifth outfielder. Pill is an even worse defensive player in the infield, so he will not be played there except in an emergency.
Without regular at-bats, which may never come in San Francisco, Pill will not reach his potential as a hitter. If the Giants are unwilling to give him consistent at-bats, they should try to trade him to an American League team looking for a DH or first baseman.
As a Giant, Pill looks like a classic 4-A player. He is too good for the minors, but not quite good enough to warrant a starting job. It's time the Giants find out for sure just what they have in him.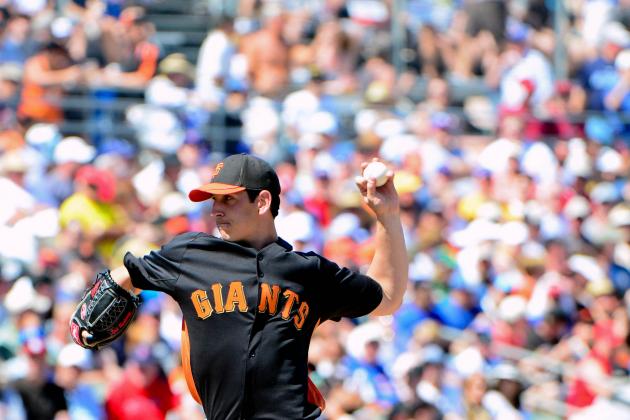 Matt Kartozian-USA TODAY Sports
Eric Surkamp is making a successful return following surgery on his arm.
The San Francisco Giants work within a budget, and the best way to manage costs is to develop home-grown talent that they have control over. Free agents are expensive, and there is no guarantee how good they will be after they sign a big contract.
The Giants do not currently have the talent at the Triple-A level that can be counted on to come in and deliver. Their best bet for 2014 is to build via the free-agent market or make some trades to bring in talent.
In addition to the players already mentioned, there are several others the Giants should take a good look at in September. These include Francisco Peguero and Nick Noonan.
The Giants' best prospects are playing at the Single-A level in Augusta or San Jose. They are at least a couple years away, so it's critical for the Giants to make the right decisions on those players they have at the higher levels of their system.
At the Double-A level in Richmond, the Giants have pitchers Edwin Escobar, Josh Osich and Jack Snodgrass, who all warrant a look. In addition, Joe Panik could add some depth in the infield this September.
Other prospects not already mentioned who are playing in Triple-A Fresno include Jake Dunning, Chris Dominguez and Gary Brown.
September should be a month for the Giants to take a close look at their top minor league players and try to determine who can be a solid big league player. There isn't much, but now is the time for the Giants to learn for sure.