Cleveland Indians' Scott Kazmir Is Better Than You Think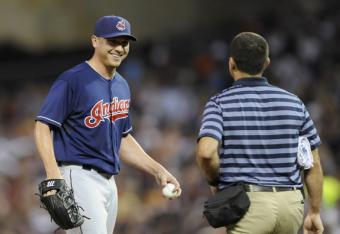 Scott Kazmir has seven wins and six losses. Not that impressive of a record when you first look at it. But when you do, you can't truly understand how good he's been in his first full season since 2010.
In his last ten starts, he has surrendered two runs or fewer six times. In those ten starts, he's whiffed 49 in 56 innings, walking only 17. Considering Kazmir was in Sugar Land, Texas last year just hoping to make it through the season healthy, you couldn't ask for anything better.
This season we have seen the good and the bad with Kazmir. Late April against the Houston Astros, he gave up six runs in three innings. In a July outing against the Seattle Mariners, he was the Kazmir of old, striking out seven over eight innings and allowing just one hit.
Kazmir is averaging 92.3 mph on his fastball, a velocity he hasn't reached since 2005, according to FanGraphs. When you add that increased velocity to his repertoire of six pitches, Kazmir can be as dangerous as anybody on the mound.
Deception and control are the two biggest attributes Kazmir has going right now. His past struggles, including wildness on the mound, would have been trying for any pitcher, particularly when such wildness leads to walks and baserunners.
As of today, Kazmir's WHIP sits at 1.328, the lowest it's been since 2008, and his walks per game are down to a career best 3.0. With better control comes the ability to make opponents swing at your pitches.
As the season progresses, batters can pick up on a pitcher's routines, so it's important for a pitcher to change his pitch sequence to keep hitters off balance. And for a hurler with six pitches at his disposal, Kazmir should be effective at making such adjustments. Of his six pitches, Kazmir uses his fastball, sinker and change-up the majority of the time.
Despite throwing his slider less often, Kazmir will use it when he has two strikes. In July, he threw it with two strikes 44 percent of the time against left-handed hitters. He tended to start off right-handed hitters with sinkers.
In August, Kazmir has continued his trend against left-handed batters, throwing sliders with two strikes in the count, relying on the pitch 30 percent of the time overall. He's turned to his sinker more as an out pitch than before. Against right-handed hitters, he's been throwing his fastball much more frequently, while the slider has been non-existent.
After nine years in the bigs, Kazmir has reinvented himself, and has become a vital piece of the puzzle in the Cleveland Indians playoff run. We have seen the worst, but we haven't seen his best.
*Pitch details courtesy Brooks Baseball*
Devon can be reached at devon@thegmsperspective.com. You can follow the GM's Perspective on Twitter and Facebook.

This article is
What is the duplicate article?
Why is this article offensive?
Where is this article plagiarized from?
Why is this article poorly edited?

Cleveland Indians: Like this team?