Madden 25: Breaking Down Gameplay Improvements and Top New Features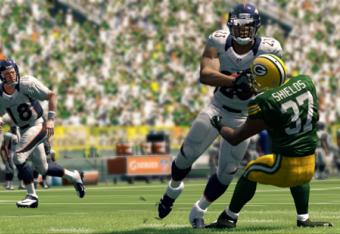 EA Sports

The 2013 NFL football season may still be seven days away from kicking off, but this week marked perhaps the best preview of all to satiate fans' thirst—the release of EA Sports' Madden 25.
One of the monoliths of the gaming world, Madden has reached its sliver anniversary and has shown no signs of slowing down. Review aggregator Metacritic, which gobbles up the top opinions from around the web and creates an overall formula, has Madden 25 at a score of 81, denoting "generally favorable reviews."
Those who already have their hands on the game know why that score is so high. The folks at EA jam-packed the 25th edition with a drove of solid changes. Some of them are big, like the addition of brand-new modes for gamers to check out. Others are small, like intricate gameplay tweaks to make for a true football experience.
A majority of the most rabid fans already have their hands glued to the game. So for those of you who have the game and already jumped in, a lot of this information is things you've spent the last couple days learning. EA Sports' Season Pass package allowed gamers to download Madden 25 over this past weekend. The anniversary edition arrived at brick and mortar stores and online retailers on the traditional Tuesday-at-midnight release date.
But there are still some stragglers sitting on the fence. Or just people who are waiting for their check to clear Friday before they hit up the local Walmart for their Madden fix. For you folks, here is a quick breakdown of some gameplay improvements and new features in Madden 25.
Connected Franchise
Madden 13 saw the introduction of the innovative (and somewhat controversial) Connected Careers game mode. A streamlining of the modes formerly known as Superstar and Franchise, Connected Careers attempted to give gamers the best of both worlds while not forcing them to go flying all over a menu screen.
As always with change, though, there was some concern. Some fans wondered where Franchise mode went, even as Connected Careers offered the same features list only with a different name and some much-welcomed additions.
Well, this year fans no longer have wonder whether Franchise mode has gone. The developers at Madden 25 have again rebranded the game's most-played mode, renaming it Connected Franchise and (again) bringing some additions fans have long clamored for.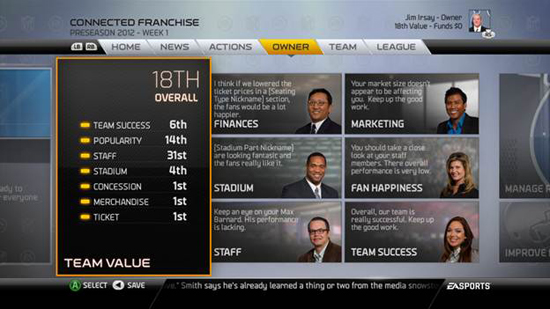 Specifically, let's give a warm welcome to the return of owner mode.
Built in the same guise as the player and head coach options available in Madden 13, the 25th anniversary edition allows you to build just about any archetype owner on the planet. You can fancy yourself a tech mogul the likes of Mark Zuckerberg, using your gobs of money to purchase one of the 32 franchises and send them packing to Silicon Valley. You could take on the role of a fan who just so happened to win a franchise in a high-stakes game of baccarat against your favorite team's current owner.
Heck, you wanna know what it feels like to be Jerry Jones? He's in there as well. You can choose to be any of the league's current 32 owners as well. Each city and scenario brings its own set of advantages and pitfalls, so be sure to choose your ownership style wisely depending on how you want to run a franchise.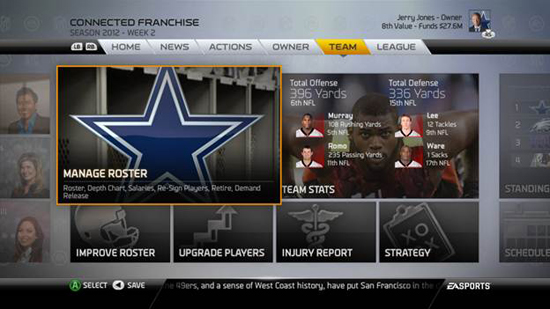 How will you be playing Connected Franchise?
Once you get past the initial selection process, the remainder of the mode should feel pretty familiar to those fans of the past-gen consoles. Choosing the owner option gives you complete control-freak status, including the hiring and firing of coaches, the ability to relocate, build new stadiums and even to set the price of your concessions.
And the great thing about Connected Franchise is, if that sounds like too much work, the player and head coach options remain. If you'd rather be Peyton Manning or Jim Harbaugh than Jim Irsay, then that's just fine. Those modes are largely the same to the ones seen in Madden 13, with a few nice additions like fantasy draft options and the ability to import draft classes from NCAA Football 14 put into the base model.
What's important is that Madden 25 gives you the choice.
Infinity Engine 2 and Run Free Create the Most Authentic Football Experience Ever
In the headline of his review for IGN, Jack DeVries notes that Madden 25 is "so much football." Meant both as a compliment and an ever-so-slight disappointment about a lack of presentation improvement, DeVries really got to the heart of what Madden 25 is about.

Simply put, this is the most authentic-feeling in gaming history. Even the folks who spend their nights on Reddit sobbing about the loss of the NFL 2K franchise cannot deny the fluidity of motion realism work that went into Madden 25. Players move with realism, have an increased understanding of where they are on the field—particularly on the sidelines—and the animations and tackling have been fine-tuned.
A majority of these are subtle adjustments, brought forth by the new Infinity Engine 2. The new tackling and animations engine was first introduced in Madden 13, a feature that drew widespread praise from critics, who noted the video game felt far less video-gamey than ever before. (Yes, you read that correctly.)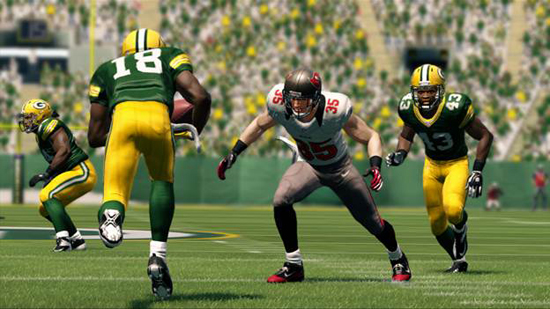 This year, the second iteration of that engine improves on the progress made a year ago and takes it a step further. The small glitches you saw in Madden 13, particularly players flopping like J.J. Barea after plays, are gone. No longer will there be a calamity of unintentional comedy after plays, which is unfortunate—at least for people like me who enjoy those sorts of things.
The EA Sports blog goes deep into what the second year of Infinity means for the franchise, particularly the improvements made on the defensive side. The Hit Stick, seemingly neutered over the past couple years, is back with force. While it may never reach the devastation level it did in its inception, the stick now works more realistically than ever, allowing for bone-crushing hits that could, you know, actually happen in real life.
For the vastest improvements, though, look no further than the running game. Perhaps the biggest in-game adjustment the folks at EA Sports made this season was the addition of the Run Free controls, a precision modifier that allows gamers to harness the true talents of their running backs.
Variations of speed accelerations, jump cuts, dives, hurdles, stiff arms and just about every other possible animation have been put into the game, with each back having his abilities tailored to his true style of play.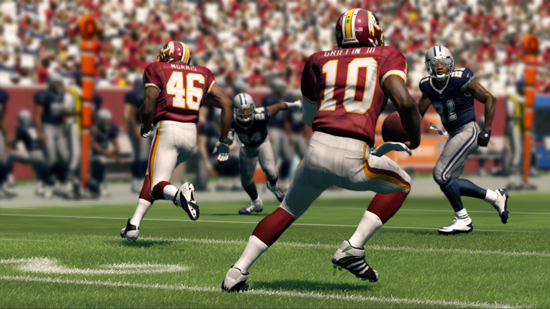 You're not going to expect Marshawn Lynch to do a Barry Sanders spin move in real life, are you? Well, don't try it in Madden 25 unless you want to get tackled. Same goes for those of you who used to enjoy trucking over Patrick Willis with Darren Sproles. I mean, anything can happen. But you're better off using one of the variety of speed modifiers to blow past the San Francisco 49ers linebacker.
This is just a quick summary, and I'm barely just getting the hang of the controls myself. Put in a few seasons in your online league or offline Connected Franchise, and you'll begin noticing these subtle differences make the game stand out.
Follow Tyler Conway on Twitter:
This article is
What is the duplicate article?
Why is this article offensive?
Where is this article plagiarized from?
Why is this article poorly edited?