College Basketball Studs Overshadowed by Superstar Teammates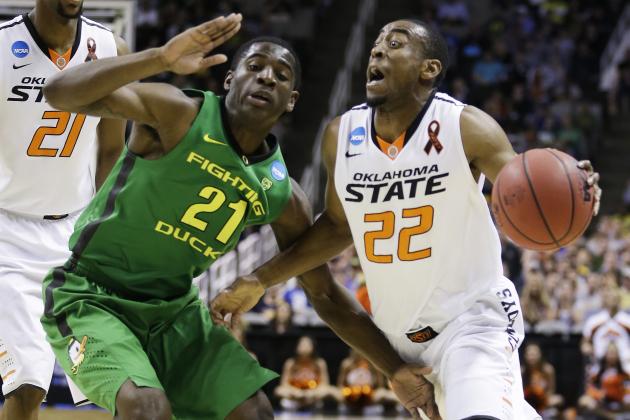 Ezra Shaw/Getty Images

There is a far greater upside to playing college basketball alongside a superstar teammate than there is downside, but that doesn't mean it can't be tough at times to play under someone's shadow.
After all, there are tons of college players who want to make it to the NBA, and sometimes it's tough to stand out to scouts when one of the game's best is catching most of the attention.
Read on to see some potential studs in 2013-14 who will be somewhat overshadowed by superstar teammates.
Begin Slideshow

»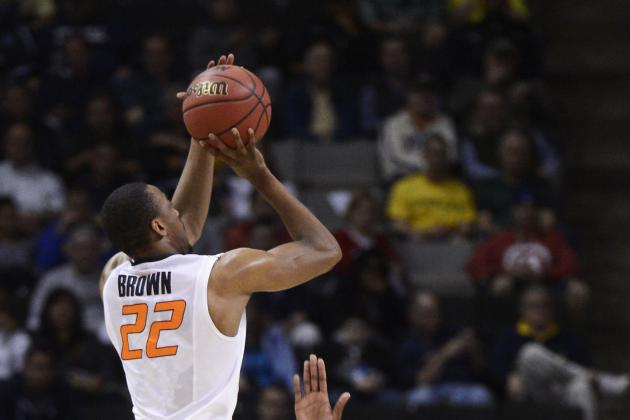 Thearon W. Henderson/Getty Images

Perhaps you have heard of one Marcus Smart, superstar guard for the Oklahoma State University Cowboys.
He shocked NBA scouts, college basketball fans and the rest of the Big 12 by electing to return to Stillwater for his sophomore season. While Smart will draw plenty of attention this year and lead Oklahoma State's quest to unseat Kansas atop the conference standings, his teammate Markel Brown has the chance to be a superstar in his own right.
Brown is an all-around threat who scored better than 15 points a night last year while also contributing on the glass and on the defensive end of the floor. He is a solid distributor, has formidable touch on his jumper and doesn't turn the ball over too much, considering how much he has it in his hands.
Smart will draw the headlines for the Cowboys, but any hope at a Big 12 title will require a tandem effort with Brown.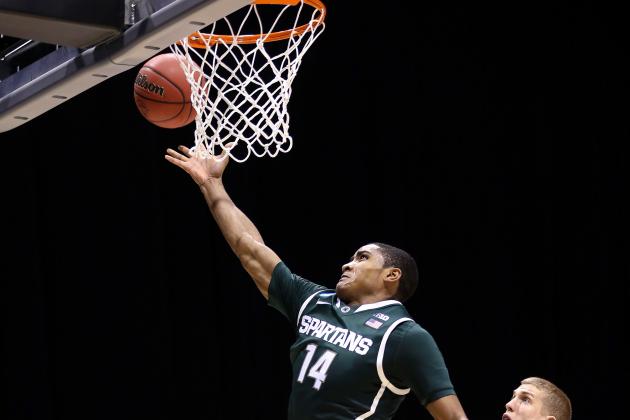 Streeter Lecka/Getty Images

Gary Harris has the chance to be a lottery selection in next year's NBA draft if he decides to leave East Lansing, but he will still be overshadowed at the collegiate level by his teammate Adreian Payne.
Michigan State is always a bruising and physical team, and without Derrick Nix on campus anymore the big man role will fall on Payne's versatile shoulders. Payne can hit the three, drive the lane, post up smaller defenders, throw down rim-rattling dunks and swat away any challengers at the rim.
While Payne has a chance to win Big Ten Player of the Year, his teammate Harris may be the better pro prospect. He scored 13 points a night as a freshman last season and was a solid defender and distributor when he needed to be.
He is one of the better three-point shooters in the conference and should see his percentages increase this year with some experience under his belt.
Payne will be a pain (sorry) for opposing defenses, but it may be Harris who propels Michigan State to a Big Ten title.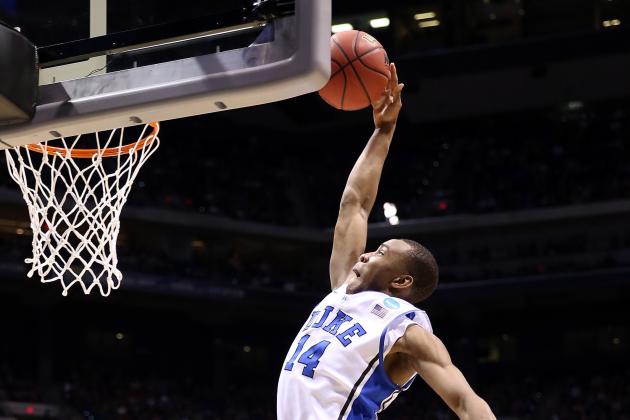 Andy Lyons/Getty Images

Even if you only casually follow college basketball recruiting, you have heard of Jabari Parker.
Parker is supposed to be the next star from the Chicago prep scene and should thrive this season at Duke under Coach K's tutelage. He will slide in perfectly in the Blue Devils' system as a versatile forward who will challenge Andrew Wiggins for Freshman (and perhaps National Player) of the Year honors.
However, Rodney Hood and Rasheed Sulaimon are both top-notch players in their own rights and two major reasons why Duke is on the short list of national title contenders at this point. Hood is a transfer from Mississippi State who can score and rebound at an effective rate.
Sulaimon returns to the Blue Devils' lineup as a more experienced sophomore who will still flash those impressive scoring bursts while limiting the mental errors we saw at times last year.
If opposing defenses focus too much of their attention on Parker, Hood and Sulaimon will make them pay dearly.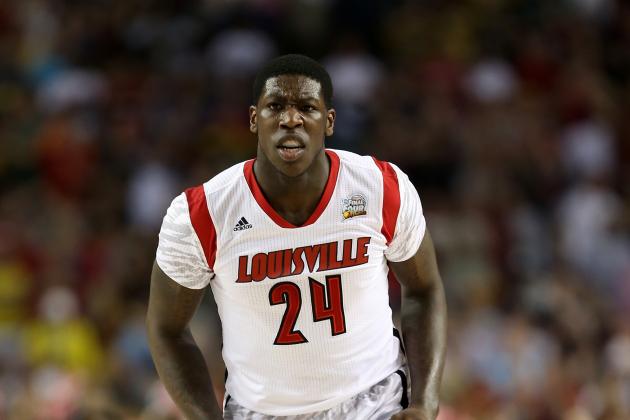 Andy Lyons/Getty Images

Last season Louisville won the national championship on the backs of many players. Peyton Siva was the catalyst, Russ Smith was the talented wild card who could go off at any moment and players such as Luke Hancock made timely basket after timely basket in the NCAA tournament.
But Montrezl Harrell emerged in the postseason as a legitimate threat and should build on that late momentum this season in a larger role. He put up modest numbers throughout the year in 2012-13, but he is a double-double waiting to happen on any given night in Rick Pitino's system.
He will frequently operate on the inside for the Cardinals and should benefit from the attention that Smith receives from opposing defenses (and the media).
Smith will get the spotlight at Louisville for his play and personality, but Harrell has a chance to become a true star at the collegiate level.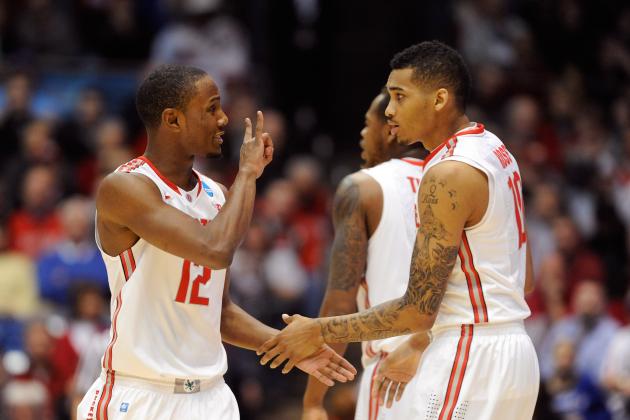 Jason Miller/Getty Images

Few players in the country receive the type of attention from opposing fans and national commentators that Aaron Craft does.
The defensive whiz impacts games in a truly unique way with his constant pressure, leadership abilities, timely drives to the basket and countless number of steals and drawn charges. He is arguably the best defender in the country and is beloved within the confines of Buckeye Nation and despised in places like Ann Arbor and East Lansing.
However, all the attention that Craft receives may lead some to overlook the contributions of LaQuinton Ross and Sam Thompson. Ohio State lost Deshaun Thomas, who led the Big Ten in scoring in 2012-13, and will need more production from other places this year.
Ross, who showed glimpses of potential greatness in the postseason, is the top candidate to fill that void with his shooting stroke and overall game.
But don't sleep on Thompson, who actually led Ohio State in three-point percentage a year ago and brings much more to the floor than just high-flying dunks.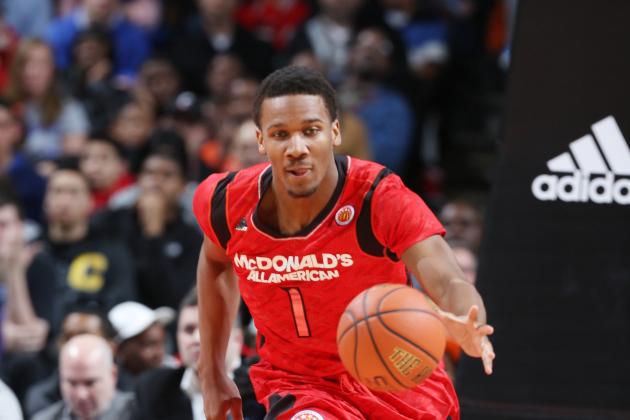 Brian Spurlock-USA TODAY Sports

There is a player who hails from Canada who might just sneak up on people this year as part of Bill Self's Kansas basketball team.
All sarcasm aside, freshman sensation Andrew Wiggins won't be sneaking up on anyone this season after receiving more media attention than any other college basketball player in the country. And that hype is certainly justified because he may just be the best high school prospect since one LeBron James graced prep gyms as the self-appointed Chosen One in Akron, Ohio.
But while Wiggins draws the attention of ESPN, opposing coaches and an ecstatic fanbase, the Jayhawks have another freshman who legitimately will sneak up on people. Wayne Selden is supremely talented in his own right and could find himself near the top of the Big 12 scoring list all year long.
He will be much more open than someone of his caliber should be because of all the focus on Wiggins and will thrive because of it. Selden is a big reason why Kansas is considered the favorite again to win the Big 12 title for approximately the 450th consecutive season.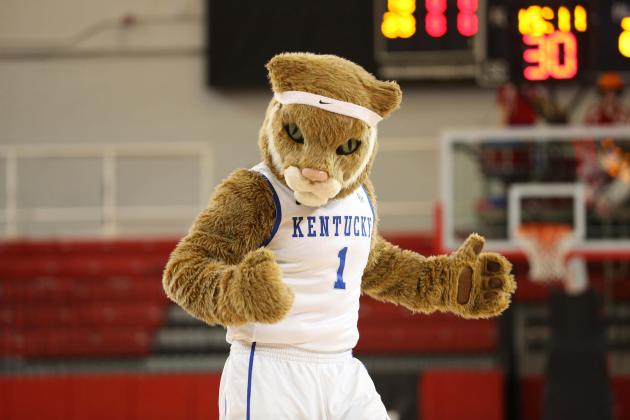 Anthony Gruppuso-USA TODAY Sport

The mere fact that there is only one basketball to go around will mean superstar players in Lexington will be overshadowed every time Kentucky takes the floor.
There is so much star power on John Calipari's roster that the chances that one player emerges to challenge for National Player of the Year honors are slim. Aaron Harrison, Andrew Harrison, James Young, Marcus Lee, Dakari Johnson and Julius Randle make up one of the best recruiting classes in recent history, and we aren't even discussing some of the returning players.
Someone (the guess here is Young) will step up and lead this squad in scoring over the course of the season, but predicting who the marquee attraction will be on a nightly basis may be an exercise in futility.
Simply speaking, the Wildcats could win the national title, and along the way there will be plenty of studs overshadowed by superstar teammates.
Follow and interact with college basketball writer Scott Polacek on Twitter @ScottPolacek.