The South Carolina Gamecocks defeated North Carolina 27-10 in Week 1 of the 2013 season. Check out the final grades and box score here.
South Carolina 27, North Carolina 10, Final
The full box score is available at NCAA.com
South Carolina Gamecocks Grades

| | | |
| --- | --- | --- |
| Position Unit | 1st Half Grade | Final Grade |
| Pass Offense | B | B |
| Run Offense | B+ | B+ |
| Pass Defense | C+ | A- |
| Run Defense | A- | A |
| Special Teams | A | B |
| Coaching | B- | B- |
vs. North Carolina Week 1
Game analysis for the South Carolina Gamecocks:
Pass Offense: Connor Shaw was solid all-night long. He completed 11-of-20 passes for 149 yards. As a whole, the Gamecocks completed 60 percent of their passes and the receivers caught everything. The offensive line gave the passers plenty of time throughout the game.
Run Offense: This offensive line is going to be tremendous. They set the tone early in the game and never looked back. USC rushed for 227 yards at 6 yards per carry and one touchdown.
Pass Defense: Bryn Renner completed 26 passes, however, for only 194 yards. That is a paltry 4.6 yards per attempt. USC's pass-rush forced the 'Heels to play even faster than they are accustomed to. The Gamecocks were consistently in UNC's backfield all game.
Run Defense: The Tar Heels finished with 109 yards rushing. That total is a bit deceiving, though. They averaged only 2.9 yards per carry as USC's defensive line dominated the Tar Heels' offensive line from start to finish.
Special Teams: This unit was solid. They made both field-goal attempts and pinned UNC deep in their own territory twice. There were a couple of coverage breakdowns that gave North Carolina good field position.
Coaching: Spurrier's fourth-down call in the first quarter was brilliant. He was aggressive and it paid off. The decision to put starting cornerback Victor Hampton in at punt returner late in the game was a head-scratcher. Hampton was injured earlier in the game and went down with a injured foot on the return.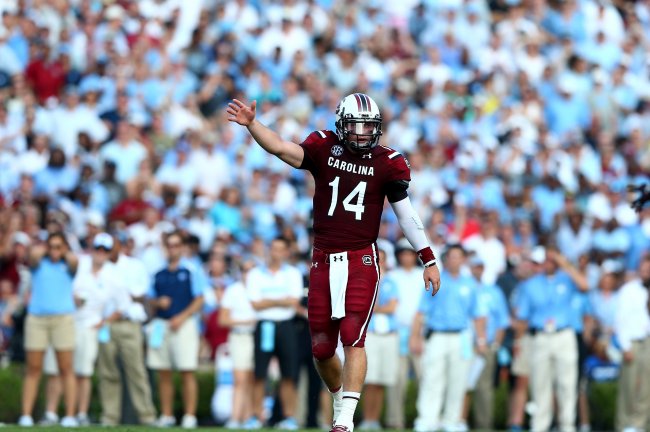 Streeter Lecka/Getty Images
First-half analysis for the South Carolina Gamecocks:
Pass Offense: Both Connor Shaw and Dylan Thompson played in the first, and each threw a touchdown pass. Pass protection was outstanding in the first quarter, but it took a step back in the second frame. The receivers are getting open, specifically Shaq Roland, but Shaw has missed some easy throws.
Run Offense: The offensive line's distinct size advantage helped it dominate the Tar Heels on the ground. South Carolina finished the first half with 90 yards on the ground, averaging over four yards per carry.
Pass Defense: Jadeveon Clowney has made an impact in the first half. He forced several quick throws by Bryn Renner. However, he has been off the field often. The Tar Heels like to play at a fast pace, although maybe not as fast as they've been forced to in the first half.
Run Defense: The Gamecocks have dominated the 'Heels up front. North Carolina finished with just 37 yards rushing in the first half. There were some missed tackles early in the second quarter on UNC's touchdown drive.
Special Teams: A special teams turnover, two field goals and a punt that went inside the 10-yard line made for a good first half for this unit. The only blemish was the opening kickoff, which went out-of-bounds, costing USC field position.
Coaching: Spurrier went for it on fourth down in the first quarter, and that paid huge dividends for the Gamecocks. USC had several penalties in the first half.