The Biggest Question Mark on Each Minnesota Wild Line for 2013-14 Season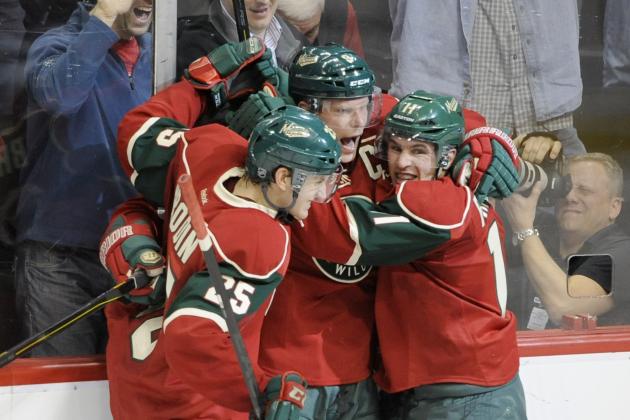 Hannah Foslien/Getty Images
Parise (right) and Koivu (center) need to connect on a regular basis while Brodin (left) has to remain superhuman.
A diligent fan can always find faults with their team, no matter how good or bad it is supposed to be, but the question marks on each line the Minnesota Wild will strut out this year will be magnified because this is a team that could either make a deep playoff run or take a dramatic step back this season.
General manager Chuck Fletcher went young with his team this year and will be asking a lot of both the 20-year-old newbies and the highly paid veterans that will be balancing out the age and experience of this club.
The main concern among fans, therefore, will be whether guys like Zach Parise, Ryan Suter and Mikko Koivu can carry the team and if the young guns like Jonas Brodin, Mikael Granlund and Charlie Coyle can produce at a high level next season.
Because the line combinations are not set in stone and are bound to change during the season, I will specify who I think will be paired together and what the major question is with that line.
Begin Slideshow

»
Zach Parise, Mikko Koivu, Jason Pominville
Parise is an elite scoring forward and Koivu has been setting forwards up since the Brian Rolston and Marian Gaborik days. They are two of the most talented players in the league and are compensated handsomely because of it, but the pairing failed to find a groove in the playoffs and looked a bit rusty at times during the regular season.
A major reason why was that Parise was signed during a lockout season. Therefore, the two did not have time to develop chemistry during training camp and had minimal practice time to smooth things out in a 48-game season.
That will all change this year, and hopefully the two will have a sublime connection once the season starts.
Dany Heatley, Mikael Granlund, Nino Niederreiter
There are actually three concerns with this line.
Aside from wondering whether Granlund can handle second-line minutes, the team also has to worry about Heatley's declining performance and if Niederreiter is going to improve with a change of scenery after coming over from the New York Islanders organization.
Heatley has essentially gone from a 50-goal to a 25-goal scorer in the past couple of years, and Niederreiter went from an 18-year-old franchise savior for the Islanders to getting stuffed in the minor leagues at age 20.
The fate of the two players rests, at least in part, on Granlund, who came into last season with incredible hype and is supposed to be the kind of player who makes everyone else around him better.
If Granny has a solid season, Heater might get up to the 30-goal range and Nino will show everyone why he was considered a blue-chipper.
If not, this line could be blown up in a hurry.
Jason Zucker, Kyle Brodziak, Charlie Coyle
Zucker and Coyle came up and absolutely dominated last season.
Coyle was the most impressive, joining Parise and Koivu on the top line until the Wild made a move for Pominville. Even at his young age, he looked comfortable with two of Minnesota's franchise players and quickly won over fans with his play.
Zucker looked like a mini-Parise. He is small in size but fearlessly bowled over opponents and displayed a bit of a scorer's touch.
There are high expectations for both players next season. Zucker and Coyle could easily be on the second line if Heatley or Niederreiter falter, and he could even get some time on the first line if their play warrants it.
At the same time, it's hard to live up to high expectations—especially as a second-year player. Other teams are going to have the book on both guys and try to exploit their weaknesses. They have to be ready to make adjustments and improve if they want to have success in 2013-14.
Matt Cooke, Zenon Konopka, Mike Rupp
Minnesota has a pretty nasty fourth line…assuming these guys stay healthy.
These guys will play tough minutes, and all of them are on the wrong side of 30. Konopka is 32, Rupp is 33, and Cooke is 34.
If all three can stay on the ice this year, it will be hard for opponents to score on the Wild; Konopka is a great faceoff man, Rupp has a ton of size, and Cooke is always on the puck.
If not, things will be a little less secure.
There are young, interchangeable parts on this roster to fill in for these guys—Jake Dowell and Torrey Mitchell are 28 and Stephane Veilleux is 31—but putting the best fourth line out there will probably mean relying on guys who have played a lot of grinder minutes throughout their respective careers.
Ryan Suter, Jonas Brodin
This is sort of a joke, of course, because as far as we know, Suter and Brodin are made of flesh and blood.
Upon further examination, however, it is not insane to wonder if they aren't part cyborg. Suter plays 40 minutes during some games and never appears to tire, and Brodin stepped in as a teenager last season and looked like a 19-year veteran.
Neither player makes too many mistakes; in fact, they are both so good that most people don't even notice them when they are on the ice.
A cloaking device? That seems like something a robot would have, right?
Keith Ballard, Marco Scandella
Scandella spent all of last season down with Houston but got the call-up for the playoffs against the Chicago Blackhawks and should be paired with Ballard this year.
He signed a two-year deal in the offseason, and at age 23, he is an overlooked part of the youth movement. Scandella has shown a lot of promise despite being two or three years away from his prime.
Still, this will be his first full season in the NHL since 2011-12, when he recorded 12 points in 63 games and had a minus-22 rating. Last year he played about as many games in the playoffs (five) as he did in the regular season (six), and while he held his own against Chicago, he needs to show he can be productive for a full 82-game season.
Jared Spurgeon, Clayton Stoner
Spurgeon's place on the team is pretty secure because he is an asset on the power play, but Stoner will enter the year on the hot seat.
Stoner is 28 and knows that Nate Prosser, 27, and Jonathon Blum, 24, will also be looking for a spot on the roster.
A third-round draft pick back in 2004, Stoner is an aggressive player with decent size (6'3", 220) but proved to be turnover prone last year, and at this point, he is no longer in the "young prospect" category.
Blum is a 2003 first-rounder and Prosser is a scrappy free-agent signee from 2009, and both are viable candidates to take Stoner's job if he slips up.
It will be interesting to see how long the Wild stick with him and where Prosser and Blum fit in if Stoner remains on the third pairing all season long.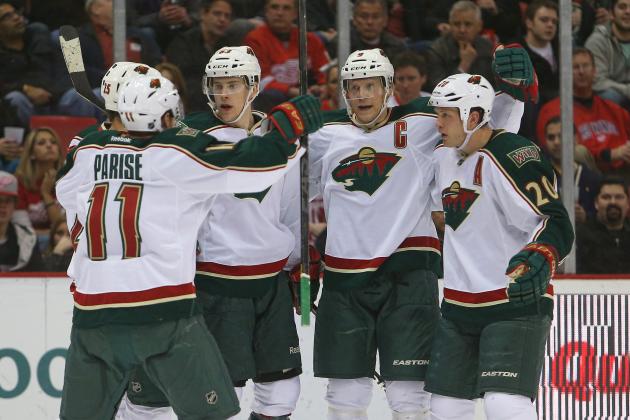 Tom Szczerbowski/Getty Images

Every line has question marks this season. Certainly there is room for discussion about which players deserve to go where, but right now it looks like the top forward line is going to be veteran-based, while the middle two are going to carry a lot of youngsters.
Defensively, the Wild will probably pair a veteran with a 20-year-old to balance out the experience levels.
This means that a lot of young players will have some questions to answer in the upcoming season.
Tom Schreier covers Minnesota sports for Bleacher Report and is a contributor to Yahoo! Sports.