UFC Fight Night 27 Results: Power Ranking the Fights from Indianapolis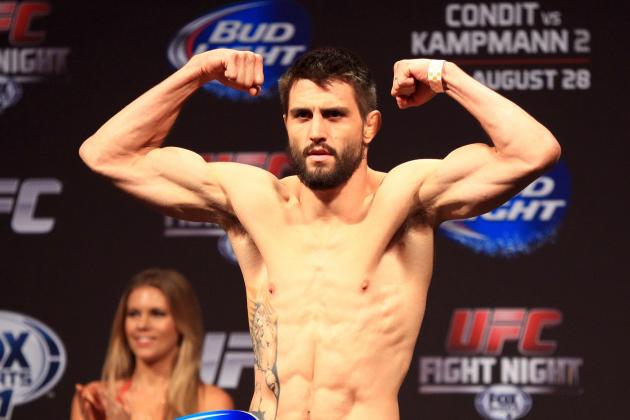 Pat Lovell-USA TODAY Sports

The UFC returned to Indianapolis for the first time since UFC 119 with a headliner featuring two welterweights coming off losses who needed bounce-back wins in a big way.
Martin Kampmann and Carlos Condit faced one another for the first time since 2009 when Kampmann took home a split-decision win. Condit would avenge the loss at UFC Fight Night 27 with an impressive fourth-round TKO finish.
In the evening's co-main event, Donald "Cowboy" Cerrone and Raphael dos Anjos looked to cement their place among the upper level lightweights in the UFC. Dos Anjos looked good early as he dropped "Cowboy" with a big right hook, but Cerrone turned it on late to make things interesting.
In the end, it would be the Brazilian who picked up yet another victory, while Ceronne once again faltered against a top-10 opponent.
In other action on the card, former The Ultimate Fighter winner Kelvin Gastelum made a succesful welterweight debut, Takeya Mizugaki won an exciting split-decision victory over a returning Erik Perez, Court McGee used his pace to tire Robert Whitaker en route to a decision victory and Brad Tavares made it look easy for two of the three rounds against Bubba McDaniel.
Which fights are worth your time to watch in case you missed them?
Begin Slideshow

»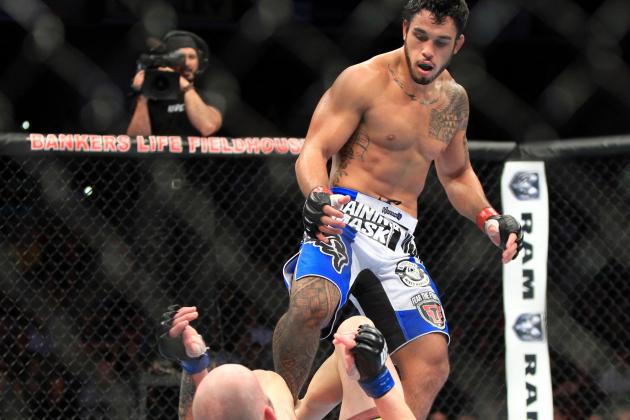 Pat Lovell-USA TODAY Sports

Brad Tavares defeated Bubba McDaniel by unanimous decision to open things off for UFC Fight Night 27. The Hawaiian took home the victory by virtue of his striking game as he left McDaniel dazed and confused on numerous occasions.
McDaniel made a comeback in the final round, but it was too little, too late for the Greg Jackson fighter.
It wasn't the exciting type of fight to kick off the event the UFC was hoping for, but it did have a clear winner as Tavares clearly took rounds one and two. McDaniel remains one of the most experienced "prospects" in the UFC, but he can't seem to put it all together when he faces a bump in competition.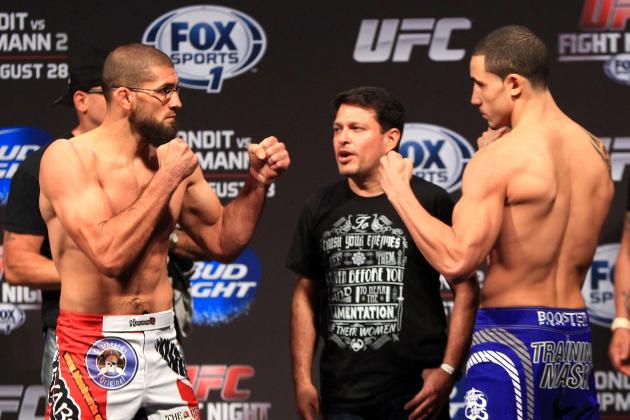 Pat Lovell-USA TODAY Sports

A battle of TUF winners took place when Court McGee faced Robert Whitaker. In the end, it would be McGee's constant pressure that would win him the split-decision victory.
McGee continued to find success at his new weight class and has now won two in a row at welterweight.
The fight was interesting as McGee constantly pushed forward, but ran into some good counters from the young Whitaker. The jab was especially effective for Whitaker. The problem for Whitaker is that every time he seemed to find his range, McGee would land a big punch or shoot for a takedown to break Whitaker's rhythm.
McGee won the split-decision, but what was most surprising were the judge's scoring. One judge saw it 30-27 for McGee, while another had it 30-27 for Whitaker. Just chalk it up to another facepalm moment courtesy of MMA judging.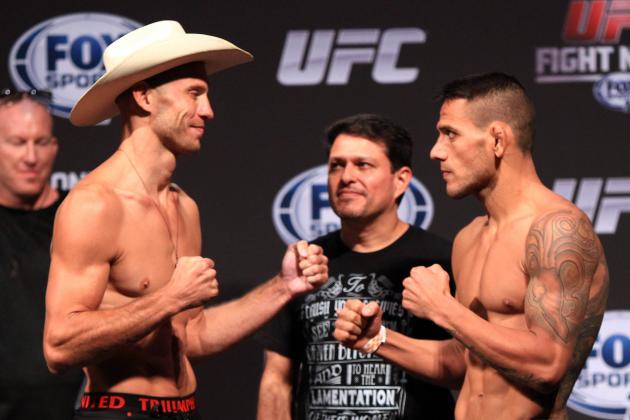 Pat Lovell-USA TODAY Sports

Donald "Cowboy" Cerrone looked great in his last fight against KJ Noons, while Raphael dos Anjos was coming off a questionable decision victory. Both men were looking to pick up a win to remain relevant in the increasingly crowded lightweight title picture, but it would be dos Anjos who picked up the unanimous decision victory.
Cerrone and dos Anjos initially traded kicks in an attempt to show the other "anything you can do, I can do better." That is until dos Anjos landed a thunderous right hook that dropped Cerrone. Dos Anjos would go on to control the remaining first round, but Cerrone threatened with submissions.
The second round saw Cerrone attempt to switch his offense up as he landed a takedown, but was largely ineffective while on top. Dos Anjos responded with some kicks and takedown attempts of his own, but overall the second round saw both men exchange moments of offense.
Cerrone was clearly the aggresor in the final round as he plodded forward, chasing Dos Anjos across the cage. Dos Anjos was able to land some shots, but was ineffective in his takedown attempts. The Brazilian attempted to land the right hook continually, but was unable to find the mark.
The fight was a technical striking affair which lead to a few moments of excitement, but still felt like a let-down considering it was the evening's co-main event.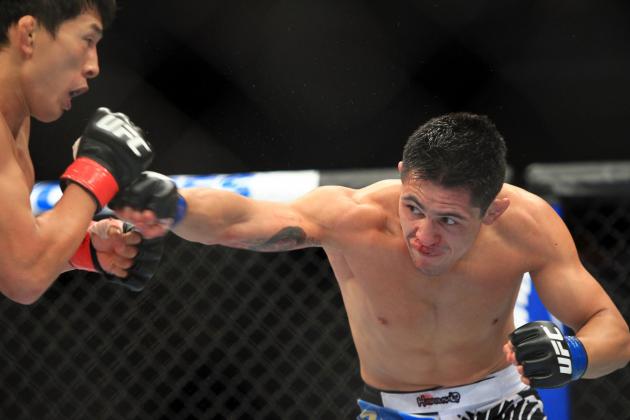 Pat Lovell-USA TODAY Sports

Takeya Mizugaki and Erik "Goyito" Perez wasted little time in getting to know one another as both men came out throwing heavy shots almost as soon as the bell rang.
With both men's ability to put on an exciting fight, I'm surprised this fight didn't kick off the event. Either way, the fight was a nice pick-me-up from the one-sided affair from Brad Tavares and Bubba McDaniel. Mizugaki and Perez exchanged shots until Perez looked for a takedown in the first round.
In the second, Mizugaki's striking skills took over and he was clearly outclassing Perez on the feet. "Goyito" landed a good shot every now and then, but it likely wasn't enough to sway the judges' minds.
The final round saw Mizugaki finish strong, but the fight still went to a split decision which Mizugaki was awarded the win.
Split decisions always involve a bit of controversy and, despite who you thought won the fight, there was little doubt about the excitement level of the fight.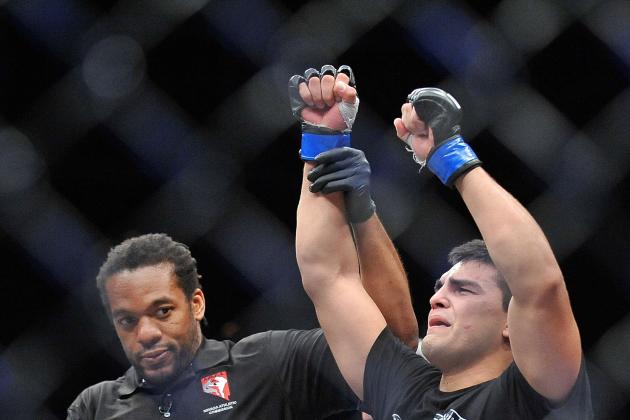 Gary A. Vasquez-USA TODAY Sports

Kelvin Gastelum was looking to make a good impression in his welterweight debut. I don't think he has to worry about not looking good in his new weight class.
The former TUF winner Gastelum came out and began to use his wrestling in the early minutes. He dropped Melancon with an uppercut and jumped onto Melancon's back. It was elementary from there as Gastelum locked in a rear naked choke to secure the submission victory.
The fight was pretty one-sided in that Gastelum looked great, but the fight-ending flurry and submission tap was nice to see. After three-straight decisions to open the night, it was nice for the fans watching at home to see a finish.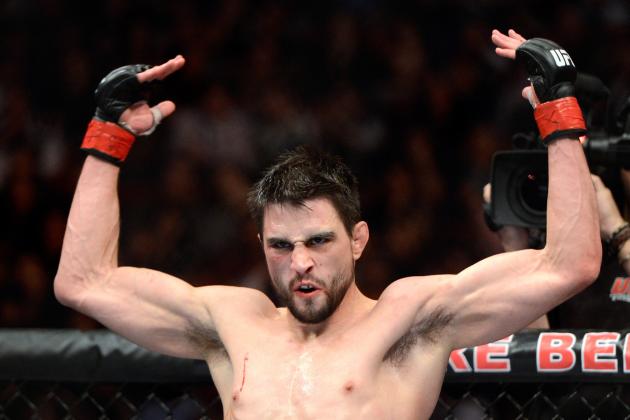 Eric Bolte-USA TODAY Sports

Carlos Condit achieved some form of retribution as he defeated Martin Kampmann in a rematch of their highly controversial 2009 meeting. Kampmann used his wrestling to take a split-decision victory from Condit in "The Natural Born Killer's" UFC debut.
Kampmann looked to follow the same path to success as he immediately came out looking for a single leg takedown in the opening seconds. Kampmann continually looked for the takedowns every time Condit was able to get back to his feet.
"The Hitman" took the first round easy despite not doing any damage or threatening with submissions from the top.
It would be the last time Kampmann would come close to victory as his fatigue level became more evident as the minutes ticked by. Condit found his range and began to launch a number of impressive combinations.
After bloodying up Kampmann's face pretty good through the first three-and-a-half rounds, Condit finally secured the stoppage as referee Herb Dean stepped in to stop the fight as Kampmann collapsed against the cage.
The fight started off interesting enough, with Kampmann, a striker by trade, using his wrestling to ground Condit's offense. It appeared as though the strategy backfired, however, as Kampmann was clearly fatigued after the first round.
Condit-Kampmann II may not have as been as exciting as the first one, but it was nice to see "the old Carlos Condit" back.