Madden NFL 25 Unlockable Players: Troy Aikman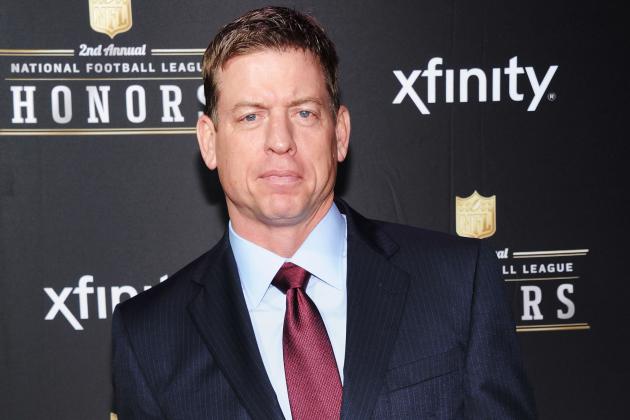 Jamie McCarthy/Getty Images

Former Dallas Cowboys quarterback Troy Aikman is available as an unlockable player in this year's iteration of the Madden video game franchise: Madden NFL 25.
Aikman's work with the Dallas Cowboys over 12 seasons landed him in the Hall of Fame. Before he lands on your virtual team to compete with today's players, check out a few stats and fun facts about the former Cowboys star.
All stats courtesy of Pro-Football Reference.
Begin Slideshow

»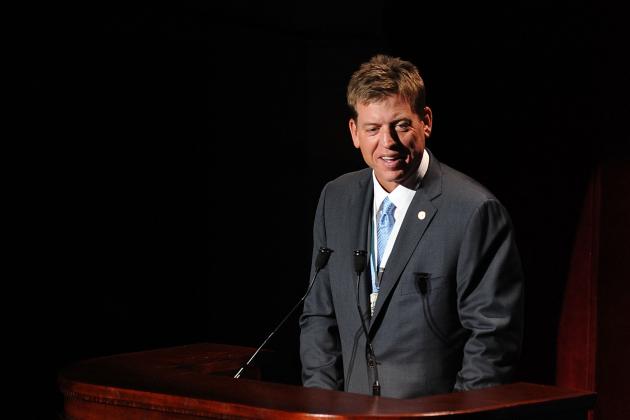 Bryan Bedder/Getty Images

Troy Kenneth Aikman was born in West Covina, Calif., on Nov. 21, 1966. The New York Mets drafted him, but he went to Oklahoma to play football. He broke his leg in his first game, was frustrated with the offense and eventually transferred to UCLA.
That turned out to be a good move.
Aikman went No. 1 in the 1989 NFL draft and started all 11 games he played as a rookie.
He lost them all, though.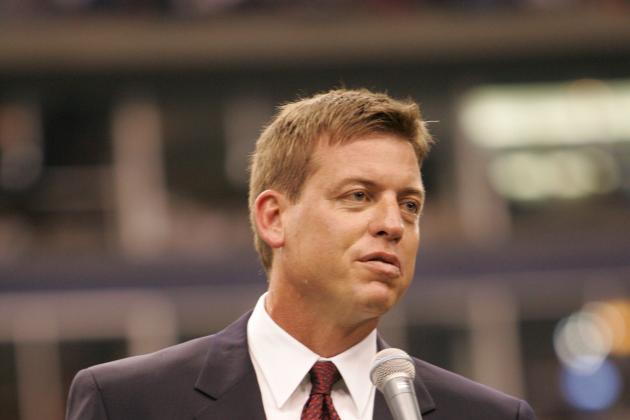 Ronald Martinez/Getty Images

After a winless rookie season, Aikman rebounded to a 94-60 regular-season record throughout the rest of his career. He won double-digit starts in five straight seasons, from 1992 to 1996. The Dallas Cowboys won more games than they lost with him at the helm in seven of Aikman's 12 years of service.
He added an 11-4 career playoff record and six Pro Bowl nominations.
His 2,898 career completions rank 18th all-time.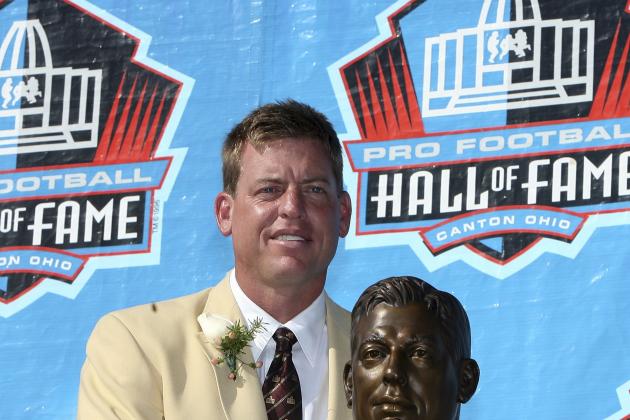 Doug Benc/Getty Images

Across 12 seasons, Troy Aikman completed 2,898 of 4,715 passes, amassed 32,942 passing yards, 165 touchdowns vs. 141 interceptions, and was sacked 259 times for 1,748 yards. He threw for 199.6 yards per game in his career.
Aikman barely eclipsed 1,000 rushing yards, covering 1,016 and scoring nine touchdowns on 327 attempts (3.1 per carry). He actually caught two passes in his first three seasons, but they went for a total negative-19 yards.
Might not want to line up in the Wildcat formation to chuck it to him out wide.
If scrambling QBs are your thing in Madden, Troy Aikman might not be your best bet. He can move a little bit, but you're going to need to be pretty adept at picking defenses apart with a pocket passer to best enjoy Aikman's skills on the virtual field.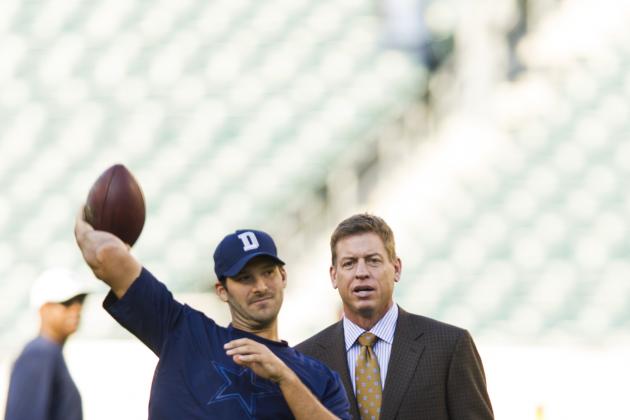 Howard Smith-USA TODAY Sports

After throwing a career-high 23 touchdown passes in 1992, Aikman played 14 games in 1993. He completed 69.1 percent of his passes, which was by far a career high, for 3,100 yards, 15 touchdowns and just six interceptions.
That was good for a 99.0 passer rating.
He also won the second of his three Super Bowl rings that year.
Washington Redskins linebacker LaVar Arrington is credited with ending the career of Troy Aikman with this vicious hit near the sideline after Aikman rolled out to attempt a pass.
He subsequently retired.
I'm not at all making light of his situation—but it goes to show that attempting to gain 100 yards rushing in one appearance with Aikman in Madden is not the wisest strategy. The game is quite realistic. He may not get concussed and knocked out of a contest, but he's not exactly going to be eluding or outrunning defenders, either.
Guys are going to catch him.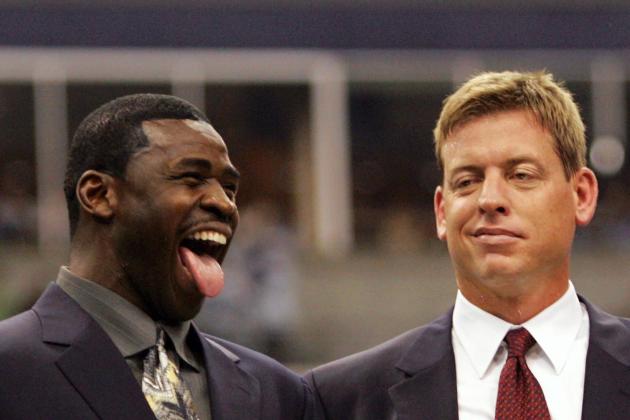 Ronald Martinez/Getty Images
Two of the three "Triplets": Michael Irvin and Troy Aikman. Not pictured: Emmitt Smith
Troy Aikman was enshrined in the Pro Football Hall of Fame in 2006. He's joined in Canton by longtime teammates running back Emmitt Smith and wideout Michael Irvin (aka The Playmaker).
Irvin got in in 2007. Smith was inducted in 2010.
"The Triplets," who all entered the NFL as first-rounders in three consecutive years from 1988 (Irvin, 11th) to 1990 (Smith, 17th), enjoyed three Super Bowl wins with the Dallas Cowboys following the 1992, 1993 and 1995 seasons.
Jamal Collier graduated from Washington University in St. Louis and is now a law student who covers the NFL in his spare time. His work also appears on Yahoo!. Follow him on Twitter: Follow @JCollierD