Michigan Basketball 2013-14 Schedule: 5 Must-See Games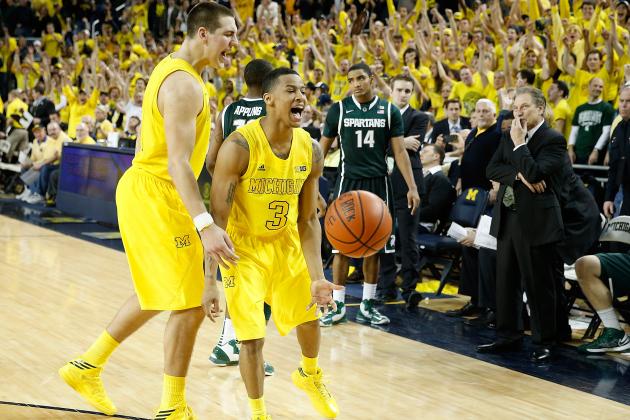 Gregory Shamus/Getty Images
Last season's Michigan vs. Michigan State matchups provided plenty of excitement.
At long last, the Michigan basketball schedule for the 2013-14 campaign has been unveiled.
If anyone doubts the Wolverines have indeed returned to the national spotlight, television broadcasting companies strongly disagree. Michigan will play on ESPN 13 times and make at least two appearances on CBS.
There are plenty of marquee games on this season's slate. The Puerto Rico Tip-Off may provide two of the Wolverines' best contests, but since only one opponent is known at this time neither of the potential matchups can be dubbed as a must-watch.
This is not a problem for the Maize and Blue faithful, though. At least five other games will have Michigan fans glued to their couches, or arena seats.
Begin Slideshow

»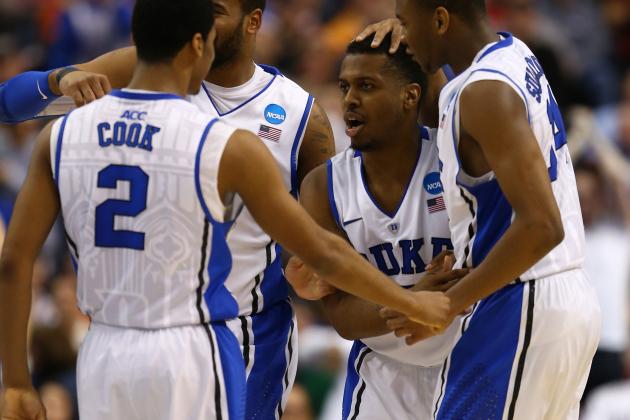 Elsa/Getty Images
Quinn Cook and the Duke Blue Devils will be a stiff test for a young Michigan team.
Despite the fact the Michigan Wolverines will likely come out on the losing end of this matchup, not watching this game would be a serious mistake.
This is not as much of a knock on the Wolverines as it is a testament to the Duke Blue Devils' home-court advantage. Duke has not lost a nonconference game at Cameron Indoor Stadium since Feb. 26, 2000. Additionally, head coach Mike Krzyzewski boasts a 244-11 record against visiting non-ACC opponents during his tenure.
The young group of Wolverines may struggle in the raucous environment, but they will compete. Glenn Robinson III and Mitch McGary give Michigan more than enough firepower to hang with the Blue Devils. Having what it takes to steal a win in Durham is a bit of a stretch, though.
Still, given the fact the Wolverines and Blue Devils should both be highly ranked by this time, there is no excuse to miss this game.
Add in the major ramifications this could have on the Big Ten-ACC Challenge and NCAA tournament seeding, and the result is a nonconference clash of epic proportions.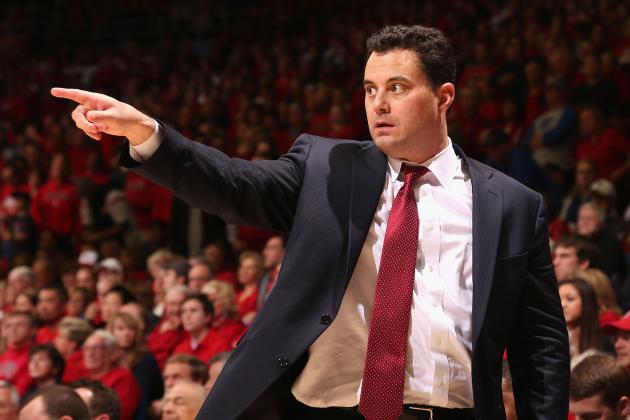 Christian Petersen/Getty Images
Sean Miller and the Arizona Wildcats had better be ready for a rowdy crowd at the Crisler Center.
Just about all of the Michigan Wolverines' nonconference games worth paying attention to are away from home, except for one. The Dec. 14 clash with the Arizona Wildcats. And oh boy, the crowd at the Crisler Center is going to be one of the rowdiest in recent memory.
This matchup falls on a Saturday, which gives season ticket holders no excuse to miss out on this one. There will not be an unoccupied seat in the arena. Athletic director Dave Brandon will not allow it.
Expect the rims to be shaking when the Wildcats come to Ann Arbor as well. Both teams have the potential to turn this into a dunking highlight reel. Glenn Robinson III provides this for the Wolverines, but he will definitely be challenged by ESPN 5-star forward Aaron Gordon.
The dunks these two can throw down are just unreal. A quick YouTube search will provide you with all the evidence required to solidify that statement.
Arizona is expected to be a Top 10 team this season, as is Michigan. So, why would anyone turn down the chance to watch two potential Final Four teams do battle in mid-December? College basketball fans are salivating just thinking this showdown.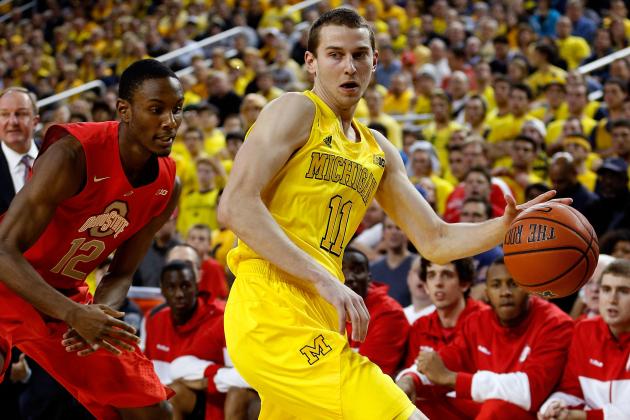 Gregory Shamus/Getty Images
The Wolverines and Ohio State Buckeyes only meet once this season.
Not having to face the Ohio State Buckeyes twice in one season is a slight advantage when it comes to the Big Ten Conference chase. However, only facing an archrival once during league play is likely a little disappointing to the two fanbases.
It also means bragging rights for nearly an entire year are on the line. Emotions will be high with no shot at redemption for either team until the 2014-15 campaign. No one should be missing the latest installment of this bitter rivalry.
Traveling to Columbus presents a big test for the Michigan Wolverines. After all, the Maize and Blue have not won there in a decade.
The game also kicks off a brutal four-game stretch for the Wolverines, making this a prime opportunity to build confidence and add a marquee win to their postseason resume.
The pair of matchups between Michigan and Ohio State last season came down the wire, too. The Buckeyes held off the Wolverines in a 56-53 win at home, while the latter held serve on its own floor with a 76-74 overtime victory. Another nail-biter is likely on the horizon.
Late February is when conference championships can be won or lost, especially when two of the top dogs square off. College GameDay may be in East Lansing for the Jan. 27 matchup between Michigan and Michigan State, but the more intriguing game will take place a month later.
By this time, the Big Ten title chase will be reaching its pinnacle. And with limited time for either team to make up ground on the other after this game, the victory may in effect clinch the league crown.
Oh, and did I mention this is becoming one of the most heated rivalries in college basketball?
Finally, the top two teams in the Great Lakes State are on the same level. After years of one program dominating the other, Michigan and Michigan State faced each other as Top 10 teams for the first time in history last season. Actually, it happened twice in 2012-13.
The Wolverines have won four of the last six meetings. Trey Burke's heroics in the most recent clash still has Spartan fans wondering how they missed out on a sweep.
This rematch is sure to thrill both fanbases for yet another year.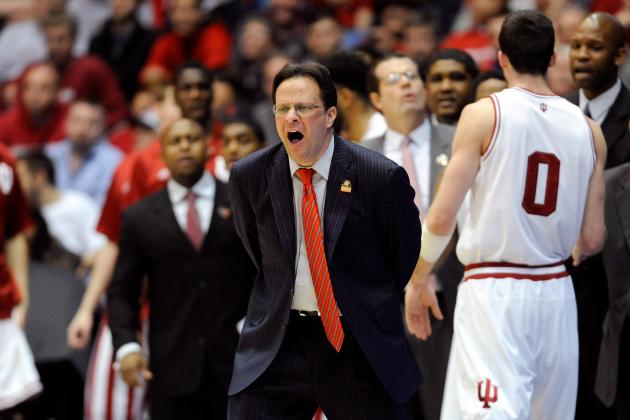 Jason Miller/Getty Images
Tom Crean sparked some controversy following the Indiana Hoosiers' win at the Crisler Center last season.
This is the final game on the Michigan Wolverines' 2013-14 schedule, so chances are the Big Ten title will be at stake. If that is not enough for you, imagine the reception Indiana Hoosiers head coach Tom Crean is going to receive upon being introduced.
It will probably be the loudest booing a coach has received in quite some time. Crean had some unfriendly words for Michigan assistant coach Jeff Meyer after the Hoosiers' 72-71 win at the Crisler Center. Since the incident, Crean has apologized, but that will do little to deter the Maize and Blue faithful come March 8.
In spite of Indiana's youth, it should be a heavyweight team by the end of the season. Two of the best teams in the Big Ten facing off to conclude the regular season makes for some great theater.
Last year's tilt in Ann Arbor came down to one rotation of the basketball, literally. A conference title was won by Indiana and lost by Michigan on a fateful missed tip-in attempt by Jordan Morgan in the final seconds.
A much different story could be written this year, but this game should be every bit as entertaining as last season's.