Realistic Dream Scenarios for Every 2013 MLB Playoff Contender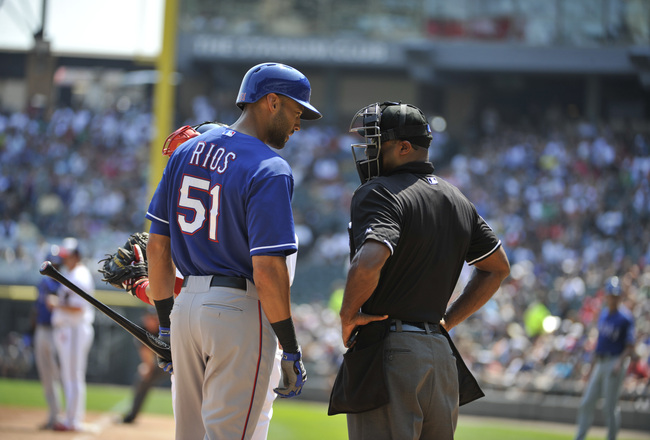 The Texas Rangers would sure love it if Alex Rios began to hit.
David Banks/Getty Images
There are 12 teams vying for just 10 playoffs spots. While it goes without saying that any of these teams would love to add Miguel Cabrera or Felix Hernandez to solidify their rosters, that type of trade isn't going to happen in late August (or ever, really).
Instead, these teams are going to have to depend on other, more realistic dream scenarios. A playoff contender could certainly hope that a slumping hitter begins to produce, an injured pitcher returns to the mound after sitting on the disabled list or even making a small waiver move will bolster their roster.
Below are the realistic dream scenarios for every 2013 MLB playoff contender.
Statistics sourced (through August 27) from Baseball-Reference.com.
Boston Red Sox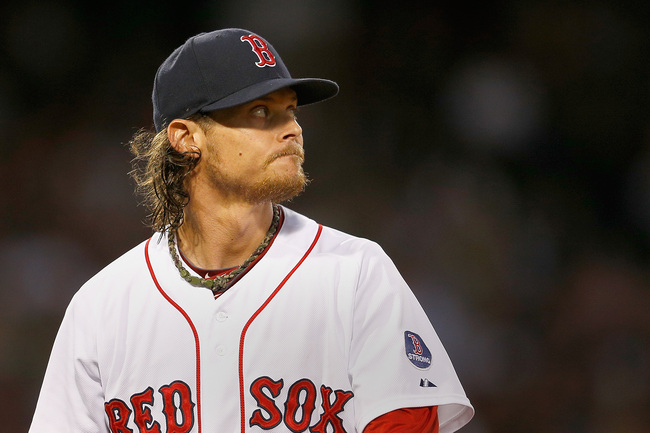 If Clay Buchholz were to return from injury, it would give the Boston Red Sox some pretty incredible depth.
Jim Rogash/Getty Images
The Boston Red Sox acquired Jake Peavy from the Chicago White Sox at the deadline in part to fill the void created by Clay Buchholz. Buchholz, who has not pitched since June 8 due to a right shoulder injury, recently made a shaky rehab appearance, according to Scott Miller of CBSSports.com.
Buchholz is set to make another rehab start on Friday, August 30 and could then be a September call-up for the Red Sox.
If the right-hander can pitch anywhere near his pre-injury 1.71 ERA (versus a park-adjusted 246 ERA+), the Red Sox's rotation would boast unparalleled depth.
Tampa Bay Rays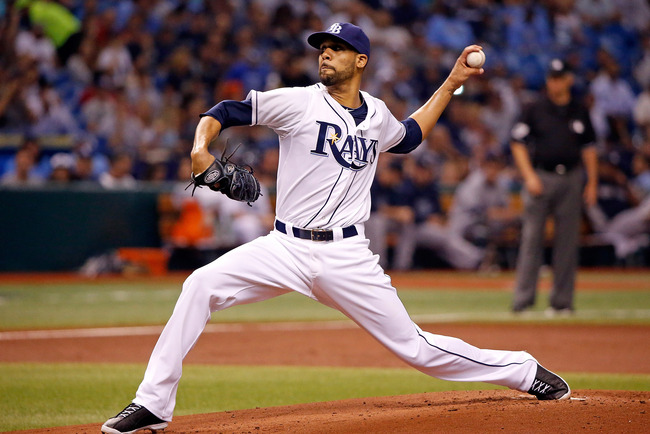 Don't go changin', David Price.
J. Meric/Getty Images
For the first two months of the season, David Price was not pitching like himself. The 2012 Cy Young Award winner posted a mere 5.24 ERA, 1.43 WHIP and 3.50 K/BB in April and May. Price then spent half of May on the disabled list with a strain in his left tricep, which concerned the Tampa Bay Rays' front office and fans as to whether their star pitcher would ever return to form this season.
To Price's credit, the 28-year-old has bounced back mightily. Since being activated, the pitcher has hurled a 1.97 ERA, 0.86 WHIP and 10.33 K/BB—in addition to seven personal wins.
With the close race in the American League East, the Rays simply need Price to continue pitching like he has. If he does, the Rays will at least capture one of the two wild-card spots.
Baltimore Orioles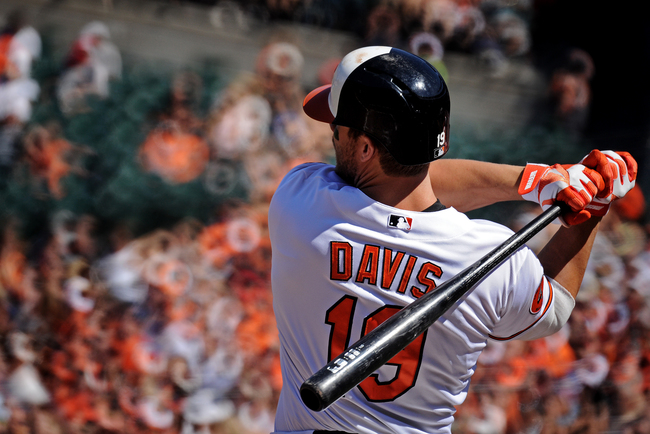 Chris Davis needs to keep hitting home runs to keep the Baltimore Orioles' playoff hopes afloat.
Patrick Smith/Getty Images
The Baltimore Orioles simply won't go away. After advancing into the playoffs for the first time in 15 years in 2012, the Orioles are back in the hunt again. Yet, even though the New York Yankees are non-contenders, the Orioles still face an uphill battle to best both the Boston Red Sox and Tampa Bay Rays.
At five-and-a-half games back in the American League East, it's more likely the team will vie for a wild-card spot rather than being the division leader.
Regardless of how the Orioles find themselves in the playoffs, the team needs slugger Chris Davis to hit more like he did in the first half.
So far in the second half, Davis has been human. The 27-year-old has posted a .266 batting average, .921 OPS and just nine home runs, compared to his .315 batting average, 1.109 OPS and 37 home runs in the first half.
To Davis' credit, the left-handed batter has hit to the tune of a .291 batting average, 1.073 OPS and eight home runs in August. But with such fierce competition, Chris Davis cannot afford to endure a rough September.
Detroit Tigers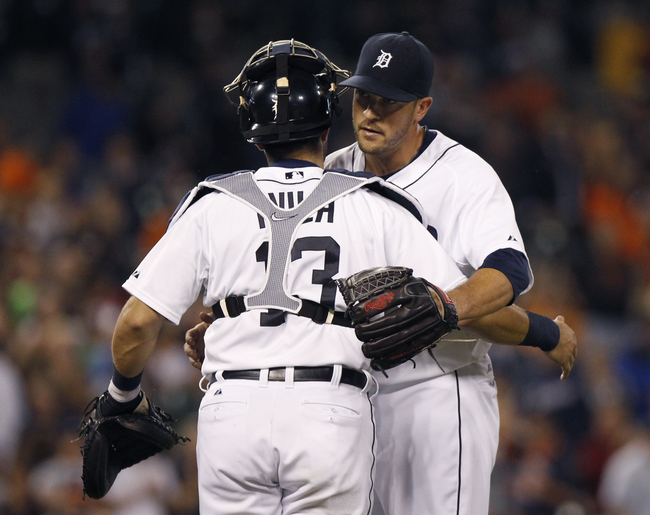 Alex Avila leads the league in hugs.
Duane Burleson/Getty Images
With starting catcher Alex Avila suffering from post-concussion symptoms, the Detroit Tigers' backstop depth looks rather murky. The Tigers have used a combination of career backup Brayan Pena, farmhand Bryan Holaday and designated hitter Victor Martinez in Avila's place.
In an ideal world, the Tigers would slot Martinez behind the dish—but then again, the 34-year-old hasn't been a full-time starter there since 2010. And even though Pena has posted a solid park-adjusted 97 OPS+ (versus career 72 OPS+), the switch-hitter has never been used in more than a reserve role.
With the recent trade of New York Mets' catcher John Buck to the Pittsburgh Pirates, the chances of the Tigers acquiring a decent, waivers-cleared backstop just became even slighter.
Assuming Avila continues to deal with the aftereffects of concussion (as must concussed players do), the Tigers will have to hope one of their three catching options can rise to the occasion.
Cleveland Indians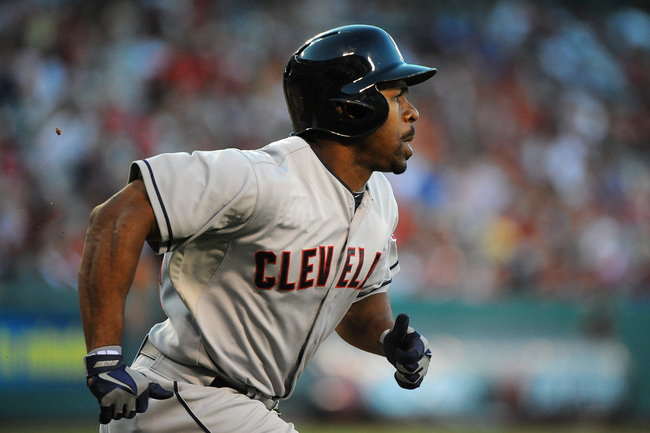 Michael Bourn has done little in 2013 to prove he's worth his new contract.
Lisa Blumenfeld/Getty Images
Many critics were surprised when the Cleveland Indians, who were fresh off of trading Shin-Soo Choo, inked outfielder Michael Bourn to a four-year, $48 million contract. Even though Bourn had been the standard for health from 2008 to 2012, averaging 644 plate appearances during that span, the 30-year-old missed almost a month in 2013 with a lacerated index finger.
Injury aside, Bourn has been mediocre for the Indians in year one of his contract. The speedster has only swiped 19 bases—while getting thrown out 10 times (65.5 percent stolen base rate). Bourn has also been less patient in 2013, walking at a 6.7 percent clip compared to a career 8.7 percent rate.
The Indians face some stiff wild-card competition with whoever loses out in the American League East and West divisions. Unless Bourn begins to produce like he has in the past, the Tribe stands little chance of ousting the likes of the Tampa Bay Rays or Oakland Athletics.
Texas Rangers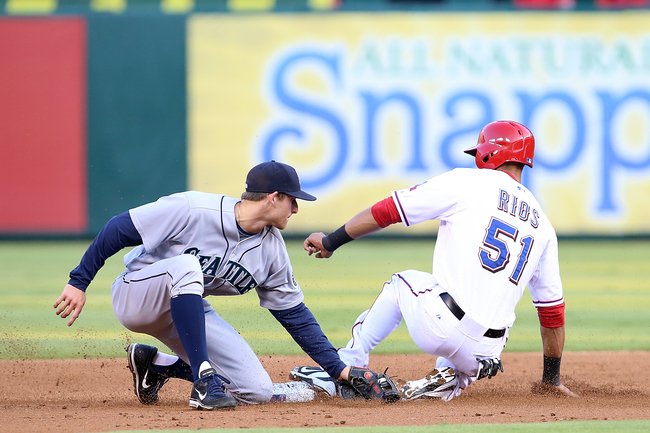 Alex Rios has not helped fill the Nelson Cruz void.
Rick Yeatts/Getty Images
With Nelson Cruz lost for the year due to his involvement with the Biogenesis scandal, the Texas Rangers wasted little time finding his replacement: Alex Rios.
The 32-year-old enjoyed a career year in 2012 with the Chicago White Sox, hitting to the tune of a .304 batting average, park-adjusted 125 OPS+, 25 home runs and 23 stolen bases. But even though Rios didn't come close to replicating his big season over his first 465 plate appearances (99 OPS+) in 2013, the right-handed hitter has looked even more pedestrian with the Rangers.
Rios has posted a .273 batting average, 84 OPS+ and just one home run over 68 plate appearances since being dealt. Considering the departed Cruz swatted a 123 OPS+, the Rangers are not receiving adequate corner outfield production.
In an ideal world, Rios would find the happy medium between his 2012 and 2013 seasons and help propel the Rangers into the playoffs.
Oakland Athletics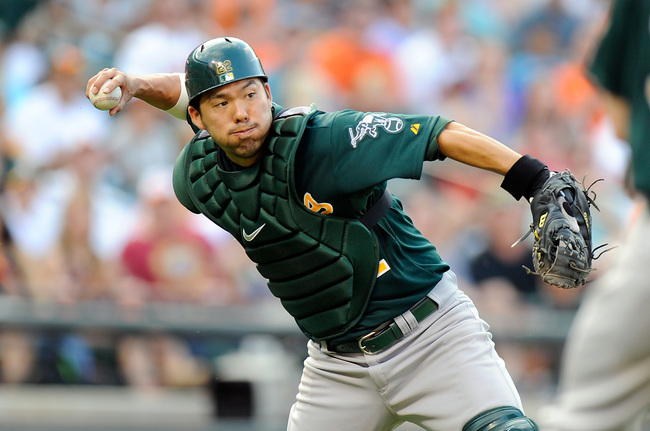 Kurt Suzuki is back with the Oakland Athletics.
Greg Fiume/Getty Images
The Oakland Athletics were recently dealt a tough blow, losing both of their catchers, Derek Norris and John Jaso, to injury. The A's were quick to replace the tandem, re-acquiring Kurt Suzuki, whom they traded in 2012, from the Washington Nationals.
Suzuki originally signed his four-year, $16.25 million extension in July 2010, despite only hitting .242 with a park-adjusted 83 OPS+. Since then, the 29-year-old has owned a mediocre .232 batting average and 75 OPS+—mostly serving as a backup option to Wilson Ramos in Washington.
But the A's need Suzuki to be much more than a middling understudy. The combination of Norris and Jaso made for a productive offensive platoon behind the dish. Considering Suzuki hasn't been an above-average starting player since 2009, the Athletics will need a miracle to help Suzuki and his all but evaporated skill set.
Atlanta Braves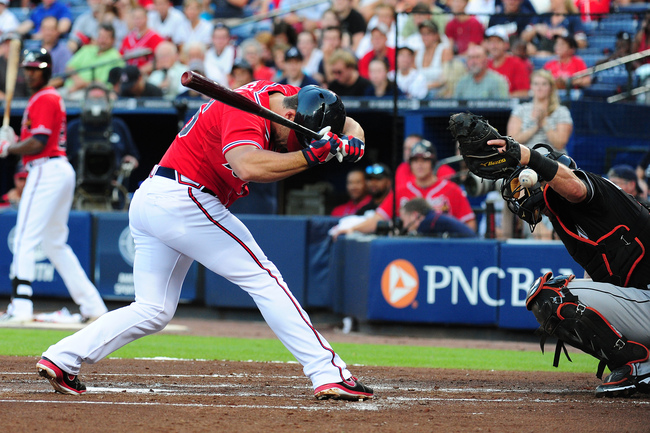 Dan Uggla has new eyes, thanks to Lasik surgery.
Scott Cunningham/Getty Images
Considering the Atlanta Braves are 13 games ahead of the Washington Nationals for first place in the National League East, the Braves are essentially a lock to advance to the playoffs.
With Dan Uggla recovering from his recent Lasik surgery, however, the Braves have been forced to use Elliot Johnson as their starting second baseman. Johnson, who owns a career park-adjusted 62 OPS+, is obviously not a long-term (and barely a short-term) solution.
According to Mark Bowman and Eric Single of MLB.com, Uggla looked ready in what was likely his final rehab assignment at Triple-A on Tuesday, August 27. But even when he returns, Uggla's new eyes might take awhile to adjust to the game.
St. Louis Cardinals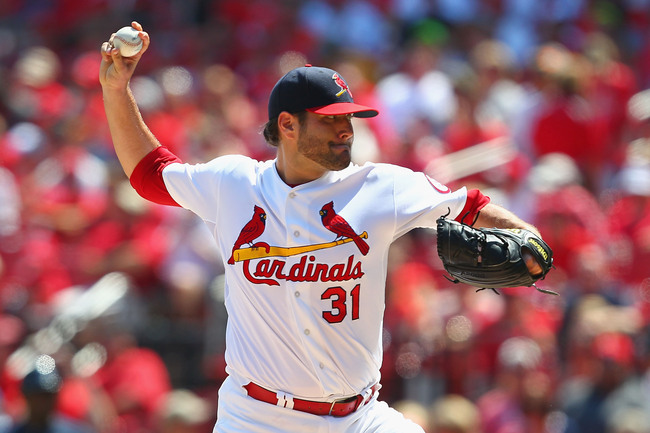 Lance Lynn has been a shell of himself since May.
Dilip Vishwanat/Getty Images
After primarily being used out of the bullpen in 2011, Lance Lynn emerged as a dependable starting pitcher in 2012. The right-hander pitched to the tune of a 3.78 ERA (versus a park-adjusted 100 ERA+), 1.31 WHIP and 2.81 K/BB.
The 2013 season has been a tale of two pitchers, however. Despite hurling a combined 2.91 ERA and .621 OPS against in April and May, Lynn has posted a miserable 4.77 ERA and .728 OPS against in 16 starts since then.
With the Pittsburgh Pirates just one-and-a-half games out of first place, the Cardinals need Lynn—one of their top hurlers—to pitch to his early-season levels.
Pittsburgh Pirates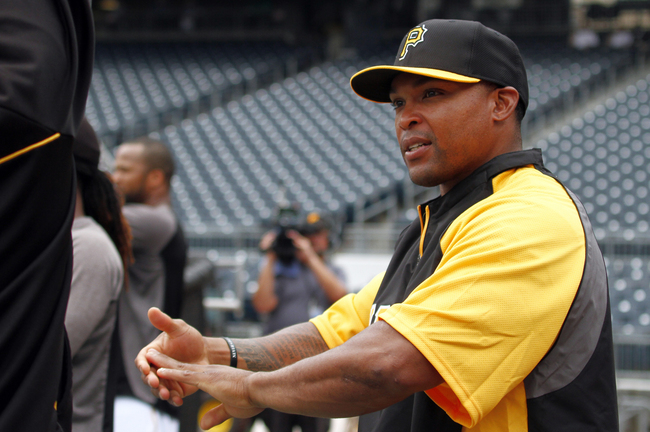 Introducing Marlon Byrd, the newest member of the Pittsburgh Pirates.
Justin K. Aller/Getty Images
The Pittsburgh Pirates didn't wait long to replace stud outfielder Starling Marte, who badly sprained his right hand. The Pirates quickly acquired Marlon Byrd (and John Buck) from the New York Mets for second base prospect Dilson Herrera and a player to be named later.
Considering SB Nation's John Sickels ranked Herrera as the ninth-best prospect within the Pirates organization in the preseason, the surging team is hoping Byrd can extend his surprising 2013 season.
And surprising it has been. Byrd, 35, posted a mere .210 batting average and a park-adjusted 33 OPS+ over 153 plate appearances in 2012. The outfielder was also suspended for 50 games in June 2012 for using banned substances.
Despite his fall from grace, the Mets handed Byrd a minor league contract in the offseason and even a crack at starting. The veteran rewarded the team's loyalty with a career-best 136 OPS+ and 21 home runs.
If Byrd continues his hitting ways for the Pirates, the team has a good chance of not only ousting the St. Louis Cardinals in the National League Central, but also advancing to the playoffs for the first time since 1992.
Cincinnati Reds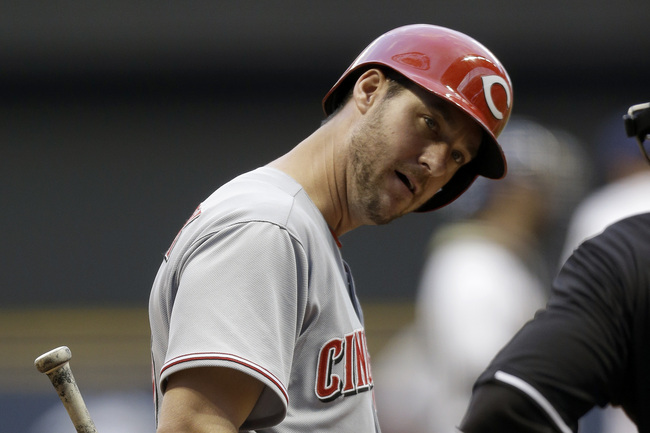 That's one heck of a head tilt, Ryan Ludwick.
Mike McGinnis/Getty Images
The Cincinnati Reds bolstered their outfield this past offseason by acquiring Shin-Soo Choo from the Cleveland Indians. But all eyes have been on a different Reds outfielder as of late: Ryan Ludwick.
Ludwick, who posted a park-adjusted 129 OPS+ and 28 home runs in 2012, has been sitting on the disabled list for most of 2013 recovering from a torn right labrum.
Since returning to the field on August 12, however, Ludwick has hit a mere .225 with a .587 OPS. The Reds had been using a combination of Chris Heisey and Xavier Paul in his absence but were hoping the right-handed hitter would return with a bang.
The Reds, who are four-and-a-half games out of first place in the National League Central, need as much help as they can get to oust the St. Louis Cardinals and Pittsburgh Pirates. And if Ludwick starts swinging the bat like he did in 2012, it would give the Reds a fighting chance.
Los Angeles Dodgers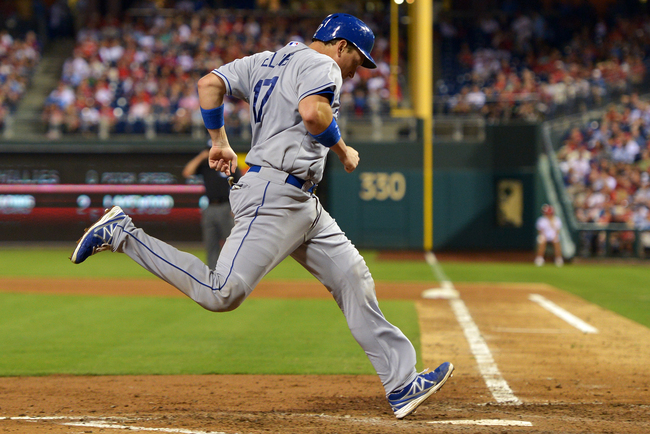 A.J. Ellis only has six home runs in 2013.
Drew Hallowell/Getty Images
The Los Angeles Dodgers went from "grossly overpaid losers" over the first few months to "grossly overpaid winners" as of late. The Dodgers are eight-and-a-half games ahead of the Arizona Diamondbacks in the National League West and are seemingly a lock for the playoffs.
Even without Matt Kemp, the team's offense has survived. The likes of Yasiel Puig, Hanley Ramirez, Adrian Gonzalez, Andre Ethier and even Carl Crawford have picked up the slack. But one hitter has stuck out like a sore thumb in 2013: A.J. Ellis.
Despite posting a .270 batting average, park-adjusted 117 OPS+ and 13 home runs in 2012, the catcher has struggled mightily in 2013. The 32-year-old Ellis has hit to the tune of a .246 batting average, 95 OPS+ and just six home runs this season.
The Dodgers' playoff hopes might not rest on Ellis' shoulders, but if the catcher begins to contribute, it would certainly boost the team's lineup.
Keep Reading