What to Expect from Each New England Patriots Starter in 2013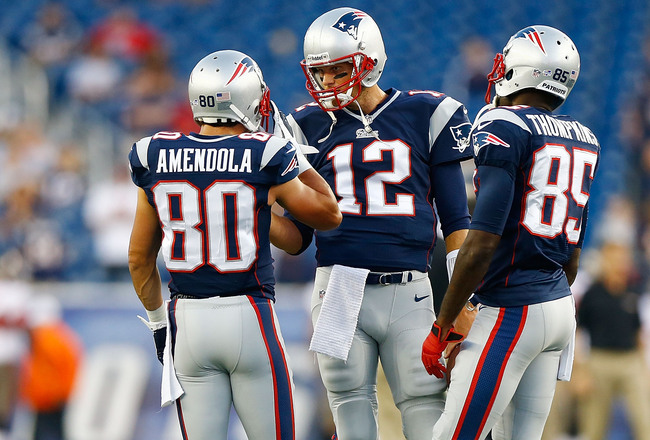 The Patriots look to have a powerful offense yet again.
Jared Wickerham/Getty Images
The regular season is oh so close, giving football fans everywhere goosebumps. It is going to be another exciting year for the New England Patriots in 2013-14, with expectations nearly as high as ever.
There are so many new faces, especially on offense, so things will be a bit different for the Pats. Still, Tom Brady remains one of the league's best with another impressive supporting cast around him.
For the most part, the Patriots have solidified their starters on both sides of the ball. A few position battles remain, however.
This is what to expect from each Patriots starter in 2013-14.
Tom Brady, QB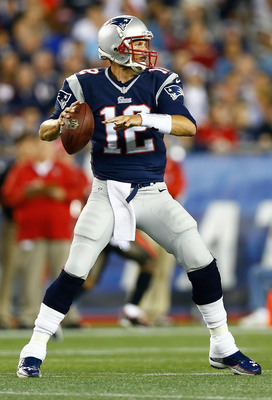 New receivers for Brady? No problem.
Jared Wickerham/Getty Images
Same year, same story for Tom Brady. Sure, he has a new group of receivers and tight ends. That will not slow down this future Hall of Famer.
Brady will, once again, be among the league leaders in every passing category.
He has an established running game behind him and a solid offensive line. Brady has also shown in the preseason that a new group of wideouts is not going to be a problem.
Even though he may not have the reliable Wes Welker anymore, don't fear. He has a number of excellent options at receiver, tight end and running back.
Brady will likely clip 4,000 yards passing, yet again this season, and will continue to improve his legendary resume.
Stevan Ridley, RB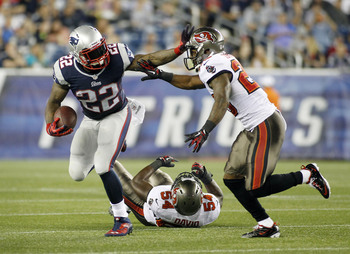 Ridley will have another big season.
Stew Milne-USA TODAY Sports
Last season was huge for Stevan Ridley. He gave the Patriots something they hadn't had in quite some time—a great running back.
Ridley broke through for a monstrous season on the ground. Last year, he had a knack for finding the end zone, rushing for 12 scores.
Even with Shane Vereen taking some of his touches, he is still the top option in the backfield. Ridley will easily top 1,000 yards again and will likely finish among the NFL's best in rushing touchdowns.
Danny Amendola, WR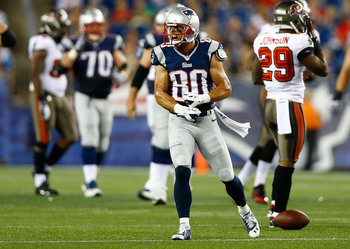 Amendola will thrive with the Pats.
Jared Wickerham/Getty Images
Joining the Patriots will be the best thing that ever happened to Danny Amendola. He is going to absolutely thrive in this offense with Brady.
Amendola has looked great during preseason action. In his last outing, against the Tampa Bay Buccaneers, he made six grabs for 71 yards and a touchdown.
He already proved that he is going to be a great fit with the Pats and has good chemistry with Brady already.
Achieving 1,000 receiving yards should come easy for Amendola, which would be a first in his young career. Brady will look his way often, and he will have a career year.
Kenbrell Thompkins, WR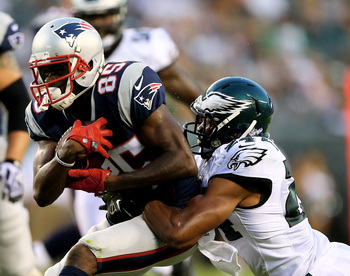 Thompkins has been superb in the preseason.
Elsa/Getty Images
Kenbrell Thompkins has been the biggest surprise for the Pats in the offseason and in preseason games. He went from being an undrafted free agent to what now looks to be the most reliable set of hands on this team.
Thompkins has been terrific in the preseason, especially last week against the Detroit Lions. The rookie wideout caught an impressive eight passes for 116 yards in Detroit.
There is no doubt that he has earned a starting spot on the offense and will be a valuable weapon for Brady this season. Thompkins will catch a lot of passes this season, and he will prove to be one of the best rookie wideouts in the league.
Aaron Dobson, WR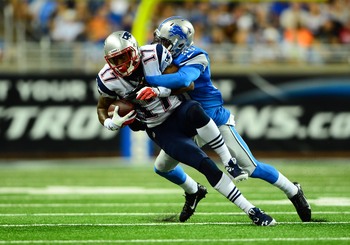 Could Dobson be that needed deep threat?
Andrew Weber-USA TODAY Sports
Patriots fans were amped when the team drafted Aaron Dobson in the offseason—and for good reason. He has a ton of potential as a deep threat.
Dobson figures to be the "X" receiver for the Patriots, spending most of his time running deep downfield routes. He has the speed and size to be a big-play wide receiver in the NFL.
A case could be made that Josh Boyce or Julian Edelman could start in Dobson's place, but unless something drastic happens Thursday night, that probably won't happen.
Dobson has made at least two catches in each preseason game so far. There will be times when he makes some huge plays for the Pats, then there will be other times where he will make some rookie mistakes, which are all part of the learning curve.
Zach Sudfeld, TE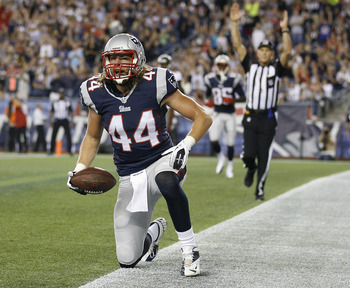 Sudfeld will take Gronk's role for the time being.
Stew Milne-USA TODAY Sports
Until Rob Gronkowski returns to action, Zach Sudfeld is the man at tight end. This 6'7", 260-pound beast will benefit from Gronk's absence.
He will get some much-needed reps against first-team defenses. Sudfeld will also get a number of scoring chances near the red zone this season—with or without Gronk.
He caught a touchdown and a two-point conversion pass in the Pats' 25-21 win over Tampa Bay. However, he also had a fumble last week against Detroit.
Nate Solder, LT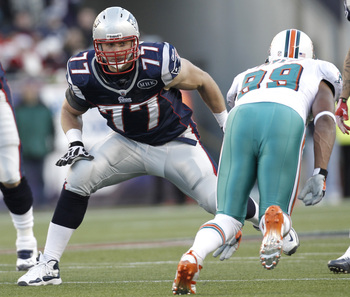 Solder continues to impress at tackle.
Winslow Townson/Getty Images
Nate Solder has been nothing less than excellent protecting Tom Brady's blind side. He started every game for the Patriots last season and was extremely effective.
Things will only continue to get better for Solder as he enters his third season in the league. He may prove to be the best offensive lineman on the team by season's end.
Logan Mankins, LG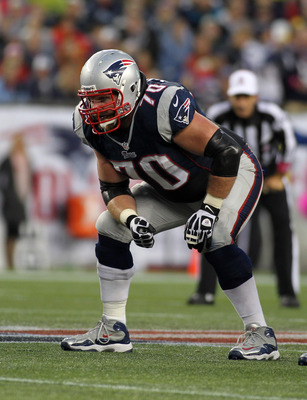 Mankins is still very reliable.
Stew Milne-USA TODAY Sports
Logan Mankins is about as reliable as a guard comes in the NFL. In his ninth season in the league (all with New England), Mankins still remains one of the Patriots' best blockers.
The only concern for the veteran is his durability. He has not played all 16 regular-season games since the 2009 season, but Mankins is still one of the most valuable Patriots players.
Ryan Wendell, C
Wendell has proven his worth at center.
Patrick McDermott/Getty Images
Last season, Ryan Wendell really stepped it up. He didn't miss a game for the Patriots and helped lead New England as the seventh-best rushing offense in the NFL.
Now that he has secured a spot as the starting center, Wendell will look to continue improving after an impressive 2012 season, which was, by far, his best.
Dan Connolly/Marcus Cannon, RG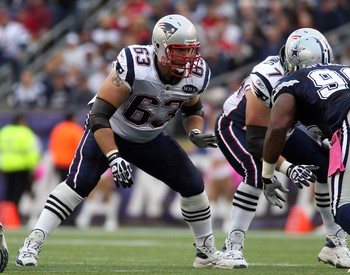 Both Connolly and Cannon have been hurt this preseason.
Stew Milne-USA TODAY Sports
Dan Connolly
For the past four seasons, Connolly has been a regular contributor on the offensive line. He has yet to play a full season, however, and just recently returned to the field after injury issues.
Marcus Cannon
According to Doug Kyed of NESN.com, the starting job was Cannon's to lose after Connolly got sidelined, but then he got hurt as well.
Connolly will likely be named the starter, but Cannon will be used quite often also. The good news is both appeared to be healthy at practice this week, so let the battle begin.
Sebastian Vollmer, RT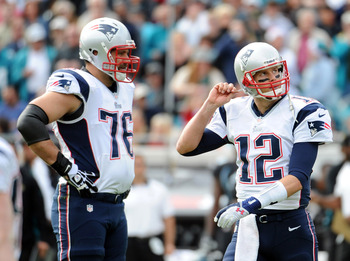 The Pats rightfully brought Vollmer back this season.
USA TODAY Sports
The Patriots were smart to re-sign Sebastian Vollmer in the offseason. The 6'8", 320-pound tackle was an important piece of the offense last season.
With the starting job in his pocket, Vollmer just needs to feed off his solid performance last season and bring the same intensity in 2013.
Rob Ninkovich, DE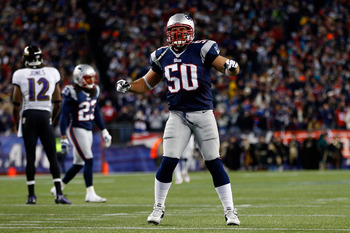 Ninkovich is a versatile end.
Jim Rogash/Getty Images
Rob Ninkovich is an unsung hero for the Patriots. He can rush the passer effectively and can drop back in coverage. Last season, he led the Patriots with eight sacks.
He will have another solid season, but he won't lead the team in sacks due to Chandler Jones. Ninkovich will get a lot of one-on-one chances, however, with Jones drawing so much attention.
Vince Wilfork, NT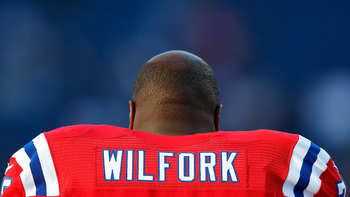 Wilfork remains a force in the middle.
Jim Rogash/Getty Images
The leader of this defense and the force that anchors it is Vince Wilfork. You don't find too many consistently successful football players of Wilfork's stature.
Last season, he had 48 tackles and recovered four fumbles.
Even at age 31, Wilfork is still a game-changer just from his presence alone. He may not fill up the stat sheet, but teams still have to game-plan for this 325-pound animal.
Tommy Kelly, DT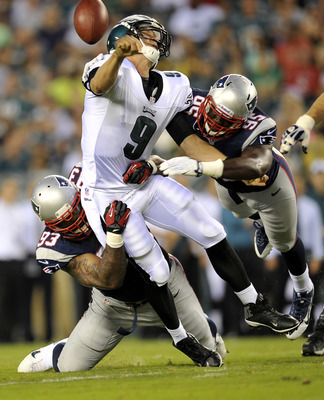 Kelly should fair well next to Wilfork.
Joe Camporeale-USA TODAY Sports
Putting Tommy Kelly next to Wilfork was a brilliant move by the Patriots. It is going to be hard for an offensive line to move both of those two big bodies.
Like Wilfork, Kelly is in the latter part of his career. He still knows what his role is and how to get the job done. Kelly will likely split time with the likes of Marcus Forston, but he will pick up a couple of sacks and a decent amount of tackles.
Chandler Jones, DE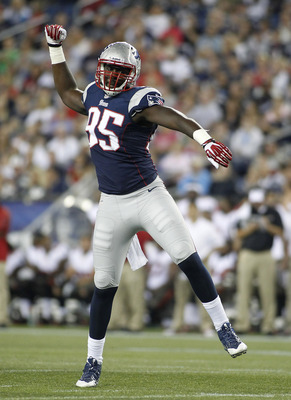 Jones will prove to be one of the league's best at DE.
Stew Milne-USA TODAY Sports
Chandler Jones is going to shine in 2013-14. He is set to have a monster season and prove that he is one of the best pass-rushers in the league.
He has returned to form after battling ankle injuries last season and is determined as could be.
Jones has been bringing the heat in the preseason. He had a sack in each of the Patriots' first two preseason games and has looked dynamic coming off the edge.
Expect Jones to easily get 10 or more sacks this season. He will be a game-changer for the Pats.
Jerod Mayo, OLB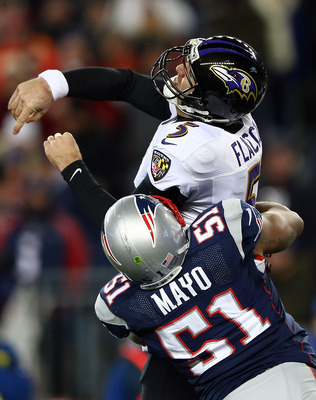 Mayo has consistently racked up tackles.
Elsa/Getty Images
A Pro Bowl starter this past season, Jerod Mayo is one of the top linebackers in football. He has 648 combined tackles through his first five seasons in the league.
Mayo has been a tackling machine for the Pats since being taken as the No. 10 overall pick in the 2008 NFL draft. He is one of the most consistent players on this team.
Mayo is coming off, arguably, his best season thus far. A Pro Bowl invitation is likely to come for Mayo again in 2013-14.
Brandon Spikes, ILB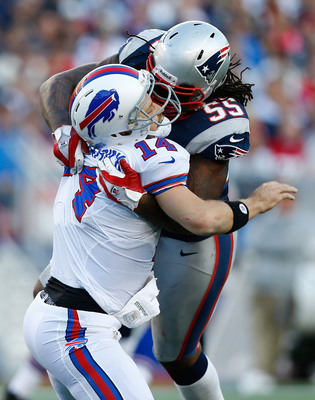 Spikes is a hard-hitting machine.
Jared Wickerham/Getty Images
Brandon Spikes is a heavy hitter, but struggles in pass coverage. He took some time to work on becoming a three-down linebacker in the spring, so we'll see how far he has come.
He probably won't ever be on the field on 3rd-and-long situations, especially with the addition of rookie Jamie Collins. However, he is still a run-stopping beast and a valuable asset.
This is a contract year for Spikes, so expect a lot of tackles out of him.
Dont'a Hightower, OLB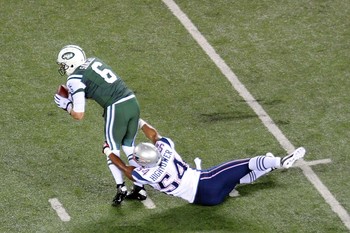 Hightower will rise to the occasion in 2013.
Joe Camporeale-USA TODAY Sports
As a rookie last year, Dont'a Hightower played pretty well. There is still such a high ceiling for this young former Alabama product, though. He will grow better each year.
Hightower can be a problem for opposing quarterbacks when he rushes. This season, his sack numbers will definitely rise. Like Jones, Hightower will improve dramatically in his second season.
Aqib Talib, CB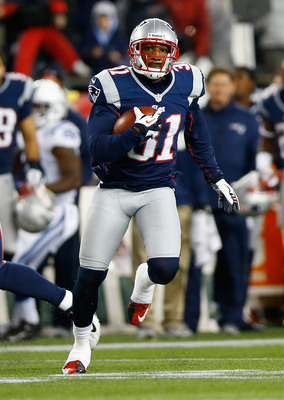 This is a big year for Talib.
Jared Wickerham/Getty Images
The Patriots re-signed Aqib Talib in the offseason to return for one more season after picking up the cornerback from Tampa Bay last year. This may be the most important year for Talib yet.
He is, without question, the Patriots top cornerback, and the team really benefitted from his presence in the secondary last season. The Pats are relying heavily on Talib to be their shutdown corner this year.
If he succeeds, then Talib could be looking at a pretty big contract in the offseason. Expect a very strong season from him.
Alfonzo Dennard, CB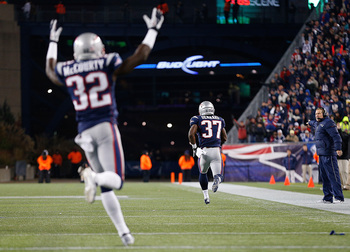 Dennard has off-field distractions.
Jim Rogash/Getty Images
Alfonzo Dennard has talent on the field, but his off-field issues are a problem. He was supposed to have a probation hearing on Tuesday, but it was moved to next Friday, according to Karen Guregian of the Boston Herald.
This just makes things more difficult for the Pats. They don't know whether or not to plan on having Dennard for the start of the regular season.
Dennard is the starter opposite Talib, but what if he has to miss time? Then Kyle Arrington will have to fill in where he is not as comfortable—outside of the slot.
When he is on the field, Dennard is a playmaker.
Devin McCourty, FS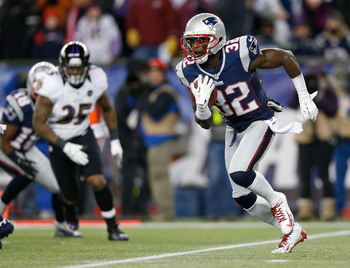 McCourty seems comfortable at safety.
Greg M. Cooper-USA TODAY Sports
Devin McCourty has found a home at free safety. The former cornerback played well at safety last season and provides strong coverage skills for the Pats in the secondary.
It is important for McCourty to take the lead back in the secondary since he has plenty of experience with the Pats and since strong safety is a weak area for New England.
McCourty is one of the most valuable players on this team. Now that he is accustomed to life as a safety, his play will only get better in 2013-14.
Steve Gregory/Adrian Wilson, SS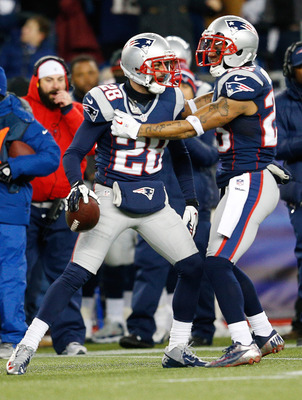 Gregory and Wilson both have their weaknesses.
Jim Rogash/Getty Images
Steve Gregory
Gregory seems to be the best option as far as defending the pass goes. He can play deep and played well next to McCourty a season ago.
Adrian Wilson
As far as the run game is concerned, Wilson is the better choice. He was brought in to New England to make big hits and give the Pats a much-needed presence in the secondary.
However, neither player has stood out, so far, through three preseason games, according to NESN's Doug Kyed. Wilson is not the same player whom he was with the Arizona Cardinals and struggles with the pass.
Adam Kurkjian of the Boston Herald thinks Gregory will be the starter, whereas Kyed believes it will be Wilson. The fourth and final preseason game may determine that. Either way, strong safety will not be a strong point for the Patriots this season.
Keep Reading

New England Patriots: Like this team?