WWE NXT: Free Streaming Will Help Build Next Crop of Top Stars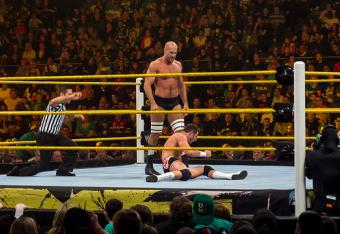 Antonio Cesaro can show off more of his skills on NXT than on the main roster. Photo Credit: interbeat, Flickr.com

The WWE revealed great news this past week regarding their developmental show on NXT: It will be available on free streaming on Hulu.
This means fans won't be obligated to order Hulu Plus through a free trial or become a member. The fans also won't have to go through other venues or watch highlight packages from other video sites. They can now see clips and full episodes of WWE NXT, featuring the future stars of wrestling. Fans will benefit the most from free streaming.
Before the announcement, all of the current crop of NXT wrestlers had publicity through word of mouth and getting the call to participate in the main roster. Guys like Seth Rollins and Big E Langston established themselves first in NXT and debuted their names in the now-defunct Florida Championship Wrestling. Both currently wrestle in the WWE. When NXT took over for FCW, they excelled and became the first and second NXT champions, respectively. Now, they're thriving on the main roster.
The same can be said for Bray Wyatt and the Wyatt Family. Wyatt started his transformation to the charismatic character from Husky Harris on NXT. Fans can now witness his journey into the Wyatt character they know today.
Fans will also be exposed to new characters that haven't debuted on Raw or SmackDown yet. Among them is Sami Zayn, formerly El Generico in the independent circuit. He's currently embroiled in a feud with Antonio Cesaro, which culminated in a sensational 2-out-of-3 Falls match.
Fans can also witness the journey taken through the commentary table. The current list of commentators consists of Tony Dawson, Tom Phillips, Alex Riley, William Regal and Jim Ross. Their commentary is relaxed and insightful during these matches, and frankly, they know how to tell a story.
Case in point comes from a match for the NXT title, where Seth Rollins successfully defended against Michael McGillicutty (now Curtis Axel). CM Punk joined Regal and Ross for commentary and brought an in-depth, yet casual conversation that made the match better. Can we say commentary heaven? Of course we can, but the work of Riley, Dawson and Phillips shouldn't be ignored.
It's also been noted that Dusty Rhodes is the figurehead of the NXT show. Now acting as commissioner, Rhodes can interact with the future of the WWE. It could be a burden for some, but these hungry Superstars should more than welcome the challenge of matching wits with a Hall of Famer.
Make no mistake, though, this isn't about the commentators or head honchos. This is about the NXT Superstars.
Fans will love NXT because they can discover Seth Rollins before he joined The Shield. And another plus from this exciting venture is that the NXT roster will gain more exposure from the WWE Universe. It's always great seeing the young roster move from paying their dues to the main roster.
The NXT roster will benefit the most thanks to the WWE making the NXT show free on Hulu. Check out the show whenever you can. As real wrestling fans, you won't regret it.
This article is
What is the duplicate article?
Why is this article offensive?
Where is this article plagiarized from?
Why is this article poorly edited?