The rematch is finally here. UFC lightweight champion Benson "Smooth" Henderson will have the opportunity to avenge one of only two losses in his mixed martial arts career. He faces Anthony "Showtime" Pettis at the BMO Harris Bradley Center in the challenger's hometown, Milwaukee, Wis. on Saturday.
The super rematch is the main event of UFC 164. Perhaps the most iconic move in the history of mixed martial arts in the United States took place in their first meeting.
Pettis' Showtime kick is the type of maneuver that gets kids and casual fans to take notice and possibly evolve into hardcore followers of the sport. Besides the fact that this is a battle between two of the best fighters in the world, there is something very cool about this matchup.
Pettis has as much swag as any fighter in the world. We have already seen the types of exciting strikes he's capable of. Henderson is one of the most recognizable stars in the sport, and he certainly has an axe to grind with Pettis.
This is going to be good.
The Pettis-Henderson rematch is the featured bout, but there are other compelling fights in store for MMA fans. Frank Mir and Josh Barnett will thump in the co-feature.
Barnett is making his long-awaited UFC debut. Chad Mendes and Clay Guida will almost undoubtedly deliver a crowd-pleasing affair, and the same can be said for the Ben Rothwell-Brandon Vera bout.
Here's how you can watch the event as well as predictions for each fight, except the main event. Deeper analysis into Henderson-Pettis 2 is just under the table.
UFC 164 Viewing Info, Fight Card and Predictions

| | | |
| --- | --- | --- |
| Facebook Preliminaries Begin at 6:30 p.m. ET | | |
| Matchup | Weight Class | Prediction |
| Jared Hamman (13-5) vs. Magnus Cedenblad (4-0) | Middleweight | Cedenblad by decision |
| Ryan Couture (6-2) vs. Al Iaquinta (5-2-1) | Lightweight | Iaquinta by KO |
| Soa Palelei (18-3) vs. Nikita Krylov (15-2) | Heavyweight | Krylov by submission |
| Fox Sports-1 Card Begins at 8 p.m. ET | | |
| Chico Camus (12-4) vs. Kyung Ho Kang (11-7) | Bantamweight | Camus by KO |
| Pascal Krauss (11-1) vs. Hyun Gyu Lim (11-3-1) | Welterweight | Krauss by decision |
| Louis Gaudinot (6-2) vs. Tim Elliott (9-3-1) | Flyweight | Elliott by decision |
| Jamie Varner (21-7-1) vs. Gleison Tibau (36-9) | Lightweight | Varner by decision |
| PPV Main Card Begins at 10 p.m. ET | | |
| Erik Koch (13-2) vs. Dustin Poirier (13-3) | Featherweight | Koch by KO |
| Ben Rothwell (32-9) vs. Brandon Vera (12-6) | Heavyweight | Rothwell by KO |
| Chad Mendes (14-1) vs. Clay Guida (30-10) | Featherweigh | Mendes by decision |
| Frank Mir (16-7) vs. Josh Barnett (32-6) | Heavyweight | Barnett by KO |
UFC.com
Can Henderson Exorcise the Ghost of the Showtime Kick?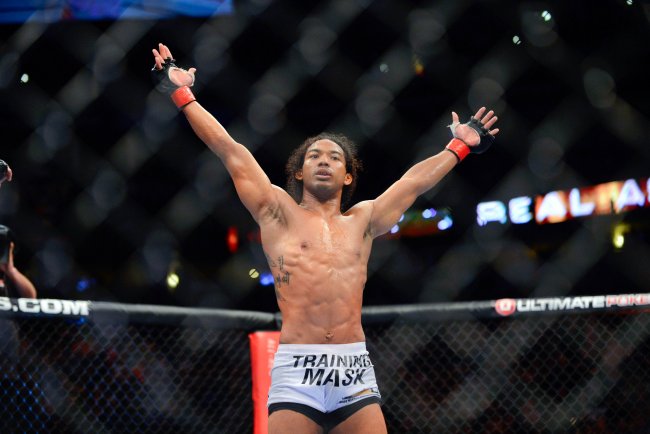 Ron Chenoy-USA TODAY Sports
As spectacular as the famous kick was, it was just one moment in a really good fight between the two combatants during their days in World Extreme Cagefighting. There probably isn't a week that goes by that someone doesn't ask Henderson about it.
He called the kick a "stain" on his soul and told Victor Garcia of Fox News Latino:
"The whole fight was pretty close… Anthony let it all out, landing a pretty cool kick and ever since, I've been working to redeem myself."

Pettis won the bout by unanimous decision, though the clips of the kick would lead those who didn't see the fight to believe it was a KO. Almost everyone who follows the sport would tell you, Henderson has gotten much better since that day in 2010.
He's captured the title and defended it three times against top-notch fighters like Frankie Edgar (whom he dethroned), Nate Diaz and Gilbert Melendez.
As much as Henderson has improved, so too has Pettis. Showtime was originally scheduled to take on featherweight champion Jose Aldo at UFC 163, but an injury forced him out of that fight. This bout with Henderson is perhaps an even bigger and easier opportunity. Pettis hasn't lost a fight in two years and he's taken home two straight KO of the Night bonuses.
Does he still hold an edge over the champion?
Prediction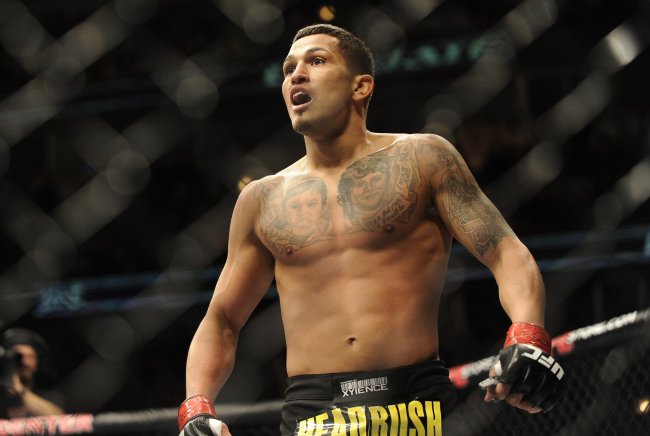 David Banks-USA TODAY Sports
Henderson has held his title since Feb. 2012. He's faced the best fighters in his weight region, but he really hasn't looked great since he beat Edgar for the gold. His best performance was against Diaz, but lately Henderson seems to be fighting too safe.
He's naturally a defensive fighter, but since the close call with Edgar he's put safety ahead of aggression almost to a fault. In the rematch with Edgar, Henderson threw 177 strikes compared to 270 in the first meeting. Against Melendez, he offered just 191, per Fight Metric.
It seems he goes into a shell with more athletic opponents. They don't come much more athletic than Pettis, and Henderson can't afford to be passive. If he's caught reacting as opposed to being aggressive, Pettis will get the better of him again.
I simulated the bout with UFC Undisputed 3 (I know I'm not the only one anxiously awaiting the release EA Sports UFC).
There is no doubt who has the mental edge heading into this fight. Henderson is the champion, but Pettis owns the head-to-head victory. I predict he'll dethrone Henderson by winning another unanimous decision on Saturday. Looks like the video game and I agree on the outcome of this one.
Follow me and witness my passion for sports and video games.