10 Current NASCAR Drivers Who Are Locks for the Hall of Fame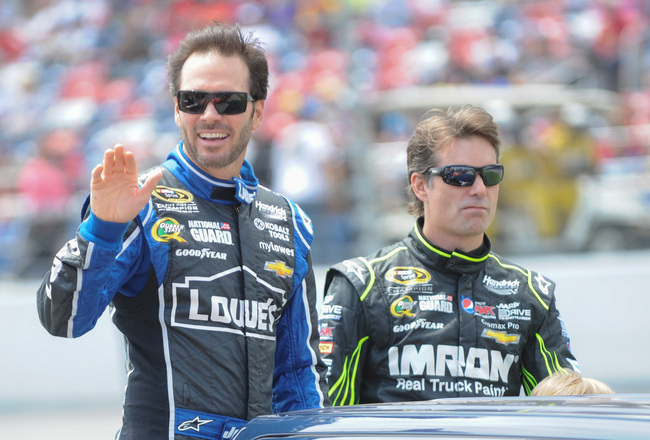 There is absolutely no question that both Jimmie Johnson and Jeff Gordon will be in the Hall of Fame one day.
Randy Sartin-USA TODAY Sports
The NASCAR Hall of Fame opened its doors in May, 2010 and officially enshrined its first class of five inductees the following year.
Every year since, a new group of five historically significant NASCAR contributors has been selected for the following year's enshrinement.
Undoubtedly, there is no greater honor for any former driver, crew chief or contributing member of the sport than being recognized for all of their career accomplishments. There are still plenty of worthy people from years past awaiting induction, but will ultimately hear their name called at some point.
But what about today's current crop of NASCAR drivers? How many of them are future Hall of Fame inductees?
In the slides ahead we will take a look at 10 current drivers who will unquestionably be immortalized at some point once their careers are over.
For the sake of not stating the completely obvious, Jeff Gordon, Jimmie Johnson and Tony Stewart are not listed because I think everyone would agree that the three of them are clear-cut Hall of Famers, with no debate needed.
So, without further adieu, we present to you 10 future members of NASCAR's Hall of Fame.
Mark Martin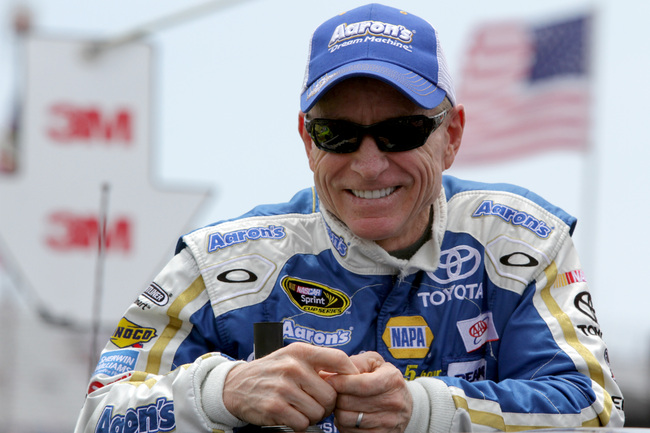 Mark Martin is clearly a future NASCAR Hall of Famer.
Jerry Markland/Getty Images
If Gordon, Johnson and Stewart are 100 percent locks for the NASCAR Hall of Fame, Mark Martin is the next closest thing.
Martin is a 31-year veteran of the Sprint Cup Series and over that time he has done just about everything a driver could do.
The only thing missing from Martin's otherwise stellar resume, is a series championship.
Martin is 40-time race winner in Sprint Cup competition and a five-time championship runner-up. He ranks 17th on the all-time wins list and his 56 poles are the seventh most in series history.
Until 2011, Martin was the all-time wins leader in the Nationwide Series with 49. He is also the all-time leader with 13 wins in the IROC Series, and the five championships that he amassed are also an the best in history.
Often dubbed "the best driver to never win a championship," Martin will surely be enshrined in the Hall of Fame when he decides to hang up his racing helmet for good.
Kyle Busch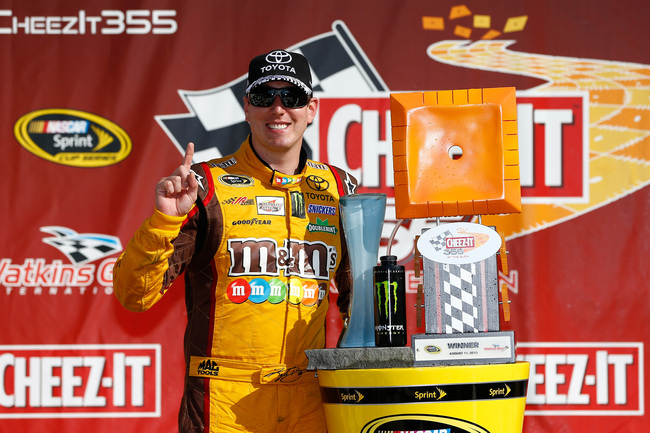 Kyle Busch has had success at all three of NASCAR's highest levels of competition.
Tom Pennington/Getty Images
Kyle Busch has already cemented his spot in the Hall of Fame at the young age of 28. The amount of success that Busch has had can be matched by only a select few in the history of the sport.
Busch has a total of 121 wins between the three top series in NASCAR. His 28 Sprint Cup Series victories already ranks him inside the Top 25 on the all-time list.
He is the career leader in Nationwide Series wins with 60, and his 33 Truck Series victories are second to the 51 wins of four-time series champion Ron Hornaday.
Busch has one series championship to his credit, winning the Nationwide Series title back in 2009.
The major blemishes on Busch's resume are the lack of a Sprint Cup Series championship and his overall performances in the Chase.
In eight full-time Sprint Cup seasons, Busch has a career best points finish of fifth and has only finished higher than 10th one other time.
The good news for Busch is that he is still very early in his racing career. There is no doubt he will accumulate more wins across all three series, and he is almost certain to post some better points finishes.
Kurt Busch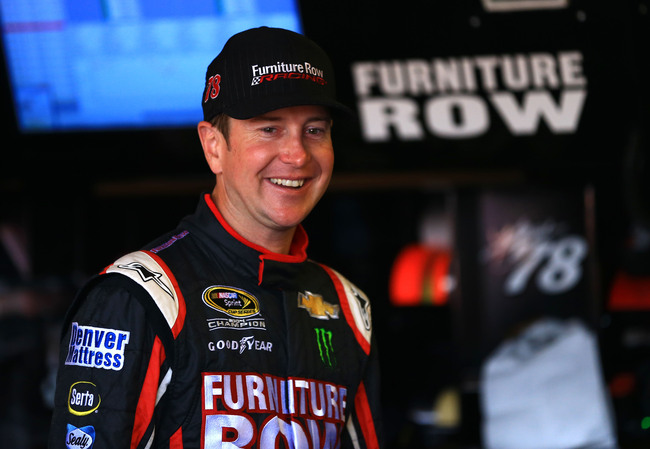 Kurt Busch was the 2004 series champion.
Andrew Weber-USA TODAY Sports
While Kurt Busch may not own as many total victories as his younger brother Kyle, he has done more than enough to one day claim his own place inside the Hall of Fame.
Busch is a 24-time winner in Sprint Cup competition in a career that has spanned 14 seasons and 460 races. He is also the inaugural winner of the Sprint Cup Series Chase for the Championship, accomplishing the feat in 2004.
Busch is a five-time winner in the Nationwide Series in 30 starts and in 28 starts in the Truck Series he has posted four victories.
While no one has ever doubted Busch's ability to drive a race car, the success he has found in 2013 has more than proven his talents.
Driving for a single-car team, Furniture Row Racing, Busch has put himself in Chase contention, and helped turn this team into a weekly race-winning contender, after spending years as a team that typically ran mid-pack.
Matt Kenseth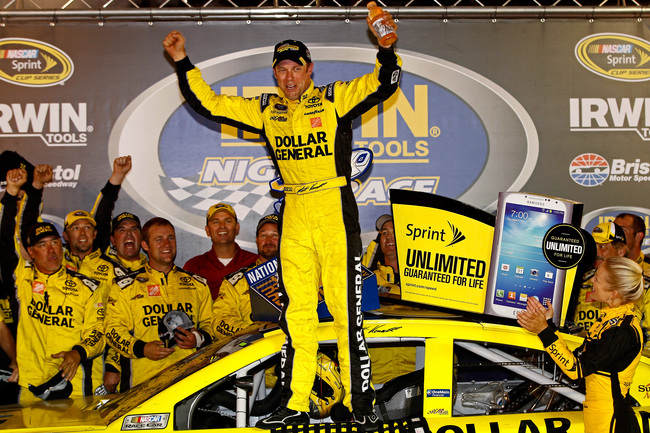 Matt Kenseth is a five-time winner in 2013.
Matt Sullivan/Getty Images
Almost very quietly, Matt Kenseth has just about done it all in Sprint Cup Series competition.
Kenseth has started 497 races in the top series, and during that time he has compiled 29 wins. 2013 has seen him match his career high with five wins in one season.
In 13 full-time seasons Kenseth has finished inside the top five in points five times, including winning the series championship in 2003, the last year that the points championship was contested under it's traditional format.
Kenseth is a two-time Daytona 500 winner and a successful Nationwide Series competitor as well. He has scored 27 wins in NASCAR's second-tier series in 257 starts.
He finished inside the Top Three in the points in 1998 and 1999, his only two full-time seasons in Nationwide Series competition.
Carl Edwards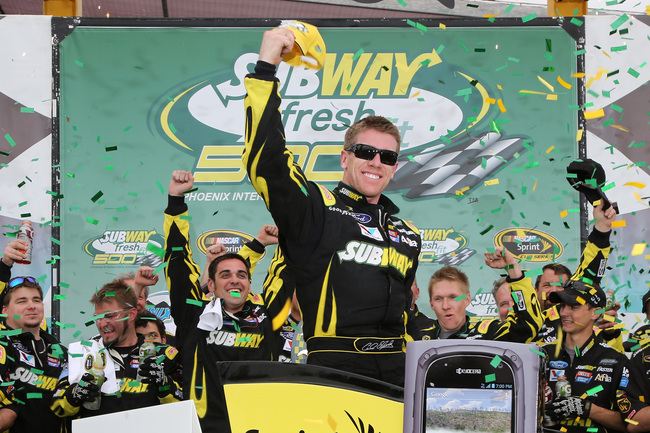 Carl Edwards has won 20 races since 2005.
Jerry Markland/Getty Images
After taking over the No. 99 car for Jeff Burton late in the 2004 season, Carl Edwards burst on to the scene the following year.
In his first full-time season in the Sprint Cup Series, Edwards posted four wins and finished the season third in the standings. His success has continued to grow over the years.
Edwards is a 20-time winner in the top series. He has finished in the top five in points five times, including the 2011 season when he finished the season tied with Tony Stewart at the top of the standings, ultimately losing out on the championship via a tiebreaker.
Edwards is also one of the all-time greats in the Nationwide Series. His 38 career wins rank him fourth on the all-time list. He won the series championship in 2007 and in every other season from 2006 through 2010, he finished second in the standings.
Kevin Harvick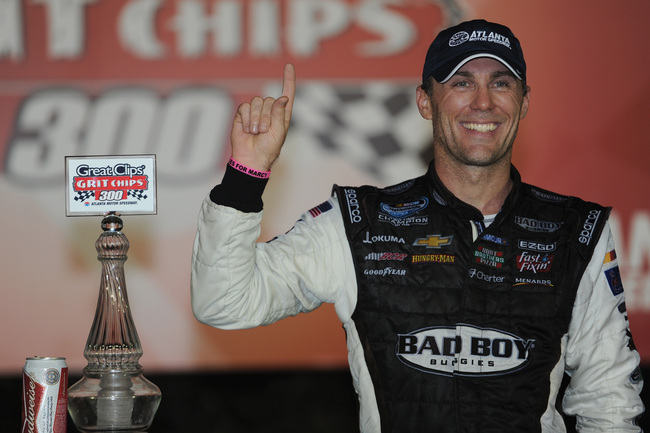 Kevin Harvick has the third most wins in Nationwide Series history
John Harrelson/Getty Images
Following the tragic death of Dale Earnhardt during the 2001 Daytona 500, Kevin Harvick was given the near-impossible task of taking over driving duties of his car.
He quickly answered the challenge by winning his first career race, ironically enough, in his third start. Harvick has since added 20 more victories to his resume, and while he has yet to win a series championship, he has been a contender more often than not during his Sprint Cup tenure.
In 12 full-time seasons, Harvick has finished inside the top 10 in points eight times, with five of those efforts resulting in a top-five finish.
Harvick is also one of the most successful drivers in Nationwide Series history, ranking third on the all-time wins list. He is a 40-time winner and was the 2006 series champion.
Bobby Labonte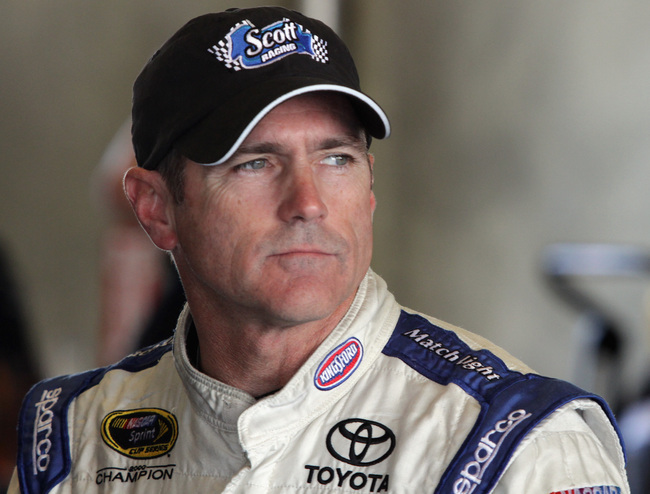 Bobby Labonte was one of the sport's top drivers in the late '90s.
Jerry Markland/Getty Images
While the last decade has been a struggle, Bobby Labonte was one of the sport's top drivers during the late 90s and early part of the 2000s.
Labonte is a 21-time race winner in Sprint Cup Series competition and is the 2000 series champion. Between the 1999 and 2000 seasons, Labonte was arguably the best driver in the sport.
During that two-year stretch, he scored nine wins and finished with 50 top-10s. The 42 top-five finishes that Labonte posted during that time were a series best.
When Labonte's time for nomination comes up, voters may frown heavily on the latter stages of his career. In the last seven seasons Labonte has posted just 11 top-10 finishes while driving for small and underfunded teams.
Though the recent years have been a struggle, the total body of work that Labonte has produced is enough to warrant his spot in the Hall of Fame.
Terry Labonte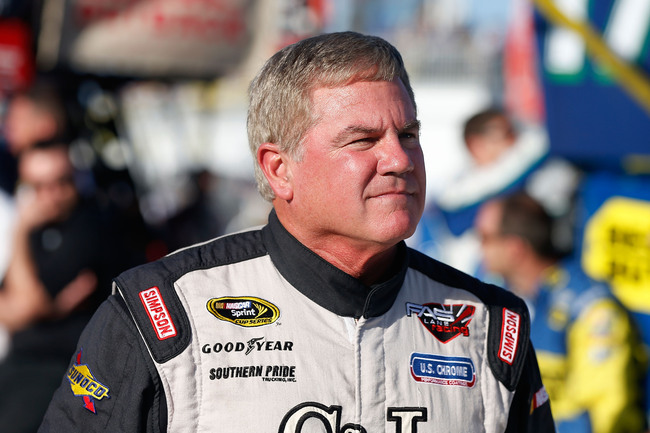 Terry Labonte is a two-time series champion.
Scott Halleran/Getty Images
Bobby Labonte isn't the only driver in the family who has a place waiting for them inside NASCAR's Hall of Fame. Terry Labonte will also be there one day.
Labonte hasn't run a full-time schedule in the Sprint Cup Series since the 2004 season and has continued to run limited events every year since.
Labonte is third in the sport's history with 885 starts. During that time, he has scored 22 wins and in 1984 and 1996, he won the series championship.
The biggest problem that Labonte could face is the same issue that plagues his brother. The latter stages of his career have seen less than favorable results.
Since 2005, Labonte has made just 68 starts in Sprint Cup competition and in that time he has only managed to score two top-10 finishes.
Like his younger brother, the success that the elder Labonte had in the earlier stages of his career is enough to outweigh the struggles that he has endured, driving for underfunded teams, in the recent years.
Dale Earnhardt Jr.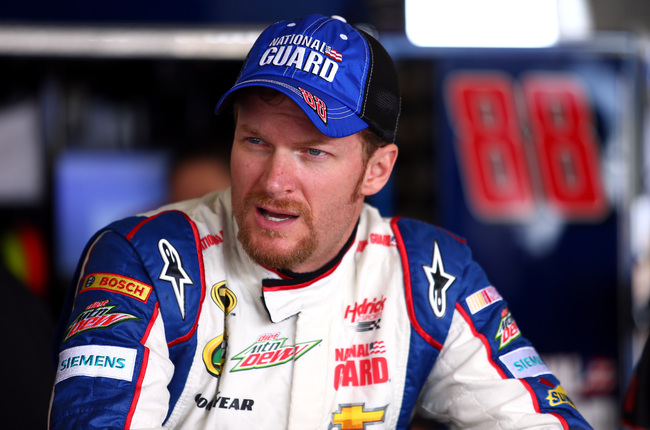 Dale Earnhardt Jr. will get into the Hall of Fame thanks in large part to his popularity.
Todd Warshaw/Getty Images
While Dale Earnhardt Jr.'s career statistics may not blow anyone away, he has had a solid Sprint Cup career and before that, he was a top runner in the Nationwide Series.
In 493 career Sprint Cup starts, Earnhardt has scored 19 wins. Since joining Hendrick Motorsports prior to the 2008 season, he has only been able to win twice and has yet to finish higher than seventh in the season-ending championship standings.
His Nationwide Series statistics are far more favorable. In 126 starts, Earnhardt has won 23 times and posted 81 top-10 finishes.
In 1998 and 1999, he was the series champion before making the transition to full-time Sprint Cup Series competition the following year.
Ron Hornaday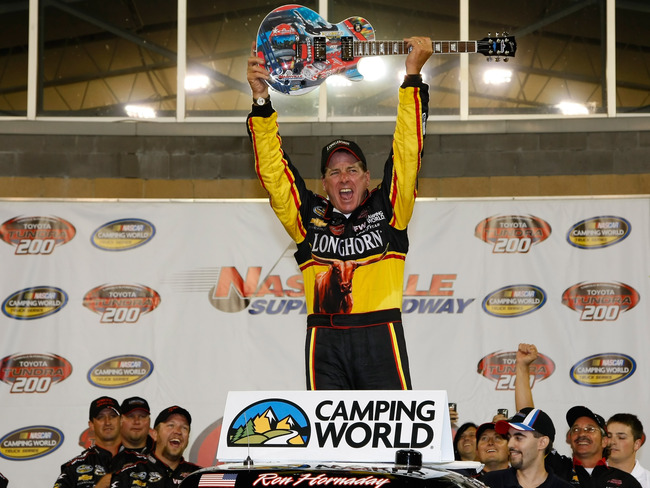 Ron Hornaday is the all-time wins leader in the Truck Series.
Jason Smith/Getty Images
It may take Ron Hornaday a few tries to get into the Hall of Fame, but ultimately he will get there. In the history of the Truck Series there have been none better than Hornaday.
During his Truck Series career, Hornaday has made 336 starts. He is the all-time series leader with 51, and his 221 top-10 finishes and 151 top-fives are also both series bests.
Hornaday is a four-time series champion, and only one time in 13 full-time seasons has he finished outside the top 10 in the year-end point standings.
Hornaday has also found some success in the Nationwide Series. In three different seasons he competed in every event. Each of those years he scored at least one win, giving him a total of four in his career.
He never finished worse than fifth in the standings in any of his three full-time seasons.
Hornaday may not be the most common name thrown around when discussing future Hall of Famers, but when you are the best of the best in a particular series, that cannot be overlooked.
Keep Reading