All 30 MLB Teams' Blueprint to an 'A' Grade in September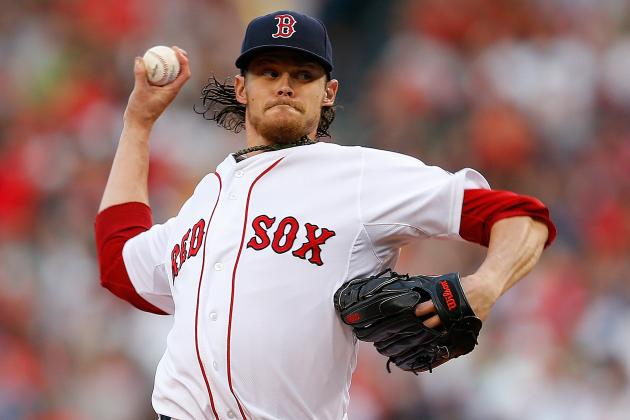 Jim Rogash/Getty Images

By the time the month of September rolls around, every MLB team has a different set of goals it's looking to accomplish over the season's final month.
The elite teams are looking to secure home-field advantage in the playoffs, the fringe teams are simply looking to earn a postseason berth and the non-contenders are already looking ahead to next year and trying to get a better feel for their in-house talent.
What follows is the blueprint to an "A" grade in September for all 30 MLB teams. In determining each team's blueprint, I gave two goals each team must accomplish, one from a team/record standpoint and one from an individual player/personnel standpoint.
Begin Slideshow

»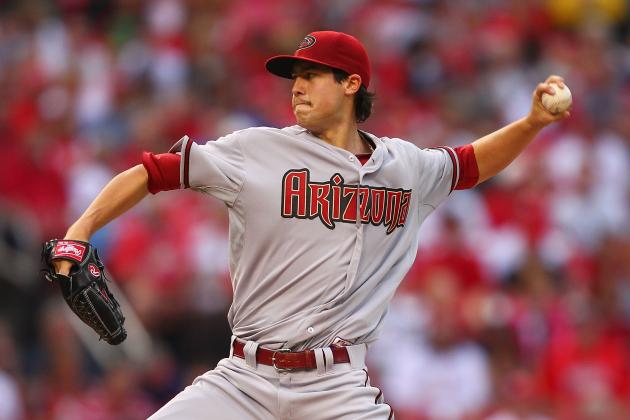 Dilip Vishwanat/Getty Images
How does Tyler Skaggs fit into the 2014 plans?
Earn a wild-card spot
The Diamondbacks are still very much in the hunt for a postseason spot at this point, sitting six games back in the wild-card standings and trailing the Pirates and Reds in the standings.
They have their work cut out for them to pass one of those teams, but for the season's final month to truly be a success, it will have to end in them reaching the playoffs.
Begin to sort out next season's starting rotation
Auditioning starters while trying to make the postseason at the same time is no easy feat, but the Diamondbacks will no doubt have some decisions to make regarding their rotation when the offseason rolls around.
Patrick Corbin and Wade Miley look to have spots locked up, while veterans Brandon McCarthy and Trevor Cahill will also be back, along with rookie Randall Delgado. Joining them in vying for a spot will be top prospects Tyler Skaggs and Archie Bradley, and the team may look to deal a starter in the offseason depending on whether or not those young guys are deemed ready.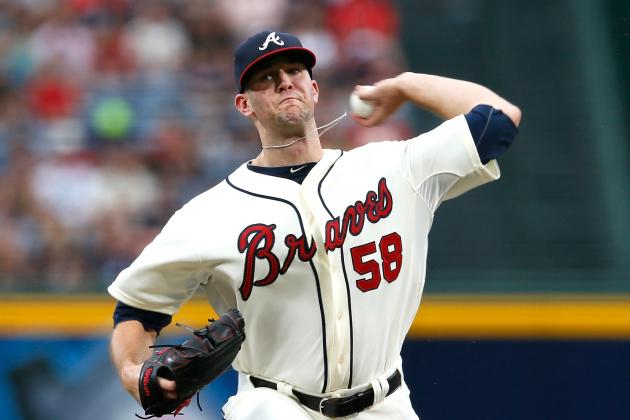 Kevin C. Cox/Getty Images
Alex Wood has been the Braves best pitcher since the All-Star break.
Hold onto the best record in the National League
The Braves currently have the best record in the National League, leading the Cardinals and the Dodgers by 2.5 games while holding a commanding 13-game lead in the NL East.
Losing Jason Heyward was a blow to the lineup, but they still have the pieces to secure home-field advantage in the National League and set themselves up for a matchup with the winner of the Wild Card Round.
Avoid further injury, especially to the starting rotation
Injuries have plagued the Braves all season, but they've managed to overcome them to this point. That said, with Tim Hudson already out for the year and the duo of Brandon Beachy and Paul Maholm both a question mark at this point, they can't afford an injury to any of their top four starters.
Alex Wood (5 GS, 2-0, 0.90 ERA) have been phenomenal in August, and the trio of Mike Minor, Kris Medlen and Julio Teheran have been great all year. That staff could carry the Braves deep into October, but if one of those guys goes down, it would be a serious blow to their title hopes.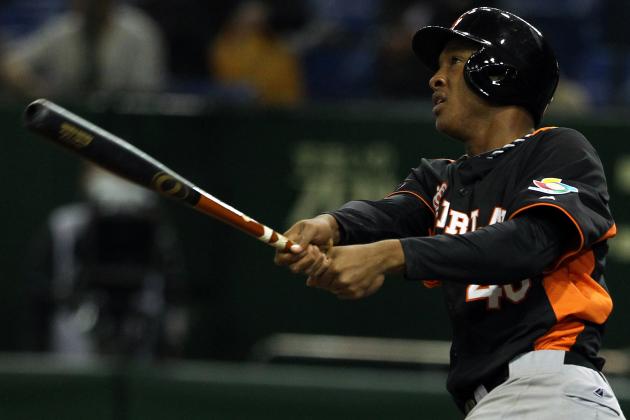 Koji Watanabe/Getty Images
Is prospect Jonathan Schoop the answer at second base next season?
Earn a wild-card spot
The Orioles trail the Red Sox and Rays in the AL East standings right now, but they remain just 4.5 games out of a wild-card spot.
The Rays, Athletics and Indians are all ahead of them in the wild-card standings at this point, and the Yankees are breathing down their neck as well, just a game behind them in the standings. So things are tight in a deep field. After making the postseason last year, though, anything short of a playoff trip would be a disappointment.
Top prospects Jonathan Schoop and Kevin Gausman finish the season strong
The Orioles will have a few roster decisions to make this offseason, with the most notable being who fills out their starting rotation and who replaces Brian Roberts as the everyday second baseman.
They have in-house options to fill both voids in top prospects Kevin Gausman (16 G, 3-6, 3.51 ERA, 9.0 K/9) and Jonathan Schoop (74 G, .281/.335/.470, 14 HR, 50 RBI), and both will likely see a decent amount of playing time come September when rosters expand. If they can play well down the stretch, it would help assure the Orioles that they're ready to step into everyday roles in 2014.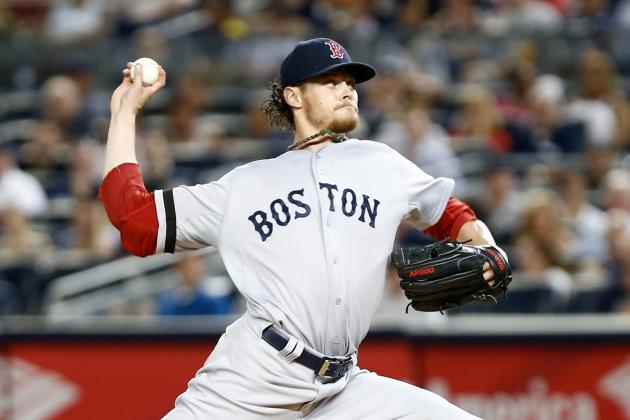 USA TODAY Sports
A healthy Clay Buchholz could put the Red Sox over the top come October.
Hold onto the best record in the American League
The Red Sox lead the Rays by just 2.5 games in the AL East division, but they also have the best record in the American League right now.
They have just a half-game lead over the Rangers and a 1.5-game lead over the Tigers, so they could just as easily wind up with the No. 3 seed in the American League as they could the best record. Finishing strong and securing the best record in the league would be big.
Clay Buchholz returns, returns to role of staff ace heading into postseason
When Clay Buchholz last took the mound on June 8, he was arguably the lead candidate for AL Cy Young honors, sitting at 9-0 with a 1.71 ERA and 1.020 WHIP through his first 12 starts in what looked like a big bounce-back season.
However, he's been sidelined since with neck and shoulder issues, and his first rehab start on Sunday was a shaky one, according to Scott Miller of CBS Sports. It was still a step in the right direction, though, and if he can return to his pre-injury form by the end of September, he'll be a major addition to the roster heading into the postseason.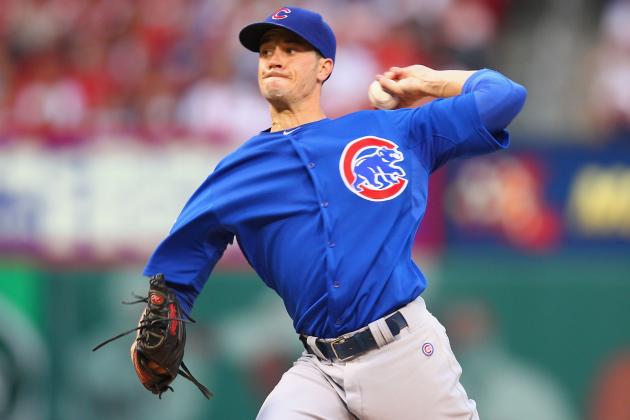 Dilip Vishwanat/Getty Images
Chris Rusin could secure a 2014 rotation spot with a strong finish.
Finish strong to avoid a last-place finish
Still in the early stages of the rebuilding process, not much was expected from the Cubs this season. And with the Astros gone to the AL West, most expected them to finish in last place in the NL Central by a sizable margin.
Their 56-77 record is by no means good, but they trail the Brewers by just 2.5 games for fourth place, and finishing strong to avoid a last-place finish is the type of small victory the team could build off of heading into the third year of the new regime.
Chris Rusin and Jake Arrieta finish strong to lock down 2014 rotation spots
The trio of Jeff Samardzija, Travis Wood and Edwin Jackson are essentially locks for a spot in the Cubs' rotation next season, but the other two spots still appear to be up for grabs. Signing a veteran free agent or two remains a possibility, but the team does have a pair of in-house options who could secure their spots with a strong finish.
Jake Arrieta was acquired from the Orioles in the Scott Feldman deal and, after spending some time in the minors, has a 4.50 ERA in four starts, including a pair of quality starts. Chris Rusin had a fantastic spring but had no place on the big league roster and spent the bulk of the season in Triple-A. He was called up in early July and in eight starts has gone 2-3 with a 2.64 ERA and 1.29 WHIP.
A strong final month could put both guys into the 2014 rotation plans.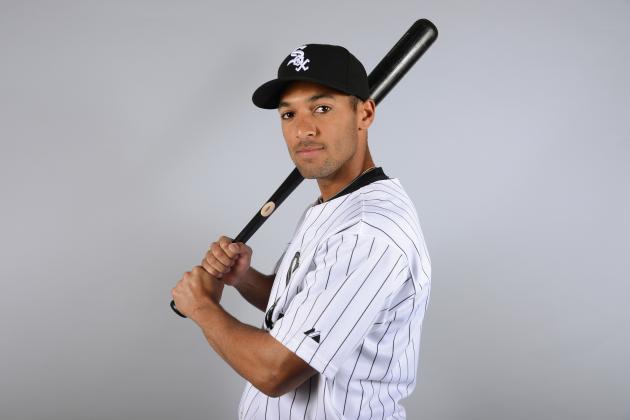 Kyle Terada-USA TODAY Sports
Shortstop Marcus Semien could make Alexei Ramirez tradeable this offseason.
Play spoiler for someone
Of the White Sox's 30 remaining games, just four are against teams that currently have a losing record, as they play series against the Red Sox, Yankees, Orioles, Tigers, Indians and Royals.
With little to play for on their side of things, they'll be looking to play spoiler for some fellow AL Central division rivals and AL Wild Card hopefuls.
Marcus Semien shows he's ready, allows Alexei Ramirez to be trade bait in offseason
The White Sox have begun the rebuilding process, dealing Alex Rios, Jake Peavy, Jesse Crain and Matt Thornton at the deadline. There is plenty more work to be done, though, for a team that is thin on young talent in the minor league system.
The September call-up to watch is shortstop Marcus Semien, who has hit .280/.397/.477 with 19 home runs and 22 steals between Double-A and Triple-A this season. If he can prove big league ready, incumbent shortstop Alexei Ramirez could net a solid return in the offseason as a trade chip.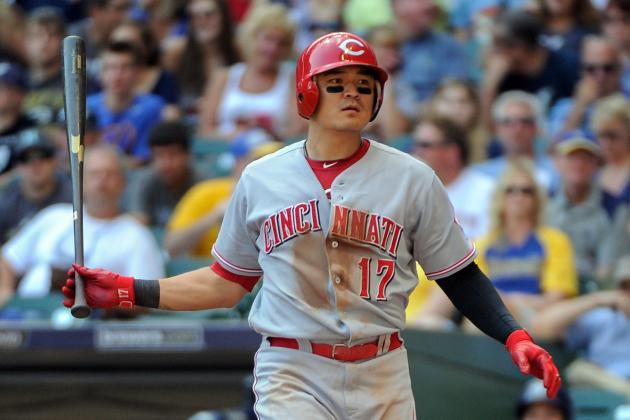 Benny Sieu-USA TODAY Sports
Will Shin-Soo Choo be re-signed to play center field, or will Billy Hamilton take over in 2014?
Pass Cardinals and Pirates for NL Central title
The Reds have sat in third place in the NL Central behind for the majority of the season, but they are still just 3.5 games back of the division lead. With four games left against the Cardinals and six against the Pirates, they could certainly make up some ground in September.
Avoiding the Wild Card Round would be huge, especially for a Reds team that lacks a prototypical staff ace, as it would allow them to better use their rotational depth and improve their chances of advancing.
Decide on whether to re-sign Shin-Soo Choo or go with Billy Hamilton
The Reds' big offseason acquisition was Shin-Soo Choo, who gave them the leadoff hitter and center fielder they desperately needed. He's been a terrific pickup to this point, hitting .278/.412/.447 with 17 home runs and 16 steals, and that will likely result in a sizable payday this offseason in free agency.
Whether or not the Reds are in the running to give him that payday will likely depend on how they feel about top prospect Billy Hamilton's chances of stepping to the starting job. He likely won't see much action as the team looks to lock down a division title, but any sort of indication the Reds can get regarding whether or not he's ready would be a big help.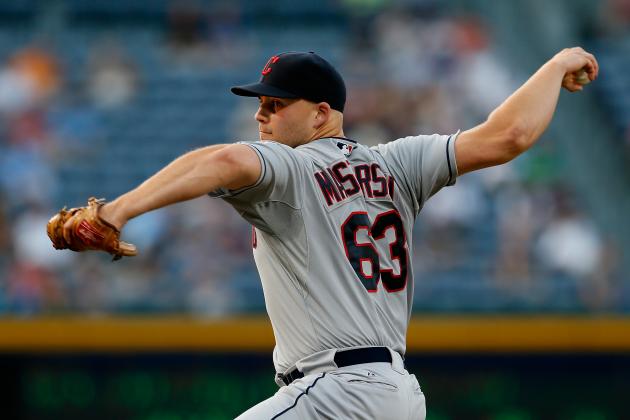 Kevin C. Cox/Getty Images
Justin Masterson and the vastly-improved rotation need to continue to pitch well down the stretch.
Earn a wild-card spot
Just a year removed from a big second-half decline, the Indians are still very much in the thick of things this time around, sitting 10 games over .500 at 71-61.
They trail the Tigers by 5.5 games in the AL Central, but they're just four games out of the second wild-card spot. With 40 games to go, they have 16 games left against sub-.500 teams, including series with the Astros, White Sox and Twins to close out the season, so making up ground seems like a very real possibility.
Starting pitching holds up under pressure
The question all season has been whether the Indians' unheralded starting rotation would hold up long enough for them to legitimately contend, and to this point, it has managed to avoid a letdown.
Rookie Danny Salazar (4 GS, 4.29 ERA) has the highest ERA among starters since the All-Star break, and even he has pitched better than expected. A strong finish by the staff would help build some confidence in the team's young arms long-term, and as long as a collapse by the rotation is not the reason they miss the postseason, it would be a productive final month.
Brad Penner-USA TODAY Sports
The continued emergence of Eddie Butler would be a welcome site for a team in need of frontline pitching.
Post a winning record in September
Sitting in a distant third place and at nine games under .500 on the year, the Colorado Rockies don't have much to play for down the stretch in what was a once promising season.
Things don't get any easier in the final month, as they play series against a number of playoff hopefuls in the Dodgers, Diamondbacks, Cardinals, Diamondbacks and Red Sox. Looking only to finish strong and build some momentum heading into next year, a winning record in a tough final month would be a solid victory.
Top prospect Eddie Butler is called up, impresses
Despite the fact that their starting rotation has been significantly improved over the 2012 version, the Rockies' staff is still the biggest weakness of the team. And beyond Jhoulys Chacin and Jorge De La Rosa, they really don't have a reliable arm.
They have an elite pitching prospect in 22-year-old Eddie Butler, and he has climbed three levels this season to Double-A, posting a combined record of 9-5 with a 1.84 ERA and 0.989 WHIP. A few impressive late-season starts could be enough to earn him serious consideration for a rotation spot next spring. He'd be a welcome addition if he pitches up to his potential.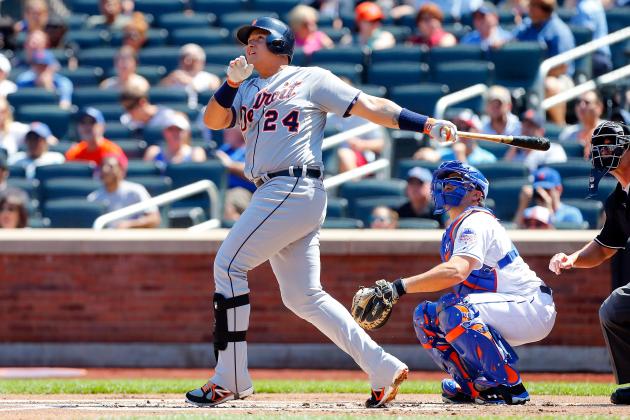 Jim McIsaac/Getty Images

Finish with the best record in the AL
The Tigers have not run away with the AL Central division title as many expected them to, and as a whole, they have not been as dominant all year as their roster suggests they should be.
Still, they find themselves just 1.5 games in back of the Red Sox for the best record in the American League. The Rangers are in the hunt for home-field advantage as well, leading the Tigers by a game, but there is still plenty of time for Detroit to pass them both and make its road to the World Series a slightly easier one.
Miguel Cabrera repeats as Triple Crown winner
Provided he doesn't get hurt, Miguel Cabrera looks like a lock to repeat as AL MVP, as he continues to put up otherworldly numbers across the board this season.
However, the focus will be on his home run race with Orioles slugger Chris Davis and whether or not he can become the first player ever to win back-to-back Triple Crowns. This is more of an individual goal than most of what will appear on this list, but given the media attention it will receive, it's an accomplishment that could fuel the entire team come October.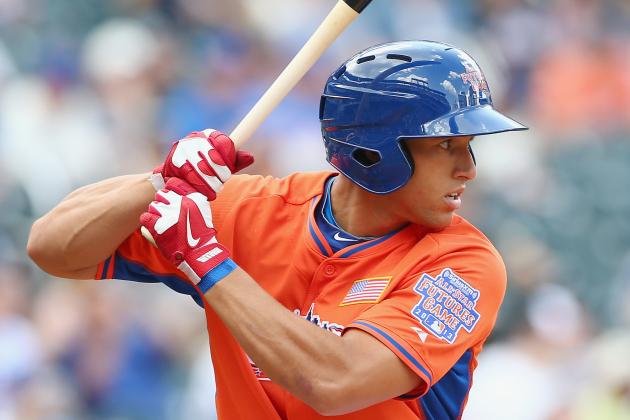 Elsa/Getty Images
Texas League MVP George Springer will look to make a big league impact in September.
Surpass last year's win total
The Astros remain baseball's worst team, but they have been slightly more competitive in the second season of their ongoing rebuild.
Last year's team went 55-107, and with the move to the ultra-competitive AL West, many expected them to lose even more games this time around. That may very well still end up being the case, but at 44-88, a 12-18 finish to the season would be an improvement over last season and a small victory for this group.
Top prospects George Springer and Jonathan Singleton give reason for excitement
A farm system that was once among the league's worst has quickly become one of the best. Over the next couple years, the Astros will receive an influx of high-end young talent through their system.
This September could see the debut of two potential franchise building blocks in George Springer (.303/.414/.611, 37 HR, 43 RBI) and Jonathan Singleton (.230/.356/.405, 11 HR, 43 RBI). The baseball world will be closely watching their debuts, and a strong September would give Astros fans plenty to look forward to in 2014.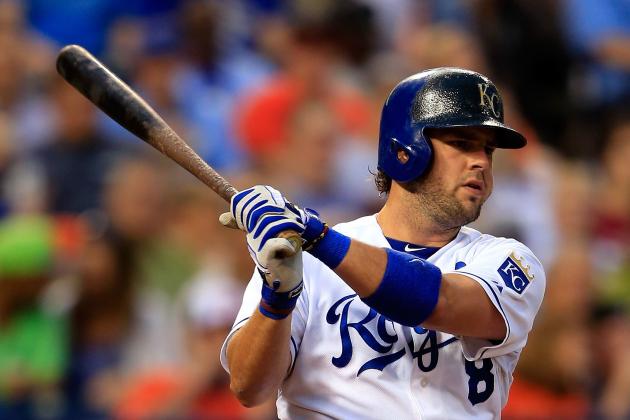 Jamie Squire/Getty Images
After a disappointing first half, Mike Moustakas has turned things around in the second half.
Earn a wild-card spot
After a busy offseason, the Royals entered the year looking to make the leap from rebuilder to contender, but they were just 43-49 when the All-Star break rolled around.
They've gone 25-15 since then, however, and are currently seven games out of a wild-card spot and 8.5 games back in the AL Central. It's a long shot at this point, as they have four teams to pass, but they still have their eyes on a potential postseason berth this year.
The offense finishes the season on a strong note
The Royals completely overhauled their starting rotation in the offseason, and through the first half of the season, their pitching staff was one of the best in baseball, led by James Shields and Ervin Santana.
However, their young offense took a big step backwards, and the team struggled as a result. The Royals have been vastly improved since the All-Star break, though, with the promising trio of Billy Butler (.946 OPS), Mike Moustakas (.859 OPS) and Eric Hosmer (.851 OPS) leading the way. A strong finish could help them put it all together for an entire season looking ahead to next year.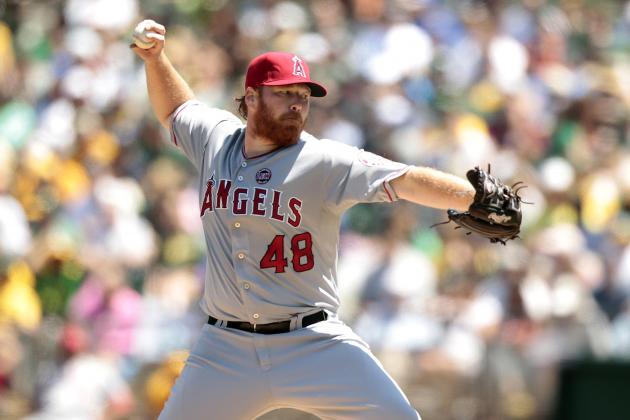 Cary Edmondson-USA TODAY Sports
Can Tommy Hanson still be a key arm for the Angels moving forward?
Hold off the Mariners for a third-place finish
It's safe to say a potential third-place finish is not something the Angels were eyeing headed into the season, as this was a team expected to contend for a division title and one of the favorites in the American League.
That's the position the Angels find themselves in now, though, as they hold a slim half-game lead over the Mariners for third place in the AL West. It would be a small victory for a disappointing team, but it would be a victory nonetheless.
Tommy Hanson finishes strong upon returning to the majors
The Angels' starting pitching has been a disaster this season, as the offseason additions of Jason Vargas, Tommy Hanson and Joe Blanton have not worked out as hoped.
Vargas will be gone in free agency, and Blanton looks like a lost cause at this point, but there is still hope that Hanson could turn things around. The right-hander was 32-22 with a 3.28 ERA through his first three seasons, but he struggled in 2012 and was traded for reliever Jordan Walden. The struggles continued this year leading up to a minor league demotion, but he'll be back in September and get every chance to prove he deserves a rotation spot.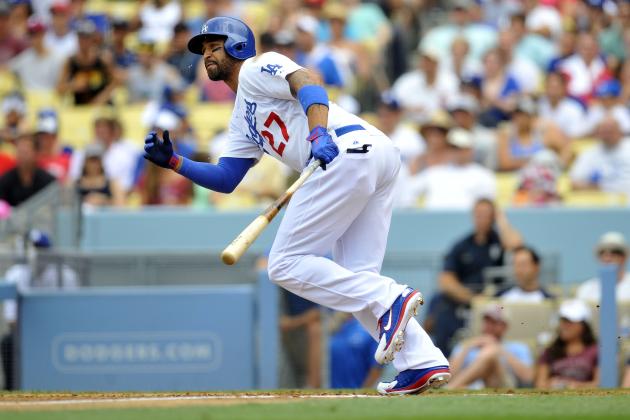 Gary A. Vasquez-USA TODAY Sports
Matt Kemp is currently rehabbing, and the team will need to avoid further injuries to the roster in September.
Finish with the best record in the NL
The Dodgers' turnaround this year has been nothing short of phenomenal. What once looked like a team that would sitting at home come October is now eyeing the best record in the National League.
At 78-55, the Dodgers are tied with the Cardinals for second-best record in the league, trailing the Braves by 2.5 games. They have played equally well on the road and at home this season, but earning home-field advantage would be a nice way to finish their season nonetheless.
Avoid injury
In reality, you could say "avoid injury" for all 30 teams as a goal down the stretch and you wouldn't be wrong.
However, the Dodgers have dealt with more injuries than most teams this year, and their early-season struggles exposed the fact that they don't have quite as much depth as some of the other elite teams in the league do. They have a real chance at the NL pennant this year, but a key injury in September could derail all of that.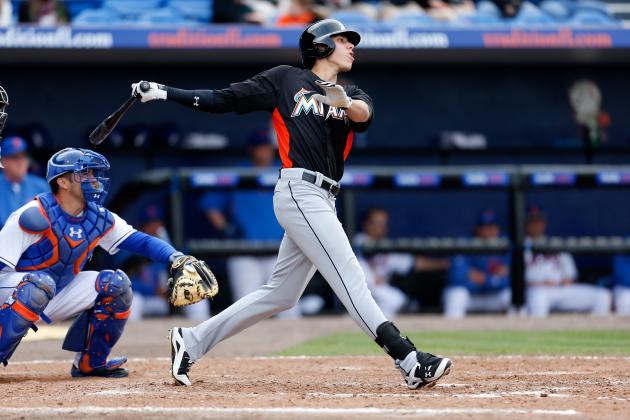 Chris Trotman/Getty Images
Christian Yelich will look to take a step forward with a strong September.
Avoid finishing with the worst record in baseball
It looks like a safe bet that the Marlins will finish with the worst record in the National League, as they are currently six games behind the Chicago Cubs. But they will look to avoid finishing with the worst record in baseball.
They currently sit at 49-82, giving them a decent lead over the Houston Astros, who are 44-88 in their first season in the American League. This is clearly a Marlins team looking to the future, but no one wants to finish with the worst record in baseball, rebuilding or not.
Get a strong finish from Christian Yelich and Jake Marisnick
For many top prospects, September is the time they earn a call up to the big leagues as they look to prove they belong in the majors for the following season.
However, the Marlins already added their two top hitting prospects to the roster roughly a month ago, and Christian Yelich (.254/.322/.355) and Jake Marisnick (.181/.228/.245) have seen everyday at-bats since. A strong finish for them would make the team's lineup look an awful lot better heading into next year.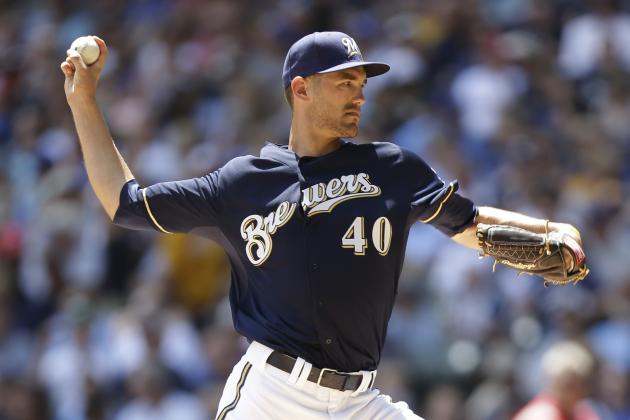 Mike McGinnis/Getty Images
Johnny Hellweg will look to prove he belongs in the 2014 rotation.
Hold off the Cubs, avoid a last-place finish in the NL Central
A year after finishing as the highest-scoring offense in the National League and following an offseason that saw them shore up their shaky bullpen, the Brewers were expected to have a chance to compete in the NL Central.
Instead, it's been a disaster of a season, as they sit at just 58-74 and lead the Cubs by just 2.5 games for fourth place. A last-place finish would be salt in the wounds of a poor season, and they'll look to avoid that in September.
Sort out the starting rotation for 2014
With a 4.52 ERA, the Brewers' starters have been the second-worst in baseball this season, ahead of only the San Diego Padres, and the team will need to sort through its options over the final month.
The trio of Yovani Gallardo, Kyle Lohse and Wily Peralta appear locked into spots next season, but two guys from the group of Marco Estrada, Tyler Thornburg, Mark Rogers, Johnny Hellweg, Alfredo Figaro and the injured Hiram Burgos and Mike Fiers will need to separate themselves from the pack.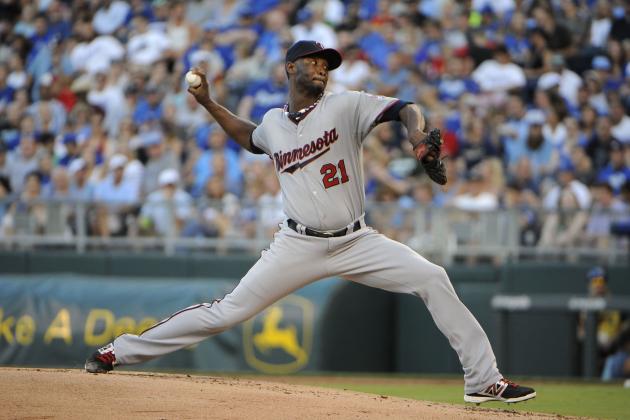 John Rieger-USA TODAY Sports
Could Trevor May and Samuel Deduno anchor the Twins rotation next year?
Hold off White Sox, avoid a last-place finish in AL Central
The Twins are a long ways off from being the perennial contenders they were just a few seasons ago. At 57-74 on the year, they lead the White Sox by just 2.5 games in the AL Central standings.
After back-to-back last-place finishes, the team will look to take a step forward in the standings in what could be the first step in a return to contention.
Get a long look at prospect Trevor May
Starting pitching has been a thorn in the Twins' side for two years now. While young arms Samuel Deduno and Andrew Albers have stepped up in the second half, the rotation still looks like a mess heading into 2014.
One player who could help improve the staff is right-hander Trevor May, who was acquired from the Phillies in the Ben Revere deal this past offseason. He is 9-9 with a 4.48 ERA and 149 strikeouts in 144.2 innings in his second go-around at Double-A this year, and as a member of the 40-man roster, there is no reason he shouldn't be part of the rotation for all of September.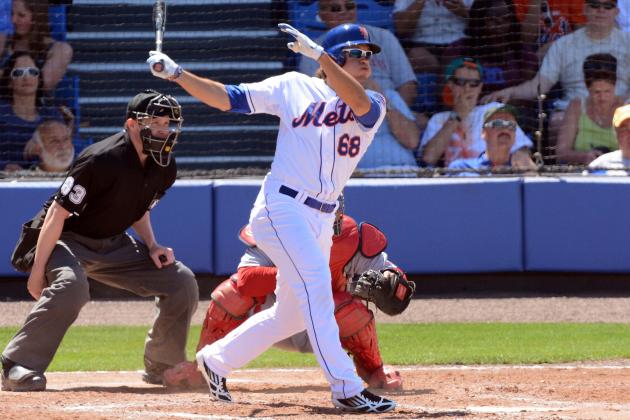 Brad Barr-USA TODAY Sports
Prospect Matt den Dekker will look to prove he deserves an outfield spot in New York next season.
Improve on last year's record
With the season-ending injury to Matt Harvey, the Mets appear ready to wave the white flag on finishing the 2013 season strong, having traded Marlon Byrd and John Buck to the Pirates and with more trades potentially on the way before the August 31 deadline.
That said, if they can finish 16-15 over their final 31 games, it would represent a one-game improvement over last year's 74-88 record. That may not seem like much, but considering they were in the running for a playoff spot in the first half last year and were rebuilding this year, even minimal improvement was unlikely.
Decide which outfielders, if any, deserve a starting spot next year
There were a number of holes in the Mets' lineup this season, and while shortstop remains a question mark, the biggest uncertainty heading into next year appears to be the outfield.
With Byrd traded, a subpar group has gotten even worse, and the team needs to decide who fits into its future plans over the final month. Juan Lagares, Eric Young, Lucas Duda and prospect Matt den Dekker should all see a decent amount of playing time, but expect the Mets to add at least one impact outfielder in free agency regardless.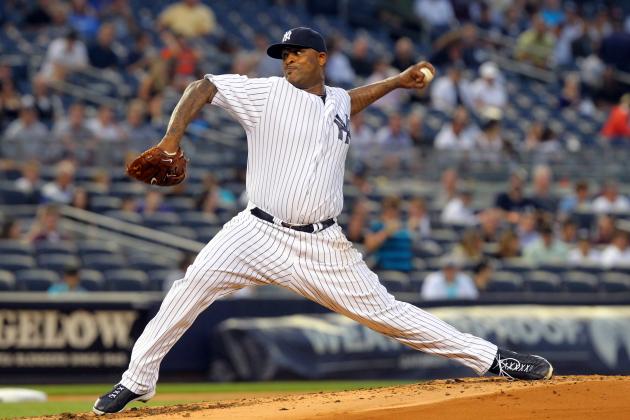 Brad Penner-USA TODAY Sports
The Yankees need CC Sabathia to return to ace form.
Earn a wild-card spot
It's been a long, injury-plagued season in the Bronx. Yet, through it all, the New York Yankees have still managed a 70-63 record and currently sit just 5.5 games out of the second wild-card spot in the AL.
A shaky rotation and an offense that is still a shell of what it was just a year ago means the odds are stacked against them, but this is one year where simply making the playoffs would be a major accomplishment for the Yankees.
Get CC Sabathia back on track
With Andy Pettitte and Hiroki Kuroda not getting any younger and both headed for free agency, as well as Phil Hughes also on his way out the door, the Yankees rotation is a major question mark long-term. Ivan Nova has been great this year, but he's more of a middle-of-the-rotation guy than a staff ace.
One player who will be around is CC Sabathia, who had been one of the most consistent starters in baseball heading into the year. However, he's gone just 11-11 with a 4.81 ERA on the season, including 2-3 with a 7.30 ERA in seven starts since the All-Star break. He has to pitch like an ace next year and moving forward if the Yankees are going to get back on track.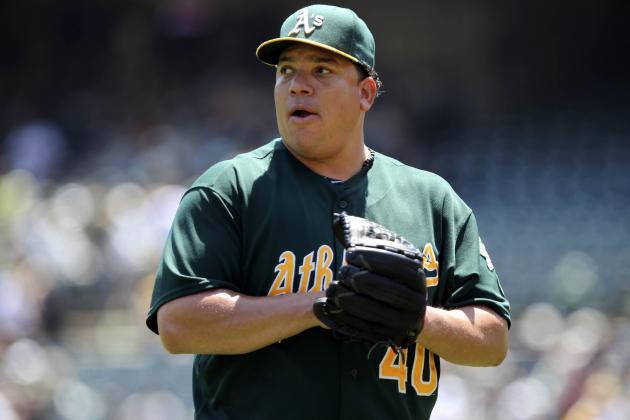 Kelley L Cox-USA TODAY Sports
The A's will need Bartolo Colon to keep pitching like he has.
Win the AL West
Seeing as they are currently holding onto the second wild-card spot in the AL, simply getting to the postseason may be a realistic goal for the Oakland A's. But they also trail the Rangers by just 2.5 games for the AL West title.
Avoiding the Wild Card Round would be big, and with six games left against the Rangers, they have a chance to make up some ground. Another late-season surge to snatch the division title away from Texas seems like a very real possibility.
Keep Bartolo Colon healthy, pitching like an ace for the postseason run
What Bartolo Colon has done this season as a 40-year-old has been nothing short of amazing. He's gone 14-5 with a 2.97 ERA in 24 starts and been an absolute steal for the one-year, $3 million deal he signed.
The big right-hander has been sidelined for the past two weeks with a groin strain, but he's slated to make his return on Thursday, just in time to square off against the Tigers and Cy Young favorite Max Scherzer. Keeping him healthy and pitching like an ace heading into the playoffs will be big for the young A's staff.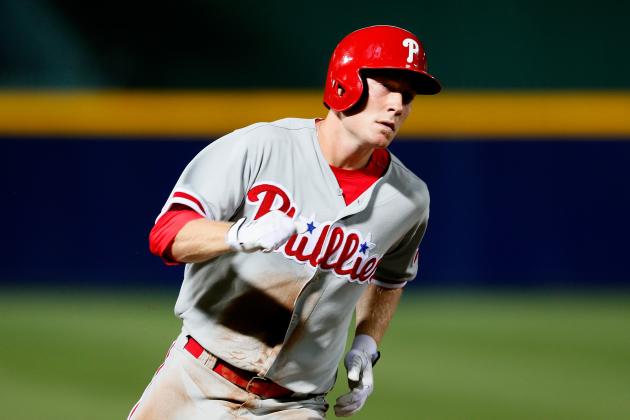 Kevin C. Cox/Getty Images
Will Cody Asche be bumped once top prospect Maikel Franco is ready?
Play spoiler for Atlanta to close out the season
The Phillies have been playing solid baseball of late, going 7-3 over the last 10 games. But at 61-72, they have little to play for in the final month, as even a .500 season seems out of reach.
Instead, they'll look to play the role of spoiler. With the Braves vying for the best record in the National League, their four-game series in Atlanta to close out the regular season could be a big one in determining the NL playoff seeding.
Figure out how Maikel Franco fits into next year's plans
The Phillies are locked into an aging core of former stars right now, especially on the offensive side of things. But despite a need to rebuild, there are not all that many openings on the roster looking to 2014.
That said, the team has to find a way to get Maikel Franco into the everyday lineup once he proves ready. And after hitting .315/.354/.563 with 66 extra-base hits (30 home runs) and 101 RBI between High-A and Double-A, he doesn't look to be too far off. Whether it's playing over Cody Asche at third base, moving someone to the outfield or trading someone, the team has to have a plan on how to make room for him once he's ready.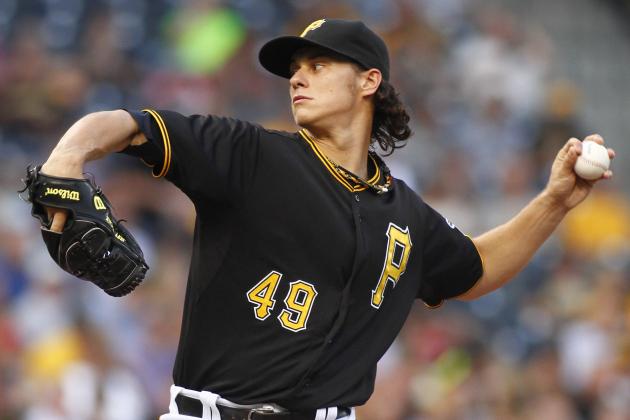 Justin K. Aller/Getty Images
Jeff Locke has been demoted, and the Pirates pitching depth has been thinned as a result.
Win the NL Central
Entering the year, many Pirates fans would have been happy just to see the club finish with a winning record following back-to-back second half collapses. Now, though, the Pirates look poised not only for a postseason berth, but a real run at the NL pennant.
The top of the NL Central standings remain a dog fight, with the Pirates trailing the Cardinals by half a game right now and the Reds sitting 3.5 games back. Two of those teams will meet up in the Wild Card Round, and the Pirates would no doubt love to avoid having to play that extra game.
Keep pitching staff at full health the rest of the way
With the recent demotion of All-Star Jeff Locke, who has struggled mightily since the break, the Pirates are already down one starter they counted on having for the stretch run.
That said, the foursome of A.J. Burnett, Francisco Liriano, Gerrit Cole and Charlie Morton looks solid and the bullpen remains one of the best in baseball, even with Jason Grilli still on the shelf. The Pirates' offense is no doubt improved, but they still lean on their pitching staff, and an injury to a starter or key bullpen arm could completely derail them.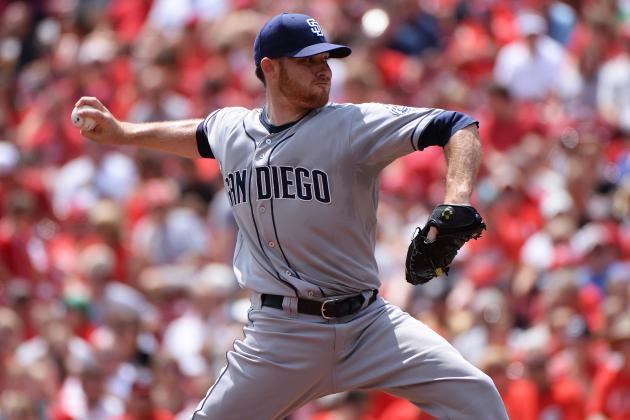 Jamie Sabau/Getty Images
Can Ian Kennedy return to ace form? The Padres sure hope so.
Finish third in the NL West
The Padres made a brief run toward contention with a hot streak at midseason before falling back down to the second tier of the NL West.
They remain a team on the upswing and at 60-73 are actually in position to move up the standings before the season is over. The Rockies sit above them in third place at 63-72, with the Giants right on their tails at 59-74. A solid final month by their young core could be enough to propel the Padres to a third-place finish.
Finish strong on the mound, especially in the rotation
As the Padres look to make the move to contender in the next couple seasons, their biggest hole remains the starting rotation, where they have some solid arms but lack a legitimate staff ace.
Tyson Ross (7 GS, 3-3, 2.53 ERA) and Andrew Cashner (7 GS, 3-3, 3.00 ERA) have both been great since the All-Star break, and deadline pickup Ian Kennedy (5 GS, 2-1, 4.55 ERA) remains a high-reward pickup who was an ace in the not-too-distant past. A strong final month from the rotation could be huge for the team's 2014 outlook, especially if Kennedy can pitch well.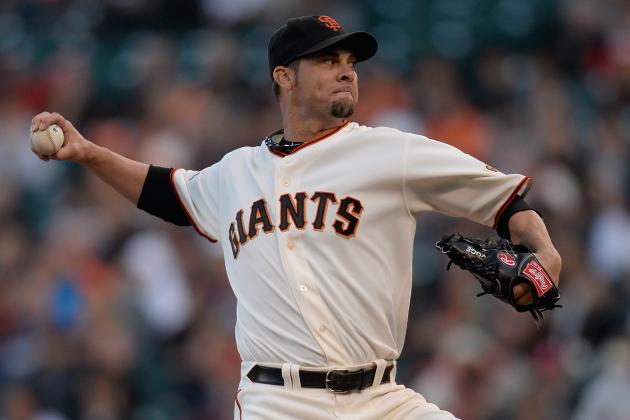 Thearon W. Henderson/Getty Images
Will Ryan Vogelsong keep up his hot pitching, convince Giants to pick up his $6.5 million option for 2014.
Avoid a last-place finish in the NL West
The reigning World Series champions and winners of two of the last three titles, the Giants entered the season with essentially the same roster that they won the World Series with and understandably high expectations.
However, the collapse of their starting rotation alongside what was once again a below-average offense has left them 59-74 on the year and in last place in the NL West. At this point, simply avoiding a last-place finish would be a moral victory for the team.
Decide if Ryan Vogelsong is worth bringing back
The Giants will have some work to do on their starting rotation this offseason, with Tim Lincecum and Barry Zito headed for free agency. Madison Bumgarner and Matt Cain give them a solid duo to front their staff, but the wild card seems to be Ryan Vogelsong.
The 36-year-old was 2-4 with a 7.19 ERA through his first nine starts before landing on the DL with a fractured finger. He's 1-0 with a 2.55 ERA in four starts since returning, though, including throwing eight shutout innings against the Pirates last time out. The team has a $6.5 million option on him for next year, and how he pitches in the final month will determine whether or not the Giants pick that up.
Brad Penner-USA TODAY Sports
The Mariners need to use September to decide if Taijuan Walker is ready for a rotation spot to start 2014.
Pass the Angels to finish third in AL West
With the Astros' move to the AL West, the Mariners were all but assured of avoiding a fourth straight last-place finish in the division. But few pundits had them finishing any higher than fourth with the A's, Angels and Rangers all expected to be in the hunt for a playoff spot.
Instead, the Angels have struggled all season, and the 59-73 Mariners only trail them by half a game entering play on Thursday. For a team on the rise looking to make the move to contender next season, a third-place finish would be a point of pride if nothing else.
Get a long look at young pitching prospects, especially Taijuan Walker
The Mariners opted against aggressively selling at the deadline, option instead to push for a strong finish to the season as a confidence and momentum boost for their young core.
That's all fine and good, but the team has to get a look at some of its top prospects in significant roles down the stretch, most notably pitching prospects Taijuan Walker and James Paxton. Walker is arguably the top pitching prospect in the game right now, and after posting a 2.93 ERA and 10.2 K/9 between Double-A and Triple-A, he could be the team's No. 3 starter by Opening Day next season.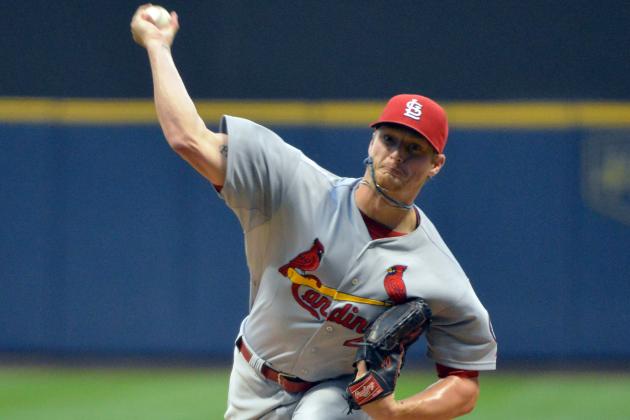 Benny Sieu-USA TODAY Sports
The Cardinals are legitimate World Series contenders, but they have to get their rotation sorted out over the final month.
Win the NL Central
There is no tighter division race in baseball right now than the NL Central, with three teams all having a legitimate chance to come away with the title. The Cardinals have been in first place for much of the season and currently hold the top spot, but they are just a half-game ahead of the Pirates at this point.
No one wants to play in the Wild Card Game (except the 20 teams who miss the playoffs, I suppose), but the Cardinals in particular don't want to have to use ace Adam Wainwright and open the NLDS series with inexperienced arms in Shelby Miller and Lance Lynn as a result.
Figure out a clear-cut postseason rotation
Despite the losses of Chris Carpenter, Kyle Lohse and Jaime Garcia, the Cardinals have remained one of the better pitching teams in baseball this season, with a number of young arms stepping into key roles.
Adam Wainwright will no doubt take the ball first for the Cardinals, but after that, their potential postseason rotation is up in the air. Shelby Miller looks like the best candidate for the No. 2 spot; Lance Lynn has been up and down, but he's 13-8 on the season; Jake Westbrook has postseason experience but has a 7.55 ERA since the break; and Joe Kelly has been the team's best starter in the second half (7 GS, 5-0, 1.76 ERA), but he spent much of the first half in the bullpen.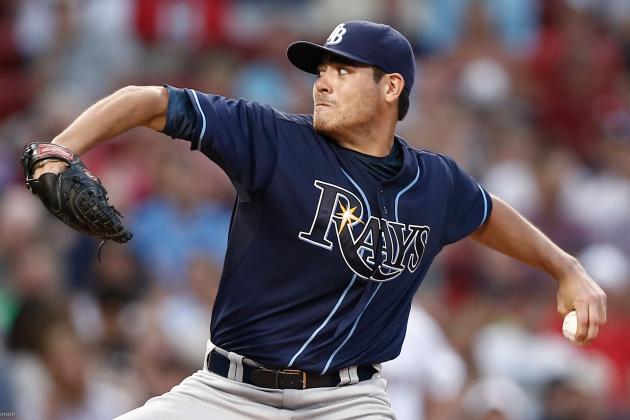 Winslow Townson-USA TODAY Sports
A healthy Matt Moore would fill out a potentially formidable Rays postseason rotation.
Win the AL East
The Red Sox have been in command of the AL East for much of the season, but the Rays trail them by just 2.5 games at this point, and they will look to overtake them in the final month.
The two teams meet just once more this season for a three-game series in the middle of September, but the Rays have the benefit of playing the Angels, Mariners, Twins and Blue Jays still and could make up some ground by dominating those teams.
Get Matt Moore back to All-Star form to fill out the postseason rotation
The Rays' starting rotation has suffered through some ups and downs this season, with Alex Cobb and David Price both missing significant time with injury, Matt Moore currently on the shelf and Jeremy Hellickson demoted to the minors.
As things stand now, Price, Cobb and rookie Chris Archer look like a solid three heading into the postseason. With Moore returning to action soon, the hope is that he can solidify the fourth rotation spot for the postseason. Moore was 14-3 with a 3.41 ERA in 21 starts prior to the elbow injury, and he could be the No. 2 guy behind Price come October.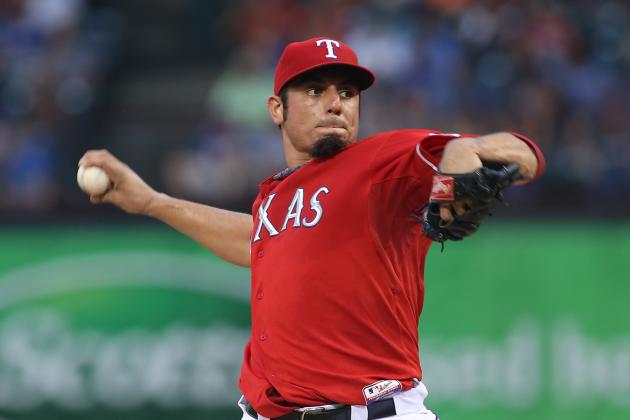 Rick Yeatts/Getty Images
Matt Garza needs to pitch like a frontline starter the rest of the way in Texas.
Win the AL West
Last season, the Rangers coughed up the AL West title on the final day of the season, then got booted from the postseason by the Orioles in the Wild Card Round.
They, as much as anyone, know the value of avoiding playing in that opening-round game. And with a 2.5-game lead over the A's in the AL West as of now, they'll look to hold on and capture the division title.
Pitch consistently behind Yu Darvish and Derek Holland in the rotation
After so much offensive firepower departed in free agency, the talk was about whether the Rangers would score enough runs. But instead, it's been their starting pitching that has been a major question mark all season.
Yu Darvish (12-5, 2.68 ERA) and Derek Holland (9-6, 3.00 ERA) are as good a one-two punch as there is in baseball. Rookie Martin Perez (8-3, 3.58 ERA) needs to continue to pitch like he has of late, Matt Garza (3-2, 4.44 ERA) needs to prove he was worth the hefty price they paid to get him and Alexi Ogando needs to get healthy and stay healthy.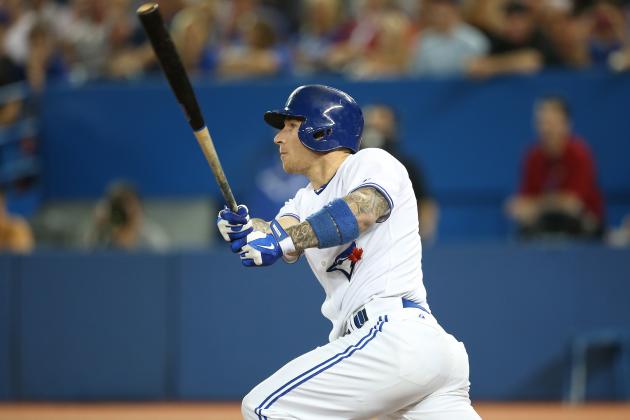 Tom Szczerbowski/Getty Images
Has the Brett Lawrie we've all been waiting for finally arrived in Toronto?
Pass last season's win total
After adding what seemed like an entirely new roster in the offseason, many had the Blue Jays pegged as a favorite in the AL East and as legitimate World Series contenders.
Instead, they currently sit in a distant last place in the AL East at 60-74, and they'll have their work cut out for them to simply improve on last year's record of 73-89. That mean finishing the year 14-14, and with all but seven of those games against teams with a winning record, that will be no easy feat.
Brett Lawrie continues his strong second half
For the past two seasons, Brett Lawrie has been hailed as one of the league's potential breakout players and a future superstar, only to get sidetracked by injuries.
He managed just 39 games in the first half, hitting a dismal .204/.261/.361 with five home runs and 14 RBI. He's turned things around in the second half, though, hitting .326/.388/.514 with five home runs and 21 RBI in 40 games. A strong finish to the season could be a springboard into Lawrie finally breaking out next year.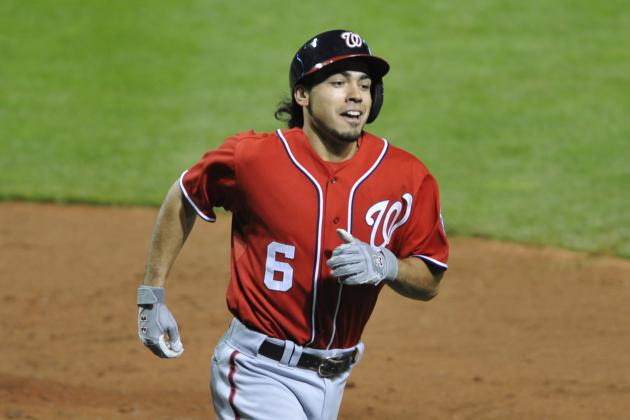 David Richard-USA TODAY Sports
The Nationals need Anthony Rendon to get his bat back to where it was earlier this season.
Earn a wild-card spot
Not to take away from how bad the Blue Jays and Angels have been, but the Nationals may very well be the biggest disappointment of the 2013 season.
After finishing with the best record in baseball last year and adding Denard Span to essentially the same core, they were a trendy pick to win it all this year. Instead, they are just 67-65 and seven games out of a wild-card spot. Anything short of the postseason is a disappointment, and that looks like a long shot.
A strong finish from Anthony Rendon
The Nationals offense has underperformed all season, but the talent is still there for them to get right back on track next season. One player who could be an X-factor moving forward is second baseman Anthony Rendon, who took over for the struggling Danny Espinosa around midseason.
The 23-year-old was hitting .310/.360/.431 through 116 at-bats at the end of June, but he's hit just .220/.290/.366 in 164 at-bats as an everyday starter since. He has the potential to be an impact bat, though, and taking another step toward reaching that potential would help the team's offensive outlook in 2014.