Toronto Blue Jays: 5 September Call-Ups to Watch Down the Stretch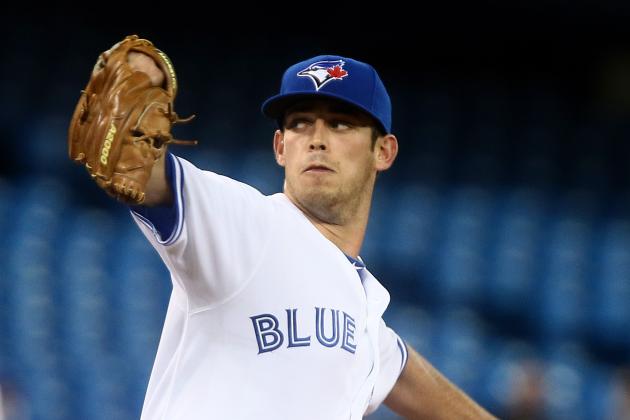 Abelimages/Getty Images

For Blue Jays fans, September has too frequently become a time of disinterest.
While other teams in the midst of playoff races and pennant runs are focused on the standings, since 1993 Jays fans have been forced to look to the future rather than enjoy the present.
Despite all the disappointment surrounding the 2013 Jays, there is always the potential for someone unexpected to impress in September, reinvigorating the fanbase into 2014.
In fact, the disappointment of the season almost makes September call-ups all the more exciting. It offers a glimpse into potential solutions for next season. The Jays need serious improvement in their starting rotation, at second base and at catcher.
September will give Jays fans a look at the names that may end up solving problems at those three positions.
Here's a look at five possible call-ups Jays fans should watch closely this fall.
Begin Slideshow

»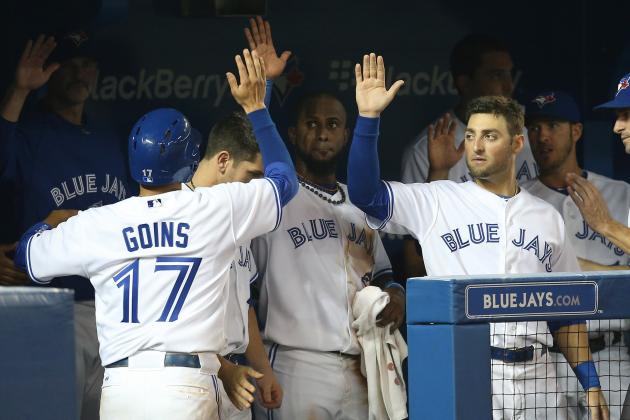 Tom Szczerbowski/Getty Images

Age: 25
Position: SS/2B
2013 Stats (Buffalo): .257/.311/.369/6 HR/46 RBI
Goins made his major league debut last Friday, picking up two hits including a double against the Astros.
After being taken in the fourth round of the 2009 draft, Goins has battled his way up the minor league ladder and has certainly earned his shot with the Blue Jays.
In an interview with John Lott of the National Post, Goins spoke about his teammates welcoming attitude when he arrived with the Jays.
The guys are really hospitable to me. Everybody comes up and says congratulations for being here, [and tells] you, 'You deserve it, you've earned your right to be here.'
He spent three seasons bouncing around the different levels of Single-A before receiving regular playing time with New Hampshire in 2012 at the age of 24.
To put it short, Goins deserves his chance and so far, he's impressed everyone.
Despite underwhelming Triple-A numbers, he has a hit in every game he's played in so far while playing phenomenal defence at second base.
Jays fans hoping a productive second baseman emerges in 2014 should keep their eyes on Goins over the next month. He's already been better than Emilio Bonifacio.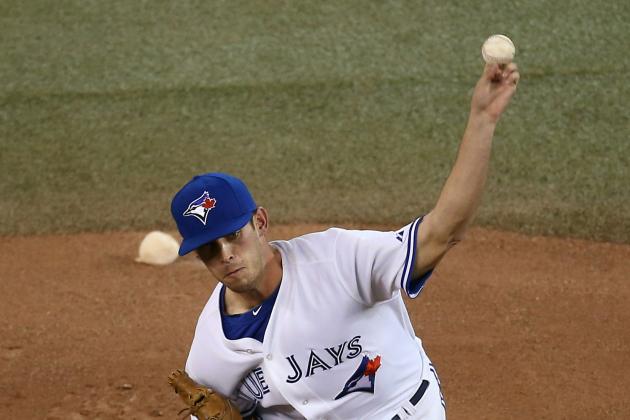 Tom Szczerbowski-USA TODAY Sport

Age: 23
Position: LHP
2013 Stats (New Hampshire): 92.2 IP/3.01 ERA/1.23 WHIP
Let's throw out Sean Nolin's memorable-for-all-the-wrong-reasons major league debut in May, including his 40.50 ERA and 6.000 WHIP.
Instead, focus on what he's accomplished in just his second full season of professional baseball.
Nolin has been phenomenal with the Fisher Cats all season, striking out 10 batters per game while allowing only six home runs over just under 93 innings. He did everything he could to earn his chance to make a major league start and unfortunately the Baltimore Orioles powerful offence put a dent in his development.
Despite that setback, Nolin returned to Double-A and simply went back to work, earning a promotion to Buffalo on August 18th. Over two starts in Triple-A, Nolin has seen his walk rate jump but has only allowed two earned runs.
It will interesting to see if the organization wants to expose Nolin to the majors again in September with his confidence in mind. The young left-hander has done everything right in 2013 and offers a potential internal solution to the team's starting pitching issues.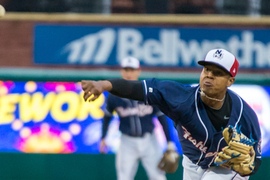 Age: 22
Position: RHP
2013 Stats (New Hampshire): 103.2 IP/3.47 ERA/1.196 WHIP
If Sean Nolin has been the most consistent starter for the Fisher Cats, then Marcus Stroman has been the flashiest.
Part of that has to do with Stroman's reputation—he was given a 50-game suspension last year after testing positive for performance-enhancing drugs—and his status as a first-round draft pick.
Despite earning a reputation as a player who is willing to break the rules, Stroman has flourished in his first full professional season as a starter. While he's only 5'9", Stroman throws hard and, according to scouts, has not only a strong slider but a quality changeup.
Given that 2013 was fans' first real look at Stroman, Jays fans have reason to be excited. He's shown power and control in Double-A, striking out 118 batters while walking only 27. Without any real physical growth left to do, Stroman may be closer to the majors than any other Jays pitching prospects.
Like Nolin, the team may be hesitant to give him a shot with the big club in September but he's done everything to deserve one.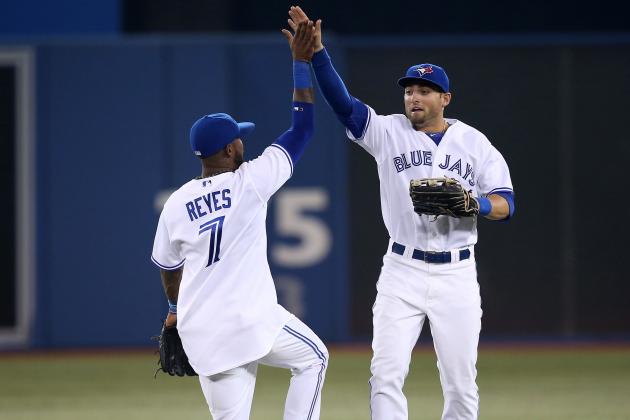 Tom Szczerbowski/Getty Images

Age: 24
Position: OF
2013 Stats (Buffalo): .299/.341/.493/4 HR/27 RBI
Drafted as a college senior in 2011, Kevin Pillar has done nothing but hit at every level since then.
With Bluefield in the Appalachian League in 2011, he posted a .911 OPS over 60 games. Last year, splitting his time between Single-A clubs Lansing and Dunedin, he posted an .813 OPS while hitting .374.
That performance earned him a spot on the New Hampshire Fisher Cats roster for 2013 and Pillar's numbers did not change at all. He hit .313 over 71 games in Double-A, going from rookie ball to Triple-A in just two seasons.
Pillar's consistency is what is most encouraging about him. His only dip below a .300 average during his minor league career has been his .299 mark with Buffalo this season. Clearly, the guy can hit.
Since being called up to the Blue Jays, Pillar's offensive numbers have dropped significantly but that's natural for fall call-ups and he has seven hits in his last eight games. After adjusting to the reality of being a major leaguer, Pillar may have found his comfort zone.
Either way, he's an intriguing player.
Whether Pillar can translate his offensive talent to the major leagues will be answered as the Jays wrap up their season.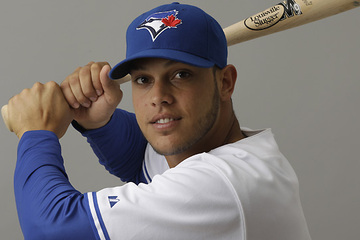 Age: 23
Position: C
2013 Statistics (New Hampshire): .276/.327/.394/3 HR/29 RBI
Jays fans who are looking for a catcher that can actually play his position rather than spend his time whining on Twitter, Jimenez may be an encouraging September call-up.
Jimenez came onto the radar after a solid 2011 season with Dunedin where he hit .303 over 102 games. After Travis D'Arnaud was traded to the Mets for R.A. Dickey and J.P. Arencibia, whose game went to pieces, Jimenez now seems to have a legitimate shot to contribute with the Blue Jays.
While his offensive numbers are nothing spectacular, Jiminez's defensive ability is nothing short of spectacular, earning comparisons to Yadier Molina. Scouts love his glovework, ability to call games and throwing arm.
Jimenez is everything Arencibia is not.
With New Hampshire this season, Jimenez has thrown out 48 percent of base-stealing attempts. Arencibia's career mark for that same statistic is 26 percent. That is just one example of how much better an all-around catcher Jimenez is. He needs work on his offensive game, but not much considering J.P.'s horrendous numbers in 2013.
Given that Jimenez has been lauded for all the things crucial to being a successful major league catcher and Arencibia has been criticized for lacking those abilities, it makes a September call-up for the current Buffalo backstop a very interesting possibility.