Burning Questions for the Washington Redskins' 2013-14 Season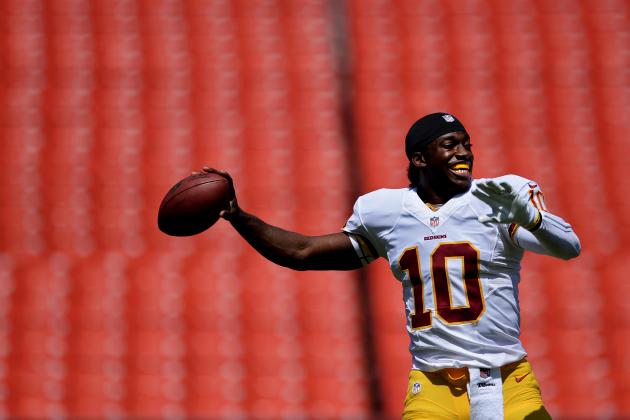 Patrick Smith/Getty Images

The Washington Redskins' season will be dominated by one question. Can Robert Griffin III stay healthy? While the implications of that question are worth an entire article, the Redskins face other burning questions as they prepare to defend their NFC East title.
Those include the strength of a defensive backfield that still looks hurriedly thrown together. There are also some concerns about a run defense that was a pleasant surprise in 2012, but has struggled during preseason.
Offensively, if Griffin can stay upright, he still needs a legitimate No. 1 receiver to emerge. The running game will remain strong, provided Alfred Morris can match his rookie form from last season.
But even if he does, the Redskins will still be hoping another back emerges to share the load. There is also the matter of how Morris and his backfield mates will run behind a line that looks solid everywhere, except right tackle.
Here is a breakdown of all the burning questions facing the Redskins ahead of the 2013 NFL season.
Begin Slideshow

»
Evan Habeeb-USA TODAY Sports
Kedric Golston has a crucial role to play early in the season.
Kedric Golston is an able deputy up front, but circumstances this offseason have thrust the spotlight onto the reliable veteran. The four-game suspension incurred by Jarvis Jenkins, coupled with the continuing injury woes suffered by Adam Carriker, mean Golston will have a vital role to play early in the season.
Thankfully, Golston is a big-bodied run-stuffer with the frame for the physical demands of the 3-4. At 6'4" and 318 pounds, the 30-year-old can play the 5-technique and occupy double-teams on the edge.
Unfortunately, what Golston lacks is the dynamism to make himself a force in the backfield.
He does not possess the pass-rushing skills Carriker showcased in 2011, when he recorded 5.5 sacks, nor does Golston provide the push to collapse the pass pocket and clog running lanes the way Jenkins can. He has not made a start since 2010, but now, the Redskins need Golston to help maintain the solidity of their base fronts.
The Redskins do have other options in Phillip Merling and Chris Baker. But for a quarter of the season, at least, they will want Golston to be a dependable starting left end, capable of making some key plays.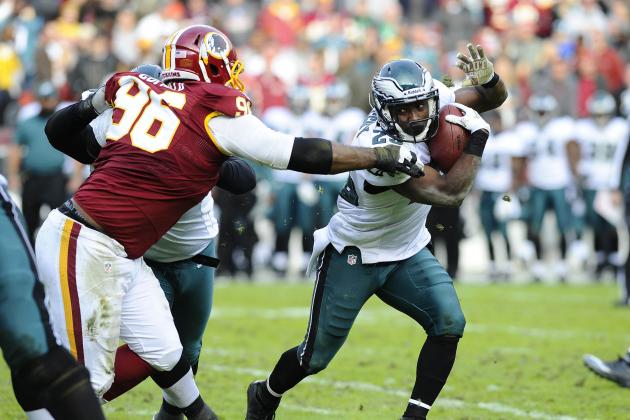 Brad Mills-USA TODAY Sports
The run defense has shown signs of regression during preseason.
One of the big improvements on 2012's team was the performance of the run defense. The Redskins boasted the fifth-stingiest unit against the rush in the league.
They allowed 95.8 yards per game, a marked improvement over the 117.8 yards surrendered in 2011. Granted, last season's numbers might have been padded by opponents not wanting to run too often against the NFL's 30th-ranked pass defense.
But the numbers were also borne out of better performances up front. Nose tackle Barry Cofield and end Stephen Bowen handled blockers and created attack lanes for linebackers like Perry Riley and Ryan Kerrigan.
The question is, can this run defense get better, or will it regress? There have been signs of regression during preseason.
The Redskins have yielded an average of 99 yards on the ground through three exhibition games. The number would be worse had it not been for the complete second-half shutdown of the Buffalo Bills in Week 3 and injuries suffered by the Tampa Bay Buccaneers in Week 4.
Those factors embellished many of Washington's preseason defensive statistics. But both the Tennessee Titans and Pittsburgh Steelers found big gains on the ground easy to come by.
So which run defense will turn up once the real action begins? Will it be the one that has looked soft during preseason, or 2012's more stout version?
The Redskins obviously need the latter, especially considering the quality of runners on their regular-season schedule. They will have to contend with Minnesota Vikings star Adrian Peterson and Kansas City Chiefs ace Jamaal Charles.
They will also face stellar Atlanta Falcons veteran Steven Jackson and the high-powered ground attack of the San Francisco 49ers. There is also the not-so-small matter of two games against the Philadelphia Eagles, who boast LeSean McCoy and Bryce Brown.
New Philly head coach Chip Kelly won't be shy about unleashing heavy doses of a zone-style rushing attack. If a suspect run defense lets any of these stud rushers run wild, the Redskins' hopes of a return to the playoffs will be severely undermined.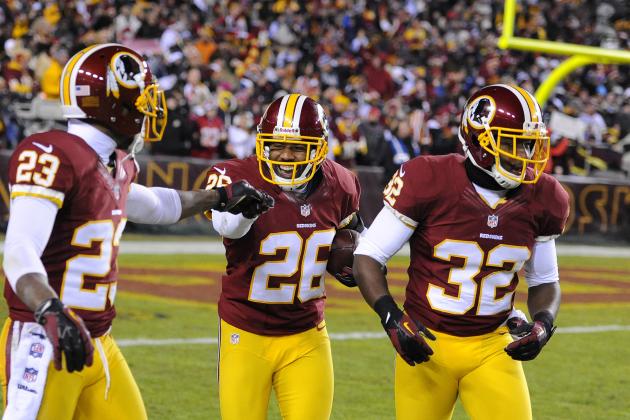 USA TODAY Sports
The pressure is on the secondary to improve.
The performance of 2013's pass defense could be season-defining for the Redskins. It could be the difference between forcing Griffin to win shootouts or letting a burgeoning defense join the ranks of the league's best.
The Redskins ranked 30th against the pass in 2012, and frankly, it was scary to think how bad that made the two pass defenses below them. Efforts have been made to address this issue, but hopes are pinned on unproven rookies and a brittle veteran.
Things are particularly concerning at safety. The Redskins used two draft picks on the position, but one of those, fourth-rounder Phillip Thomas, has already been lost for the season after Lisfranc surgery.
That has pushed sixth-rounder Bacarri Rambo closer to a starting berth. The former Georgia product has endured some struggles in preseason, particularly in run support.
Yet, despite his issues, the Redskins really need Rambo to make the position his own and give the defense a safety with superior ball skills.
The alternative is letting savvy and hard-working, yet athletically limited, Reed Doughty start again. Doughty has his limitations, but there may be even more questions surrounding prospective starter Brandon Meriweather.
The ex-New England Patriot and Chicago Bear is recovering from a torn ACL that interrupted a career that was already becoming a disappointment.
Meriweather initially looked good for the New England Patriots, but soon fell out of favor. His lack of range in deep coverage was then brutally exposed during his stint in Chicago.
If there is trouble at safety, there is only marginally more stability at cornerback. Veterans DeAngelo Hall and Josh Wilson will again start, although that is not necessarily good news.
Both are prone to lapses in concentration and have a nasty habit of surrendering big plays at critical moments. Defensive coordinator Jim Haslett will hope top draft pick David Amerson can supplant one of his starters early on.
Amerson showed at North Carolina State that he can make the big play. He snared 11 interceptions in 2011, but will need to use his size better and prove he can press pro receivers.
The rotation is even more suspect than the starting group. Castoffs like E.J. Biggers and Jerome Murphy and could end up playing big roles in nickel and dime looks.
The Redskins are not loaded with talent here, and that is bad news if you take another glance at their schedule. Fierce division rivals, the Dallas Cowboys boast the connection between quarterback Tony Romo and wideout Dez Bryant.
The New York Giants attack best via Eli Manning linking up with prolific pass-catchers Victor Cruz and Hakeem Nicks. If that is not daunting enough, the Redskins also face Peyton Manning and the Denver Broncos, Aaron Rodgers and the Green Bay Packers and Matt Ryan and the Falcons.
If this revamped secondary cannot withstand these pass attacks, the offense will be under greater pressure to reproduce 2012's impeccable performances.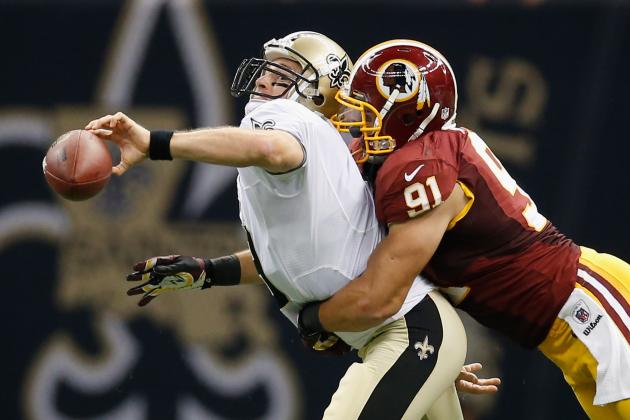 Chris Graythen/Getty Images
The Redskins should feature a formidable pass rush this season.
Even with a stellar coaching job by Jim Haslett and backfield coach Raheem Morris, the Redskins's secondary will struggle. There is simply not the level of talent to avoid some costly lapses.
But what could still save the defense is a pass rush that should be utterly dominant this season. The Redskins suddenly find themselves loaded with players capable of consistently pressuring quarterbacks.
It starts on the edges of a powerful front seven, with destructive outside linebackers Ryan Kerrigan and Brian Orakpo. Kerrigan is the star of this defense, a complete linebacker who is ready to blossom as an edge-rusher.
The team's first-round choice in 2011, Kerrigan has tallied 16 sacks during his two pro seasons. But his development into a more prolific pass-rusher will be accelerated by Orakpo's return.
Orakpo's takeoff speed, raw power and impressive leverage routinely helps him set up and defeat offensive tackles. If he was ever aided by keener eyes among officials, Orakpo would probably lead the league in causing holding penalties.
As the team's most naturally gifted pass-rusher, Orakpo will draw attention away from Kerrigan. Opposing blocking schemes will face a tough choice deciding which direction to slide their protection.
But the Redskins' pass rush won't simply be limited to the exploits of the Orakpo-Kerrigan double act. The rotation offers a pair of dangerous situational pass-rushers.
Veteran Darryl Tapp and rookie Brandon Jenkins have shown in preseason that they know how to get to quarterbacks. Adding their skills to the mix is letting Haslett mix things up in nickel situations and put more pressure specialists on the field.
With Cofield and Bowen a consistent threat running stunts and twists in the middle of four-man fronts, Haslett should have no problem designing multiple fronts to keep the pressure on quarterbacks.
That could be the saving grace that offsets any struggles in the secondary.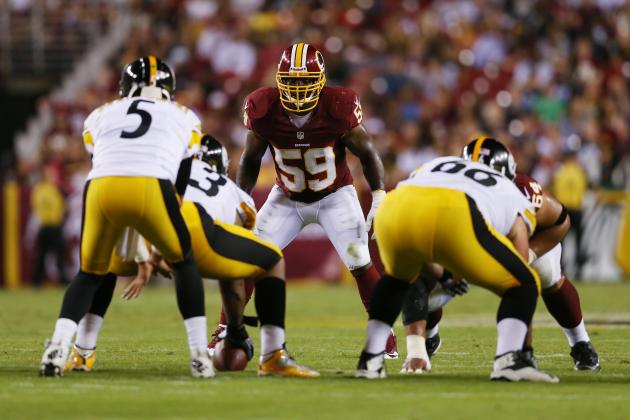 Rob Carr/Getty Images
Can London Fletcher maintain his own high standards?
He is not as demonstrative as Ray Lewis, but London Fletcher's nearing retirement is as significant for the Redskins as Lewis calling time on his career with the Baltimore Ravens.
At 38, Fletcher is clearly not the force he was, but he remains the obvious leader of Washington's defense. He is vocal, but mostly leads by example, which is usually set by his intelligence.
Fletcher is still a terrific pass defender and the most complete linebacker on the roster. That is why the Redskins need what could be his swan-song season to be as productive as usual.
In 2012, Fletcher was in on 139 tackles, three sacks and snared five interceptions. A sudden and significant dip in those numbers would be hard to compensate for.
Durability can be an issue as active linebackers near the end of their playing days, as Lewis found out last season. Yet Fletcher is a throwback to the iron men of the game's early years, having started every game since 2001.
But that is a tough streak to continue as he reaches his 40s. That's especially true in a 3-4 front that places extra physical demands on inside 'backers, forcing them to absorb guards on most plays.
Youngster Perry Riley is beginning to flourish alongside Fletcher, and the team was smart to add veteran Nick Barnett to the rotation as a contingency. But Haslett's unit still needs its aging signal-caller to maintain the high standards he has set throughout a glittering career.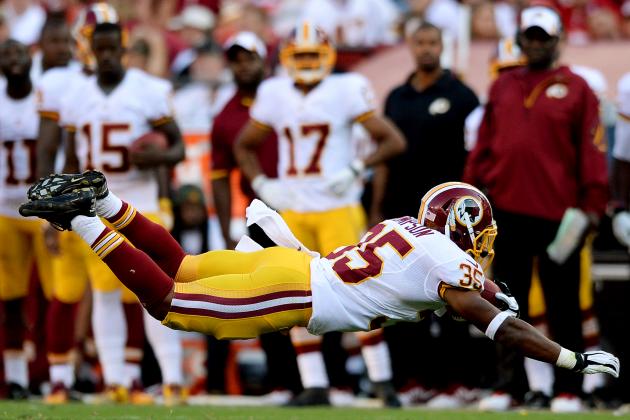 Patrick Smith/Getty Images
Chris Thompson has shown potential in the return game.
Aiding an already highly capable offense with more production from the return game should be a priority this season. Of course, for that to happen, the Redskins need a credible return man to emerge.
Fifth-round pick Chris Thompson should have the best chance. The former FSU ace possesses the acceleration, burst and cutting skills to be a dangerous returner.
The pint-sized speedster offered a glimpse of his potential in this area against the Bills and Buccaneers during preseason. What could hold Thompson back is issues with ball security.
He has already shown a nasty habit of fumbling during the infant stages of his career with the Redskins. But that is something that can be eradicated with coaching.
Backfield coach Bobby Turner and special teams coordinator Keith Burns can work on that issue. If they iron out the inconsistencies in Thompson's game, he could emerge as Washington's biggest return threat since Brian Mitchell.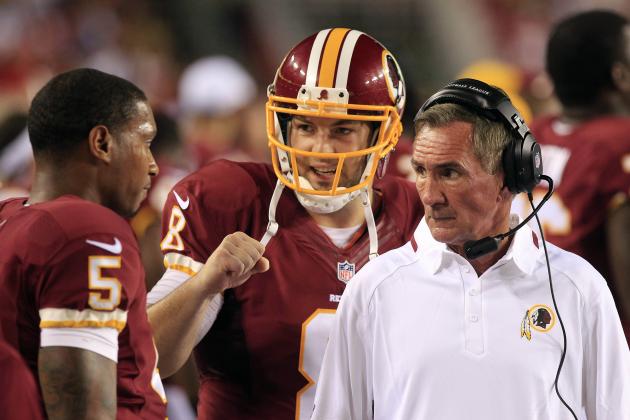 Geoff Burke-USA TODAY Sports
Shanahan has a tough choice to make for third-string quarterback.
Normally, asking who will be the third-string quarterback would not merit being called a "burning question." But the unclear health status of Griffin and the injury suffered by backup Kirk Cousins this preseason, puts the No. 3 quarterback role into focus.
The competition between Pat White and Rex Grossman could have significant implications for the Redskins. In truth, Shanahan faces a tricky call deciding which man will provide insurance at arguably the team's most important position.
Grossman is the superior passer, and he also boasts a wealth of experience in the Shanahan offense. He has run it in D.C. and also worked with Shanahan disciple Gary Kubiak with the Houston Texans.
However, White's greater athletic range could give him the edge. His ability to make plays as a a runner is hugely significant to the success of the Redskins's pistol and read-option looks.
If Griffin goes down injured and White is not on the roster, the Redskins will lose most of that threat. That would limit a hefty portion of their offense.
Shanahan has done his best to keep the reps even during preseason. But he will soon have to decide how valuable being able to run the read-option is to his overall plan.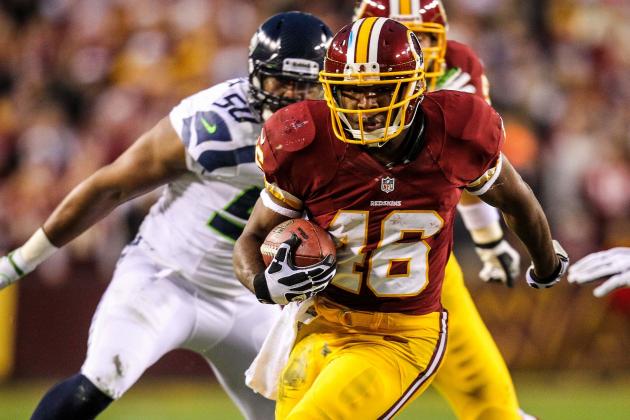 USA TODAY Sports
Can Alfred Morris possibly match his stunning debut season?
Given Shanahan's history turning late-round running backs into instant stars, maybe it should not have been so surprising when sixth-round pick Alfred Morris dominated the NFL.
But then again, this was an unheralded prospect, originally slated to play fullback, finishing second in the league in rushing. The question is, can Morris possibly replicate 2012's 1,613 yards and 13 touchdowns?
It is a tall order, especially since every defense he faces will make him their primary focus. Of course, they won't be able to do that if Griffin's surgically repaired knees doesn't slow him down.
But a lot of what Morris does may still depend on Griffin. If the latter does not develop as a passer and experiences some struggles, teams will simply clamp down on the ground game.
Thankfully, Morris showed enough as a rookie to prove he is a natural fit for Shanahan's famed zone scheme. He makes decisive cuts and finishes runs better than most backs in the game.
That should keep his average yards per carry high, but the Redskins won't want to overuse their star runner. In fact, the team really needs someone capable of taking some carries away from Morris to help keep him fresh.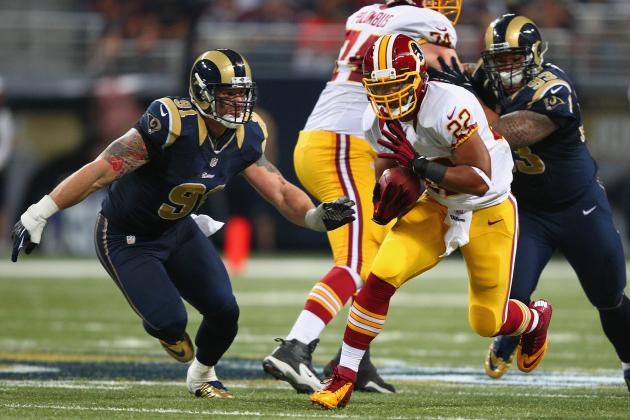 Dilip Vishwanat/Getty Images
Evan Royster managed only 23 carries last season.
Having another runner pose a similar threat to Morris would make the Redskins a better offense. It would add versatility and freshness to a rushing attack that is already the envy of most of the league.
But that means another back has to merit taking some carries away from Morris. In 2012, the discrepancy between how often Morris carried the ball, compared with the next most productive back, was alarming.
He led the way with 335 carries, while Evan Royster was next with a mere 23 rushing attempts. That imbalance simply puts too great a burden on Morris. It also denies the Redskins the chance to attack defenses with a different style of runner.
Royster is a similar inside runner to Morris. So, perhaps, he does not represent enough of a stylistic change. However, both Thompson and Roy Helu Jr. boast the game-breaking speed Morris does not possess.
The point is, Shanahan has enough options to spread the carries around more. As coach of the Denver Broncos in 2005, he gave 239 carries to Mike Anderson and 173 to Tatum Bell, as well as 53 more to Ron Dayne.
The trio combined for 2,205 yards and 21 rushing touchdowns. Anderson was the workhorse, averaging 4.2 yards a carry, while Bell and Dayne each averaged over five yards per rush.
That varied—and prolific—ground game led the Broncos to the AFC Championship Game. More recent seasons include examples of teams who built a playoff push on a committee approach to running the ball.
In 2011, the Texans got 2,320 yards and 16 touchdowns from Arian Foster, Ben Tate and Derrick Ward. That let Kubiak's team survive the loss of two quarterbacks to win their division.
In 2008, Ward and Brandon Jacobs both topped 1,000 yards for the 12-4 New York Giants. The Redskins have the scheme and the personnel to do the same.
As good as Morris is, it would be a shame to ignore the skills of the other runners on the roster.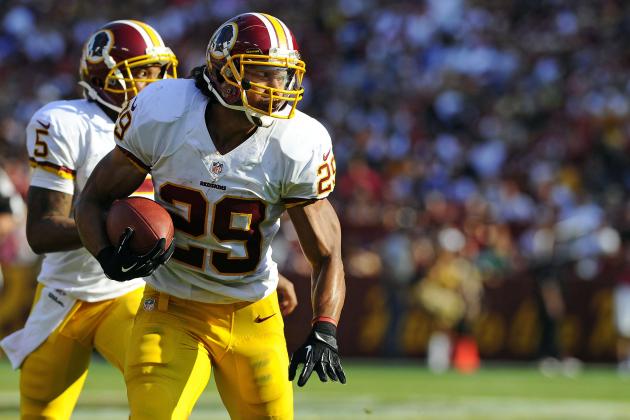 Brad Mills-USA TODAY Sports
Roy Helu Jr. has a key role to play.
One of those backs who offers different skills the Redskins need is Roy Helu Jr. A fourth-round pick in 2011, injuries have derailed his promising start to life in the pros.
But now, Helu is back to full fitness and can play a key role on third downs. He is a crafty receiver, a competent blocker and has the breakaway speed to surprise defenses.
Those are not necessarily skills Morris offers the offense. But the Redskins need Helu to stay healthy, something the ex-Nebraska ace has found a struggle.
Turf toe and an Achilles problem sidelined him for most of 2012. If Helu can't stay durable, the Redskins may turn to Thompson for work on third downs.
Trusting a rookie with such an important function for the offense is, undoubtedly, a risk. However, Thompson is more suited to the versatile nature of playing tailback on third downs than Royster, who is a more natural workhorse.
Ideally, Helu makes the job his own and also works himself into some carries on early downs. He must add greater versatility and an extra big-play threat to the offense.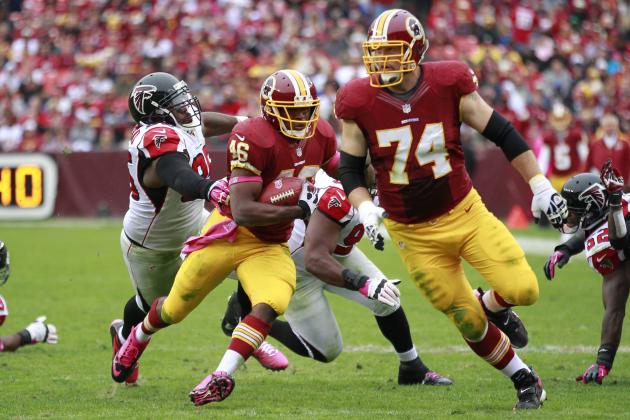 Geoff Burke-USA TODAY Sports
Can Tyler Polumbus prove himself as a credible starting tackle?
The Redskins once maligned offensive line has quietly become a skilled and efficient group. Perhaps, the only question mark remaining is at right tackle.
Admittedly, the position has been a problem throughout the Shanahan era, since the coach made an ill-advised trade for Jammal Brown. It took journeyman Tyler Polumbus stepping in to steady the ship.
But can the former Denver Bronco and Seattle Seahawk become a credible long-term starter and not be seen as the weak link?
In fairness to Polumbus, he performed well in 2012. The 28-year-old is a natural zone-blocker and knows the scheme well, having played for Shanahan in Denver in 2008 and 2009.
He is mobile, but, like many on this line, lacks overwhelming strength at the point of attack. That is not a requirement in a zone-based system, but the problem still shows up in games for Polumbus.
Although he weighs 303 pounds, it is not carried on a stout frame. Polumbus can be bullied in the running game, one of the reasons the Redskins run most of their stretch plays away from him.
The 28-year-old can also be manhandled by quick and powerful pass-rushers. The problem is, the Redskins don't have a viable alternative to Polumbus if his struggles continue.
Veteran retread Tony Pashos was added this offseason, but he was out of football in 2012. Only untested youngsters Tom Compton and Xavier Nixon remain as options after that.
One of the reasons the line looked better last season was the deception created by the pistol and read-option. Those looks slowed defenses down.
But when they were forced into 3rd-and-long situations, the front five struggled to handle the rush, as Week 9's meeting with Carolina Panthers showed.
The Redskins need Polumbus to hold up and preferably improve some of the mechanics of his game. The offense can't afford to have one side of its line seriously undermined by a lack of quality.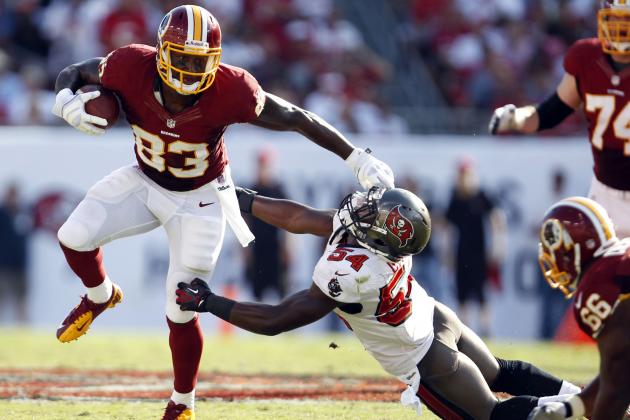 Matt Stamey-USA TODAY Sports
This is a make-or-break year for Fred Davis.
It is impossible to deny the incredible talent Fred Davis possesses. He is in the mold of the modern "move" tight end.
The 6'4", 247-pounder has the frame to block, but is also tall and fleet-footed enough to create coverage mismatches all over the field. Davis has the potential to match the production of the very best players at his position.
The problem has been keeping him on the field and matching that talent with temperament. Whether it is the four-game suspension for drug use he incurred in 2011 or the torn Achilles that wrecked his 2012 season, Davis has gone missing too often.
This is a pivotal season in his career, and the Redskins already seem to have guarded against more disappointment from Davis. They used a third-round pick to select Jordan Reed, a versatile and athletic tight end, very similar in style to Davis.
The Redskins also know they can count on Logan Paulsen. More of an in-line tight end, Paulsen proved in 2012 that he can produce as a pass-catcher.
Converted wide receiver Niles Paul gives Shanahan one more option at the position. So the Redskins are stocked, and Davis faces serious competition.
Offseason reports have been encouraging, but the Redskins were still wary enough to only offer him a new one-year deal. If Davis stays healthy and commits to wanting the ball, he can become the leader of the passing game.
But if he falters, the Redskins have three players ready and willing to take his place.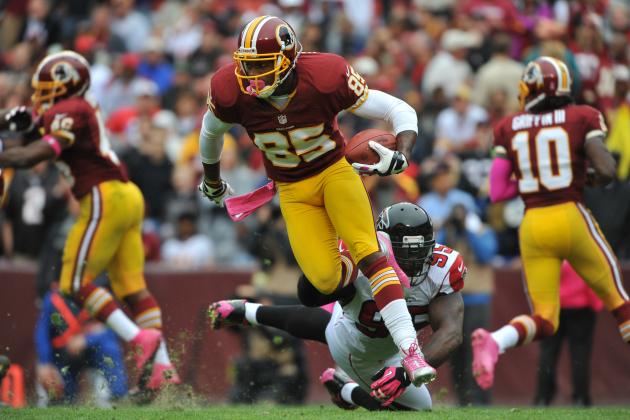 Larry French/Getty Images
It's time for Leonard Hankerson to turn his potential into production.
At face value, this offense has an embarrassment of riches at the wide receiver position. However, while there is plenty of potential, the group lacks a true No. 1 target.
Pierre Garcon was the team's big free-agent get last offseason, but he missed six games due to a lingering foot problem. When he was on the field, the 27-year-old showed off his knack for the big play, recording scoring receptions of 88 and 59 yards.
But Garcon was inconsistent in other areas. He struggles to gain separation on intermediate routes, despite his ample size, and his overall route-running lacks polish.
Fellow veteran Josh Morgan runs more accomplished patterns, but lacks the ability to stretch the field. The same can be said for the stellar Santana Moss, who is understandably beginning to slow down.
Youngster Leonard Hankerson is, perhaps, the most complete wideout on the roster. The problem has been getting him to translate his awesome potential into production.
The former University of Miami star has the vertical speed to expose coverage deep and the size and precision to threaten defenses underneath. But his hands and concentration levels are big worries. Entering year three, it is time for Hankerson to deliver.
It will help Griffin immeasurably if a legitimate go-to receiver emerges from this bunch—someone a young quarterback can trust to be a consistent playmaker.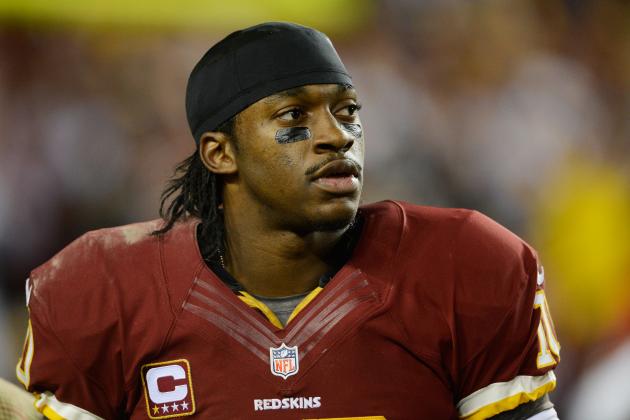 Patrick McDermott/Getty Images
Griffin's health will determine Washington's fate.
The answer to this burning question will determine the Redskins' season. How well Griffin recovers from the major surgery that repaired a torn ACL and a torn LCL won't be known until he takes the field and experiences the first hit.
That is the frustrating reality that no amount of status reports, press conferences and medical opinions can make any clearer. The implications of Griffin's health are almost too numerous to list.
If he is unable to offer the threat as a runner that he did in 2012, the read-option will cease to be effective. That will hinder a huge part of Washington's offensive scheme.
If Griffin is forced to stay in the pocket more often, are his passing mechanics good enough to still produce points and wins? It is the not knowing that puts a check next to all of the Redskins preparations for the new season.
It is what prompted this author to write an extremely conservative win-loss prediction for this season. Because it is reasonable to assume to Griffin won't be quite as good as he was in 2012, so soon after such a traumatic injury.
If he does struggle, the Redskins can still rely on a powerful running game, but one-dimensional teams only go so far. However, if Griffin does not miss a beat—and even improves on his rookie year—the Redskins are a match for anyone in the NFL.
If he is under center and defenses know his dual-threat can still expose them, this offense is close to unstoppable.
An as good as, or even better Griffin, is the difference between a similar finish to last season's mark or a 12-13-win campaign as the class of the NFC. It is that big of a question.
The only way it will be answered is when Griffin and the team agree he is ready to take the field again.
That should be Week 1, according to Brian Tinsman of Redskins.com, who confirms Griffin has been cleared to play. But as Mike Jones of The Washington Post notes, Dr. James Andrews, the surgeon closest to Griffin's recovery, still has "concerns."
Until Griffin is seen in game action, predicting how the Redskins will fare in 2013 is a tussle between the optimist and the cautious.