UFC Fight Night 27 Results: 10 Burning Questions Heading into UFC 164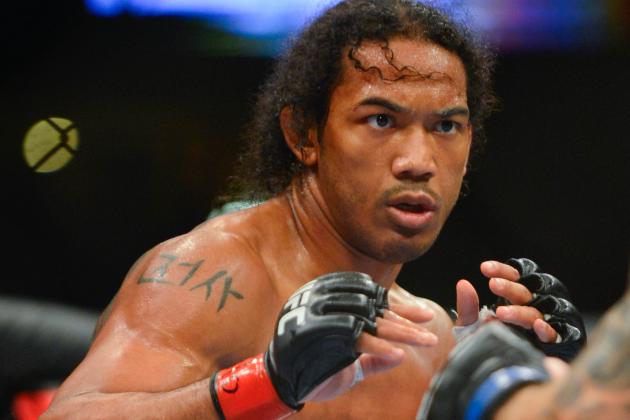 Ron Chenoy-USA TODAY Sports

The curtain has gone down on UFC Fight Night 27 at the Bankers Life Fieldhouse in Indianapolis. Here are the full results from Wednesday:
Carlos Condit defeats Martin Kampmann via TKO (punches and knees) at :54 of Round 4.
Rafael dos Anjos defeats Donald Cerrone via unanimous decision (29-28, 29-28, 29-28).
Kelvin Gastelum defeats Brian Melancon via submission (rear-naked choke) at 2:26 of Round 1.
Court McGee defeats Robert Whittaker via split decision (30-27, 27-30, 29-28).
Takeya Mizugaki defeats Erik Perez via unanimous decision (28-29, 29-28, 29-28).
Brad Tavares defeats Robert McDaniel via unanimous decision (29-28, 29-28, 29-28).
Dylan Edwards defeats Papy Abedi via KO at 1:32 of Round 1.
Brandon Thatch defeats Justin Edwards via TKO at 1:23 of Round 1.
Darren Elkins defeats Hatsu Hioki via unanimous decision (29-28, 29-28, 29-28).
Jason High defeats James Head via submission (guillotine choke) at 1:41 of Round 1.
Zak Cummings defeats Ben Alloway via submission (d'arce choke) at 4:19 of Round 1.
Roger Bowling vs. Abel Trujillo ends in a no-contest after an unintentional illegal knee leaves Bowling unable to continue at 4:57 of Round 2
With UFC Fight Night 27 in the rear view, fans can focus their attention to one of the most talked about pay-per-view events of the year—UFC 164—which will take place in just three days.
Benson Henderson and Anthony Pettis will lock horns in a long-awaited rematch in the night's main event for the UFC lightweight strap. The co-main event will pit a pair of former UFC champs in Frank Mir and Josh Barnett in a long-awaited heavyweight showdown.
Other scraps on the stacked main card are Chad Mendes-Clay Guida, Erik Koch-Dustin Poirier and Ben Rothwell-Brandon Vera.
Here are some of the juiciest questions heading into UFC 164.
Begin Slideshow

»
Greg Bartram-USA TODAY Sports

After winning six of seven bouts in Strikeforce, Ryan Couture, the son of UFC Hall of Famer Randy Couture, looked a bit out of his league in his promotional debut against Ross Pearson at UFC on Fuel TV 9.
Couture used page out of his dad's playbook and won Round 1, controlling the distance, outlanding Pearson 17-6 in the significant strikes department and scoring a takedown.
Things changed quickly in Round 2, though, and Pearson needed just a small opening to fire a barrage of fight-ending strikes at the 31-year-old Couture.
Things will get a bit easier for Couture in his preliminary bout at UFC 164 with Al Iaquinta, which will be aired on Facebook.
Iaquinta punched a ticket to The Ultimate Fighter Season 15 Finale, where he got choked unconscious by Michael Chiesa.
Couture has the style and the pedigree to hand Iaquinta his third straight loss. Can he do it?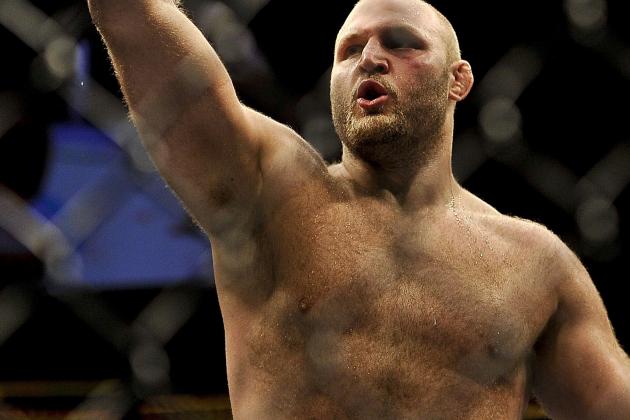 Paul Abell-USA TODAY Sports

Typically, UFC fighters who lose three fights in a row receive their walking papers from the company's brass. For Ben Rothwell, however, a loss to an undersized Brandon Vera could warrant him a pink slip after just two straight setbacks.
Rothwell, who's lost two of his past three and three of five fights in the UFC, finds himself in a must-win situation against Vera, a natural light heavyweight who hasn't competed at heavyweight since 2008.
The 6'4" Rothwell weighs around 260 pounds and will hold a three-inch reach advantage over the 6'3" Vera. "The Truth" has fought nine straight times at 205.
While a loss to the 35-year-old Vera would certainly embarrass the 31-year-old Rothwell, it's unclear whether or not it would result in his demise with the UFC.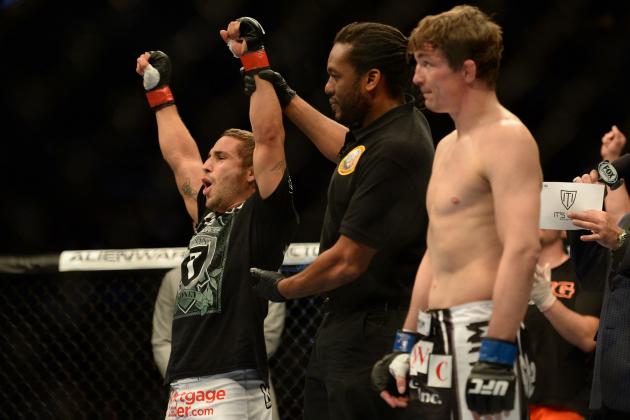 Kyle Terada-USA TODAY Sports

Since getting KO'd by featherweight linchpin Jose Aldo at UFC 142, former NCAA Division I All-American wrestler Chad Mendes has looked nearly indestructible in his past three fights.
The UFC's top-ranked 145-pounder, Mendes has reeled off swift KO wins over Cody McKenzie, Yaotzin Meza and Darren Elkins since falling to Aldo.
Mendes will tangle with his second-most accomplished opponent in Clay Guida on the main card at UFC 164.
The ninth-ranked Guida has prevailed in five of his past seven bouts, including a unanimous decision over lightweight title challenger Anthony Pettis.
Mendes will hold advantages in the speed, power and wrestling departments, and if the Team Alpha Male stalwart can get past Guida, he'll put himself in favorable position for another crack at Aldo.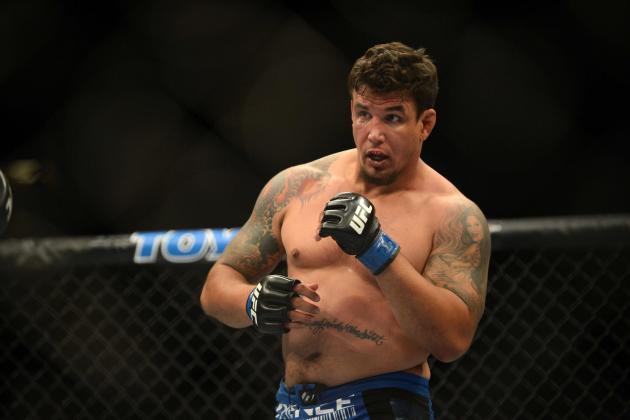 Ron Chenoy-USA TODAY Sports

For years, MMA fans have yearned to answer the question: Who possesses the superior ground skills between former UFC heavyweight champs and Brazilian jiu-jitsu black belts Frank Mir and Josh Barnett.
Of his 16 wins, Mir has prevailed nine times via submission, eight of which came in the UFC. Barnett has piled up 19 submissions in his 32 wins. "The War Master," however, has pulled off just one submission in the UFC, and that came against Semmy Schilt at UFC 32 in 2001.
Mir and Barnett come from different lineages, and they certainly bring different ground-fighting repertoires to the table, facts that make this matchup a classic in the making.
Don't be surprised if this bout ends like fans believe it will, and be less shocked when one of these two mat wizards walks away with a "Submission of the Night" bonus.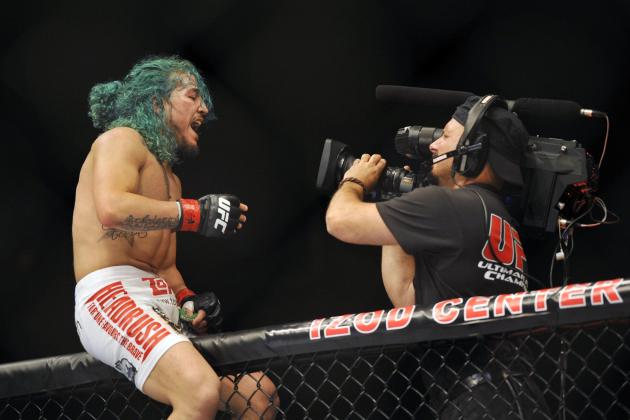 Joe Camporeale-USA TODAY Sports

He's certainly an exciting fighter, but will The Ultimate Fighter Season 14 alum Louis Gaudinot ever really become a contender at 125 pounds?
Ranked seventh at flyweight, Gaudinot lost his promotional debut via TKO to Johnny Bedford at The Ultimate Fighter Season 14 Finale. The green-haired New Yorker bounced back in a catchweight bout against John Lineker, finishing the sixth-ranked flyweight with a guillotine choke late in the second round of UFC on Fox 3 to nab "Fight of the Night" honors.
Gaudinot can move another step up the ladder with a win over another world-ranked flyweight in Tim Elliott (No. 10).
Gaudinot will definitely have his hands full with Elliott, though. The Grindhouse MMA product has won nine of his past 10 bouts, with his only loss in that span coming to former title challenger John Dodson at UFC on Fox 3.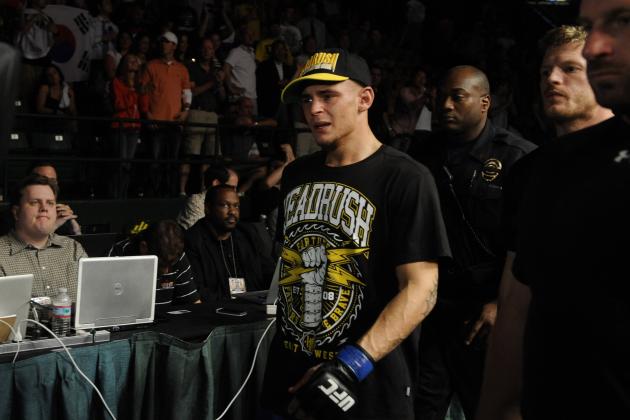 Rafael Suanes-USA TODAY Sports

Although he's still a main card attraction, a loss to Erik Koch at UFC 164 will surely relegate Dustin Poirier to preliminary card bouts in the near future.
Ranked sixth at 145 pounds, Poirier needs to bring an extraordinary sense of urgency into his bout with the 10th-ranked Koch, at least if he intends to get back on another lengthy winning streak.
After winning five straight bouts under the Zuffa LLC umbrella, Poirier got choked unconscious by "The Korean Zombie", Chan Sung-Jung, in the main event of UFC on Fuel TV 3.
Poirier responded in his next bout at The Ultimate Fighter 16 Finale by tapping Jonathan Brookins with the same choke that The Korean Zombie finished him with, a d'arce choke.
But in his latest bout, Poirier once again regressed, getting outpointed by Cub Swanson to drop a unanimous decision in the co-main event at UFC on Fuel TV 7.
Koch would represent a nice feather in Poirier's cap, but beating the Roufusport product will be an arduous task. Truth to be told, before he got smashed by Ricardo Lamas in his last bout at UFC on Fox 6, Koch was riding a four-fight winning streak and was considered a viable candidate to challenge Jose Aldo.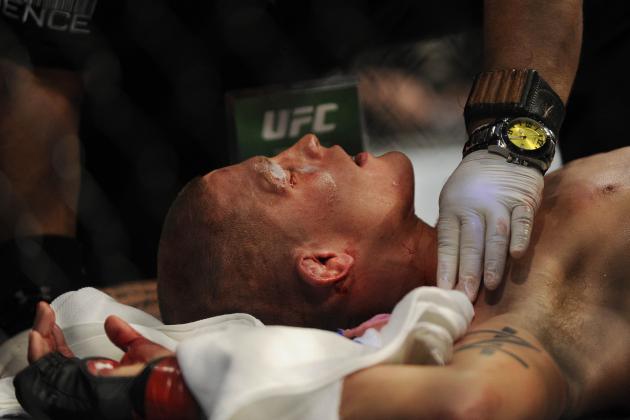 David Banks-USA TODAY Sports

Before UFC on Fox 6, Erik Koch had only tasted defeat once, a decision loss to former featherweight title challenger Chad Mendes at WEC 47.
Ricardo Lamas changed that and humbled Koch at UFC on Fox 6, elbowing the Roufusport standout into an oblivion to leapfrog him in the 145-pound title race.
Still ranked 10th in the division, Koch will get the opportunity to redeem himself when he faces off with the sixth-ranked Dustin Poirier at UFC 164.
Koch will need to execute with precision from bell to bell if he plans to hand Poirier his third loss in four fights. If he does, though, Koch will not only earn the most notable win of his career, he'll also climb back into title contention.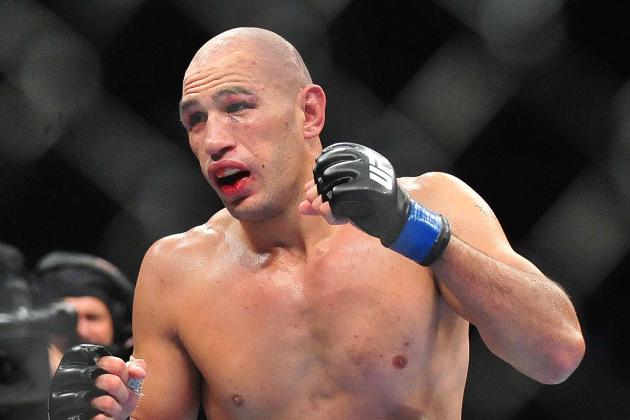 Gary A. Vasquez-USA TODAY Sports

The fact that he's collected just one win in four years makes it obvious that 35-year-old Brandon Vera has reached the twilight of his career.
Vera found himself on the cusp of a heavyweight title shot after winning his only two fights in the WEC and then winning his first four bouts in the UFC.
But since losing to Tim Sylvia at UFC 77, Vera has gone 4-5-1 in the promotion, most recently getting TKO'd by a weathered Mauricio "Shogun" Rua in the main event at UFC on Fox 4.
Vera will try his hand at heavyweight for the first time in roughly five years when he faces the bigger and more seasoned Ben Rothwell at UFC 164.
While a win over Rothwell may help Vera land a more high-profile opponent in his next bout, it won't thrust the Alliance MMA product into the heavyweight title picture. A loss, conversely, leaves Vera with few future options against UFC big men.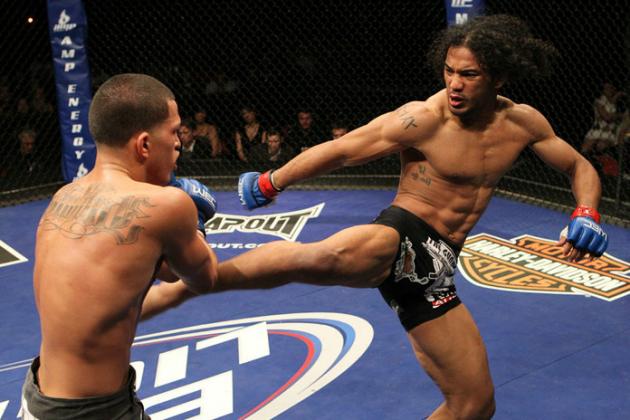 Photo credit: UFC.com
Granted, Benson Henderson has blossomed into a full-fledged star since getting nipped by Anthony Pettis at WEC 53.
But has Henderson—a winner of his past seven fights, including four in UFC lightweight title scraps—genuinely refined his game more than Pettis has since December 2010?
Pettis dropped his next fight after beating Henderson, a unanimous decision to Clay Guida at The Ultimate Fighter 13 Finale. "Showtime" then won his next three fights, scoring vicious knockout wins over Joe Lauzon and Donald Cerrone in his latest outings.
Will Pettis show that he's become an even more dynamic striker and even more competent ground fighter than he was at WEC 53? Or will "Bendo" prove that he's optimized his methodical, grind-it-out style to a point that Pettis can't find success with his striking and submission games?
Because it's arguably the most talked about kick in MMA history, Henderson will always carry the unsavory memory of Pettis landing his patented "Showtime Kick" to take his lightweight belt at WEC 53.
Late in the fifth and final round of that fight, Pettis launched himself off the cage and landed a whipping high kick to Henderson's jaw. The brilliant maneuver sent shock waves through the MMA world and all but sealed the unanimous decision win for Pettis.
During a pre-fight interview for UFC 164, via YouTube, Pettis admitted that he believes the similarly explosive and athletic Henderson will be looking to pull off something extraordinary to exact his revenge:
If he goes to UFC events, that kick's like the main highlight from all the highlights in the UFC, so for him to say he doesn't think about it definitely isn't the truth, there. He might not want to think about it, but I guarantee he's going to come into that cage and want to do something special to me so he can get back at what I did to him.