49ers at Chargers Live Blog: Instant Reactions and in-Game Analysis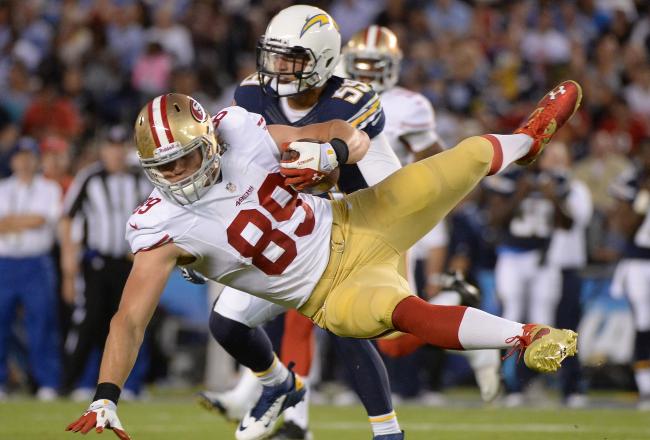 Harry How/Getty Images
It was the last preseason matchup for the San Francisco 49ers as they visited the San Diego Chargers at Qualcomm Stadium on Thursday, Aug. 29.
For much of the game, second and third-string players were given the majority of opportunities to showcase whether or not they belonged on the team. Some flourished while others did not.
One of these storylines focused on the 49ers wide receivers. Rookie Quinton Patton was impressive, hauling in a touchdown pass from Colin Kaepernick on San Francisco's opening drive. It also speaks measures considering he was playing with the first-team offense. Jon Baldwin, acquired in the recent A.J. Jenkins trade with the Kansas City Chiefs, also got some looks later in the game as suggested by Doug Williams of NBC Bay Area.
The defense already looks as if it is ready to go. The offensive line is set. The quarterback situation is clearer with Colt McCoy being named the principle backup.
Both McCoy and Colin Kaepernick looked sharp in the game although McCoy did not finish particularly strong. B.J. Daniels, along with Patton, has emerged as one of the top stories for San Francisco this preseason and his performance in the latter half of the game indicates he may be here to stay.
Thus far, Daniels has looked like San Francisco made the right decision in selecting him over Seneca Wallace.
Most of San Francisco's starters did not last long into the game. It was time for the backups to shine. Even so, backup running back LaMichael James left the game with an injury and did not return. Offensive lineman Adam Snyder was also taken out.
Cam Johnson, who was fighting for a spot on the final 53-man roster, had the most impressive night on defense and special teams. He has two sacks, a blocked punt and a defensive touchdown.
San Francisco goes on to beat the San Diego Chargers 41-6 in a dominant performance on offense, defense and special teams.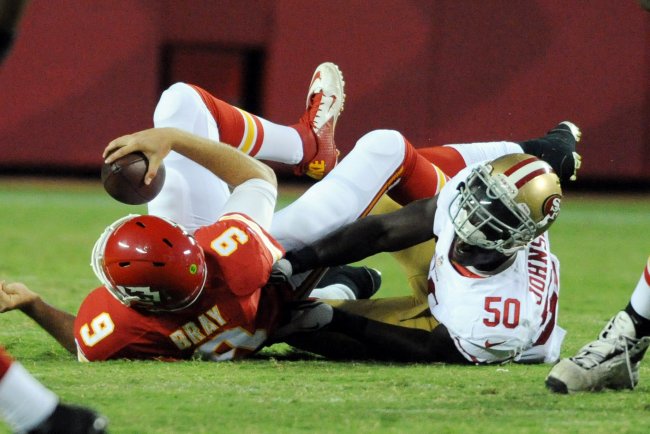 Denny Medley-USA TODAY Sports
And that will do it. Daniels will take a couple of knees and San Francisco winds down the clock.
This was a dominant performance by the 49ers on all regards over San Diego.
Offensive MVP of the Game: B.J. Daniels with Quinton Patton as the honorable mention—Patton was playing against better defenders.
Defensive MVP of the Game: Cam Johnson—Johnson's performance was absolutely stellar. Wow!
49ers beat the Chargers 41-6.
#49ers QB B.J. Daniels: 5 of 9, 76 yards, 2 TD, 123.1 rating.

— Eric Branch (@Eric_Branch) August 30, 2013
Daniels Looks Impressive Tonight
Check out the numbers.
B.J. Daniels to Chuck Jacobs. Fade. Touchdown. Nicely done. Jacobs is logical choice for practice squad.

— Matt Maiocco (@MaioccoCSN) August 30, 2013
B.J. Daniels Completes His Second Touchdown of the Night
Daniels completes a nice finesse pass to Chuck Jacobs down the right side for a 14-yard touchdown. Everything looked good on that play.
Daniels had the nice touch, Jacobs had a great reception and the 49ers go up 41-6.
It is going to be tough to figure out Daniels' situation. If San Francisco puts him on the practice squad, there has to be a team or two out there that would want to sign him. The way I see it, Daniels has to get a roster spot.
The same could be said for Jacobs, at least at the outset of the season until players like Quinton Dial and Cornelius Carradine make their way onto the roster off the NFI list.
My fiancé just pointed out a nice tidbit.
Quarterbacks that run like Daniels just did are awesome playmakers. Yet it only takes a hit or two to force a concussion and hinder a career.
B.J. Daniels just fooled everyone watching at home. Nice read-option there.
Oh, and he fooled the Chargers badly too!
I think you just invented a new stat? RT @BASportsGuy: I don't know what was more impressive from Hawkins, the TD or the penalty avoidance

— Damon Bruce (@DamonBruce) August 30, 2013
San Francisco leads San Diego 34-6 after the Lavelle Hawkins Touchdown Reception
You have to see the play to believe it.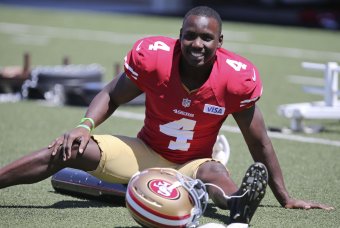 Kelley L Cox-USA TODAY Sports
Lavelle Hawkins with 45-yard TD. Tipped it to himself, bounces around and sprints to the end zone. And, best yet, nothing unsportsmanlike.

— Matt Maiocco (@MaioccoCSN) August 30, 2013
How Did Lavelle Hawkins just Do That?
I wish there was a video immediately available of this play.
Hawkins knocks a targeted pass into the air, then catches it before breaking free of a tackle en route to the end-zone.
The result on paper—a 45-yard touchdown pass from B.J. Daniels to Lavelle Hawkins.
Here's the kicker... no penalties on Hawkins after the play.
Maybe Hawkins sticks around on this team after all.
Phil Dawson misses a 52-yard field goal right.
Still, San Francisco's lead looks pretty safe at this point.
B.J. Daniels with an excellent deep pass to Austin Collie that he nearly hauled in. Good defense from San Diego's secondary but a nice read from Daniels.
Tramaine Brock picks off a Sorenson pass late in the third quarter. San Francisco's defense is looking good and deep. A number of these depth players have really made a show for themselves.
Harbaugh and Baalke are going to have some difficult decisions over the next few days.
49ers now lead the Chargers 27-6 after the Cam Johnson touchdown.
Poor video quality but Cam Johnson needs to be seen.
#49ers now lead 27-6 after the blocked punt TD by Cam Johnson. #SFvsSD

— San Francisco 49ers (@49ers) August 30, 2013
Cam Johnson. Wow. He blocked the punt AND recovered it in the end zone. Fifty-three man, indeed.

— Matt Maiocco (@MaioccoCSN) August 30, 2013
AND...
Cam Johnson with the blocked punt and he jumps on the football in the end-zone for a special teams touchdown.
Why not put him on the roster?
Cam Johnson is back in on special teams.
In the play of the night, Nate Stupar gets a hand on Sorenson pass, tips it to Craig Dahl for INT... #49ers

— Julie Buehler (@Julie_Buehler) August 30, 2013
Craig Dahl Interception
Nate Stupar tips a Brad Sorensen pass which is intercepted by safety Craig Dahl.
Dahl is proving to be an excellent insurance policy to the 49ers' starting safeties Donte Whitner and Eric Reid. Dahl has made some nice tackles tonight and that interception shows why San Francisco signed him in the first place.
After a three-and-out, Phil Dawson nets a 40-yard field goal to put San Francisco up 20-6.
B.J. Daniels is unable to convert a first down in his initial drive tonight. He looked good though and continued to show us why he will likely find a roster spot once the season opens.
True, he is still raw and needs further development, but what we have seen thus far is a good sign of things to come.
It should be exciting to see what he pulls off in the remainder of the game.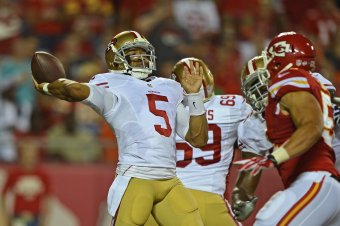 Peter Aiken/Getty Images
B.J. Daniels Enters the Game
Aside from Quinton Patton, B.J. Daniels is probably the biggest story among the 49ers these preseason games.
Fans and coaches saw what he did in Kansas City. They saw more of it against the Vikings last Sunday. Will he be able to emulate the same success against the Chargers?
It looks like Daniels will be in for the duration of tonight's game.
Fans should get a chance to see what he has to offer over a longer stretch of time.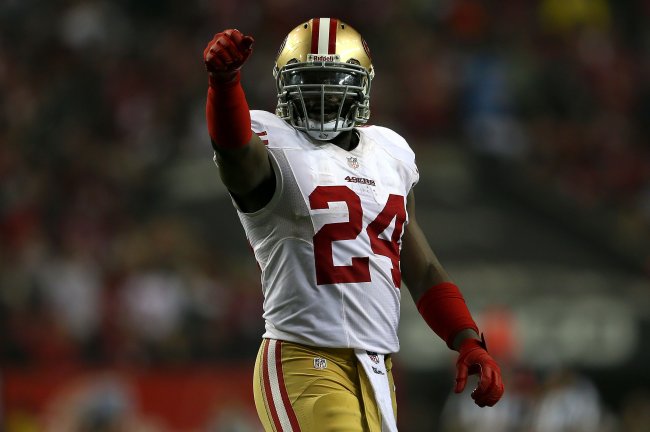 Mike Ehrmann/Getty Images
Anthony Dixon or Jewell Hampton #49ers fans? Can't keep both. Who ya keeping?

— Damon Bruce (@DamonBruce) August 30, 2013
Who Is the Better Fit—Anthony Dixon or Jewell Hampton?
San Francisco will probably not keep both of these guys so who winds up on the 53-man roster and who misses the cut?
In my opinion Dixon is the favorite because of his versatility.
While he is not a typical running back, Dixon is able to be a lead blocker and a short-down back. Hampton is talented, but does he really have a legitimate shot at making the roster?
Jonathan Baldwin Gets Involved
The recently acquired Jonathan Baldwin finally gets involved with the offense tonight with his first reception. Baldwin needs to get some more attention.
Now Cam Johnson appears to be nursing a hand/wrist injury.

— Matt Barrows (@mattbarrows) August 30, 2013
Cam Johnson Comes out of The Game with an Apparent Hand Injury
Johnson has been a stud tonight and has justified getting onto the 53-man roster. Hopefully his injury is nothing serious and he will be back on the field soon.
BOOM!
Tramaine Brock says hello with that hit!
San Diego's Fozzy Whittaker is the lone Charger having any success against San Francisco tonight. Safety Craig Dahl has been forced to make two key tackles on Whittaker thus far.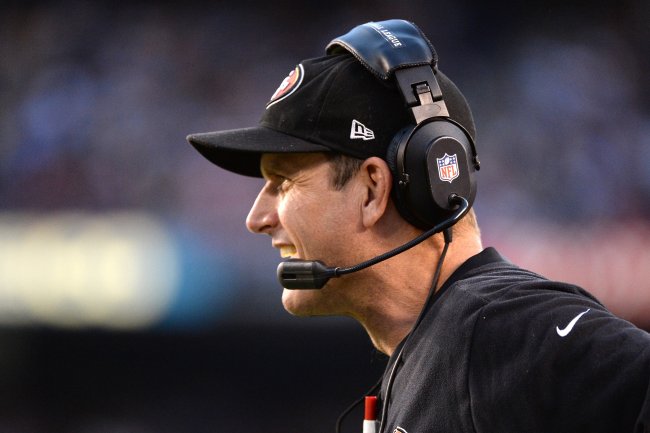 Harry How/Getty Images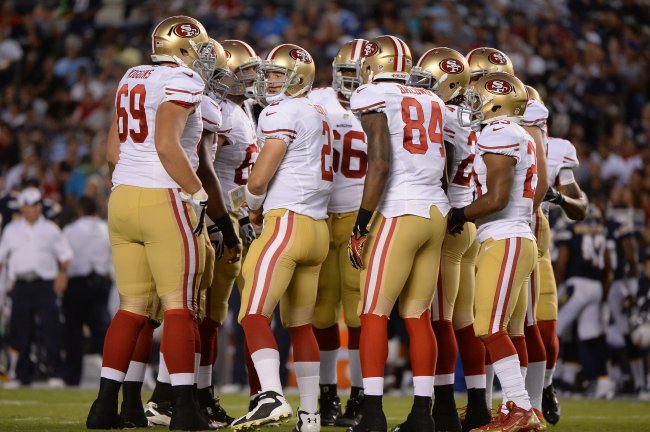 Harry How/Getty Images
49ers Statistics of Interest in the First Half
Kaepernick has completed three passes out of four attempts for 64 yards and one touchdown to WR Quinton Patton.
McCoy has completed six out of 11 passes for 45 yards thus far and one touchdown to Anthony Dixon.
Jewell Hampton leads all San Francisco rushers with 26 yards on six carries and Patton has been the receiving star with two receptions for 52 yards including the opening touchdown drive.
Linebacker Cam Johnson has been a stud on defense with two tackles and four tackles.
San Francisco has allowed only four San Diego first downs in the first half.
End of the First Half—San Francisco leads the San Diego 17-6.
It is hard to see the interview with coach Jim Harbaugh with all of those lights out at Qualcomm Stadium. I bet it will be a nice halftime show though.
Pretty pass from Colt McCoy. Not-good drop by Austin Collie. #49ers

— Eric Branch (@Eric_Branch) August 30, 2013
Austin Collie and His Future with the 49ers
Austin Collie drops a pass from Colt McCoy down the right side of the field. The pass hit Collie in stride and bounced off Collie's hands.
Does that spell the end of Collie's tenure in San Francisco?
He is probably on the outside, looking in at this point and especially after that dropped pass.
Let's see how well Colt McCoy and the backup 49ers offense tries to run a two-minute drill with less than a minute remaining in the half.
This article is
What is the duplicate article?
Why is this article offensive?
Where is this article plagiarized from?
Why is this article poorly edited?

San Francisco 49ers: Like this team?